Le Petit Mort: Toddlers and Tiaras and Economic Decline
Hollis Griffin/Colby College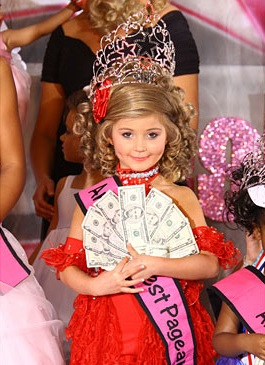 Preparing for the Future
It's hard not to watch Toddlers & Tiaras with a sort of sick fascination. The TLC reality program features a different "kiddie pageant" in each episode, following a handful of contestants as they prepare for competition and then "perform" for the judges. Plucked from elementary school to twirl and mug on stages at musty-looking Holiday Inns, Toddlers & Tiaras' subjects are led through a gauntlet of training and cosmetic enhancement by their moms and a smattering of "pageant professionals"—hair and make-up people, specialized seamstresses, and voice coaches.
There are few things in the world more macabre than a nine-year-old girl with hair teased to the rafters, enough make-up to paint a house, and a "flipper" that masks her baby teeth with veneers. The mode of address on Toddlers & Tiaras positions viewers in opposition to the contestants and "pageant moms." Interview segments reveal the hopes and dreams that parents have yoked to their children: not just success but fame, wealth, transcendence. Young contestants are routinely plied with sugar to keep their energy up, and they just as regularly fall asleep by the end of the episode. I end up feeling bad for them, even if they are frequently bratty and ill-behaved. (Wouldn't you be angry if you had your eyebrows plucked against your will, and your skin buffed to a shade of Day-Glo orange?) But it's the parents who often seem deluded—coaching sternly and loudly from the sidelines, expressing disappointment with their children in somber asides to the camera. In many episodes, parents refer to the pageants as "an investment," articulating what is ostensibly an extra-curricular activity as a familial business decision that is expected to pay dividends at some later date. If children often symbolize futurity—the hopeful embodiment of "better things to come"—then Toddlers & Tiaras casts some harsh, ugly light on what's coming next, both for American culture and maybe even capitalism, more generally.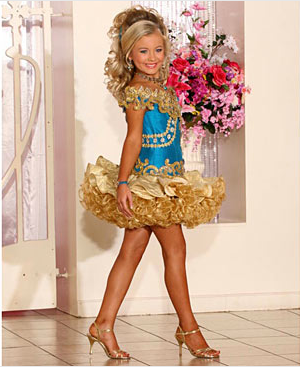 Economic Anxiety Expressed as Feminine Excess
On some level, it's too easy to point to Toddlers & Tiara's pageant moms as embodying feminine consumerist desire gone awry. Episodes frequently mention the astronomical costs of competing in kiddie pageants, and many of the pageant moms confess that participating in them is a financial hardship. Pageant moms frequently confess to fibbing about competition-related expenses to their husbands, and many others benefit from the financial support of doting grandparents. Toddlers & Tiaras details this feminine excess alongside a more subdued dialogue on class and economics. Watching the interview segments, it becomes clear that the parents of the pageant contestants are middle and lower middle class. Pageant moms are often homemakers, and their husbands are frequently factory workers, miners, small business owners. Thus, when an episode features a thousand-dollar, bling-encrusted dress for a six-year-old, it says as much, if not more about the parents' class aspirations than the contestant's performance of femininity.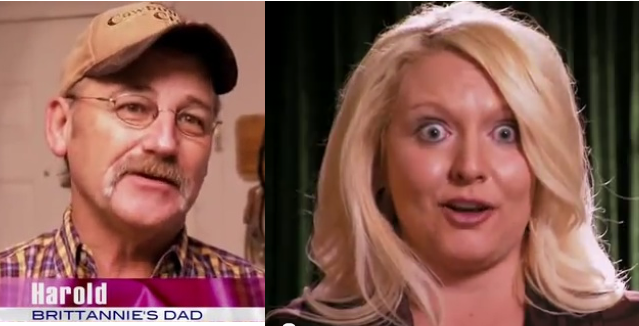 Parents Invest in Class Aspirations
Interview segments are introduced with a series of shots taken from the pageant contestants' hometowns. Here, the program locates an overwhelming majority of pageants squarely in the Heartland; the settings include Sissonville, West Virginia, Salley, South Carolina, and Temple, Texas. Shots of sleepy Main Streets and grain silos lead directly to shots of the exteriors of the contestants' homes. Many of these look forebodingly like the new "McMansions" at the center of the mortgage crisis. In Toddlers & Tiaras' thinly veiled statement on American cultural geography, pageant frivolity is the domain of tacky flyover states, fostering viewing positions steeped in derision and scorn. By locating pageants, "flippers", and aggressive moms in sleepy Heartland towns, Toddlers & Tiaras works like a lot of media representations of rural life—the Heartland "becomes the 'other' against which the ideal nation is defined by relief."1 Via this logic, the hopes and dreams that pageant moms attach to kiddie pageants are as crazy as they are stupid: a downmarket pipe dream, a reckless financial gamble. With high participation costs and low prize money, "investing in" pageants seems as wise as buying a Hummer because one is worried about gas prices.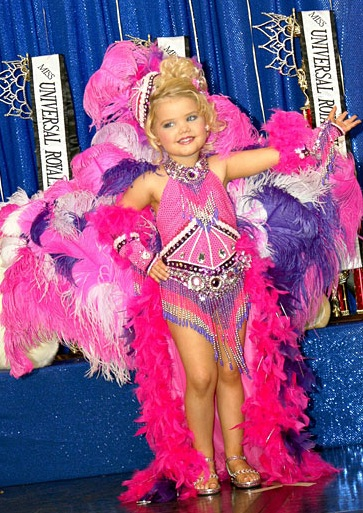 Chintz and Hairspray as Objects of Cathexis
I experience a perverse glee and a deep melancholy when faced with the big hair and gaudy costumes on Toddlers & Tiaras. On the program, chintz and hairspray are objects of cathexis for the downwardly mobile. Pageant parents are often blue-collar workers, the very demographic whose traditional routes to the middle class—pensions, union memberships, federally subsidized student loans—are profoundly threatened by the current economic downturn and neoliberal thought, more broadly. No longer does a factory job, a union card, or a Stafford loan carry the promise it did for lower income wage earners in decades past. I see in many episodes of Toddlers & Tiaras anxious attempts to plan for the future via the labor of children. The hopes and dreams that parents attach to the kiddie contestants demonstrate a longing for safety and security at a point in history when those feelings are increasingly difficult to come by. When parents featured on the program attest to the pageants as a kind of "planning for the future," the snark and cynicism that Toddlers & Tiaras so frequently elicits from me comes to a grinding halt. In those moments, the future embodied by the plucked and coiffed debutantes is neither rosy nor hopeful, it's despairing, bleak—deeply, deeply sad.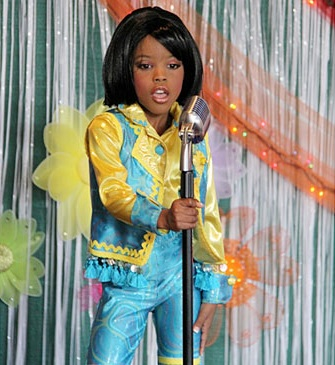 Girls Dolled Up as Adults
I titled this column "Le Petit Mort" in an attempt to be cheeky. A French term that associates orgasmic release with death is somewhat apropos when talking about a television program in which girls are dolled up to look many years their senior, even competing in swimwear contests and lip syncing to Madonna songs. I'm not one for moral panics, and cultural anxieties about children's sexuality are as old as modernity itself. The "little death" I see in Toddlers & Tiaras is different; it's something specific to this moment in history. I see it in how the child pageant contestants symbolize the class aspirations of people whose economic opportunities are increasingly limited. In Toddlers & Tiaras, the glitz and glam adorning the girls indicate a future that, for many, will never come to pass. Of course, wistful optimism can be a sustaining force. But for every pageant mom who claims that the pageants teach contestants "life skills," I can't help but think that the energy, time, and especially the money they use to participate in them is better spent elsewhere. Maybe even something like language lessons so that the pageant contestants grow up speaking Spanish or Chinese or Hindi—better suited for a job market that is increasingly located elsewhere. Toddlers & Tiaras is evidence of the well-oiled capitalist machine of television, forever warning its viewers about proper modes of comportment and consumerism. If the program allows viewers to revel in excessive consumption and histrionic femininity, another of the program's viewing pleasures is poking fun at the foolhardy dreams of others. It's hard for me to feel good about that. Circulating amidst cries to dismantle what's left of the welfare state, Toddlers & Tiaras is drenched in death—the twilight of the U.S.'s middle class, the sunset of economic development in the American Heartland, and, most pointedly, the uncertain future embodied by the little ladies in rhinestone-covered gowns.
Image Credits:
1. TLC.com
2. TLC.com
3. Screen Grab by Author
4. TLC.com
5. Screen Grab by Author
Please feel free to comment.
Victoria E. Johnson, Heartland TV: Prime Time Television and The Struggle for U.S. Identity (New York: NYU Press, 2008): 5. [↩]