Red Boxes and Cloud Movies
Wheeler Winston Dixon / The University of Nebraska, Lincoln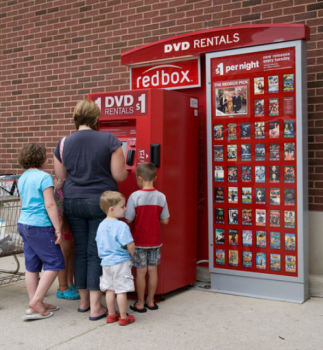 Picking a movie after some grocery shopping at the ubiquitous Redbox
By now, you've probably seen one of the ubiquitous Redbox DVD vending machines that populate the various malls around the nation, and perhaps you've had occasion to even use one, too, although given Flow's readership, this latter prospect is somewhat unlikely. All Redbox DVDs are "top forty" hits, so to speak, aimed squarely at the lowest common denominator viewer, and incessantly chatted up in the various gossip columns and media outlets that hype the latest releases. And the machines are remarkably popular, and they should be: as Brooks Barnes noted in 2009, they are the result of a once-failed entrepreneur retooling his marketing strategy to reach a wider audience.
As Barnes wrote, "in 1982, just as the VHS tape was taking off, a Star Wars buff named Mitch Lowe had a radical idea. What about building a vending machine that could rent movies? He called his invention Video Droid. It failed. People were not yet comfortable using credit cards for casual transactions, the tapes broke easily and the technology involved with manipulating their bulk proved too expensive1.
But Mr. Lowe did not give up, and his moment seems to have finally come.
Mr. Lowe, 56, is now the president of Redbox, a fast-growing company in Illinois that rents movies for $1 a day via kiosks. By December [2009], there will be 22,000 Redbox machines in spots like supermarkets, Wal-Mart Stores and fast-food restaurants." It's also interesting to note that Lowe was a co-founder of Netflix, and spent some time at McDonalds as well, working in marketing2. Indeed, one of the locations for Redbox machines that Tribbey is currently working on is a deal with McDonald's, which seems perfect, in a certain sense; fast food and fast food movies, all under the same roof.
Redbox has been, by any measure, extremely successful as a marketing strategy. By 2008, Redbox kiosks had rented out more than 100 million DVDs3, and in 2009, that figure had ballooned to more than 400 million rentals4. As of May 6, 2010, the company had 25,000 kiosks in place, and the number is still growing. And rentals are cheap; $1 per night. Most customers return the DVDs to the kiosks the next day, but for those who don't, the machine charges their credit cards for a set number of days, and then the consumer "owns" the disc, without the box or any artwork or liner notes.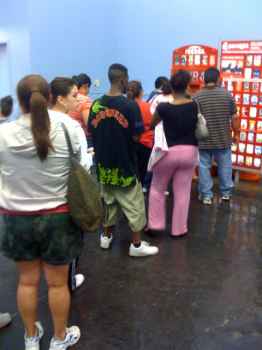 Negotiating the line up for $1 rentals
By 2007, Redbox kiosks were the fifth largest rental operation in the United States5. These kiosks average roughly 50 transactions a day, and DVDs are rented (and returned) approximately 15 times before being consigned to the scrap heap6. In addition, customers are now able to reserve DVDs online from their favorite Redbox location, and pick them up later, though most customers are simply walk up users, who troll through the menu on the machine to see if anything interests them7.
There were, of course, bumps along the way to Redbox's dominance in the self-serve DVD market. A flurry of lawsuits, from both the movie studios and Redbox itself, were served back and forth in an attempt to wrest some of the rental profits from the company, and on Redbox's part, to preserve its autonomy as a rental facility. As Chris Tribbey reports, in 2009 Redbox "reached a five-year, $460 million agreement with Sony Pictures Home Entertainment. When Universal Studios Home Entertainment tried to establish revenue-sharing terms for its DVDs, Redbox took the studio to court in October 2008." All of this legal maneuvering still has to shake out, but it seems clear that Redboxes, for the moment, are here to stay.
[youtube]http://www.youtube.com/watch?v=pE_Dc8_UIjg[/youtube]
Winning 100 Free Redbox rentals on Ellen!
But the curious thing about Redbox machines is that they exist at all; why are people still renting DVDs when they can so easily stream films, or download them to their computers? Blockbuster has been plowed under, for all intents and purposes, and Redbox is essentially a "brick and mortar" operation, even if, like Coke machines, they use existing store space, lobbies and parking lots as real estate they occupy by mutual agreement. Further, they deal in DVDs, which are rapidly becoming an obsolete format. How do they do it?
Redbox's Mitch Lowe offered these thoughts as to the company's success in a more and more digital media landscape in a 2009 interview. "Redbox growth can be attributed to a combination of factors. On the consumer side, Redbox offers the convenience of providing consumers with access to DVD rentals where they shop, value, and an easy, simplistic rental experience. On the business side, our retail partners benefit from the value in revenue share and increased consumer visits generated by Redbox." And the $1 price is clearly a factor; as Lowe notes, "Redbox has helped revitalize the DVD industry by creating incremental rentals among viewers who previously were priced out of renting and buying DVDs"8.
And as for the digital, streaming future? Says Lowe, "There is no question that electronic delivery of content is gaining in popularity . . . [but] Redbox is well positioned to succeed in both the digital media and physical media space. Our future strategy encompasses both "clicks" and "bricks." We have what no other digital distribution company can claim: a physical presence through our retail partners at over 17,000 locations and growing. And, we are uniquely positioned to host conversations with our customers throughout their consumption of entertainment media, in whichever format they prefer"9.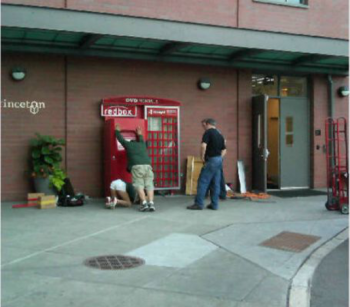 Installation of a Redbox kiosk outside of the Princeton public library
Pretty slick corporate speak, but then, what do you expect? Don't look for a Criterion release here, but that's precisely the point. Redbox is essentially a down-market operation, aimed at the consumer whose only knowledge of film is what she or he reads in the entertainment section of USA Today or Cosmopolitan. A recent informal check of the inventory of titles at a local Redbox confirmed that everything on offer was a major studio release of one kind or another, mostly (of course) genre films, with genuine theatrical hits mixed in with films that hoped to break even with DVD sales.
The other factor to consider is that many of the people who use Redbox as a home entertainment option don't have cable, or can't afford cable, and perhaps don't even have a computer they use that much. They have a DVD deck, and may be cautiously moving into Blu-ray, they play videogames – an area Redbox is clearly interested in working on – and they watch television via satellite, or even an antenna. Not everyone is wired in, even in 2011, even though more and more consumers each day become part of the digital world.
But this brings us to a topic I'm going to consider in the next column in this series; cloud movies as streaming entertainment. This may be Redbox's next big hurdle. As streaming downloads of one variety or another become more and more common, it seems that the future of the DVD is uncertain at best. As Matthew Calamia reported on June 1, 2011, "Apple is in talks with movie companies, including Warner Bros. and 20th Century Fox, according to CNET, to allow Apple to stream movies its customers own through Apple's iCloud streaming service, which was unveiled next week at the company's Worldwide Developers Conference."
"Streaming movies would work the same way as streaming music. With a user's permission, the iCloud would search through an iTunes library for previously owned movies, and then enable those movies to stream wirelessly. For example, a customer who owns The King's Speech on their desktop or laptop computer would get the store's permission before being able to stream that movie from the cloud on any device…"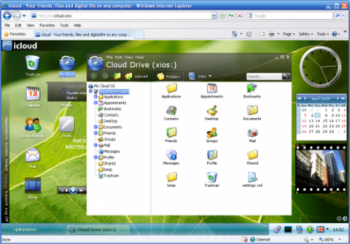 Is the iCloud Redbox's competition, or is it too "up-market?"
Calamia continues, "[Apple] added nearly seven million subscribers over the past year, and currently accounts for nearly 25 percent of all Internet traffic. Along with Netflix, other sites like Hulu and YouTube have also entered into streaming and renting of movies. Like Netflix, Hulu offers both free and paid services, with the paid service offering more content of both movies and television shows [. . .] Social network giant Facebook has also begun renting movies on its site as well, rounding out an early list of players in which will likely become a booming market."10
The battles that will be fought over this territory remain to be seen, but they will be intense, and perhaps continually ongoing. All of this is in a constant state of flux for the moment, and new delivery systems, unimagined at this moment except by a few, may well render everything considered here obsolete. Redbox may have a considerable hold on the mainstream DVD rental market for the present, but it remains to be seen how the company will perform in the streaming future. When everyone goes online, even to buy groceries, as is now happening, there may soon be no reason to leave the house, and Redbox's numerous mall locations may no longer be so enticing. For the moment, Redbox has established a comfortable niche, and is continuing to expand, even as digital clouds gather on the horizon. What will happen then?
Stay tuned.
Image Credits:
1. Picking a movie after some grocery shopping – at the ubiquitous Redbox
2. Negotiating the line up for $1 rentals
3. Installation of a Redbox kiosk outside of the Princeton public library
4. Is the iCloud Redbox's competition, or is it too "up-market?"
Please feel free to comment.