Reality TV, Healthy Lifestyle Messages, and Extreme Makeover: Weight Loss Edition
Heather McIntosh / Boston College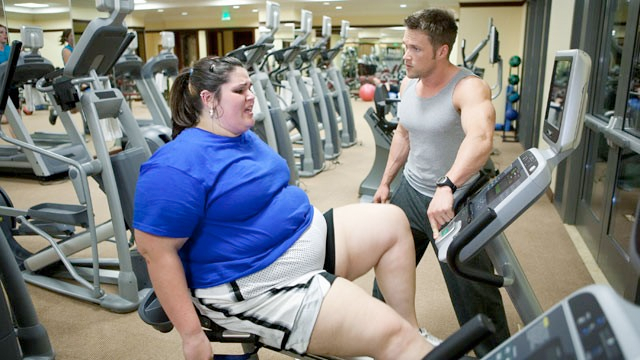 Extreme Makeover: Weight Loss Edition
With the rising temperatures in the Northern hemisphere, the U.S. broadcast television summer schedules shift even more to reality programming. Broadcast television stations offer a wide variety of reality shows, including The Bachelorette, The Voice, Master Chef, America's Got Talent, and So You Think You Can Dance, among others. Of course, what would a summer schedule be without another reality show about weight loss?
While NBC programs its The Biggest Loser franchise during the fall and spring, ABC now airs Extreme Makeover: Weight Loss Edition on Monday nights. Instead of staging the weight loss experiences as a competition like The Biggest Loser does, Extreme Makeover: Weight Loss Edition compresses the experiences of one morbidly obese person who undergoes a year-long weight-loss program into an approximately 40-minute episode. While The Biggest Loser features well-known trainers Bob Harper and Jillian Michaels, Extreme Makeover: Weight Loss Edition brings forward Chris Powell, who claims he specializes in these types of transformations. Powell gained media attention in 2009 when he worked with David Smith to help Smith lose 400 pounds. Basic cable's TLC aired their story in a documentary titled The 650 Pound Virgin. That documentary got Powell the invitation to work on the ABC series.
Each episode follows the same structure. The episode begins with the person chosen getting surprised by Powell, who serves as their coach and our host. After the shock, joy, and tears wear off, the chosen candidate and Powell head to the California Health & Longevity Institute for initial consultations. The candidate weighs in, receives some cooking and nutrition guidance, and gets challenged in some exercises meant to test his or her spirit and resolve. Upon returning home, the candidate enters his or her house to find an extensive set of workout equipment, with machines and weights. Distractions such as televisions and computers get removed, in some cases.
Candidates then proceed through a series of goals set every 90 days. In the first 90 days, the weight-loss goals set for the candidates prove a bit shocking, with some even set at 90 pounds. Powell works with them for these first three months, bringing some compassion and yet continues to push them as well. He attempts to remain cautiously optimistic about their potential and their progress, but he also reminds them that they need to stick to the plan and intervenes further when necessary.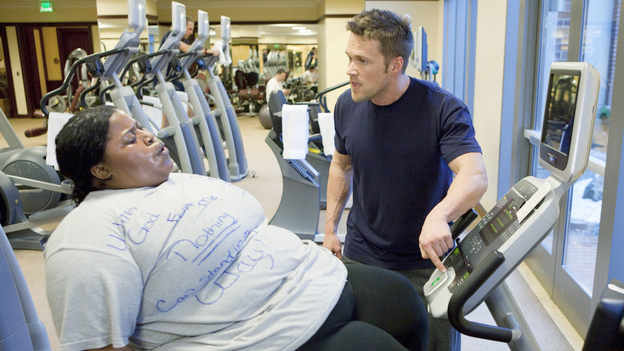 Powell pushes LaRhonda's workout at the California Health & Longevity Institute

The 180-day and 270-day marks include lower weight-loss goal amounts, and the 270-day mark also consists of a possible consultation for skin-removal surgery, if candidates prove eligible. The one-year mark becomes the big reveal with a crowd of family and friends witnessing the final weigh-in. In addition to the surgery, other incentives might be added at various markers, such as a trip to Greece for Rachel in the first episode and a new car for LaRhonda in the fifth episode.
This structure brings out the dramatic tensions within each episode. The underlying drama lies in the question of whether the person will fail or stumble along the way. Dramatic tensions occur among the people involved. Rachel, for example, struggles with her family complaining about the noisy workout equipment and remaining unsupportive of her dietary requirements. These tensions also occur within the individuals involved. Dana, a 45-year-old man from the third episode, reveals his past issues with abuse and the coping mechanism created by comfort foods.
The regular weigh-ins contribute to elevating the tensions, and the scales in particular become a source of drama. Most scales reveal the final number quickly and clearly. The numbers on the scales in this series jump up and down for several sequences before settling on the final number. Weigh-ins get accompanied with a tense music and interrupted with a commercial break. Rapid cuts between the person's and Chris's faces also add to this tension.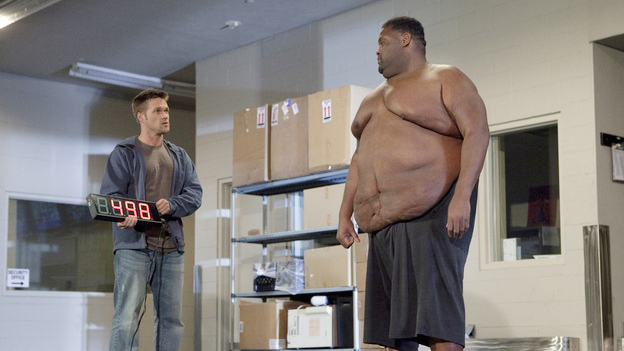 Powell uses freight scales because candidates are supposedly too heavy for medical scales
As much as these inflated tensions attempt to create drama, the show does offer some reality checks about trying to lose weight. For one, it shows that this kind of weight loss is possible without gastric bypass or other weight-loss surgeries. Second, in an advertising culture that highlights eating plans and workout videos promising rapid results, this show dedicates time to revealing some of the hard work that goes into taking pounds off. Dana at one point mentions working out 4-5 hours per day, while Rachel maintains a 1,500-calorie-per-day eating plan. Third, it further shows some of the everyday roadblocks that people might face, such as an unsympathetic family or the temptations of old habits. Fourth, it offers a glimpse (but only a glimpse) into the mental complexities that inform people's eating habits and weight gains. Extreme Makeover: Weight Loss Edition puts across the message that what these people go through is a lot of hard work.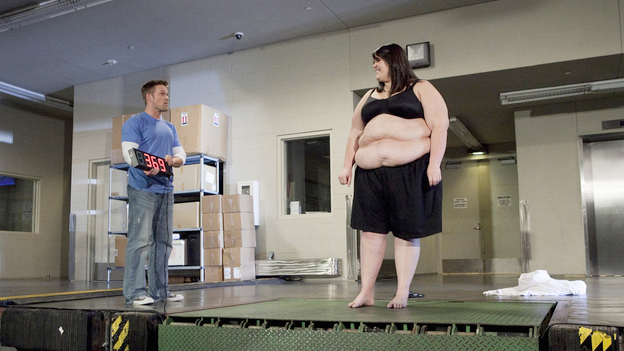 The spectacle of obesity: Rachel learns her weight during the initial weigh-in

Overall, though, these transformations serve as part of the spectacle created for television. The show highlights the extremes in the weight and size. The initial weigh-ins place all the candidates on a freight scale on a loading dock instead of on a medical scale. The numbers of their initial weights run high, upwards of 300 and, in one case, even 600 pounds. Pictures of the candidates reveal their sizes as well, with the women wearing sports bras and the men appearing shirtless in pictures documenting their transformations along the way. These photos sometimes get edited into a montage showing their progress, and they get used as comparison points along the way. For some, these images might seem insensitive.
Overall, though, who benefits from Extreme Makeover: Weight Loss Edition and similar weight-loss focused reality shows? The participants of the show definitely do, at least in terms of shedding pounds and working toward better health. The trainers build multi-media franchises around their expertise and their celebrity through DVDs and Web sites, with Michaels at jillianmichaels.com, Harper at mytrainerbob.com, and Powell at reshapethenation.com.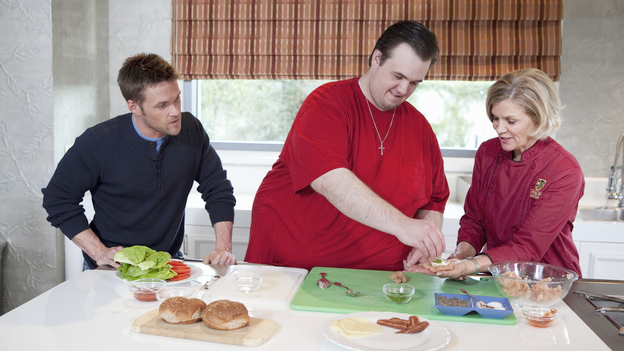 Alex receives some training in healthier food preparation habits

The show is only in its first few broadcast episodes, and so far the companion ABC Web site remains thin on its show-related offerings, though heavy on advertisements. A quick poll asks, "What are you most looking forward to about the show?" The top answer from the options was "Getting inspired to change my life," with 45 percent of the votes. For the everyday person trying to lose weight, though, this show presents an oversimplified picture. The show offers little to no sense of candidates trying to juggle work, family, friends, and other obligations. Any insight there frames these challenges as achievements along the way, such as LaRhonda's graduation, or as distractions from the weight-loss efforts, such as with Dana's singing. Not everyone has access to such equipment similar to what the candidates receive, and not everyone has 4-5 hours each day to dedicate to exercise (though the Web site tips suggest 4-6 hours per week). The show further glosses over the day-to-day decisions that inform a healthy lifestyle.
So in the end do viewers benefit from these shows? In general these shows do introduce a more complex set of messages about health and weight loss beyond the advertising-oriented ones. Some may find inspiration in the weight-loss stories, but by focusing on the extremes, do these shows muddle the messages for those seeking their own paths to a healthier lifestyle?
Image Credits:
1. Extreme Makeover: Weight Loss Edition
2. LaRhonda
3. Dana weigh-in.
4. Rachel weigh-in.
5. Alex diet training.
Please feel free to comment.