Controlling the Living Room: Television Viewing on Game Consoles
Steven Boyer / University of Glasgow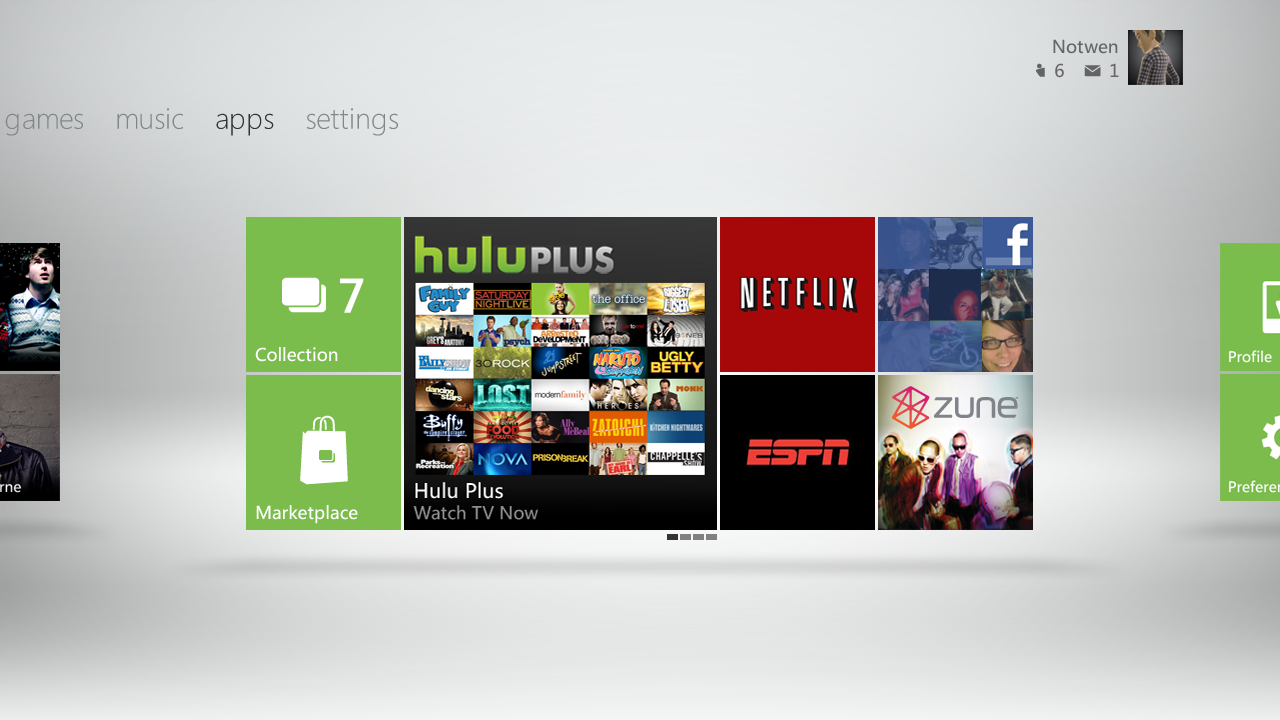 Television content on the newest version of Xbox Live
If any device underneath your television has the potential to become the mythical convergence black box where all media come together, it could be your video game console. Or at least, that is what Microsoft and Sony are hoping.
Last month, the video game industry held its annual press extravaganza, the Electronic Entertainment Expo (or E3), where companies gather to show off their slate of upcoming releases. This year, both Microsoft and Sony touted their consoles' media capabilities, with Microsoft promising a ten-fold increase in media partnerships for their Xbox Live online network with an emphasis on television content. Already, Netflix is available across the Xbox 360, PlayStation 3, and Wii, while other services of varying console and region availability include rental or purchase marketplaces (Zune and the PlayStation Store), catch-up services (Hulu Plus, BBC iPlayer, 4oD, ITV Player, RTÉ Player), streaming services (Qriocity, Vudu, Mubi), sports programming (MLB.TV, NHL Gamecenter Live, ESPN3), and live television providers (Sky, Canal, Foxtel, and AT&T U-Verse). Game consoles can also function as "media servers," streaming content from a computer onto the living room television through programs like Windows Media Center, Connect360, or TVersity. BitTorrent client Vuze also offers instant streaming of downloaded content, positioning game consoles as gateways between the Internet's peer-to-peer content marketplace (both legal and illegal) and the high definition television screen.

Netflix streaming is available on all three major consoles
While services like Netflix and Hulu are already popular on computers, game consoles offer a unique mix of on-demand marketplace, internet television "apps," web video content, and live television that exemplifies the fragmented and ambiguous position of television in today's digital landscape. Moreover, users of game consoles have a ravenous appetite for these services, with 66.3% of all Netflix streaming occurring through a game console1, while the twelve million paying Xbox Live gold members spend 40% of their average three hours a day on the service's non-game applications2.
This movement towards game consoles as entertainment devices is nothing new. Back in 2005, Bill Gates took to the pages of Time Magazine to promote the Xbox 360's media capabilities and covert status as a "convergence device" intent on becoming "a prime player in that digital ecosystem" of the living room3. This approach was not simply a way to exploit the system's media potential, but a strategy for attracting a broad and diverse audience paralleling that of the family-friendly Nintendo Wii. Moreover, Microsoft's Internet television system, Mediaroom, has been in development for years and is now the "world's most deployed IPTV platform" reaching over seven million households4 and shown off on the Xbox 360 as far back as 20075. Sony, too, has long relied on media to add value to their consoles, with the PlayStation 2 gaining market dominance in part due to its status as an affordable DVD player, a strategy continued (with less success) in the PlayStation 3's incorporation of Blu-Ray.
[youtube]http://www.youtube.com/watch?v=8BOKQdI5IXk[/youtube]
The power of the living room in an early Xbox 360 advertisment
With this in mind, game consoles are in a unique strategic position among the other devices vying for your television streaming. Unlike many other web streaming systems or personal computers, games consoles are almost always connected to television screens, most of which are in living rooms6. They further gravitate towards the most technologically sophisticated systems in the household to take advantage of their emphasis on high definition content7, which are probably the same ones preferred for television or movie viewing. Game consoles also are increasingly connected to the Internet, in part driven by multiplayer gaming, and frequently come with hard drives able to store television content.
Perhaps most importantly, game companies provide closed, controlled networks with vibrant marketplaces for content providers and have been more than willing to accommodate these providers by continuing to require direct subscriptions. This strategy looks to continue with Microsoft's expansion of their North American live television partnerships. Set to launch this fall, the system will not replace traditional television providers, but work with them so that gamers still need a satellite or cable subscription to watch live programming through their consoles8. While this arrangement does not completely circumvent established frameworks, it continues to embed consoles in the living room as the go-to entertainment device. More specifically, it contributes to Microsoft's continued efforts to integrate Windows, Xbox, and Windows Phone and expand their Mediaroom partnerships, while Sony's partnerships enable them to promote their own film and television properties and sell even more television sets.
Beyond these distribution and hardware impacts, television on game consoles also provides an altered viewing experience. These systems provide a new vision of "interactive television," as consoles already involve the necessary systems, mechanics, and input devices for interactivity. The best example of this is sports programming, with ESPN3 and the newly announced UFC functionality offering ways for viewers to interact with each other while watching. For example, viewers can vote on who they think will win a match then see themselves instantly compared with friends or the broader viewing audience. While there have been numerous attempts at interactive television in the past, viewers may be more receptive to the idea when using a device that they already associate with interactivity.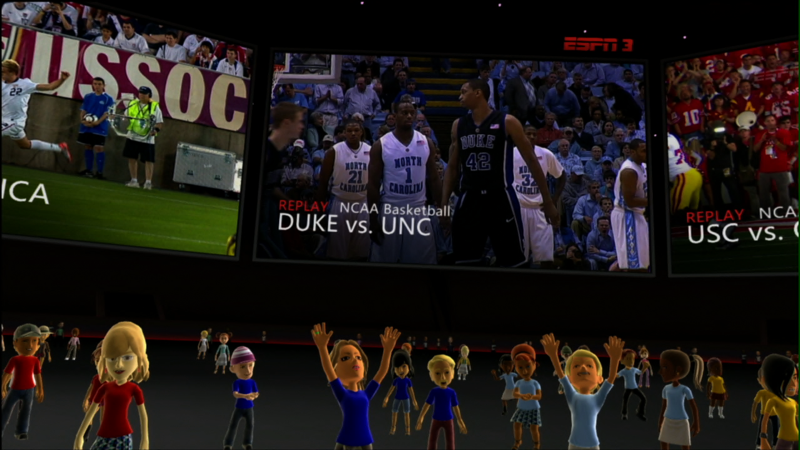 ESPN 3 on Xbox Live
Similarly, any technological advances intended for use in games has the potential to bleed over into television. For example, Microsoft's new Kinect peripheral began as a way to control games without a physical controller, but has now become a new input device for the system as a whole. As such, users can search for and interact with television content using only their voice or gestures. While still in its' infancy, the ability to instantly play, pause, or record a television program through a simple vocal command holds the potential to substantially alter the home television viewing experience. Microsoft's intentions to mobilize this technology for interactive advertising could be even more significant in monetizing this content9. Similarly, Nintendo's newly announced Wii U console offers a touch screen controller that can work separately or in conjunction with the image on the television, providing a unique dual-screen viewing environment.
[youtube]http://www.youtube.com/watch?v=RSk5DhxQHLo[/youtube]
Interactive Advertising with Kinect
Finally, these systems provide a glimpse into a future where television viewing occurs within a type of social network. While some movie trailers and televisions programs are offered through platforms like Facebook, Xbox Live and the PlayStation Network offer robust social networks within which television viewing occurs. Friends are able to view one another's "presence" data, which lets them know what game, movie, or television show their friend is engaged in, providing social information in a type of passive status message. At the click of a button, users can quickly access this content and catch up with or join their friends. Players can even form a "Movie Party" and watch content together while communicating through voice chat. As these systems begin to incorporate other social networks like Facebook and Twitter more heavily, these social features will only become more prevalent.
Through these (and other) devices, the television content that has gradually seeped out towards computers is beginning to return to the familiar television screen. However, this content is not returning unchanged, instead offering a unique viewing experience influenced by modes of interactivity, new input devices, and social networks. These systems are all new and unproven, but in today's digitized, uncertain, and convergent media landscape, game consoles look poised to continue to demand even more of your television attention.
Image Credits:
1. Microsoft
2. Netflix, 20 June 2011
3. Microsoft
Please feel free to comment.