For Your Consideration: Impending Emmy Nominations and the Case For "Quality" Dramas Not on Cable
Brittany Shelton / FLOW Co-Marketing Editor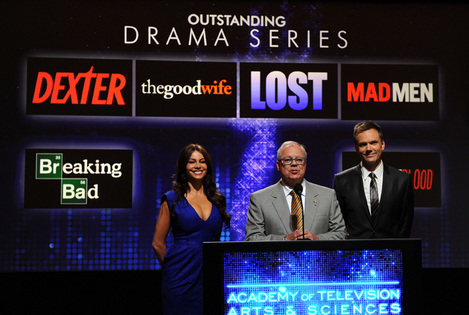 2010 Outstanding Drama Series Nominations
I have been following Michael Ausiello on Twitter since he was still a writer for Entertainment Weekly. I find Ausiello's fandom-fueled journalistic style refreshing and relatable, especially when he posts excited Twitpics from the set of Friday Night Lights or all-caps in-seat reviews for new films (his latest and most awesome 140 character review for Super 8 read something like "OMG. WOW. OMG. WOW. OMG. WOW. GO. SEE. IT."). Ausiello has now transitioned to the position of Founder and Editor-in-Chief of TVLine.com, a television-focused entertainment news site, and I have recently found myself drawn to certain @MichaelAusiello tweets that feature links to TVLine articles about drama series on both major networks and cable. It must be stated that I am, first and foremost, a television comedy fan. I'll stream old episodes of 30 Rock and Parks and Recreation on Netflix before tuning in for new episodes of Justified or The Good Wife. However, a recent TVLine post about the forthcoming 2011 Emmy nominations caught my eye by succinctly underlining the current state of the hour-long drama on television and the growing divide between cable and network programming in the genre.
In a piece entitled "Emmys 2011: Analyzing the Best Drama Series Race – Including Our 6 Dream Nominees," TVLine immediately posits that this year's category "might as well be called Outstanding cable Drama Series." Of course, this statement is no great revelation. Cable dramas have dominated dramatic categories at award shows such as the Primetime Emmys and the Golden Globes for years, even going so far as to seep over into the comedic categories (Please stop stealing Tina Fey's awards, Edie Falco!). According to analysis by the TVLine Team in the article, broadcast networks will be lucky if they get just one show in the final running for Best Drama Series at the Emmys, and everyone's money is on CBS' The Good Wife. Being nominated in its first season last year bodes well for the series this time around, and the show has managed to maintain its "quality" status by still garnering critical acclaim for its acting, writing and political timeliness while also maintaining high enough ratings to survive on network TV.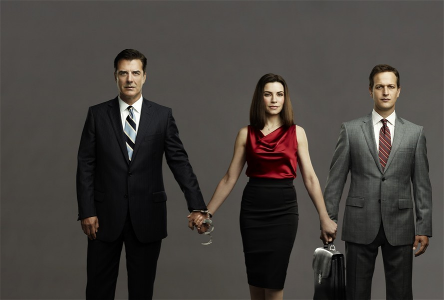 The Good Wife
While there are a handful of network dramas beyond The Good Wife not likely to receive nominations despite being quite deserving (Friday Night Lights and Fringe to name just two), I am more puzzled by the relative lack of Emmy buzz for NBC's ensemble "dramedy" Parenthood. For me, Parenthood is somewhat of a network television anomaly, managing to hold its own on Tuesday nights despite airing opposite The Good Wife. First, the show maintains an enduring paratextual connotation with "quality TV" due to the creative influence of former Friday Night Lights showrunner Jason Katims. The series is also shot in a similarly cinematic fashion, with multiple handheld cameras shooting at once and helping promote more open, naturalistic acting. Finally, the hour-long drama features a number of well-known "quality TV" actors such as Six Feet Under's Peter Krause and Gilmore Girls' Lauren Graham as well as a multitude of FNL cast alums. Ultimately, many of Parenthood's more cinematic aesthetic features help formally situate the show in the category of "quality TV," but the series' narrative also reads successfully modern and fresh. This relevance is due to the series' careful consideration of trendy topics like parenting a child with Asperger's and teen pre-marital sex, all while the show largely operates within the confines of a very conventional patriarchal drama led by the head of the Braverman family, Zeek (Craig T. Nelson). It would appear, therefore, that with Parenthood showrunner Katims has managed to helm a series that combines the best of both televisual worlds, fusing critical acclaim and conventionality in a way that makes "quality TV," with all of its narrative complexities, intertextuality and cinematic lineage, accessible for a broadcast network audience.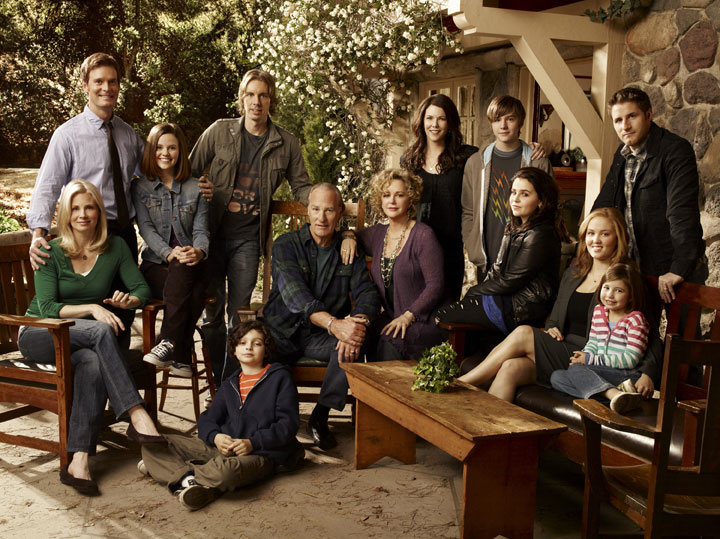 Parenthood
In the current TV landscape, this alone seems like an award-worthy feat. When full-blown network attempts at "quality TV" like FOX's Kyle Killen-penned Lone Star get cancelled after only two episodes due to low Nielsen ratings, it drives home the reality that new network series are under extreme pressure to deliver large, satisfied audiences from day one. In cable, however, the opposite seems to be truer than ever. The Killing, the newest addition to the category of almost unbearably slow cable dramas, received a second season pick-up last week based largely, some would say solely, on its early critical acclaim. Because The Killing airs on AMC (where story matters), it has the luxury of narrative breathability and relative freedom from ratings scrutiny. It's no wonder then that cable dramas are dominating the award shows today – they are free to offer viewers more calculated and complex narratives that allow characters to realistically develop in seemingly real time. How then can Emmy voters compare an episode of The Killing to an episode of Parenthood that, by comparison, seems wildly frenetic and disjointed? And how can any network drama compete with shows like Boardwalk Empire, Mad Men or Game of Thrones when expectations for cable and network dramas are so vastly different, especially when it comes to time and narrative pace?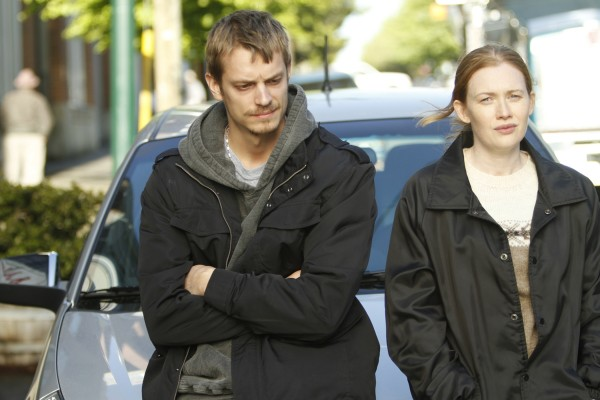 The Killing
Of course, these kinds of questions plague award shows and award show viewers every year, and part of the problem with championing a show like Parenthood is its inherent, network driven inability to fully embrace its "quality" elements and status (Jonathan Gray revealed what happened to FNL when it became "more than a football drama" in "The Reviews are In")1. As Krause told Entertainment Weekly in an interview last September, Katims' major emphasis when crafting Parenthood for a network audience is having the actors creating authentic, just right "moments" within the narrative that all viewers can relate to. Can you imagine a cable show like Breaking Bad ever citing such a philosophy, especially in public? In a perfect world, every moment of a series no matter its network origin should strive to resonate with viewers as a whole in an authentic and "quality" way. Is the problem, therefore, that we have come to expect that network dramas can only offer brief moments of cable-like "quality" due to the structural confines of mass entertainment? That would certainly explain why the Emmys, and seemingly everyone else, privilege cable dramas.
Overall, NBC appears to be the network most wholly committed to "quality" shows such as Community, Parks and Recreation and Parenthood that straddle the line between cult critical darling and (relatively) popular series. But will the Emmys recognize complex network balancing acts like these when cable offerings not only have bigger production budgets and more money for award show campaigns, but also less rigid guidelines for what constitutes the success of a series and room for more than mere moments of "quality"? I guess we'll have to wait until July 14th to see if network dramas get any Emmy recognition in the form of series or actor nominations.
Image Credits:
Images:
1. 2010 Emmy Nominations for Outstanding Drama Series
2. The Good Wife
3. Parenthood
4. The Killing
Please feel free to comment.
Gray, Jonathan. "The Reviews are In: TV Critics and the (Pre)Creation of Meaning." Flow TV: Television in the Age of Media Convergence. Michael Kackman et al, eds. (New York: Routledge, 2010). 114-127. Print. [↩]