Bootleg Archives: Notes on BitTorrent Communities and Issues of Access
Iain Robert Smith / Roehampton University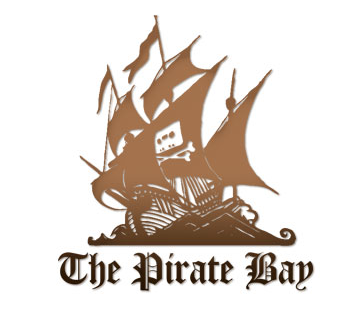 The Pirate Bay
Since the early years of VHS, a limited grey market has developed around films which are not available to buy through legitimate channels — a market that has expanded considerably with the advent of peer-to-peer filesharing on the internet. While much of the scholarly debate around filesharing has focused on the downloading of the latest films and TV shows, I would like to use my first column to argue that it is time we pay attention to the vast range of previously lost and forgotten films which are being circulated through paracinematic BitTorrent communities.
Before I get into the wider implications of this phenomenon, I should acknowledge that these communities have benefited me as a researcher. The topic of my PhD research — global film adaptations of American popular culture such as the 1966 Filipino film James Batman and the 1973 Turkish remake of Star Trek1 — meant that I was working on a large number of films which have never been given an official release on VHS, let alone DVD. For a long time, the only way to access these films was by trading nth-generation dubs with fellow collectors.
What has changed in recent years is that private BitTorrent communities such as Cinemageddon and Karagarga are allowing these amateur archivists to share their collections online and thereby make them freely available to all who have registered with the tracker. In doing so, these communities have developed informal bootleg archives with tens of thousands of rare and hard-to-find titles available at the click of a mouse.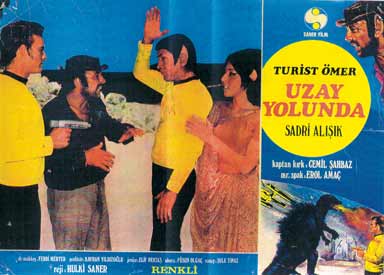 Turist Ömer Uzay Yolunda (1973)
Now, various scholars have debated the ethics of filesharing and I don't really want to focus on those debates here, although perhaps that may be something for the comments. Instead, what I'd like to consider is that these informal networks of collectors are sharing material that has been otherwise inaccessible, fansubbing material which has been unavailable with subtitles, and, thereby, are potentially reshaping our understanding of underexplored areas of world cinema history.
Given that Anglophone scholarship on national cinemas has been largely focused on films which have gained some form of international distribution and been subtitled in English, one of the strengths of these online communities is that they function to widen access to areas of world cinema that do not tend to leave the domestic market. As Dina Iordanova has recently argued, "we operate with a flawed understanding of the dynamics of world cinema, and… the field of film studies would greatly benefit from the introduction of more acute peripheral vision."2 From the most obscure Italian giallos through to even rarer 1970s Turkish action films, private BitTorrent trackers such as Cinemageddon and Karagarga are offering a library of peripheral titles which are otherwise near impossible to track down. According to Karagarga's manifesto, they are focused on "creating a comprehensive library of Arthouse, Cult, Classic, Experimental and rare movies from all over the world"3 and with nearly 60,000 titles available they are getting increasingly close to that goal.
Of course, in many ways this is nothing new. For a long time, the bootleg market has offered an alternative to the mainstream channels of film distribution. Ranging from films which have been banned from distribution through to films which have simply never received any form of official release, the trade in bootlegs has played a role in providing access to films which would otherwise be inaccessible. Often relying on a broad interpretation of the Berne Convention for the Protection of Literary and Artistic Works, traders such as the now defunct 'Superhappyfun' would provide films to collectors with the proviso that, "If a film should become available domestically, or if another seller should offer a better copy, we immediately stop offering it to our clients."4
What has shifted, however, is the sheer scale of material being traded, and the ease of access that is being provided through the P2P networks. As William Uricchio has observed, "P2P networks thrive in a dehierarchized, decentralized and distributed organizational environment and require collectivity and collaboration as conditions of existence."5 Given that a dedicated group of people are working on tracking down rare films, translating the dialogue and creating fan-subtitles for the community, this reflects what Henry Jenkins has described as the "collective intelligence of media fans"6 whereby fans are using new media technologies to archive, appropriate and recirculate media content.
We should be wary, however, of seeing this simply in terms of a utopian participatory culture. Too often debates around filesharing position pirated films as a form of resistance to global media conglomerates so that the "waking nightmares of Hollywood honchos swiftly become swashbuckling adventure stories."7 Instead, what we have with these BitTorrent communities is a more ambivalent dynamic in which the trackers are providing access to rare or unavailable material but the creators of the films — who are often as far from Hollywood as can be — are not getting any financial support. There is also the further problem in that the availability of bootlegs can potentially make it uneconomical for distributors to license and restore films for official release.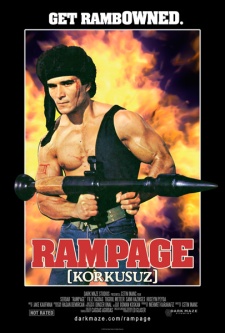 Korkusuz (Rampage, 1986)
I would like to end therefore with the example of Korkusuz (1986), a Turkish reworking of Rambo (1982) which was released on DVD by Dark Maze Studios in 2009 under the title Rampage. Licensed from the filmmakers and provided with a new English language track, the film was uploaded to BitTorrent sites within two weeks of its release. Upset that his DVD was being pirated, Dark Maze head Ed Glaser asked to have the film removed from BitTorrent communities, arguing, "Look, I am not 'The Man.' I have a full time, regular day job that supports my ability to make films. People who pirate my movies are not sticking it to anybody. They're just robbing someone of his dream to make a living doing what he loves."8 The comments were not heeded, however, and the film continued to be shared online for free.
Ultimately, then, with home distribution shifting towards a streaming model that potentially closes out whole swathes of film history,9 these filesharing communities offer a makeshift archive of rare material that provides access to films that might otherwise be forgotten. As the example of Korkusuz indicates, however, while these communities are providing access to rare and obscure material, there are still a number of ethical issues surrounding this model of sharing that are yet to be resolved.
Image Credits:
1.The Pirate Bay
2.Turist Ömer Uzay Yolunda (1973)
3.Korkusuz (Rampage, 1986)
Please feel free to comment.