Screen Text
Julia Lesage / University of Oregon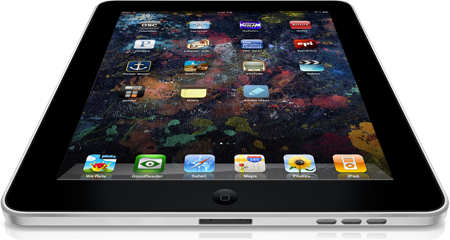 The impact of the iPad?
In a series of columns encouraging Flow readers to examine, indeed document, their own media use and how it relates to their research and writing, I here detail some of the impact the iPad has had on my intellectual and recreational life, most of which centers around reading. By reflecting upon my ideolect of computer use, I also see more clearly the ways I am tied into the institutional and commercial entities that make screen text available.
First of all, using the iPad has led me to reconsider the trajectory of how I have done traditional academic research and the often invisible ways in which changes in library structure have preceded the changes in my personal research strategies. For example, the computer was supposed to give us the "paperless office," but throughout most of my scholarly life, photocopied essays filled my file cabinets at home and in my office, overflowing into numerous cardboard boxes. These documents seemed easier to read than onscreen text on the monitor, and could be annotated. Then (was it ten years ago?) the University of Oregon library changed its homepage, online search engine so that an entry immediately gave you access to both its own collection and to a "find text" button leading to scholarly journals, from which PDFs could be downloaded. Suddenly I was amassing many more PDFs, saved via a Firefox add-on Zotero, and only about 10% of these got printed out. Now, with an iPad my use of PDFs has changed once again. I print out very few since they seem so much easier to read on an iPad, where the app GoodReader allows for organizing PDFs in folders, and the iPad screen lets me enlarge the text to a more readable font size. I could even annotate the files if I wanted to, but I still prefer to do that by hand. The social downside to this kind of research is that my institutional access, even as retired faculty, represents an elite privilege to freely use academic library resources that most users of the Internet do not have.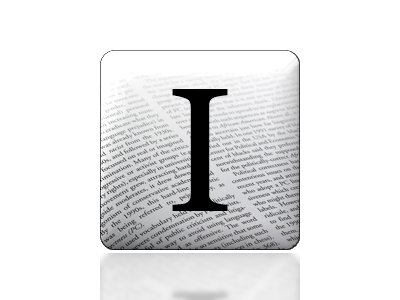 Apps like Instapaper make on-screen reading efficient and approachable.
In an even more dramatic shift in my onscreen reading, I read much more online news than ever before. I had subscribed to some RSS readers over the years through Bloglines and Google, but it always seemed a chore to plow through them, not comfortable and without flow. Now, with the iPad, I use a newsreader that looks like a newspaper to accompany my morning coffee. In addition, Instapaper—an app synced to Safari on both my Mac and iPad—reformats any web article as text with resizable fonts, so I use this app to collect most web material that I will want to read later. The reformatted text seems so more readable. The problem with RSS readers, however, is like the problem of using Pandora or Last.fm for music listening. You program it with your preferences and then it gets boring not to have surprises; we all need new information different from what we might expect.
Most dramatic, however, is the impact of the iPad on my reading of fiction. As indicated, I love to be able to change font sizes, which is especially useful when working out on the treadmill or the stationary bike at the gym. But screen reading of fiction brings any iPad user up against corporate and institutional restraints and competition. For example, iBooks, the Apple product, will not accept all ebook file types, while Amazon's Kindle app will allow you to add any kind of book file. Furthermore, I want to use Oregon's municipal-library-consortium's ebook lending program, which utilizes an Adobe application, Adobe Digital Editions, that resides on my Mac. Because of the feud between Apple and Adobe, getting the public library books onto my iPad requires a computer workaround and yet another iPad reader app, Bluefire. (Adobe is the mother of draconian digital rights management. In this vein, Digital Editions is similar to Adobe's DRM media software that currently enables independent distributors such as New Day Films to stream their films to colleges and households.)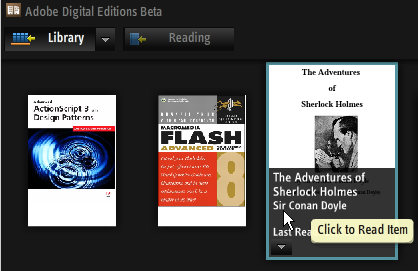 Libraries using Adobe Digital Editions are often incompatible with Apple products.
I've used the public library since I was a small child. I want fiction to be plentiful and free, or at least available at used bookstore prices. The iPad has changed my reading habits as I search the Internet for free fiction. First of all, I have a renewed appreciation for Project Gutenberg, which has been putting public domain books online for free since 1971, long before the Internet ever existed. In fact, I often buy collected versions of Gutenberg texts from Borders or Amazon to save the effort of collecting them (the collected works of Balzac, Edith Wharton, Elizabeth Gaskell, Virginia Woolf). I have even found some pop authors who delight me there (Edna Ferber, John Buchan). But Project Gutenberg's greater effect is to turn me back to authors I always wanted to read or delight in rereading. Interestingly, Project Gutenberg owes much of its impact to the lifelong devotion of one man to the project, Michael Hart, who has joined with others in legal efforts to keep the Internet "free."
Beyond Project Gutenberg, I have found that the Internet abounds with free short stories, often well-curated in monthly ejournals. My own interest runs to science fiction and alternate universe stories, and I have found hundreds of such stories on the Internet. By using Instapaper to pick up these stories from the Internet, I can make little ebook collections of about fifteen stories each to put on the iPad. Never before a short story fan, I have become a convert, especially since I can finish two or three whole narratives in a session. For a change of pace, sometimes I even buy books from Borders or Amazon.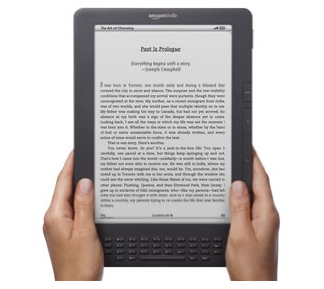 Ebook readers, like the Amazon Kindle, facilitate profitable ebook sales.
At this moment in media history, the ebook is comparable to the music file. Luckily for us, Project Gutenberg got a head start and has kept much of our literary heritage available for free. And we have a strong public library tradition to counterbalance the megabook chains, which have shrunken down to Barnes and Noble and Amazon. Ebooks are profitable, as Amazon's sales have proven. We can expect more sophisticated institutional and legal moves to control and increase those profits. As David Harvey put it in The Condition of Postmodernity, international capital seeks to encapsulate and monetize ever small and smaller units of previously uncodified space. In the realm of onscreen reading, for example, Google's ebook reader seeks to control profits by sending out only a small bit of text at a time, to keep the ebook from ever being on the computer all at one time. In spite of such silly efforts, ebook piracy will surely increase. Media scholars should consider screen text at many levels, far beyond the issue of whether or not ebooks will replace paper texts. Struggles over new platforms, like the Kindle or iPad, represent just one chapter in the institutional effort to control and monetize information, a struggle in the electronic realm which the popularity of ebooks and ereaders has just intensified.
Image Credits:
1. The impact of the iPad?
2. Apps like Instapaper make on-screen reading efficient and approachable.
3. Libraries using Adobe Digital Editions are often incompatible with Apple products.
4. Ebook readers, like the Amazon Kindle, facilitate profitable ebook sales.
Please feel free to comment.