The Myth of Amateur Crowds
Daren Brabham / University of North Carolina at Chapel Hill
Main page of threadless.com, where users can buy and upload t-shirt designs
I first examined the crowdsourced advertising trend on Flow nearly two years ago, focusing on Doritos' "Crash the Super Bowl" ad contest and the disastrous user-generated ad experiments by Chevy Tahoe and Heinz. In recent years, we've seen other examples of crowdsourced advertising and attempts by companies to involve consumers in the creation or selection of products in various ways. We've even seen renewed interest in crowdsourcing film production with Ridley Scott's Life in a Day documentary compiled from user-submitted clips via YouTube.1 Each of these instances of user-generated or crowdsourced media production has been accompanied by an enthusiastic discourse of amateurism, a discourse I, too, have been guilty of perpetuating in the past. Now that more empirical research has been done on these co-creative arrangements, it is important to clear the air a bit, to dispel the myth that these sometimes slick media products are the result of everyday, amateur people looking for a creative outlet.
[youtube]http://www.youtube.com/watch?v=xMdsx0wv1Yo[/youtube]
First, it is worth distinguishing crowdsourcing from simple public input. Crowdsourcing is a distributed problem solving and production model whereby an organization leverages the collective intelligence of an online community for a specific purpose.2 There are at least four dominant types of crowdsourcing, and the one most relevant to the media industry is the peer-vetted creative production approach. In this arrangement, an organization asks an online community to produce whole creative ideas, such as television commercials, and then empowers that community with some ability to vet the ideas of peers, usually through a voting mechanism.3 The result is the generation and selection of creative content that an organization can then use for its own purposes, often in exchange for a prize to the winning idea. The Doritos "Crash the Super Bowl" ad contest is a great example of true crowdsourcing.
Though the word "crowdsourcing" is tossed around liberally to refer to any instance where an online community voices its opinion, I define crowdsourcing rather narrowly. In contrast to crowdsourcing are several cases where companies simply ask its consumers to vote on their favorite idea. Mountain Dew's "DEWmocracy" promotion is an example of this kind of simple input-gathering. In 2010's "DEWmocracy" campaign, people had the opportunity to vote on a slate of possible new flavors of Mountain Dew, with citrus-flavored "White Out" winning the vote. "DEWmocracy" was just another iteration of the kind of thing M&M's did in 1995, where people could call in to vote on a new color to replace its retiring tan color (blue won). These input-gathering activities are little more than public relations campaigns to engage consumers in the launch of new products, no different than large-scale market surveys or focus groups. This is not crowdsourcing.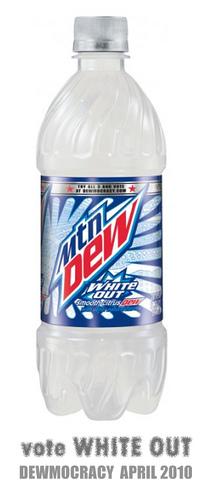 Because voting for a Mountain Dew flavor is as important as real democratic participation.
In these input-gathering public relations campaigns, amateurs truly are engaging the product in a small way, casting thousands or millions of votes to determine the product they will have an opportunity to purchase next. But this "engagement of the masses" in product development does not translate to real crowdsourcing activities. Really, those with specific interests or professional training are more likely to participate in crowdsourcing contests. These are not everyday people who pick up a video camera and try to produce a commercial.
When Jeff Howe coined the term "crowdsourcing" in 2006, he launched a blog called Crowdsourcing: Tracking the Rise of the Amateur, tethering the image of the amateur or hobbyist to the buzzword of crowdsourcing. Early on, it was assumed that the crowd really was just a crowd of average Joes—a few experts in the bunch, but mostly just bored everyday folks in their cubicles at work, toiling away on crowdsourcing sites to express their pent-up creative energies. This amateurism is more a romantic notion than a truth, though.
Billy Federighi and Brett Snider, who were finalists in the 2007 Doritos "Crash the Super Bowl" ad contest, were film students in Hollywood, with access to the training and equipment needed to make a quality commercial.4 And despite the "rags-to-riches" rhetoric surrounding the jobless Herbert brothers, winners of the 2009 "Crash the Super Bowl" contest, "Dave and Joe [Herbert] weren't exactly in rags, their unemployment was deliberate, and their triumphant Doritos commercial was as carefully calibrated as any Madison Avenue marketing campaign."5 The Herbert brothers' winning entry was made with the help of a crew of two dozen, which included professionals.
[youtube]http://www.youtube.com/watch?v=9AGaKKIo9FY[/youtube]
The same is true in the world of graphic design and stock photography. Despite being praised as a "marketplace for the work of amateur photographers—homemakers, students, engineers, dancers"6—stock photography company iStockphoto.com seems largely a second market for professional stock photographers to sell their work. My survey of 651 iStockers in 20077 found that 47% of participants felt that the term "professional" most accurately described them in terms of their creative talents (the most popular choice), with "hobbyist" the second most common (23%) and "amateur" the third most common (14%). Furthermore, 58% of iStockers surveyed had at least a year of formal schooling in art, design, photography, or a related creative discipline, and more than one-fourth (26%) had more than five years of schooling. And 44% had more than five years of paid artistic experience.
At Threadless.com, a crowdsourced t-shirt design company, many of those who submit t-shirt designs are professionally trained graphic designers and artists. Several of the winning designers who have been interviewed by members of the Threadless community even have their own robust freelance design portfolios, belong to well organized design collectives, and work for graphic design, Web design, and advertising firms.
[youtube]http://www.youtube.com/watch?v=9VKRbmnqXR4[/youtube]
On the other end of the spectrum, crowdsourced scientific research and development company InnoCentive.com features a similar slant toward professionals and experts, with nearly 70% of participants in the "solver" community holding Ph.D.s in science.8 Likewise, a crowdsourcing experiment in bus stop shelter design in 2009-2010 aimed at bringing in amateur input attracted design submissions from mostly professional architects, urban planners, graphic designers, or current students of those disciplines.
Crowds, quite simply, are not comprised of amateurs in the way we'd like to think that they are. Why does this matter to the media industry? It matters because the discourse of amateurism in user-generated or consumer-voted media is also connected to the discourse of democracy. If something is made "by the people, for the people"—everyday, amateur people—then in our culture it is in some ways automatically better; it wasn't expertly targeted to us by profit-hungry companies, and it wasn't spun by a politically biased news organization. The discourse of amateurism thus makes us feel more empowered, more in control of the products and media we consume. But these so-called amateurs are really just outsourced professionals, and the products and media content we are sold are not much different and certainly no more democratically created.
It is problematic to celebrate the work of professionals through the discourse of amateurism, not just because it's a lie and privileges elites, but because it allows companies to outsource responsibility as well. If a company can claim it opened itself up to input from a crowd, then it can similarly avoid accountability for content that flops in the ratings, perpetuates stereotypes, or otherwise fails. And even if user-generated content fails, the company can usually win in terms of public relations, claiming that it engaged consumers in the brand in more intimate ways than it ever had before.
As more people get access to the Internet, we will only see more of this kind of crowd engagement on the part of consumer goods manufacturers and media companies, and we'll continue to be sold this vision of amateurism along the way. It's a new iteration of the same old American myth of the self-made man, of bootstraps, of the Protestant ethic of self-help. It is up to us to start seeing through this illusion of democracy and amateurism in crowdsourcing and user-generated media endeavors in order to realize that all of this activity, at its root, is just more consumerism skillfully executed by creative professionals.
Image Credits:
1. Threadless.com
2. Mountain Dew "Dewmocracy" campaign advertisement, Source: flickr.com, User: "Mountain Dew White Out"