Welfare Queen Redux: Teen Mom, Class and the Bad Mother
Amanda Ann Klein / East Carolina University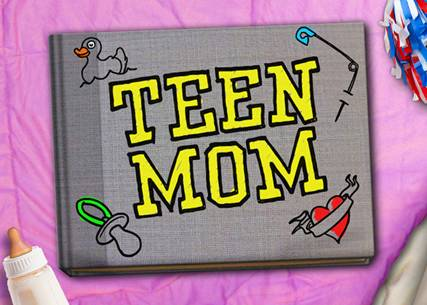 MTV's Series Teen Mom
In the 1980s the archetypal Bad Mother, the so-called "welfare queen," was deployed by the Reagan administration to signify the failure of the liberal agenda of the 1970s. According to the Reagan narrative, these so-called welfare queens were using their welfare checks to purchase Cadillacs and jewelry, rather than food and clothing for their children. Explicitly, this image of the Bad Mother signified that the welfare system was ineffective and needed to be dismantled. Implicitly, however, this image suggested that poor, African American women were incapable of properly caring for their children, even when the government provided them with the money to do so. MTV's reality series about the aftermath of unplanned pregnancies, Teen Mom, relies on a similar trope of class-based villainy. Amber, a working class, Caucasian woman who beats her boyfriend and screams at her child, operates as the series' archetypal Bad Mother. The series' exploitative reunion special does acknowledge that Amber's history of domestic abuse and her inability to complete her high school degree has impacted her ability to effectively parent her child. However, within the diegesis of Teen Mom, Amber's status as Bad Mother is used to generate viewer outrage and drive home the series' message about the dire consequences of teen sex, particularly for the financially destitute.
After airing a series of successful reality programs focusing on the lives of wealthy, privileged teenagers, such as Laguna Beach and The Hills, MTV took a decidedly different approach with Teen Mom. Tony Di Santo, MTV's President of Programming and Development, explains that the show was created in order to cater to the desires of its target audience of Millennials: "This generation wants their reality more 'real' which led us to hits like Sixteen and Pregnant, Jersey Shore, and Teen Mom." In addition to its ratings success— the program is consistently number one in its time slot with the coveted 12-34 demographic — Teen Mom has also been a popular culture fixture since this summer's season 2 debut. Its young cast has been featured on the covers of numerous magazines and concerns over the show's alleged "glamorization" of teen pregnancy have been debated on blogs, in online magazines and in major news sources. In other words, the show's images are highly visible, culturally resonant, and therefore, worthy of critical investigation.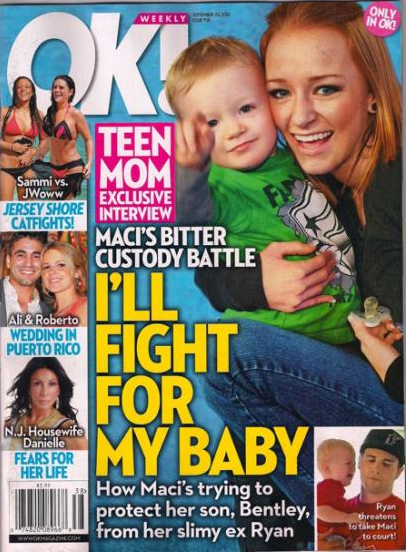 The cast members of Teen Mom have appeared on the covers of OK, US Weekly, and People.
The extradiegetic spectacles surrounding Teen Mom do appear to glamorize teen pregnancy. But within its diegesis as well as its paratexts, Teen Mom strives to promote and encourage responsible teenage sexual behavior. Public Service Announcements about teen pregnancy air during commercial breaks and MTV's Teen Mom companion website hosts links to sites like StayTeen.org, which promotes teen abstinence, and It'sYourSexLife.com, which promotes safe sex. The show itself conveys this message by showing how difficult parenting can be. Though these aims are laudable, it is significant that Teen Mom's primary warning image is Amber. She is estranged from her family and therefore receives no financial or emotional support from them. She has a physically and emotionally abusive relationship with the father of her child, Gary; the couple frequently engages in loud, violent arguments in front of their daughter. Although the series avoids overt didacticism within the diegesis, the editing and cinematography still invite us to evaluate and judge each mother's actions. Indeed, Amber's status as Bad Mother is further bolstered by frequent cutaways that highlight the semantics of poor parenting; close-ups of piles of clothing heaped in corners, cardboard moving boxes that are never unpacked, Leah's bare crib mattress, and shots of Leah playing alone with potentially dangerous household items or near open windows, are all damning statements on Amber's inability to parent her child.
We are also asked to judge Amber's behavior when it is juxtaposed with that of the series' other, more responsible mothers. These women certainly have their struggles: Maci grapples with a bitter custody battle and Farrah must come to terms with the death of her daughter's father. However, both young women have their high school degrees, as well as support and financial help from their middle class parents. Catelynn, the fourth woman profiled on the program, serves as a particularly damning counterpoint to Amber. She and her fiancé, Tyler, were reared in broken and abusive homes and consequently decide to give their daughter, Carly, up for adoption to a stable, middle class couple. However, Catelynn's mother, April, who is a verbally abusive alcoholic, views the couple's decision as a personal attack (she was a teen mom herself). April routinely calls Catelynn a "bitch" and refuses to comfort her as she mourns Carly's absence. In these moments April becomes yet another spectacle of the Bad Mother, further reinforcing the show's message that the only way that the poor and the abused can be Good Mothers is by giving their children away to someone else. This perspective on class and motherhood is supported by the show's paratexts, such as the following Public Service Announcement, starring "celebrity teen mom" Bristol Palin. This ad, which aired during the commercial breaks of several episodes of Teen Mom, implies that teen motherhood is only untenable for those from the social underclass.
[youtube]http://www.youtube.com/watch?v=YpHlztPeHf8[/youtube]
This Public service Announcement, featuring "celebrity teen mom" Bristol Palin, aired during episodes of Teen Mom
The only time when MTV complicates this black and white message is during the exploitative Teen Mom reunion special, hosted by the ubiquitous Dr. Drew Pinsky. During the reunion show, Amber, like all of the teen moms, must rewatch key scenes from the season and then discuss them with Dr. Drew. Not surprisingly, Amber's highlight reel is a montage of Bad Motherhood. When Dr. Drew replays the series' most controversial scene, in which Amber repeatedly punches and kicks Gary, a screen within the screen displays Amber's real time reaction to the images; she grips her head with both hands, rocks back and forth, and sobs. It is clear that Amber is ashamed of her behavior and sees it as wrong. During this segment we also discover that Amber and Gary were both reared in abusive homes. For the first time, Amber's image as Bad Mother is contextualized, demonstrating how victims of domestic violence often grow up to perpetuate the violence they experienced or witnessed as children.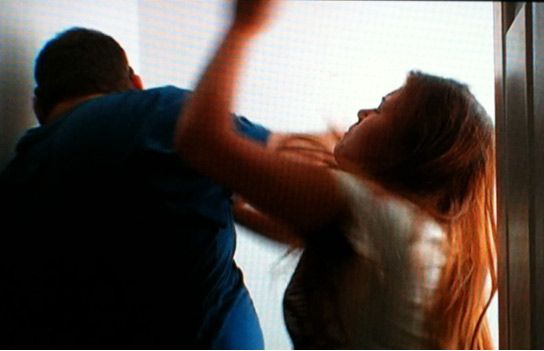 Primal scene: Amber beats Gary while Leah watches
After discussing this violent episode with Amber and Gary, Dr. Drew tells the studio audience that "80-90% of kids living in homes with domestic violence are fully aware of what is going on" and offers help numbers for male victims of domestic violence. Here, Amber's life and its misfortunes are converted into a Public Service Announcement. MTV has a responsibility to make such announcements, but presenting Amber as the case study for what not to be further demonizes and dehumanizes this very troubled woman (particularly since she is present as Dr. Drew describes how awful her behavior is). It is also significant that Amber is the only mother who is asked the question: "How would things be different if you didn't have a baby?" Later, Dr. Drew asks her to imagine the advice she would give to her daughter at age 16. Amber tearfully urges: "Don't have sex. Don't even go near it."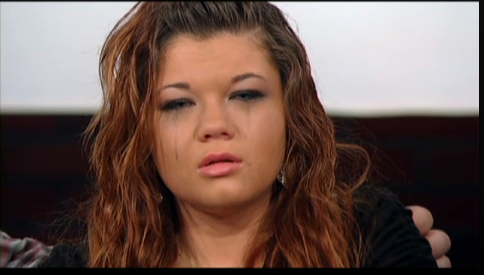 A contrite Amber becomes an abstinence advocate on the Teen Mom reunion special
At the conclusion of Amber's interview, a smug Dr. Drew pats her arm and says: "Makes you want to change, doesn't it?" Certainly Amber should want to change: punching her lovers and screaming at her child are damaging behaviors. But like Reagan's villainous welfare queen, Teen Mom's image of the Bad Mother obscures the very real socioeconomic issues that have created her: Amber lacks a family support system, is unable to complete her education, and was raised in a home filled with physical and mental abuse. Instead of investigating these important issues—how the cycle of abuse perpetuates more abuse—Teen Mom deploys the image of the Bad Mother as a straw man embodying the dangers of unprotected sex. Teenagers are asked to gaze at Amber's life in horror and, consequently, remain virgins for as long as possible.
Image Credits:
1. MTV's Teen Mom
2. OK! magazine cover
3. Amber beats Gary
4. Teen Mom reunion special
Please feel free to comment.