The Rally to Restore Sanity and/or Fear: For the Young or the Young at Heart?
Kelli Marshall/ University of Toledo
The Rally to Restore Sanity and/or Fear Official Poster
As I have with award shows, conferences, and, yes, in-class screenings of Body Heat (Lawrence Kasden, 1981), I intended to live-tweet the Rally to Restore Sanity and/or Fear, held October 30, 2010, on the Mall in Washington D.C. But that plan was shot to hell around 9:00 AM on the day of the event, when I—and thousands of other unlucky AT&T customers—realized we would have no phone or Internet service for the next seven hours. This technological breakdown1 apparently frustrated many families and friends who were trying to schedule meeting times and locales amid the swelling crowd of 215,000.2 But for me, the tower overload meant that I couldn't report on or post pictures of the activities as I'd promised, nor could I engage with those on the rally backchannel like Brian Stelter, whose live-tweeting echoed what I'd been thinking since I boarded the plane in Detroit eighteen hours earlier: namely, that the Rally to Restore Sanity and/or Fear was not necessarily "a Woodstock for the Millennial generation" as some had touted, but an event aimed heavily at Generation X and Baby Boomers, or those fans who are singlehandedly raising the median viewing age of The Daily Show and The Colbert Report.3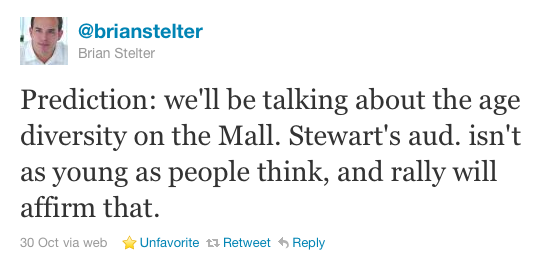 Stelter's was the last tweet I read before my phone service shut down completely.
A journalist for the NY Times, Stelter predicted that after the rally, the media would be buzzing about the age diversity on the Mall. But they didn't. Rather, the anchors, journalists, and bloggers focused primarily on the signage, the unexpected turnout (215,000 vs. the predicted 60,000), and Jon Stewart's stirring 12-minute speech/pep talk. And of course, one network covered the rally as an "insane" pot-fest, claiming erroneously that Proposition 19, a ballot initiative to legalize marijuana, was "one of the more common issues seen on signs." Not true. While standing in the congested subway station, walking a mile to Mall, shimmying through the crowd, securing a spot near a JumboTron, and leaving the rally, I saw maybe four signs (out of hundreds) that alluded to Prop 19 or drugs. In any event, the huge audience and Stewart's heartfelt attack on America's "24-hour political pundit perpetual panic conflictinator" certainly warranted media coverage. But so did that which Stelter, other attendees, and I were noting both visually and virtually: that is, Gen-X and Baby Boomers were strongly represented in the crowd and onstage; and this, it seems, is something few people expected.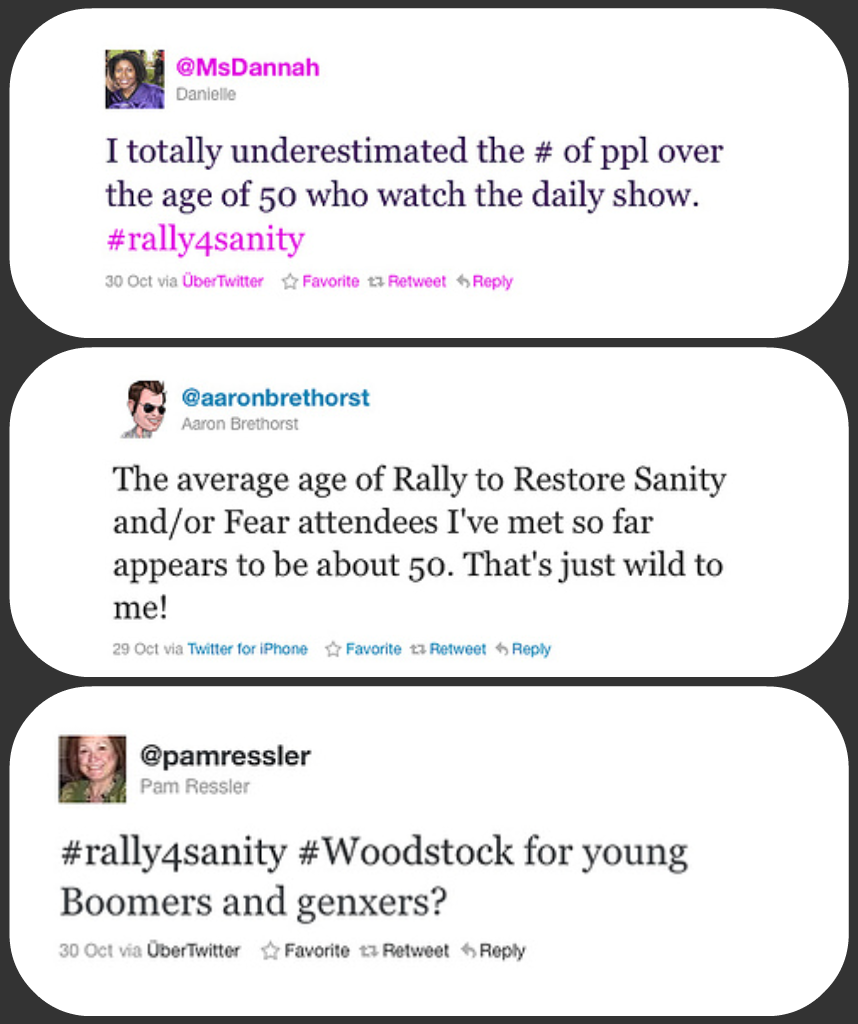 Live Twitter feed During the Rally.
Again, from the moment I flew out of Detroit, I realized that the Rally to Restore Sanity and/or Fear would not be the so-called Millennial Woodstock I'd heard about for the week prior. First, sitting in the window seat across from me was a Baby Boomer who proudly displayed his Rally to Restore Sanity hat. The following day, I stood shoulder to shoulder on a crowded subway with a couple in their late 60s who indicated their destination via t-shirts that read "I'm not afraid of Muslims, tea partiers, socialists, immigrants, gun owners, or gays. But I am scared of spiders." Then, after stepping foot on the Mall and winding through the mob, I set up camp next to some Gen-Xers and several more Boomers, two of whom were initially "at the front near the stage" but relocated because they "were getting pushed back too much by the crowd." But what really solidified this notion that the rally was conceptualized for the young and the young at heart was the program, chock full of performers and guests more familiar to people in their 40s, 50s, and 60s than the generation usually mentioned in succession with Jon Stewart and Stephen Colbert.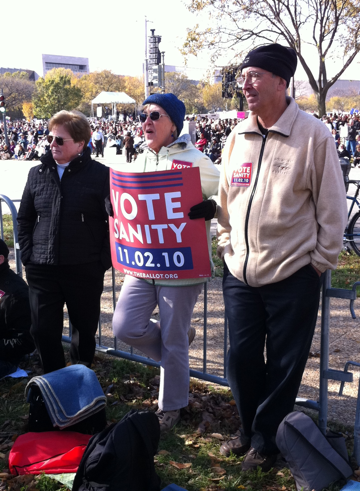 My Baby Boomer "neighbors" enjoying the rally.
Specifically, the roster for the Rally to Restore Sanity and/or Fear (which was not released to the public beforehand) featured the following personalities/performers: The Roots, John Legend, Star Wars's R2-D2, Jeff Tweedy, Kid Rock, and Sheryl Crow — young(ish), hip, pop-culture icons with whom most Millennials are likely familiar.4 But also featured onstage that brisk fall afternoon (and arguably the most memorable) were Yusef Islam (formerly Cat Stevens), The O'Jays, Ozzy Osbourne, Father Guido Sarducci, Law & Order's Sam Waterson, Mythbusters's Adam Savage and Jamie Hyneman, Mavis Staples, Kareem Abdul-Jabbar, and Tony Bennett—names/artists more recognizable to Generation X and Baby Boomers than the supposed regular viewers of The Daily Show and The Colbert Report. In fact, with the exception of The Prince of Darkness and Kareem Abdul-Jabbar, few of my students (I have about 200) could recognize the latter names (see poll below).5 Moreover, one student tweeted that even after he looked up some of the people, he still didn't know who they were. In the same vein, a NY Times writer had to counsel his readers on Don Novello's Saturday Night Live character who provided the rally's "benediction": "If you're not familiar with the comedy of Father Guido, ask your parents. If they're not familiar, have them ask your grandparents." No, young person, just turn to the 40- or 50-year-old standing right next to you.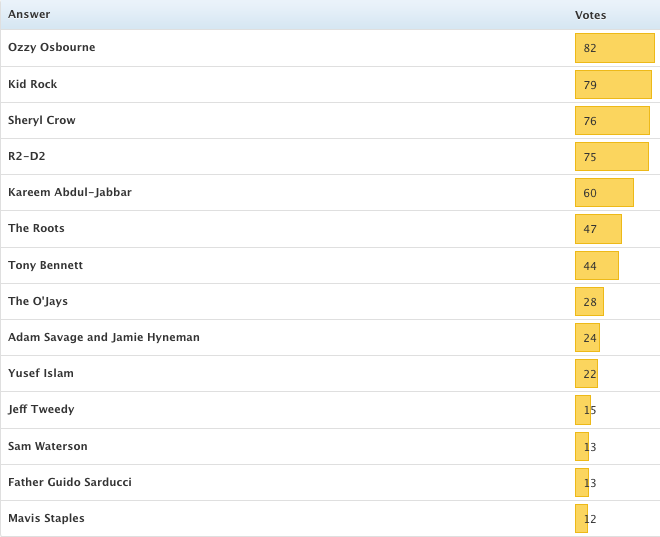 I polled my students, "Which people/names do you recognize?"
As I've suggested above, audiences of The Daily Show and The Colbert Report are typically portrayed as liberal, lazy, pot-smoking college students — "stoned slackers," Bill O'Reilly likes to say. Or as Rush Limbaugh put it a couple of days before the rally, they're kids who are willing "to sit around, get drunk, smoke some doobies, and listen to putrid jokes told by a couple of half-baked comedians."6 Furthermore, even when Stewart's and Colbert's viewers are represented positively in the media—for example, as being more in tune to election issues than non-TV-watchers and more "confident in their ability to understand the complicated world of politics"—the age-range covered is virtually always 18-25.
But as the world now knows, Millennials are clearly not the only demographic that watches, embraces, and relishes in the smart satire of The Daily Show and The Colbert Report. Of course, those of us who've researched the two programs have been aware of this for years. For instance, we knew that in 2006, the average age of viewers was 35, their average income was $67,000, and they were 78% more likely than the average adult to have four or more years of college education. What's more, we now know that the shows' viewing age is steadily rising, for according to Nielsen ratings and a Forbes report, the median age of Stewart's viewers is currently 41.4, and Colbert's has risen from 33 to 38. I can only imagine that as the hosts and their audiences age, the figures will continue to increase. But so what? If the Rally to Restore Sanity and/or Fear is any indication of what that future will look like, why that's not bad at all.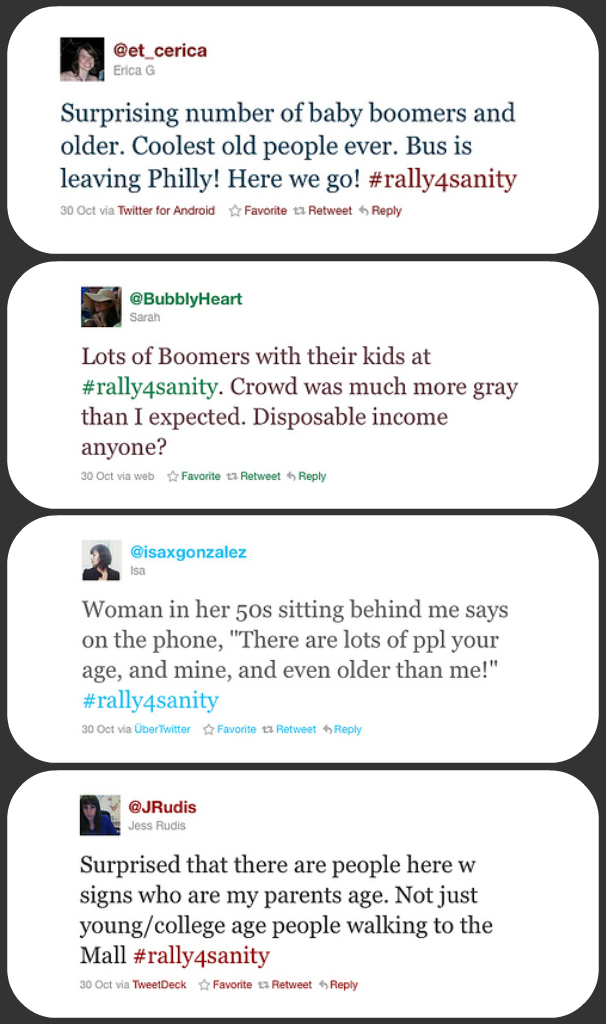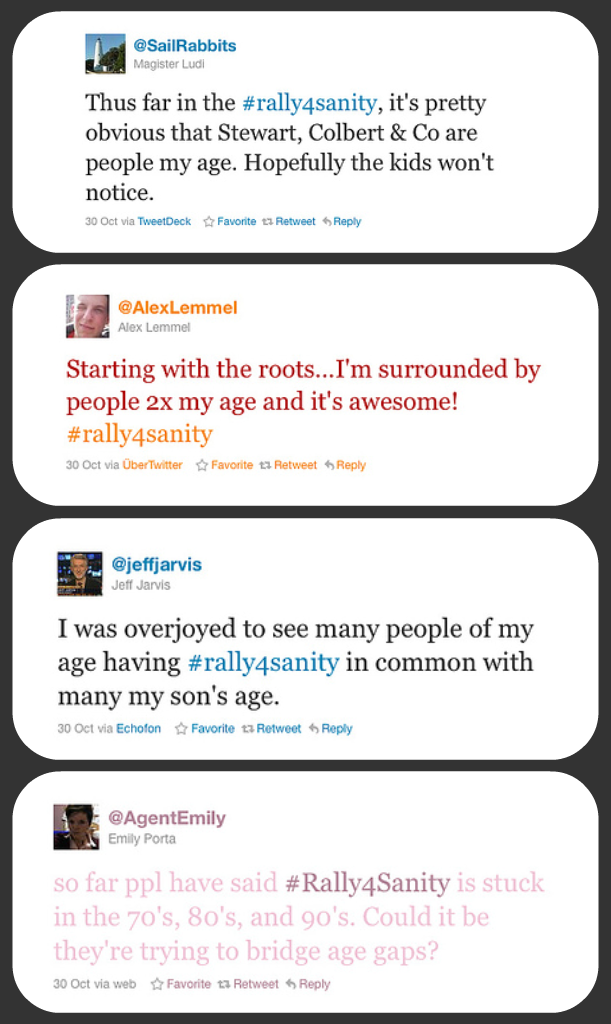 Live Twitter Feed During the Rally.
Image Credits:
1. Rally Poster
2. Brian Stelter's Tweet
3. Captures of live Twitter feed compiled by author on October 29, 2010 from the following Twitter accounts:
@MsDannah
@aaronbrethorst
@pamressler
4. Baby boomers image produced by author
5. Student Poll
6. Captures of live Twitter feed compiled by author on October 29, 2010 from the following Twitter accounts:
@et_cerica
@BubblyHeart
@isaxgonzalez
@JRudis
@SailRabbits
@AlexLemmel
@jeffjarvis
@AgentEmily
Please feel free to comment.