The Potential of Vernacular Video for Queer Youth
Daren C. Brabham / University of North Carolina at Chapel Hill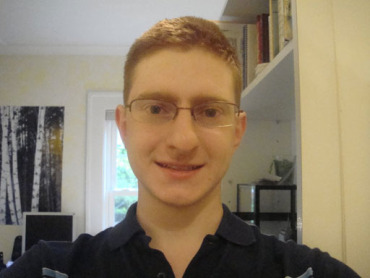 Rutgers University's Tyler Clementi, the most recent of four teen suicides in September stemming from anti-gay sentiments
September 2010 was a particularly bad month for the lesbian, gay, bisexual and transgendered (LGBT) communities. Last month, Senate Republicans voted to halt a military spending bill that would have also repealed the "don't ask, don't tell" rule that prevents LGBT people from serving openly. Also last month, Bishop Eddie Long, leader of a large church in Atlanta known for preaching an anti-gay and hyper-masculine message, found himself implicated in a gay sex scandal, joining a group of other hypocritical anti-gay pastors and politicians. It was also another month gone by without marriage equality.
But the true tragedy of September, and of many months before that, was that so many teenagers endured bullying because they were suspected of being gay. First-year Rutgers University student Tyler Clementi, who was not openly gay, committed suicide after his dorm roommate webcast his sexual encounter with another man. Clementi's death was, unfortunately, the fourth of its kind in September, punctuating a string of similar suicides by teenagers forcibly outed or bullied by classmates. What was different about Clementi's tragedy, however, was that he was outed via webcam and broadcast to an unknown number of people. His private love life was made public without his knowing, his security compromised, and his personal, comfortable pace of sexual identity development accelerated beyond his control.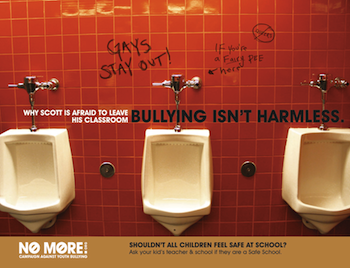 Poster for anti-gay bullying campaign by Lauren Swanson
We see popular, well-adjusted gay teen characters like Glee's Kurt Hummel (Chris Colfer) on television and we forget how many teens deal with bullying and suicidal thoughts as they come to terms with their sexual identity in isolation and fear. LGBT people, especially closeted queer youth, need privacy and safety above all. They need confidantes, not surveillance. Today's vernacular video culture1, where everyone has the equipment and the skill to shoot a quick video and disseminate it on the Internet, makes being closeted a scary place. Gossip and bullying for being suspected of being gay is one thing, but video proof sent to classmates can be a death blow.
Writing in 1995 about the effects of vernacular video on journalism, Pat Aufderheide noted that this practice shows us "realities we might not otherwise have been allowed to visit," where "nothing is too personal."2 Furthermore, Tom Sherman noted that video is "an instrument for framing existence and identity."3 The practice of vernacular video, then, can be both invasive and revealing, both oppressive and expressive, but always personal and ubiquitous. These video practices led to Celementi's suicide and have indeed exposed and harmed the reputations of many others unwittingly.4 So where should we place the blame for these kinds of tragedies, and what can be done about it? Is there a place for vernacular video as a remedy?
Without a doubt, those doing the bullying or secret recording are the first to blame for a queer youth's suicide. But it is irresponsible to vilify only these individuals when many others are complicit. Asher Brown, a 13-year-old middle school student in Houston (from my home school district, no less), took his own life after nearly two years of bullying at school for being gay. Brown's parents claim school officials failed to take action when made aware of the bullying. And last year, Jayron Martin, a high school student (again from my school district), was "beaten with a metal pipe in what he said was an anti-gay attack. . . . Martin said at the time he had begged two principals and his bus driver to intervene prior to the attack, but they failed to do so."5 School officials are certainly to blame when they know about this kind of harassment and stand idly by.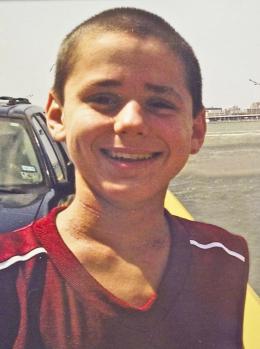 Asher Brown, 13, killed himself after enduring 18 months of bullying and harassment
Beyond these immediate actors in a situation, though, society is to blame. Blogger Perez Hilton posted a video response to recent anti-gay violence and suicides from comedian Sarah Silverman that indicts parents who teach their children intolerance. Ellen DeGeneres made a similar statement on her show, as well, stating that "there are messages everywhere that validate this kind of bullying and taunting." And comedian David Cross, on Real Time with Bill Maher, made a similar comment, this time focusing specifically on hypocrisy from anti-gay leaders like Eddie Long:
"You can blame people like Bishop Eddie Long for it [recent suicides]. Anybody who makes a living off of denigrating [gay] people, and especially as hypocritical as they are. Even if they're not, you can directly blame people like Eddie Long for that big step."6
[youtube]http://www.youtube.com/watch?v=WM6xbW1DZyM[/youtube]
With the downer of living in an always-on-camera culture as a closeted individual comes the uplifting potential for using video as a way to reach out to those in need of support. As video is a powerful tool for ridiculing and bullying, it is also a tool that queer youth can use to express themselves, to connect with others like them, or to hear from LGBT adults that life is worth living for. September 2010 was also the birth of the It Gets Better Project, a resource started by Savage Love columnist Dan Savage.
It Gets Better consists of videos of adult LGBT individuals (and some straight ones) speaking about their triumphant experiences coming out, enduring the pain of high school to live fulfilling lives as adults. These videos have all the generic features—and all the power—of vlogs, or video blogs.7 Individuals look directly into the camera, often poorly lit, in their messy bedrooms, as real as it gets. The stories detail the pain of high school bullying or the fear of coming out in a small town or some other intimidation. But then they end with a message that "it gets better" as you get older, and that high school is not all that meaningful in the long run. Taken as a whole, the more than 700 videos uploaded to the project website to date form a chorus of hope and encouragement for queer youth struggling to fit in.
[youtube]http://www.youtube.com/watch?v=7IcVyvg2Qlo[/youtube]
The quality and quantity of the It Gets Better message is amplified even more by the media that carry it. In a vernacular video format, particularly in the generic conventions of a vlog, viewers can watch speakers look directly to them through the lens, in an informal setting, making the message more personal and powerful. The video posts offer a feel of trust and security found in true friendship. And the Internet is also an effective medium for the "it gets better" message because of its reach, its temporal flexibility, and its anonymity. The messages can be accessed at convenient times, from anywhere on the planet with connectivity, and closeted queer youth can use the digital veil of the Internet to provide anonymous cover as they seek out and consume these resources. I would argue that this mediated outreach effort surpasses the abilities of face-to-face outreach efforts in many ways. As Savage pointed out, "gay adults aren't allowed to talk to these kids. Schools and churches don't bring us in to talk to teenagers who are being bullied" and "homophobic parents . . . depriv[e] them of information, resources, and positive role models."8 There are simply too many social and policy barriers in many communities for LGBT outreach efforts to actually reach the individuals who need them. Also, traditional LGBT outreach efforts often struggle to portray a range of diverse experiences. Many well-meaning organizations attempting to reach the full LGBTQ (questioning) spectrum are in practice dominated in programmatic focus and in membership numbers by one slice of the pie, be it lesbians, gay men, political affiliation, age group, or race. What is great about It Gets Better is the multitude of voices and faces. There are lesbians, gay men, bisexuals, transgendered people, as well as a variety of skin colors, religious upbringings, ages, and interpretations of masculinity and femininity, all represented in the collection.
Perhaps media scholars should focus their efforts on creating these kinds of mediated spaces rather than merely critiquing the ineffective examples from the ivory tower. What if we became more like critical media designers than media critics?9 We have the tools and the know-how to start YouTube channels and launch websites, and we can teach our students to do the same. Vernacular video and collaborative online projects like It Gets Better hold enormous potential to intervene in oppressive cultural arrangements and to actively replace those oppressive situations with visions of possibility. I dare say Dan Savage et al. have actually done more in the way of critical media studies than most of the published media criticism of the past few decades. Savage's project is actually trying to save lives. This is not to say media criticism has no purpose. It does, and we need to keep doing it. But with easy-to-use new media tools at our disposal, I think more media scholars—and everyone else—need to start thinking about applied interventions in social problems, using the tools they are so used to picking apart. To what extent are critical media studies scholars also to blame for these kinds of social tragedies?
Image Credits:
1. Rutgers University's Tyler Clementi, the most recent of four teen suicides in September stemming from anti-gay sentiments.
2. Poster for anti-gay bullying campaign by Lauren Swanson.
3. Asher Brown, 13, killed himself after enduring 18 months of bullying and harassment.