Masculinity and Authenticity: Reality TV's Real Men
Christopher Lockett / Memorial University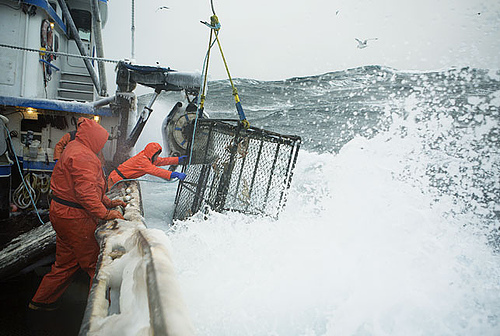 "We're going to need a bigger boat:" men at work on Deadliest Catch
It has been fourteen years since Tyler Durden looked at the burnished abs of a male model in an underwear ad and asked the nameless narrator of Chuck Palahniuk's novel Fight Club (1996), "Is that what a man looks like?"
In the last few years it would seem that a certain offshoot of reality television programming has resoundingly answered Tyler's rhetorical utterance with a slew of series focused on the kind of jobs at which, one imagines, he would nod approvingly: logging, salvage, oil rigs, driving trucks over ice, and of course crab fishing. The vastly expanded cable universe of the past decade or so has provided a forum in which television shows featuring a particular species of über-masculine blue-collar worker have enough of an audience to spawn a significant number of series. Deadliest Catch, arguably the flash-point for these series, is an ongoing documentary about crab fisherman in Alaska; it first aired in 2005 and is currently going into its sixth season. The crews on the collection of boats featured battle winter seas and long, sleepless hours in order to bring in a catch of Alaskan crab that will (hopefully) settle them financially for the coming year. The ethos articulated by the show is quite simple: it is grueling work that requires both expertise and implacable stamina; there is no place for slackers and whiners; and those that can't hack it have no place on a crab boat.
Following the success of Deadliest Catch has been a clutch of series like Oil, Sweat, and Rigs, Black Gold, American Loggers, Salvage Code Red, and the unsubtly but memorably titled Ice Road Truckers. Like Deadliest Catch, these shows chronicle the lives of men working dangerous jobs with little room for error, and who wear the scars of their professions with pride. They are rugged and grizzled and embody an unapologetically rough-edged masculinity preoccupied with responsibility and attention to the job at hand. Many of the main figures featured are portrayed as loyal family men, missing their wives and children as they do a difficult job that puts bread in their mouths; those with sons old enough to join them on the job perform a paternal agon in which the son is either competitive with his father, or disappointingly revealed to not be up to the work.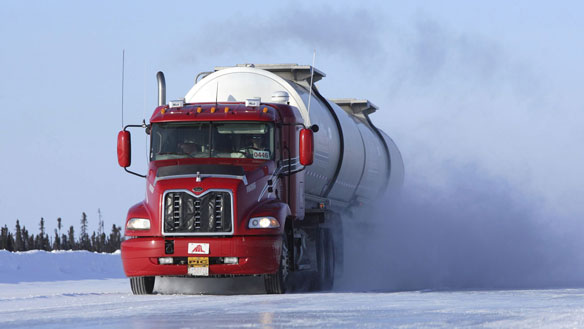 Ice Road Truckers
What is most interesting about this relatively small but striking subsection of reality television, which principally finds a home on such networks as Discovery or OLN, is its idealization of working-class labor at a time when blue-collar workers as such have effectively disappeared from the cultural imaginary. While sitcoms occasionally feature a hapless or shlubby blue collar man as their main character (King of Queens, for example) the working-class figures making it onto the small screen usually embody something more than a nine-to-five, simple honest paycheque ethos—cops, for example, or firefighters, or EMTs (Rescue Me, Third Watch), whose jobs are who the characters are. The working stiff with the lunch pail, never a powerful presence in postwar popular culture to begin with, has effectively disappeared; the one great exception to this absence effectively proves the rule: season two of The Wire was centered on a stevedores' union on the Baltimore docks and functioned as an elegy for the American working class. The unionized wage-earner has been reinvented by reality television as a weathered, laconic, gimlet-eyed professional who will get the job done, whatever the hardship or dangers. The proudly unexceptional unionized proletarian of leftist lore, in other words, has been replaced by the exceptional and elite expert fisherman, logger, rig worker, and so forth—the central irony of which being that, taken in the broader context of current American political and cultural discourses, the latter embodies a distinctly anti-elitist posture that seeks rhetorically to figure itself as somehow the norm: "real America," as Sarah Palin conceives it.
That this idealization of working-class masculinity takes place by way of reality television speaks to its preoccupation with an authentic masculinity, one best accessed unalloyed and unmediated. We should not however be surprised that the men portrayed in these series are familiar, as they possess the same attraction as a Clint Eastwood or John Wayne character, and indeed trade on the same frontier mythos that informs the Western as a popular genre. These series, further, tend to take place at geographical extremities such as the Bering Sea, the Arctic, or forest wilderness, and in this respect redramatize the mythic struggle between man and untamed wilderness that Frederick Jackson Turner identified as such a crucial element of the American character. "As successive terminal moraines result from successive glaciations," Turner wrote, "so each frontier leaves its traces behind it, and when it becomes a settled area the region still partakes of the frontier characteristics."1 These series are however only symbolically related to the civilizing project of taming the frontier, for their various wildernesses do not yield land for settlement, nor do the men of these series "tame" them—rather, their forays up to the Arctic or out to sea or into the forest occur in the name of sustaining a remote and unmanly civilization with the resources of those wilds. Ultimately, whether the object is oil or crabs, the drama played out is that of testing one's masculinity against nature; crucially, because the pockets of wilderness depicted are specifically not sites of colonization (as the actual frontier was—Turner characterized American history up to the end of the nineteenth century as "the history of the colonization of the Great West"), they appear as enduring symbolic spaces existing in perpetuity.2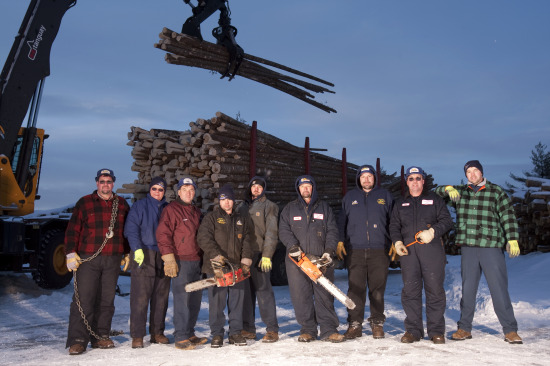 The men of American Loggers
Of course, the extraction of resources from a given pocket of wilderness can often ensure it does not exist in perpetuity. At a time when ambivalence about overfishing, clearcutting, dependence on fossil fuels and the damage done to the environment by all these practices is so prevalent, the success of these series is striking. On one hand, it displays the ability of post-network cable television to find niche audiences; more significantly however, it betrays a nostalgia for a fictional America associated with frontier mythos and the singular masculinity—independent, competent, uncomplaining—popularly associated with it. It is also symptomatic of a uniquely American schizophrenia for which Sarah Palin is merely one of the most flamboyant current examples: that is, a valorization of "ordinary," "real," or "authentic" America, typically defined in contradistinction to "liberal," "elite" America (Palin's obsessive self-identification with Alaska, arguably, trades heavily on exactly the same geographical rhetoric of these series). That this figuration is nativist and deeply anti-intellectual is obvious, and nothing new. But it also manages to celebrate this illusion of ordinary Americans at the very same time as it expresses contempt for them in deed. The popularity of series like Deadliest Catch gives the lie to the cynical valorization of "ordinary Americans" in the very way it and similar series highlight the fact that well-paying blue collar employment remains almost solely in the realm of elites.
Image Credits:
1. "We're going to need a bigger boat:" men at work on Deadliest Catch
2. Ice Road Truckers
3. The men of American Loggers
Please feel free to comment.
Frederick Jackson Turner, The Frontier in American History, (New York: Dover, 1996), 4 [↩]
Ibid. 1 [↩]