Pwning OWN: the unlikely ascent of Zach Anner
William J. Moner / FLOW Co-Coordinating Editor

What does it take to get your OWN show? Good question …
Online audience voting (and its telephone and text messaging counterparts) has become the de facto extension of television's push to engage and promote an active audience. Dating back to the initial rise of reality television contests such as American Idol, audience voting via phone and text messaging has been a major component of the feedback generated by television producers to verify viewer engagement. Now, as studios adapt to the challenges of engaging Internet-savvy audiences, online voting has become a mainstay of the feedback loop. A new contest from OWN: The Oprah Winfrey Network offers a case study of how underground Internet communities can rally behind certain contestants and bolster votes through both human and automated methods.
OWN, launching 1/1/2011, is Oprah Winfrey's next endeavor and will undoubtedly be the cornerstone of her media empire after her syndicated program, "The Oprah Winfrey Show," ceases production in September, 2011. Winfrey's new channel is dedicated to growing a "new network, a network of people who are all interested in reaching their greatest potential."1 Formerly Discovery Health, OWN aspires to "[connect] you to your best self and to the world."2
One of the strategies for generating audience engagement for the OWN network is the "Your OWN Show" contest, which seeks individuals interested in hosting an inspirational program on the network. Contestants could either attend a casting call in-person or submit a video online. The producers selected the winners at the live casting calls, while the online video contest relied on video views and audience votes. In the online battleground for popular votes, the "new network" of Oprah viewers collided with another strong network of active media audience members: Internet communities 4chan and Reddit, and celebrity fan communities on blogs and social networking sites. As the contest heated up, two contestants, Zach Anner and Dr. Phyllis, roused suspicion as to the validity and verifiability of the computer users behind the votes. 
[youtube]http://www.youtube.com/watch?v=T_35KKa3b1c[/youtube]

Zach Anner's audition for the OWN network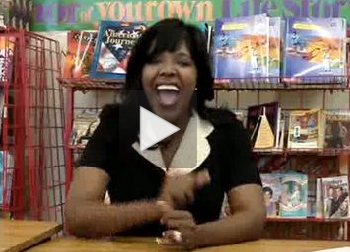 Dr. Phyllis auditions for the OWN network
Between the dates of June 11 to June 14, Zach Anner caught the attention of several Internet communities and gained notoriety quite quickly over the course of that weekend. Anner, who has cerebral palsy (in his words, "the sexiest of the palsies"), entered a video into the contest in which he describes his idea for a travel show, revealing a glimmering sense of humor in front of the camera. 
Anner's wit, charm and energy are compelling to watch, and it is likely that his submission would have received a large portion of the popular vote. However, his rise to prominence and fame occurred suspiciously over the course of a few short days. The numbers are staggering: his video, submitted on June 2, 2010 had amassed a respectable 3,000 votes by June 11. But by daybreak on June 14, Internet users had rallied behind Zach and had rung up a whopping 2,000,000 votes, propelling the obscure Anner into the top spot on the OWN results board. 
How did Anner, a relatively obscure figure, rise to such prominence so quickly? As with many of the web's most notorious culture hacking incidents, the first suspect is the 4chan message board community. 4chan, widely known for its questionable content and anonymity, immediately becomes "Public Enemy #1" in any incidents where technology can be manipulated for both positive and nefarious purposes.3 4chan, by design, is not safe for work, popular taste or decorum. Another web community, Reddit, tends to pick up on memes generated on 4chan and brings the topics to an ever-so-slightly more civilized, yet still anonymous, audience. Zach Anner's audition video was first posted on Reddit on June 124 followed by a post on Digg July 13. Through active promotion across several web sites featuring user-generated content, a concentrated effort on the part of Reddit and 4chan users quickly set the stage for Anner's ascent.
Community members began encouraging users to vote as often as humanly and mechanically possible for Anner. Some users helped boost the results with an automated script to submit as many votes as possible within a specified time period, and the script was shared with other tech-savvy communities. This behavior may violate the contest rules, which state, "Use of any computer auto-voting software … intended to tamper with the proper functioning of the voting system … is strictly prohibited and all such votes will be void." Since the script only mimicked user behavior, would votes for Anner be recognized as valid or would he slide back into obscurity?
[youtube]http://www.youtube.com/watch?v=bG0_rnkRiM8[/youtube]

Zach Anner thanks the Internet
Fortunately for Anner, his video gained the attention of Internet-savvy celebrity John Mayer. Mayer, with 3.4 million followers on Twitter and a legion of fans, likely is a perfect bridge from the underground nature of web forums to the public nature of celebrity life. Mayer posted the video to his web site as a re-blog of an article featured on "The Daily What" (part of the Cheezburger Network famous for its LOLCats) and parsed through another aggregator, MetaFilter. The call-and-response video exchange between Anner and Mayer lit the Internet on fire, securing Anner's lead for the short term.
[youtube]http://www.youtube.com/watch?v=7mQ2UkURtMk[/youtube]

John Mayer offers to write and record a theme song for Anner's travel show
How, then, did Dr. Phyllis reach the high vote totals evident on the OWN results site? Her video was posted on May 18 (approximately two weeks before Anner's video) and gained support rather quickly, but it fell behind as other videos gained popularity. Suddenly, in the middle of June, Dr. Phyllis' video enjoyed a 300,000 vote surge in the matter of a few moments, prompting an outcry from 4chan and Reddit, among others, that the voting process had been compromised. Savvy Internet users quickly mobilized to find evidence of voting fraud and to document the incident. One site in particular, Geekosystem, assembled a large body of evidence to illustrate how voter fraud could be occurring. 
Despite these allegations, Dr. Phyllis and four other contestants (all of whom likely were bolstered by voting scripts circulated through the Internet) emerged as the winners of the contest and are moving on to the next phase of the competition. OWN, in what seems to be an acknowledgement of the turbulent voting process, selected three contestants, including Anner, to "join the other finalists."5 At the end of the voting, Zach Anner received 9,161,042 votes (1,338,662 views), while Dr. Phyllis received 8,250,748 votes (2,230,290 views). Curiously, the final results as filtered by OWN reveal that Dr. Phyllis, in 2nd place, received 8,453,803 votes while Zach, in 7th place, finished with a mere 3.4 million votes.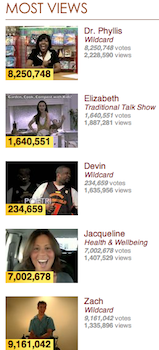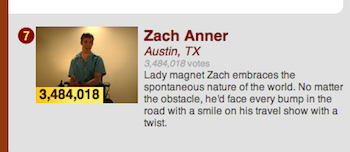 Where did Zach Anner's 6 million votes go?
OWN's very own website reveals significant inconsistencies in the reported results of the contest, raising challenging questions that impact the validity and trust in Winfrey's new media property. Why did Anner's total decline so rapidly while Dr. Phyllis' total remained unchanged? To what degree did Internet scripts manipulate the votes? Did all of the finalists use scripts to promote their videos? Without proof, followers of the OWN contest are left to wonder how the voting process had been manipulated by the producers of OWN or by savvy Internet programmers. Ultimately, it is unlikely that the audience will ever know the extent of vote tampering.
Image Credits:
1. Author screen capture from OWN, accessed 7/14/2010
2. Author screen capture from OWN, accessed 7/14/2010
3. Author screen capture from OWN, accessed 7/14/2010
4. Author screen capture from OWN, accessed 7/14/2010
Please feel free to comment.