Modern Family's Indictment of Modern Families
Esteban del Rio and Kasey Mitchell / University of San Diego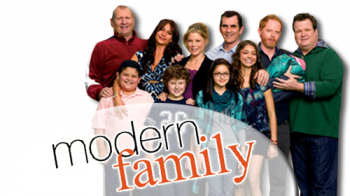 Modern Family on ABC
In a challenging time for networks and scripted programs, Modern Family burst on the 2009 television season as a potential ratings winner. Using faux-documentary style to tell the interweaving stories of three families, the half-hour comedy lampoons conventions of both the family sitcom and contemporary family life in the United States, garnering critical acclaim in the process. Brian Lowery writes in Variety, "Flitting among three storylines, it's smart, nimble and best of all, funny, while actually making a point about the evolving nature of what constitutes "family"."1 The show offers a critique of the traditional family constructed over the last 60 years in comedic television by depicting flawed and stereotypical characters in three situations: a traditional heterosexual family with three children, a gay couple who just adopted a baby daughter, and an older white man recently married to a Latina woman who brings a young son to the family from a previous marriage.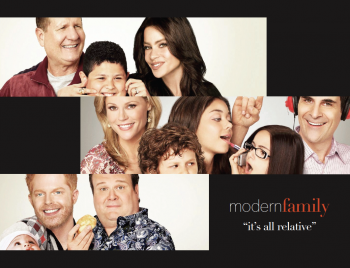 Modern families
While the evolution of family sitcoms began with the urban, working-class programs such as The Honeymooners, by the late 1950s, scripts had followed their audiences into the suburbs. The traditional discourses about family were solidified in programs such as The Donna Reed Show, Leave It to Beaver, and Father Knows Best. As representational diversity expanded in the 1970s, and complex issues and dysfunction became part of television family life in the 1980s and 90s2 the role of the father and mother transformed to incorporate changes in gender, race, class, and sexuality. The father, in particular, morphed over the decades from the all-knowing arbiter of authority and righteousness3 to a man-child buffoon who must be rebel against and ultimately be governed by the common sense authority of the mother.4 In 1987, Skill, Robinson, and Wallace argued, "a heavy emphasis of non-conventional families portrayed in the comedy form may be related to a still present uneasiness among viewers with regard to openly accepting non-standard family situations." 5 Social changes in the 60s, 70s, and 80s produced anxieties that family sitcoms explored, contested, and confirmed.
Modern Family represents something different. Rather than deriving humor from touching on cultural anxieties about a changing society, the show employs satire and stereotypes to critique the discourses about traditional families that we might expect from television and to comment on the contradictions of contemporary family life. The series pilot introduces Phil and Claire Dunphy, who have three children. Phil tries in vain to appear cool to the children and awkwardly makes attempts at being their friend while Claire exhibits a mix of embarrassment and frustration with his approach. Phil brags about texting and being current with the youth slang in a fictional interview, only to stumble while knowingly decrypting acronyms: "OMG: Oh my God. WTF: Why the face?" In some ways, Phil resembles the buffoons of The World According to Jim or King of Queens who act with immaturity in the face of loosing ground to women. But rather than diving deep into boyishness, Phil is the well-meaning, earnest parent whose flaws speak not only to the impossibility of living up to the clarion calls of self-improvement gurus and modern living coaches, but the silliness of middlebrow parenting discourses themselves.
Modern Family
Modern Family employs disarming stereotypes to further satirize notions of the traditional family. Cameron and Mitchell are partners who have just adopted a baby from Vietnam. Mitchell is the son of an adjusting homophobic father, Jay Pritchett, and Claire Dunphy's brother. Situating their family within the confines of a larger family introduces one of the many comedic twists in the interplay of family structures in the show. Cameron and Mitchell appear to take on the two dominant representations of gay identity: Cameron is the 'flamboyant-gay,' and Mitchell is the 'straight-gay.' Cameron wants images of him and Mitchell as "floating fairies" over Lily's crib. Mitchell tries his best to not achieve a sense of fatherly normalcy, not only to his family but also to Cameron. Immediately, Cameron is classified as the 'mother,' because of his more feminine behavior. Mitchell tries to present his adopted daughter to his family in a professional way, while Cameron dresses in a robe, dims the lights, and enters the room to "Lion King" music, holding Lily up in a 'Simba' position. As the series continues, however, qualities of both characters are introduced to challenge these stereotypical representations. The audience finds out that Cameron used to play college football, and continues to be a huge football fan. Mitchell, on the other hand, loves the opera. By exaggerating stereotypes and then defying them, Cameron and Mitchell make a sly argument against homophobia in familial contexts. Love, after all, makes a family – and Cameron and Mitchell's love and tension provides an especially poignant reminder at a time when gay marriage is contested nationally.
[youtube]http://www.youtube.com/watch?v=1aSzTVrP5FQ&feature=related[/youtube]
Similarly effective stereotypes abound in the show. Sofía Vergara, who plays Gloria Delgado Pritchett, a sexualized Latina who fits firmly within the regime of representation known as tropicalization. 6 Gloria is a voluptuous, emotive, thick-accented, outspoken, and dominating young woman married to a wealthy, older man played by Ed O'Neill. The stereotype would stand bare and possibly provoke boycotts from Latina/o groups outside Modern Family's satirical context. Instead, it earned Vergara an Emmy nomination. Gloria offers a sweet confidence, and often serves as the moral anchor in her marriage, pushing her grumpy husband back to his familial responsibilities. The satirical effect of faux-documentary style allows the use of what might usually be regarded as negative stereotypes to critique mainstream assumptions about individuals and families. In Gloria's case, the character lampoons both the negative regimes of representation that constitute the moral panic about Latina/os in at this conjuncture, as well as the liberal multiculturalism that itself has become a dominant ideology in U.S. institutional and popular culture. As we view the handheld camera and the fake interviews, the stories are not so much a window into the fortunes and fiascoes of the Pretchetts and Dunphys, but a window into the lives of modern families everywhere – perhaps even those watching the show.
[youtube]http://www.youtube.com/watch?v=NgDupQ8bydA&feature=channel[/youtube]
*Kasey Mitchell graduated Summa Cum Laude from the University of San Diego in December 2009, and will begin law school at the University of California, Los Angeles this fall.
Image Credits:
1. Modern Family on ABC
2. Modern Family
3. Modern Families
Please feel free to comment.