Iggy Does Dinah!: Musical Performance On Talk TV
Kyle Barnett / Bellarmine University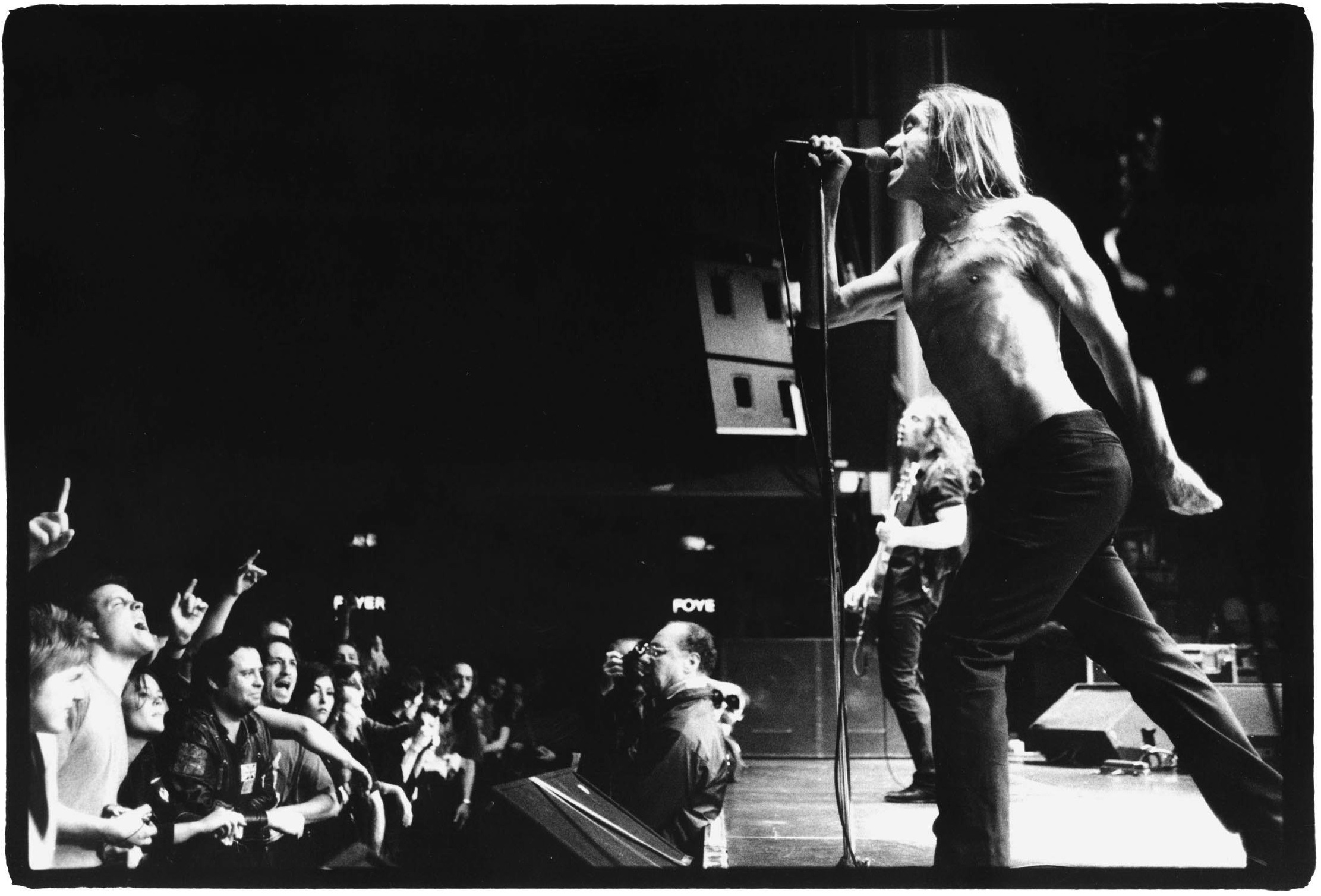 The World's Forgotten Boy
In Television Talk: A History of the TV Talk Show, Bernard Timberg notes an illusory aspect at the heart of the genre, which strives to make each conversation seem off the cuff. "However spontaneous they seem," Timberg writes, "these conversations are always highly planned and structured within the limits of [the] talk-show format…the TV talk show [is] a rule-governed form of expression."1 Given this, those momentary interruptions in the talk show equilibrium are most compelling when the usual rules are briefly suspended or exceeded. For me, it has been musical performances, long a staple of television talk and variety shows, which have most reliably provided a chance for surprise.
It's worth noting just how many of popular music's most iconic moments have been on television, with Elvis and The Beatles' appearances on The Ed Sullivan Show as commonly cited examples. But in the era of web video, lesser-known televised performances are now available online, regularly disappearing and reappearing amidst copyright skirmishes. One of my favorite web discoveries is Iggy Pop's unlikely 1977 appearance on Dinah Shore's syndicated daytime talk show, Dinah!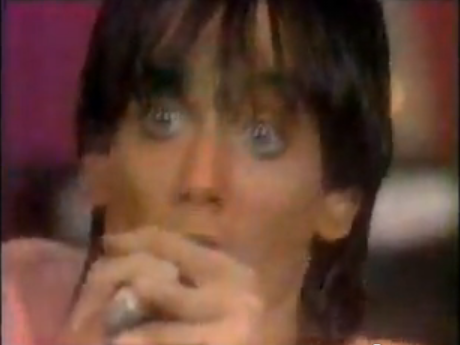 Iggy Pop, performing "Funtime" on Dinah!
Rock 'n' roll was the first major genre to arise in the television era. Since then, many fans have operated under an assumption that pop music was cool and television wasn't (an increasingly difficult position to hold). Part of the historic thrill of seeing one's favorite performers on television was just how out of place they appeared, which seemed to underline the cultural distance between the world of pop music and the world of television. For fans in the pre-MTV era hungry for a glimpse of their favorite performers, the tension between popular music performance and television's structural rigidity often translated to pleasure.
[youtube]http://www.youtube.com/watch?v=IqNywhw3odo[/youtube]
Iggy's Dinah! performance, as well as the brief interview with Dinah Shore and Rosemary Clooney, provides a moment when host and guest collided in interesting and telling ways. His appearance on Dinah! coincided with the March 18th release of his first solo album, The Idiot. The Idiot was not merely the start of a solo career for Pop; it signaled a comeback from years of drug abuse and psychological problems before and after an abortive attempt to reform the Stooges in 1975. Pop's re-emergence is often credited to David Bowie, who produced The Idiot and co-wrote several of its songs. Village Voice writer George Smith has likened an imagined sexual relationship between Pop and Bowie to rock and roll's Kirk/Spock fan fiction equivalent (see Todd Haynes' take in Velvet Goldmine). This might have supplied further appeal for fans of both performers.2
While Iggy and his band's performance of "Funtime" and "Sister Midnight" was relatively tame in comparison to live performances of the same period, there was certainly plenty to shock viewers of a show like Dinah! "Baby, baby, we like your lips," Iggy sings in "Funtime," "Baby, baby, we love your pants." Pop follows this with a few lines that close in on punk's ethos with a frustrated demand:
Fun – Everybody, WE WANT IN
Fun – WE WANT SOME, WE WANT SOME
All Aboard for Funtime…3
Between vocal bursts, Iggy writhes, jumps, and dances, trying to will Dinah's audience into matching his energy, lurching at times towards the cameras. Pop's presence must have made an impact with some viewers (Awe? Confusion? Amusement? Disgust?). There's a moment in the performance at the end of "Funtime" when Iggy Pop lets out a guttural sound, somewhere between an "ooh" and a growl, falling to the floor, his small frame affecting a childish resignation: a that's-all-there-is moment in which Pop stares blankly at the audience.
If Pop plays wild boy child while performing, then Dinah Shore rises to the occasion in her role as mother. On the interview couch, her questions quickly take on a mothering component – asking about his parents and what they think of his performances, showing concern while asking about his reputation for injuring himself on stage: "But you cut yourself with a bottle?," she asks. "Yeah," Pop answers sheepishly, "Well, that was because I'd done something foolish the night before and I was ashamed (Shore's audience laughs at this)." Pop responds to Shore's questions respectfully and perhaps too openly, while Bowie mimics Shore's concern with mocking amusement. Throughout the interview, Shore refers to her guest not by Iggy (his stage name), but as Jimmy (his birth name is James Osterberg). In her questions about his performances, Shore's earlier career as popular singer also surfaces, which lends another aspect of Shore's interest and apparent concern. This is another interesting juxtaposition: Pop and Bowie as 1970s pop stars known for controversial performances, in conversation with two stars who built their careers on 1940s and 1950s wholesomeness: Dinah Shore and Rosemary Clooney.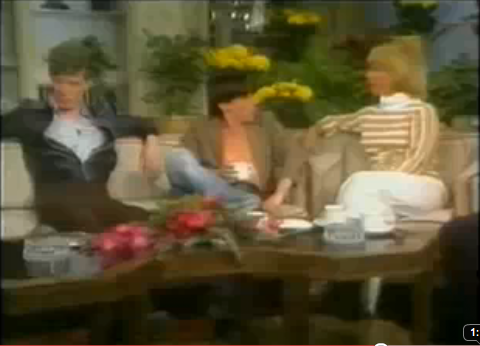 David Bowie, Iggy Pop, and Dinah Shore on the couch
The same year as Pop's appearance on Dinah!, New Yorker TV critic Michael J. Arlen published an essay called "Hosts and Guests," in which he placed the host in the context of her or his set, in which "rituals of hospitalities" are established. 4 The host, Arlen wrote, is often introduced to viewers in situ, while the celebrities that appear play the role of guest, along with the audience. Shore's shows of the early-to-mid 1970s were built around the idea of Dinah as gracious hostess, allowing guests – including we viewers – into her television home. In fact, the set of Shore's first 1970s show was called Dinah's Place and its set was consciously patterned after her Beverly Hills home. Although this is somewhat less pronounced in the syndicated Dinah!, the stage set – particularly the conversation area, still references an airy, Southern California home, with Dinah Shore herself as the ideal homemaker. When he has finished his performance and joins Shore in this environment, Pop is warm and approachable – if somewhat inscrutable to Shore and Clooney.
[youtube]http://www.youtube.com/watch?v=8optOhhetso[/youtube]
This marked difference between Iggy's two performances – as punk godfather on stage and as a well-mannered, even submissive talk show guest points above all to the power of popular music performances on television – unique in that these performances are usually the only moments in which the talk show is not, strictly speaking, involved in talk. I do not want to suggest that musical performance is completely free of the constraints that structure the rest of TV talk shows; rather, they occur within a highly scripted space. But an affect-drenched musical performance is markedly different than the rest of talk show discourse.
The difference between the sonic excess of Iggy's musical performance versus the conversation on Dinah's couch is significant in underscoring the power of the television host. As Timberg suggests, it is finally the host who "is responsible for the tone and direction, and for guiding and setting limits on the talk that is elicited from guests on the air."5 In this case, Shore recontextualizes Pop's performance with their talk. Domesticating the errant musician is a talk show tradition that goes back at least as far as rock'n' roll's arrival, when the menace of Elvis the Pelvis was mitigated once in conversation with the host, in which he turned out to be a nice boy after all. But like a film with a tacked-on happy ending after some powerful issues were raised, the strength of these televised musical performances resonate, even after the musicians have been assimilated into television.
Image Credits:
1. The World's Forgotten Boy
2. Iggy Pop, performing "Funtime" on Dinah!.
3. David Bowie, Iggy Pop, and Dinah Shore on the couch
Please feel free to comment.