Pedaling through the Transnational Public Screen
Esteban del Rio / University of San Diego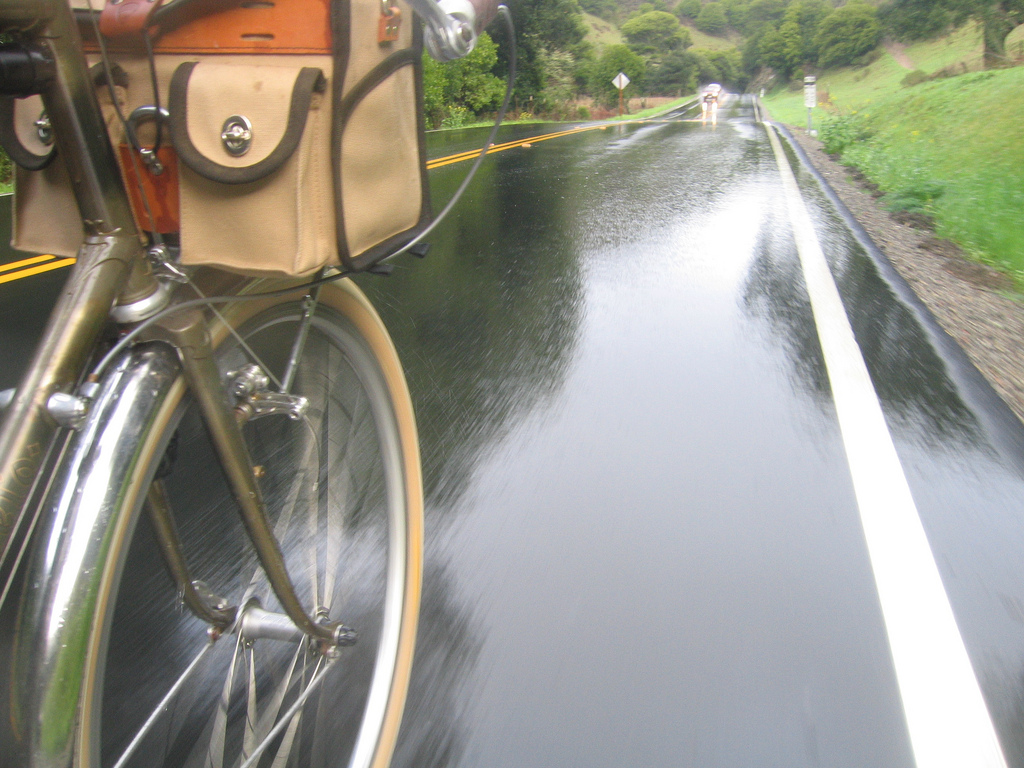 Bicycling culture
As of this writing, crude oil and natural gas continue to spew from the bottom of the Gulf of Mexico as the Deepwater Horizon disaster spreads unabated. Cable news networks split the screen with a shot of the damaged well gushing brown crude like an endless mushroom cloud. Meanwhile, impassioned reporters like Rachel Maddow explore the futility of industry and government responses to a crisis that seems as unstoppable as the flow of motorized traffic that necessitates expanded oil exploration. Political cartoonists lampoon Americans' cognitive dissonance: shock at the oil spill seamlessly integrated with our deep, implicit commitment to the internal combustion engine. Many observers echo Andrew Sullivan, who wrote in The Sunday Times, "If you want to assign real, structural blame, it belongs in the end to the American people, who simply refuse to wean themselves off carbon and want to continue having the cheapest petrol in the West."1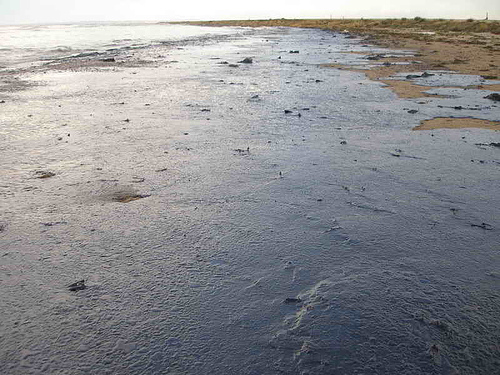 2010 Oil Spill in Gulf of Mexico
For legions of cycling advocates and everyday riders, this is not a new perspective. For decades, as oil consumption increased and inhabited spaces transformed to accommodate the automobile, many people have turned to the bicycle not only as a simple, inexpensive, and efficient mode of movement, but also a daily practice that eschews the motorized and energy-intensive progress of late modernity and espouses a slower and more sustainable model for how to build a life and a society. Commuting, shopping, running errands, and taking the kids to school on a bike transforms cycling into something more than an activity for racers or children. The bicycle can stand as part of the solution to a whole range of problems, including climate change, obesity, traffic, pollution, depression, petrol politics, and even oil spills. But in order to cultivate broad change, the common sense built up ideologically and materially around motor vehicles must be openly contested. Like other movements, cyclists have taken to the Internet to spread their message. In the video "If I Ride," made by People for Bikes, a series of simple statements attempts to formulate a new common sense emblematic of contemporary cycling culture:
[youtube]http://www.youtube.com/watch?v=jEhpUov-adU [/youtube]
Traditionally, the political dimension of cycling focuses on infrastructure projects to help facilitate safe riding and legal advocacy that provides cyclists with the same rights and responsibilities as motorized traffic. Bicycle coalitions hold press conferences and work with cities to promote cycling events. Less official and certainly less organized, Critical Mass rides began as rolling civil disobedience in 1992 in San Francisco and now occur on the last Friday of each month in cities around the globe. Cyclists ride in traffic lanes and snarl afternoon auto traffic to advocate for more livable urban environments and to contest the hegemony of the automobile. Both of these types of efforts – press conferences and street protest – can be understood through DeLuca & Peeple's notion of the public screen,2 which posits that in order to participate in the formation of public opinion, individuals and groups outside of power stage real and symbolic events to garner news coverage. Social actors must communicate by images that cut through the infotainment filter of news flows, and as for-profit endeavors, the news outlets render the public screen as private property. The prototypical model is an embodied protest like the World Naked Bike Ride, which exploits the news values of deviance and novelty in order to raise awareness about dependence on foreign oil. If police arrest bicyclers in the buff, then the notion of the public screen would suggest that police intervention would also garner news attention and further the awareness strategy.
As an embodied form of direct action, Critical Mass rides garnered successes and suffered from news coverage. After a particularly unruly ride with 250 arrests in August of 1997 in San Francisco, the city responded with a renewed commitment to cyclist and pedestrian safety. However, as spontaneous, leaderless and sometimes unruly social protests, participants ride for a wide array of reasons, and the protests lack coherent messaging. Typically, local news reports on Critical Mass as a traffic problem rather than treating cycling as a legitimate response to a range of controversial issues. While Critical Mass rides evolve differently around the globe, the Budapest rides are especially unique. Happing twice a year with city cooperation and massive organization, the Budapest rides are the largest of all, attracting 80,000 riders in 2008. This level of organization has also helped clarify their message as the story moves through the public screen. On their website, organizers state, "Critical Mass Budapest is a mass demonstration aimed at bringing the public's attention to the crisis caused by motor vehicles, e.g. traffic jams and environmental pollution. It promotes the bicycle as a healthy, fast, cheap and environmentally friendly alternative mode of transport." 3 Filmmaker Daniel Fiantok made a film documenting a 2010 ride titled City of Joy:
City Of Joy from daniel fiantok on Vimeo.
The video itself marks a change in strategy for cycling advocacy. Utilizing tilt shift software and a track by Gnarls Barkley, Fiantok stylizes the ride and lifts it from its local context to inspire and provoke change on a global scale. The making of the video, rather than the scale of ride itself, signifies a new way of understanding the public screen: participants usurp filters of the news media by making their own compelling media to articulate a more direct and coherent argument to audiences than the public screen typically allows. We can think of this as direct action within the public screen. In the cycling world, this process follows an increasingly slick DIY aesthetic and flows through the channels of social networking, blogs, video sites, and photo communities like Flickr. This strategy works well with the diffuse practices that historian and blogger Thomas Bahde calls second-wave cycling advocacy.4 Focusing on the simple pleasure of utility riding, and relying heavily on social media, second-wavers believe "cultural change has to come from people literally on the streets on bikes before it can come to city planners' offices." The film Beauty and the Bike serves as an excellent example:
[youtube]http://www.youtube.com/watch?v=M88sF-rvul0 [/youtube]
The short is part of a 55-minute documentary made by the Darlington Media Group, a community media organization in Darlington, UK. Beauty and the Bike advocates for cycling friendly infrastructure, but also presents compelling images and arguments about the benefits of cycling along the lines of gender, youth empowerment, safety, and style.
The film falls in line with the efforts of countless bike bloggers that celebrate the style, ease, and power of cycling, especially for women. Blogs such as Change Your Life Ride a Bike, Let's Go Ride a Bike, and Lovely Bicycle cut across the personal and the political to render cycling fun, adventurous, and emancipatory. The blogging elsewhere ranges from the snarky Bike Snob to earnest product testing at The Epicurean Cyclist. Many bike blogs promote craft industries, a DIY spirit, and above all, encouragement to gout out and ride with personal narratives and plenty of photographs. One of the more interesting ways that bike bloggers participate in direct action in the public screen are cycle chic blogs, which are based in cities around the world, featured photographs of stylish riders gliding through the city. Copehnagen Cycle Chic laid the groundwork in this regard, spawning an entire arena of aesthetic advocacy. Bike events now feature fashion shows and the bicycles themselves are made more and more aesthetically pleasing, which serves as an important argument for why bikes belong within the visual landscape of the city.
Craft cycling industries have responded with handmade tools to enable utility cycling. At the Oregon Manifest, a bike event featuring custom bicycles, builders were asked to design not a racing or downhill bike, but a purpose-built transportation machine:
OREGON MANIFEST CONSTRUCTOR'S DESIGN CHALLENGE from oregon manifest on Vimeo.
A lot of excitement surrounds cycling at this point in time. The visual display of creative cycling advocacy, unfolding on screens around the globe, connects riders and makes a compelling argument about a daily activity that cultivates large-scale change. Perhaps images of the oil in the Gulf sit within a broader discourse about alternatives to our current system.
Image Credits:
1. Bicycle
2. 2010 Oil Spill in Gulf of Mexico