Bing: An Illiterate Cure for Search Overload
Daren C. Brabham and 
Annie Brabham / University of Utah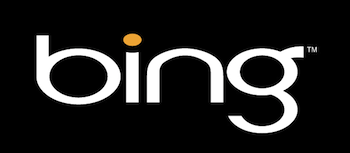 Bing!
Microsoft launched its new search engine, Bing, in June 2009 in a bold move to try to steal market share away from search engine juggernaut Google. Bing, a reincarnation of Microsoft's Live Search, was pitched as a "decision engine" in an advertising blitz that included a series of television commercials that are by now fairly recognizable. In these ads, someone asks an innocent question of a friend or coworker, and the other person replies robotically, as if possessed, with a series of off-topic answers, supposedly akin to the way search engines serve up irrelevant results in response to queries.
In all of the commercials, the characters rattling off search results stare vacantly ahead, temporarily socially inept, puppets of some unknown and decidedly crazy force, not unlike national spelling bee contestants. They are suffering from a controlling disease, a parasite, body-snatched by an onslaught of irrelevant search results. Bing calls this illness "Search Overload Syndrome," and one can "find the cure at Bing.com."
[youtube]http://www.youtube.com/watch?v=H0f8X_SOVjA[/youtube]

"Warning: Information overload may be harmful if pregnant or nursing"

Most of the ads focus on just one possessed character, but in one commercial the illness has clearly evolved into a pandemic. This time, the first woman to spew a search result rant seems visibly affected, convulsing slightly and startled by her own brief lapse. Other scenes in the commercial show the disease spreading. In an airport, the chatter escalates, strangers joining in on the nonsensical conversation with equally tangential "results." Eventually, a cacophony of absurdities ensues: an airport security guard screeching like a bird, a man in an electronics store imitating a dinosaur, a hospital receptionist doing a monster truck announcer impression, an airline baggage handler screaming. At the climax, the noise ceases and the cure is clear: Bing can make your decisions for you.
[youtube]http://www.youtube.com/watch?v=yIxfk3hS0uU[/youtube]

S.O.S.: Search Overload Syndrome as hysterical contagion
That Bing frames its product in the language of disease is unsettling enough. Though the commercials are amusing, we are made to feel overwhelmed, fearful, and a bit panicked by the verbal blitz of terms. This, however, is not the most disturbing aspect of this advertising campaign. After all, many companies position their products as cures for various problems. What is most upsetting about the Bing ad campaign is that it covertly seeks to supplant important digital literacy skills with a convenient technology.
With the proliferation of digital media technologies comes an abundance of information, much of it in "unfiltered formats, raising questions about its authenticity, validity, and reliability" (Association of College and Research Libraries [ACRL] 2).1 An individual is "information literate" when he or she can access and critically evaluate information, including understanding the "economic, legal, and social issues surrounding the use of information" (ACRL 2-3). As technologies such as the Internet are increasingly heralded as outlets for individual expression, catalysts for political change, and vehicles for many other important social functions,2 it is important to continue a campaign for information literacy.
Search engines are important tools for information literate individuals. They allow us to locate the most relevant information on a topic throughout the whole of the Internet, often the Web pages that the collective of Web users have vouched for by linking to them and frequenting them. But the most information literate individuals have learned to apply a second level of scrutiny to search results from even the most trusted and seemingly efficient search engines. For them, search engines are merely technologies that streamline the first steps of a thorough process of critical inspection of information resources. Certainly many people are not as critical of search results, but media educators are working to change this.
As Langdon Winner reminds us, technologies have politics. Technologies are intentionally designed by humans, who are themselves inherently interested and political, to serve specific purposes.3 Search engines, both Google and Bing alike, are driven by advertisements and sponsored search results, all targeted to individuals based on the keywords they search. Ultimately, then, search engines are designed with the inherent purpose to serve a bottom line through advertising relevant to individual search behaviors. The more efficient the search algorithm, the more relevant a user's search results, and the more relevant the advertisements. Google wants its users to have a satisfying search experience, because there is money to be made.
Bing, however, wants to decide for its users. On Bing, advertisements are served up alongside search results, but Bing explicitly promotes itself as a convenient replacement for information literate practices. Bing is an engine—a machine, a technology—that decides for you what information is relevant. Google and other search engines are more or less doing this already, but Bing prides itself as a panacea for Search Overload Syndrome. If the typical Internet user is experiencing information overload, then the cure, according to Bing, is not to develop more sophisticated literacy skills. Rather, it is to surrender completely to Bing's search algorithm, to willingly stop thinking and let Bing make the decisions. By branding itself as a "decision engine," Bing has determined that convenience (and consumption) should trump literacy, and we seem to be buying into this audacious campaign. Bing is slowly growing its market share.4 Bing is a political technology, but its television advertisements rouse fear and discomfort in viewers through the language of disease, hoping to discourage users from employing information literacy skills and to trick them into not questioning its profit motive for delivering search results.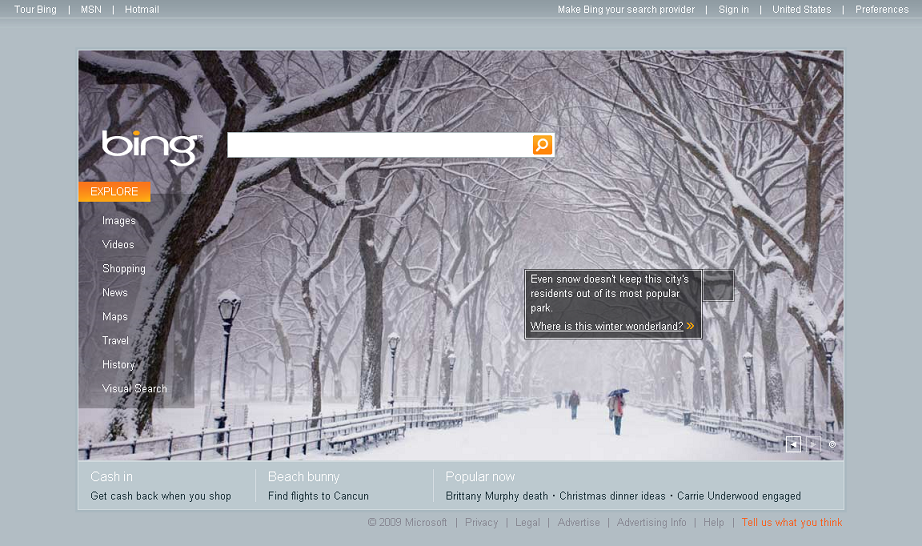 In contrast to Google's stark interface, the Bing homepage features a daily serene image to further soothe feelings of information overload.
As educators push information literacy, new media industries push back. Bing is not the only media company relying on its consumers to not think and to let it do the deciding. After all, social networking sites such as Facebook thrive on its users not thinking about privacy issues, willingly loading valuable marketing data into the product through user profiles, connections, and behaviors on the site.5 Bing's advertising campaign provides an opportunity to critically question how and why digital media products like it exist in the first place, and it provides what we hope is a chance to turn information literacy principles toward a meta-level discussion of digital technologies in the first place.
Image Credits:
1.) Bing!
2.) In contrast to Google's stark interface, the Bing homepage features a daily serene image to further soothe feelings of information overload.
Please feel free to comment.