The Spelling Bee, Model Minorities, and American Citizenship
Shilpa Davé / Brandeis University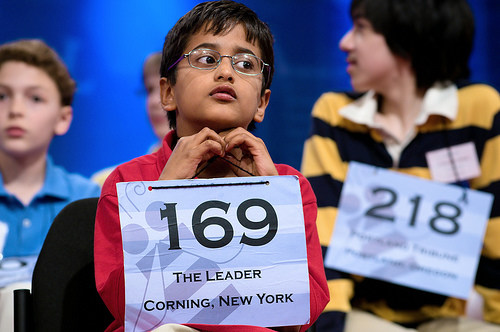 A hopeful speller awaits his next turn
A 2009 headline from the Wall Street Journal reads, "How to Win the Spelling Bee: You don't have to be Indian.  But it seems to help." The headline suggests a correlation between being Indian and being a good speller (and hence very smart) in English as the story points out how seven Indian Americans have won the Scripps National Spelling Bee in the last 11 years including the 2009 winner, Kavya Shivashankar from Kansas. What is presented is another variation of the highly educated Asian American model minority stereotype that is attributed to South Asian Americans, but in this case, being a model minority and a successful American for Indian Americans emphasizes being proficient in the English language rather than being a computer genius or a math whiz. A champion of the Spelling Bee not only represents the best and brightest in our educational system but also accentuates an image of the ideal American citizen who speaks and spells American English well and without an accent. While math and science are being developed as national educational priorities for federal, state, and local school systems to help create homegrown entrepreneurs, the most popular school competition in elementary and middle school (on television and in popular culture) is the Scripps National Spelling Bee.
Why is there such a fascination with the Spelling Bee?  Although the first National Spelling Bee was held in 1925 and sponsored by a Louisville newspaper and gained consistent popularity, it is in the 21st century that film, television, and Broadway have suddenly made the event the subject of popular narratives.  The competition was first carried live on television by ESPN and in 2006 was moved to ABC, which catapulted the Scripps National Spelling Bee to celebrity status in the realm of popular culture.1 The competition now appeals to a wide audience by capturing some of the most core elements of American culture:  American youth (also known as "tweeners") and their parents, the thrill of competition, and the prevalence and relevance of one national language–English.  The Bee combines family viewing with a sporting educational event that celebrates the democracy of the United States.  Any child in school between the ages of eight and thirteen can participate and win. For those who attended public or private elementary and middle school in the U.S. the school Spelling Bee is a ritual that all of us have witnessed and participated in and can look back on with a sense of nostalgia.
In a celebrity culture filled with movie stars, reality stars, and others known for their outward appearance, kid celebrities who are brainy are a decidedly different kind of hero but one that Americans can be proud of. The appeal of the Bee is universal because it follows a simple formula that is understandable to participants and spectators alike—if you spell the work correctly you move on and can eventually win.  The Bee invites audiences to follow along and cheer for their favorite spellers as they face each new word. Math competitions or general quiz bowls can be more complex or even too hard to watch as a spectator sport but the Spelling Bee offers drama, entertainment, and education in each round with one word. We learn that are strategies and tactics about how to go about spelling the word and also a routine in tackling each word that can include asking for a definition or country/language of origin.  One word can examine the trans-national and trans-lingual origins of American English whether the root word is Greek or Sanskrit or in definition refers to a type of vegetation in South America or Africa.  And yet while that word may have trans-national origins or have a different pronunciation in another language ultimately it is the mastery of the English spelling that allows each contestant to move on.
Almost ten years earlier, the documentary Spellbound (2002, Jeffrey Blitz) followed eight candidates in their pursuit of the championship prize of the 1999 Spelling Bee and also focused on the thematic narrative of how participating in the Spelling Bee was a venue to highlight the American Dream for immigrants.  The documentary was nominated for a 20002 Academy Award and has won praise as critics hale what I see as the importance of an educational excellence as integral to American identity.  Out of the eight contestants, two were Indian American including the eventual winner Nupur Lala, one was African American, one was Latina, and the other four were white contestants from various class backgrounds.  In more recent popular culture representations, being part of the Spelling Bee reaffirms an investment in education by both parents and children as the means to achieving the American Dream.   The film Bee Season (2005, Scott McGehee) is a fictional account of a Jewish American girl and her relationship with her father during one Spelling Bee season.2  The following year, Akeelah and the Bee (2006, Doug Atchison) was released in Starbucks stores.  The narrative portrays the true story of an 11-year-old African American girl from South Los Angeles who participates in the Scripps National Spelling Bee.  Like the documentary, the films also focus on the relation between ethnic and racial minorities and their relationship to education. In Akeelah and the Bee, despite the racial, class, and gendered bias of their parents and friends, the film highlights how Mexican American, Chinese American, and African American kids work together to achieve success in the Spelling Bee.  The future that the kids represent is one of racial, ethnic, and gendered harmony and assimilation where everyone is well versed in English vocabulary and committed to education as the means to advancement and personal achievement.3
But what kinds of youth heroes are being groomed as national role models?  What I put forth is that the image of immigrants represented by Indian Americans as master spellers and engaged in competition accentuates citizenship in an apolitical context.  On one hand the Spelling Bee is a competition for tweens and an opportunity to show off the best of America's youth and yet, on the other hand it is also a way to model cultural values of education—you can be a celebrity and a national hero by being smart rather than speaking up for human rights or social justice.   The two clips below represent both points of view in an interview of the 2009 Spelling Bee winner Kavya Shivashankar by Julie Chen, host of the CBS morning show and Kavya's appearance in Jimmy Kimmel's comic recreation of a spelling bee during his late night show which does reveal the some of the politics implicit in the construction of an American spelling bee.
[youtube]http://www.youtube.com/watch?v=fFj1-Iu7UI8[/youtube]
In a 2009 interview immediately after the Spelling Bee with the winner of the Scripps National Spelling Bee, Julie Chen, the host of the CBS morning show, focuses on the integral characteristics associated with Spelling Bee winners but also the fact that Spelling Bee winners can be a bit quirky or strange in their obsession as spellers.  In other words, she first recognizes that a master speller is a young smart person but then she is insistent on discovering how Kavya prepares for a spelling competition.  Simultaneously, Kavya is interested in speaking about her cultural identity as an Indian and also showing how she is a successful Indian American with high educational and professional goals for herself.  Chen first comments on the notion of pronunciation as an important skill of a master speller as she struggles to pronounce Kavya's name.  What is apparent is that Kavya's name is not a typically English name.  The English spelling champion is thus already situated as having an alternative and outside relationship to the language in the competition that she has just won.
Julie Chen does not follow up on the social and cultural aspects of Kavya's life that have already been indicated by her name.  Instead she moves on to the results of the competition—what are you going to do with the money and where does the Bee take you?  The American Dream is about showing the results of the journey for hard working immigrants.  In her answers, Kavya states that she wants to use most of the $30,000 for college and although she has no idea what she wants to study her goal is to go to medical school and become a neurosurgeon.  While this is a laudable desire, her comment shows that she is not committed to an area of study or inquiry that has social or political ideals that she might encounter in college but instead at the age of thirteen has been groomed to think only of larger economic prize and prestige of a profession without necessarily thinking about what she is interested in and how education is also a journey as well as a destination. In a sense, her thinking mirrors the competition of the Spelling Bee which can be interpreted as a series of steps and questions about how to figure out a word (deductive reasoning) instead about learning language and meaning in the context of expression—how do you use the words as part of your vocabulary rather than as a means to an end?
[youtube]http://www.youtube.com/watch?v=2qrEelqLXR4[/youtube]
The comedy clip with Jimmy Kimmel emphasizes the participatory nature of the Bee but also highlights that English literacy is highly dependent on one particular manner of pronunciation that is not associated with an ethnic or regional accent.   He points out he is not a "tween" but "a full grown spelling machine," and like Kavya understands the game as he asks questions such as "Can you use it in a sentence?"  However, as an adult, he can also take some jabs at the underlying politics of the Spelling Bee.
In his panel (made up of his family), the Pronunciator is dressed as an actual Spelling Bee and delivers the words to Kavya and Jimmy in a heavily accented and incomprehensible manner.  The convenient subtitles provided for the viewing audience allow us to laugh at the distance and disassociation between what he utters and the word we see on the screen.  It is Kavya's attempts to play the game that I find most interesting because she finds that when the words don't match her experiences in the Bee, she is the one who insists on normalization of English.  In one segment with the word "circumvent," Kavya asks for the Spanish pronunciation.  When an off-screen Kimmel remarks that for the Pronunciator, "everything is a Spanish pronunciation," Kavya replies with a smile, "Can I have the English pronunciation?"  She wants to hear American English.   She then asks for a different pronounce such as Dr. Bailey (from the Spelling Bee) because, although it's a comic moment, she wants to return to the language she knows.   And of course the purpose of the skit is to contrast the "right" way of saying the word with the wrong way but it is at the expense of someone who has an accent.   Spelling is great for reading but in the pronunciation spelling also has to deal with accent and by emphasizing that even a master speller cannot decipher an accented (Latino) pronunciation, the comedy sketch is explicitly endorsing one way of oral expression and laughing at (and hence "othering") other accents as not English/not American.
Image Credits:
1. Wumpiewoo's Flickr
Please feel free to comment.
For an interesting history of the origins of the bee as a means of educational instruction see "The Spelling Bee: A Linguistic Institution of the American Folk" by Allen Walker Read. PMLA, Vol 56, No. 2 (June 1941) 445-512. [↩]
The musical comedy, The 25th Annual Putnam County Spelling Bee, ran on Broadway from April 2005 to May 2008 and garnered two Tony awards including one for Best Actor in 2005. Although one of the characters is usually depicted by a Latino most of the kids in this fictional exaggeration of Spelling Bee competitions do not include Asian or African Americans. One character's mother is described as living in an ashram in India but the fictional version, like the films focus on the nature of the competition and the show encourages participation where members of the audience are invited onstage to compete in the fictional Bee. Currently, the musical has toured in Australia and Korea as well as around the U.S. and become another means of promoting spelling as quintessentially an American phenomenon but also another version of the American Dream. [↩]
Education as the means for minority youth to change their class status were featured in the films The Blind Side (2009) and Precious (2009) but both kids were in high school and out of the "tween years." Also as many critics and reviewers have stated, education was the means for the main character to play football rather than education for education's sake. [↩]