Everything You Ever Wanted to Know About Camp But Were Afraid to Ask
Quinn Miller / Hampshire College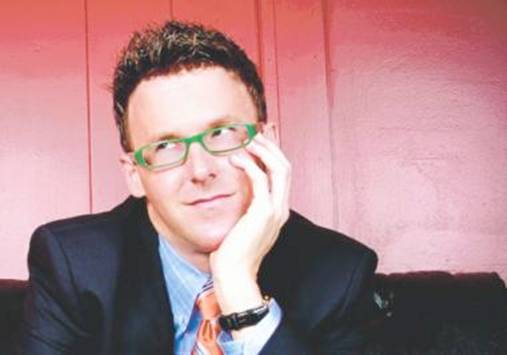 Michael Buckley, star of the What the Buck?! show
Uncertainty surrounds camp—that queer sensibility propelled by oppression—in many venues, among them TV studies. Misconceptions abound about camp, yet two weeks' worth of Michael Buckley's Buck Hollywood website might clear them all up. In fact, the verbal repartee ensuing since "Buck," a veritable "cewebrity," added a tag segment called "Queer Comments" to his popular What the Buck?! comedy show reveals everything you ever wanted to know about camp, including even its implicit rebuttal to age-old charges of sexism.
What the Buck?!, a six- to eight-minute dish, began in 2006, and Buckley has been making a six-figure salary from the show since 2008, when viewer statistics put him in the top ten comedians on the site.1 Part critic, part gossip columnist, Buck posts several videos a week. Scripting and rehearsing What the Buck?! before shooting it in a single take, he reviews television series and specials, celebrity news, and movies. Buckley reportedly signed with HBO a year and a half ago, but apart from a few cable appearances, he has stuck to YouTube.2 In this format, he plays the preeminent "gay news man," with his review drawing out New Moon's debts to Little Shop of Horrors and The Sound of Music while performing sitcom theme songs in vlogs filmed in his pajamas. Tirelessly articulating his camp perspective, he jokes during the first segment, "Are we not watching the same movie?", and vamps in the second, "I love dancing to The Patty Duke Show. I wish you understood."3
Buck's channel exemplifies journalist Will Doig's observation that the "blogosphere" is a "homophobosphere" where any post's comment section might be filled with "dozens of homophobes trying to outdo each other with vitriol."4 While other TV critics delete hostile contributions to their sites, Buckley's include rampant comments running multiple gamuts of gender policing, general maliciousness, and direct homo-hatred—from "Are you gay?" and "That guy sounds like a fag" to "go fuck yourself you deserve to die" and "This guy makes me want to commit a hate crime," remarks Buckley has paraphrased as "Die fag," responding, "Clever."5 Buckley makes a point to reply to many of these statements, most emphatically to the venom commenters direct at his mother (e.g. "cumguzzler"), to which he says he always sends back an affable response along the lines of, "My mother died of lung cancer, but when I'm praying for her tonight, I'll pray for you, you little fucker."6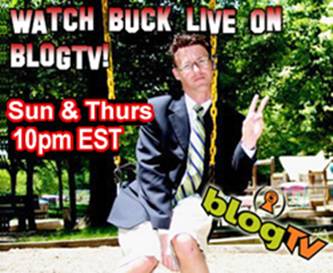 Ad promoting the What the Buck?! show
Buckley's YouTube channels (his personal moniker is peron75) provided a forum for colossal misunderstandings about what it means to be gay long before What the Buck?! debuted the new segment. Buckley's talk back has always emphasized that being gay is a good thing, not something to be ashamed of. Hearing "You're gay," he counters, "I'm super gay. I'm gay like you read about gay," explaining, "I like being gay. I like making gay videos.7 At the same time, the "queer comments" idea experiments with the friction between camp perspectives and straight mindsets to an even greater degree and escalates the constant drama of his inning and outing.8 Calling a comment like "Who is this screeming [sic] faggot?" a "queer comment" shifts the slur's frame of reference, allowing Buck to respond in a cheer-coated showdown: "Me, Michael Buckley!" Promoting the catchphrase, "They're not gay, they're peculiar!", the segment draws another layer of attention to Buckley's public contention with pointed criticisms of his camp presentation and his mockery of the clueless feedback and general fag bashing he regularly receives on YouTube.
[youtube]http://www.youtube.com/watch?v=G2Tgv2VJEEs[/youtube]
I offer a quick-and-dirty defense of camp's alleged sexism in response to a complaint about the "cute/ugly euphemisms for vaginas" that suffuse What the Buck?!. Its author wrote Buck to say, "We're raped enough in real life without being cheerfully demeaned by our gay brothers," and Buckley dubbed this a "queer comment" following a January 15 video in which he referenced a "golden era of vaginas" (2006-2007), referred to Lindsay Lohan as "ginger lips," and invoked "another fire crotch, the devil" (and also called someone a "fugbian" [a fucking ugly lesbian]).9 While Buckley responded to this fan's charge on multiple counts, a video about a different comment better demonstrates the wider playing field for his litanies of girl parts. This viewer insisted that Buckley's "talk about vaginas and boobs" proved that he was not gay, but rather a "bisexual, vagina penis-loving…freak" because he has "the voice of a gay and the mind of a perverted man[.]"10 Reading the email even though the author threatened to kill him if he mentioned her in a video (or made fun of the Jonas Brothers), he writes, "Don't tell my husband! …I love the Buffalo Gums!"
Focusing on the "inning" satire and celezbutante-specific aspects of this vocabulary helps draw out the relationship between Buck's camp style, his full-on engagement of queer bashers, and his work as a TV critic. In an early video, Buckley joked that his language was "limited to curse words and gay slang."11 In the January 15 video, which promised "gigantic boobs [and] lesbian sex tapes," Buckley tried to make sense of a breaking bit of gossip connecting Tila Tequila and Lindsay Lohan through a mutual lover, Courtenay Semel, a socialite who was baiting E! with a sex tape she made with Tila Tequila's deceased fiancé, heiress Casey Johnson—a truly depressing news item prompting him to exclaim, "Thank God for Ellen and Doogie Howser—I speak their name!"12 Mocking Semel's suggestion that the sex tape was a "beautiful piece of art," he asks, "Has this clamdigger never been to a museum? Has she never seen an episode of Glee? That's art, bitch, not your Scissor Sister home video."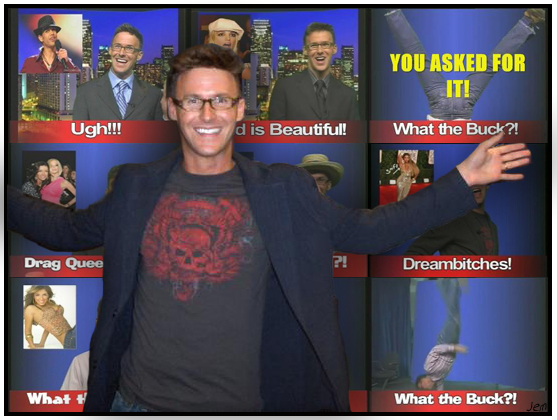 Michael Buckley and stills from the What the Buck?! show
As this knotty analogy suggests, Buckley's attempt to reconcile the world of undeserving celebrities, sustaining television programming, and ridiculous homophobia that Hollywood produces reflects a camp investment in queer representation that includes something like lesbian feminism, an investment that surfaces in a different guise during his Golden Globe review show when he reports "dying for a good ten minutes" in "the best part of the evening," when Jodie Foster was introduced in connection with her new film The Beaver.13 In the context of a favorite film star, the camp effect of Buck's cooch slang becomes clearer, particularly when compared with other celebrity gossips. While Perez Hilton wrote, "P.S. Jodie Foster knows A LOT about beaver. Obvs!" when announcing, "We're certain we would enjoy this kind of movie, along with all the puns we can come up with about it," straight Hollywood blogs prove that even if this Foster project puts most people's "minds [in] the gutter," specific references to Foster's sexuality do not reliably follow.14 Entertainment Weekly's "Popwatch" blog report notes the "locker room terminology for genitalia," but doesn't actually go there with the "beaver" talk—and certainly doesn't go there.15 While the Perez post includes a pointed visual representation of Foster's disinterest in potential co-star Mel Gibson, commenters on the EW site anticipate Foster's sexual chemistry with him as if it were based on natural attraction, worrying that the pairing might "cause trouble" in his marriage. In a context where critics who step lightly around anatomical language also steer clear of queer innuendo while others—such as a poponthepop.com columnist referring to "fish tacos"—obscure fallen idol Lohan's love life, Buckley's "cute/ugly euphemisms for vaginas" may offend, but they also pack a billboard's worth of queer knowledge into What the Buck?!16
Image Credits:
1. Michael Buckley, star of the What the Buck?! show
2. Ad promoting the What the Buck?! show
3. Michael Buckley and stills from the What the Buck?!
Please feel free to comment.