Tall, Dark, and America: Latino Authenticity and Appropriation in General Market Television
Esteban del Río / University of San Diego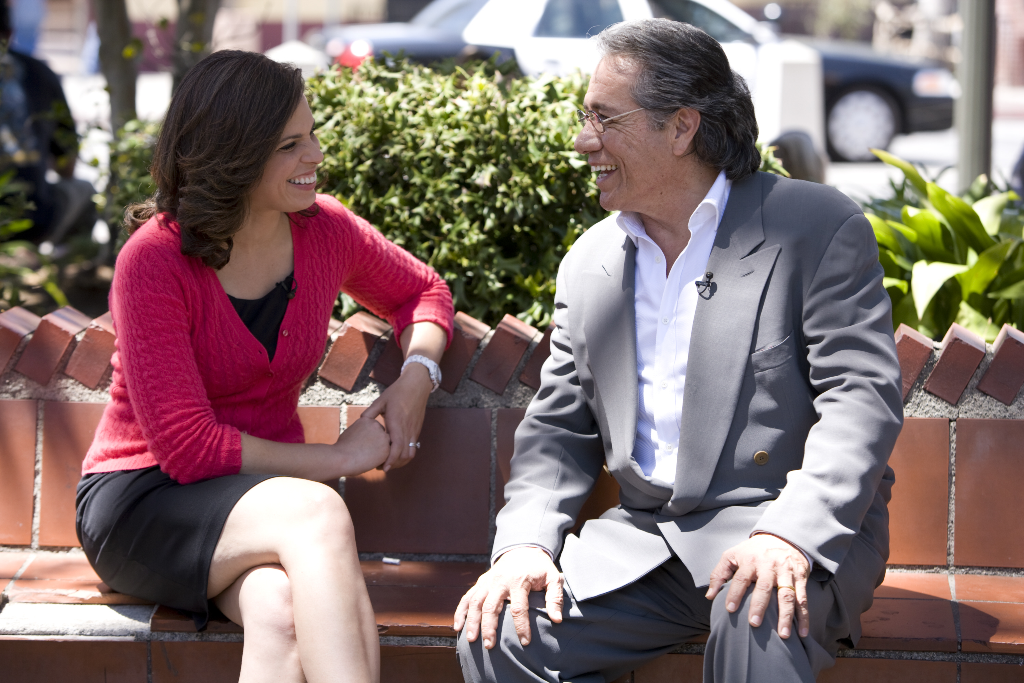 Soledad O'Brien interviews Edward James Olmos.
In 1999, the Smithsonian Institution partnered with Edward James Olmos and TimeWarner to produce Americanos: Latino Life in the United States, a multimedia project that attempted to suture the diversity of the Latino experience with a diverse America. Celebratory and largely apolitical, Americanos stood as a major effort to intervene in dominant regimes of representation characterized by demeaning stereotypes and moral panics and to present Latinos to non-Latino audiences in a positive fashion. By largely leaving out political agency and by explicitly affirming the American dream, the project that included a traveling exhibit, HBO documentary, and glossy photography book affirmed a multiculturalist status quo that celebrates diversity without confronting structures of difference. That same year, a bronze chic filled general market popular culture, known then and now as the "Latin Pop Explosion."
The 2000 Census spurred on most of these images and sounds, announcing a burgeoning Latino population of more than 35 million. After moral panics about Latino immigration in the early 1990s, the arrival of Latinos as the majority-minority in the U.S. caught the attention of policy makers, marketers, and television executives who sought not only to build relevance with a growing demographic, but also to cultivate a version of Latinidad that would fit within existing consumerist and political ideologies. The television landscape began to change. Dora the Explorer began her romp through the childrens' market at Nickelodeon in 1999. The first Latin Grammy Awards aired on CBS in 2000. The George Lopez Show ran on ABC from 2002 – 2007. Eva Longoria-Parker's portrayal of Gabriella Solis features prominently in ABC's Desperate Housewives, which premiered in 2004.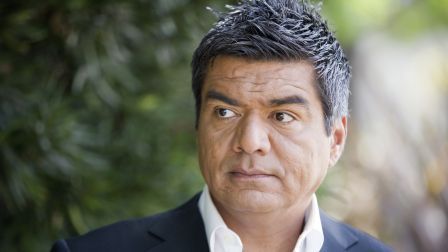 George Lopez
In 2006, something happened that interrupted the progression of positive imagery. An issue covered heavily in Spanish-language television and radio news spilled over into general market news networks when massive marches of immigrants and immigrant advocates protesting H.R. 4437 filled both the public squares and the public screens of cities around the country.1 The bill, "Border Protection, Antiterrorism, and Illegal Immigration Control Act of 2005," never became law, but elicited impassioned critique from Latinos during the debate phase of the bill. The images of hundreds of thousands of protestors represented a bold display of Latino resistance to both the legislation itself and a persistent structure of feeling in mainstream political and cultural discourses that cast Latinos outside the U.S. national imaginary.
No matter how well Ricky Martin may have danced, Latin pop did little to stanch the flow of anti-Latino sentiment that pulses through immigration debates, crime coverage, and moral panics about difference. No other current television personality embodies this sentiment more than Lou Dobbs of CNN. Dobbs, who began as a business reporter, morphed his nightly program into a libertarian and populist critique of illegal immigration. CNN has come under heavy pressure to address what many consider Dobbs' explicit nativism and implicit alarmism about Latinos as a threat to the American way of life. The images of masked Mexicans from earlier this year played into Dobbs' framework about threats from Mexico so well, that the H1N1 continues to be a featured story on his program; long after "swine" flu was decoupled from both pigs and Mexicans. Organizations including the National Council of La Raza currently advocate a boycott of CNN advertisers through the website http://www.dropdobbs.com/.
In 2009 CNN had a chance to redeem itself with Soledad O'Brien's much-hyped 4-hour special, Latino in America, which like Americanos 10 years before, sought to demonstrate the diversity of the Latino experience and explore how Latinidad fits into the fabric of America. The first part of the report, "Garcias," tells several stories about how folks with the surname Garcia struggle and triumph in issues familiar in the U.S. such as teen pregnancy, education, and identity formation. One segment explores media representation through the story of Jesse Garcia, an actor and aspiring director/writer who gets a break into the business by being cast as a day laborer. As we learn about Jesse, the report cuts to interviews with famous Latinos who enjoy success in television and film, including Eva Longoria-Parker, Edward James Olmos, George Lopez, and Lupe Ontiveros. Each of these celebrities remark on their relative success in overcoming stereotypes in their own casting decisions and productions. Then the story returns to Jesse and viewers learn how he hopes to one day join their ranks and move beyond stereotypical roles. Part II, "Chasing the Dream," explores various challenges that Latino individuals and communities encounter in their quest for acceptance, equality, citizenship, justice, and livelihood in the U.S. In the final vignette, Carlos Robles of Puerto Rico tries to establish himself in Orland but finds himself out of work and expecting a child with his girlfriend. O'Brien invites viewers into his struggles to pass a sheriff's examination, which he fails for a second time at the closing of the report. O'Brien narrates:
O'Brien: "Failure doesn't diminish Carlos' ambitions… Carlos is determined to have it all."
CARLOS: "I'm gonna have my house, my daughter"
O'Brien: "And, of course, a job. It's Carlos Robles' American dream."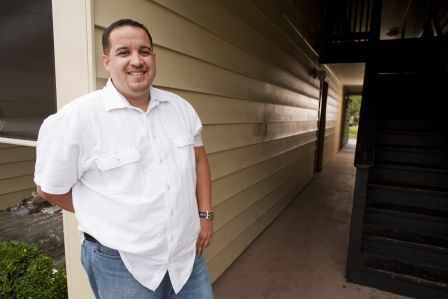 Carlos Robles
Latino in America fails to level a serious critique about how ideologies of the American dream incorporate Latinos into the mainstream and stymie oppositional political activism. A tinge of hope circulates among the frustrations expressed by those interviewed, articulating support for the broader political system. This mirrors important strategies of the 1999 Americanos project. What's different, however, is how O'Brien explores Latinos' struggles with institutional, economic, and cultural obstacles, likely much to the chagrin of those advocating picture-perfect imagery as a way of combating negative stereotypes. Unfortunately, O'Brien's inspections of such problems offer incomplete and problematic narratives – best understood as shaped by journalistic professionalism. But while CNN's Black in America garnered controversy regarding accuracy and the use of stereotypes, public ferment over Latino in America centered on CNN's retention of Lou Dobbs, and the silence in the report regarding the Dobbs controversy. One of the "Garcias" featured in the film, civil rights lawyer Isabel Garcia, claimed CNN edited out her negative comments about Dobbs in an Anderson Cooper interview during the airing of Latino in America. Protesters gather outside CNN headquarters and bloggers snipe away online. The extratextual focus on Dobbs diverts attention away from opportunities for critical dialogue elicited by the text and productive shortcomings of the report as a whole.
[youtube]http://www.youtube.com/watch?v=0yzMLaM7_64&feature=related[/youtube]
So, where have we come over the last 10 years regarding Latino representation on television? The radical hybridity of Latinos opens opportunities to examine the intersection of race, class, gender, and citizenship in a hemispheric context.2 But after decades of enduring and demeaning stereotypes, attempts to appropriate Latinidad for commercial, entertainment, or informational purposes continue to create new problems. Grand efforts to define and affirm Latinidad in projects like Americanos and Latino in America yield productive but highly limited possibilities for Latino agency. Tension exists between a Latinidad defined "from above," and a lived experience begging to be represented "from below." All the while, the moral panics that Lou Dobbs cultivates should remind critics and activists of the high stakes in the articulation of Latinidad.
One example of oppositional politics in recent television can be found with George Lopez, who starred in his second HBO stand-up special, Tall, Dark, and Chicano in August. Lopez stands as an interesting figure in the negotiation between the appropriation of Latinidad and Latino authenticity. The 2007 documentary film Brown is the New Green, which aired on PBS, sets Lopez's authenticity against the data-driven Spanish-language marketing industry. Lopez explains in the film that he has found success because Latinos identify with the reality of his experience. In disagreement, a marketing executive insists that he best understands Latinos through market research and demographic forecasting. Two years later, in his HBO special, Lopez paces back and forth in a packed San Antonio arena, working the crowd into frenzy with a long routine that pits "we" against "them." We work hard, while they are lazy. We discipline our children and instill them with a work ethic; they coddle their kids and turn them into sissies. This goes on, laced with implied heterosexism, relentless parody of white culture, and crass humor. But there is something confrontational in Lopez's act, directed not only toward Anglos, but also at mainstream appropriations of Latinidad. In an oppositional manner, Lopez rearticulates Latinidad and the United States. He's not trying to say that Latinos are changing America. He's saying that Latinos are America.
Image Credits:
1. Soledad O'Brien interviews Edward James Olmos
2. George Lopez
3. Carlos Robles
Please feel free to comment.
DeLuca, K. M. & Peeples, J. (2002). From public sphere to public screen: Democracy, activism, and the "violence" of Seattle. Critical Studies in Media Communication 19 (2), 125-151. [↩]
Valdivia, A. (2004). "Latinas as radical hybrid: Transnationally gendered traces in mainstream media." Global Media Journal 2, 1-21. [↩]