No Mean City to New Century City
Lisa W. Kelly / University of Glasgow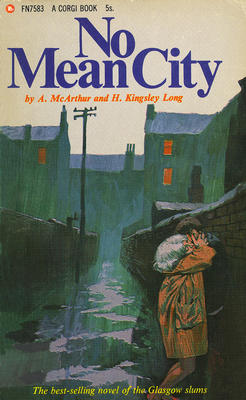 No Mean City – Violence and poverty in pre-war Glasgow
The Scottish city of Glasgow has long been synonymous with the title of Alexander McArthur and H. Kingsley Long's 1935 book No Mean City, a novel that lay bare the violence and poverty of life in the Gorbals, a pre-war Glasgow slum. However, following the successful Glasgow's Miles Better promotional initiative in 1983, outdated views of the city have regularly been challenged, with perhaps the only noticeable reminder of its uncompromising past to be found in Scottish Television's (STV) detective series Taggart, a programme launched in the same year as the aforementioned campaign and which has as its theme music a composition named 'No Mean City' by Mike Moran. Entering its twenty-sixth year of production, Taggart is the world's longest running police series and, as STV's main contribution to networked drama in Britain, plays a pivotal role in the broadcasting industry in Scotland. Thus, it is perhaps of no surprise that recent speculation regarding its imminent demise has ignited a debate not only about the future of Scottish television but also the development of UK national and regional broadcasting in a digital age.
[youtube]http://www.youtube.com/watch?v=iTOqvhuJEZ4&feature=related[/youtube]
This is a turbulent time for British broadcasters in general due to the ongoing recession and the decline in advertising revenue which has seen ITV in particular (the independent network which commissions and funds Taggart) make a number of cutbacks in drama production. Indeed, while ITV is deciding whether to throw a lifeline to the detective series and the hundred or so people it employs, STV has recently opted out of showing a number of ITV productions in Scotland, citing that viewers would prefer to watch more home-grown programming in prime-time slots.1 Yet, as the commercial broadcaster has since replaced high-profile dramas such as Peter Bowker's Wuthering Heights with inexpensive repeats, films and imports, many commentators have suggested that the decision appears to be more economic than cultural: 'STV does not have to pay for network shows it does not show. It means typically that a programme costing between £500,000 and £700,000 an hour would save STV £30,000 to £40,000'.2
Against this backdrop however, a number of commissioning quotas and economic development strategies have been implemented in an attempt to strengthen television broadcasting in the nations and regions. For example, with the BBC committed to sourcing 50% of network programming outside of London by 2016, the corporation has relocated a number of flagship programmes to Scotland, Wales and Northern Ireland in an attempt to establish 'creative hubs' around the country. With BBC Wales already successfully producing Doctor Who and its attendant spin-offs, Cardiff is fast becoming a focus for drama while a range of BBC arts and factual programmes, such as Newsnight Review, Question Time and the National Lottery, are to be based in Glasgow. This is in addition to the BBC's announcement that five of its London-based departments will now be moved to Salford in the North of England where the new MediaCityUK development is underway. As noted by Stuart Cosgrove, Head of Nations and Regions at Channel 4, 'the politics of economic development' has become a growing dynamic in the balance of power between London and the major creative cities of the UK as 'England's Regional Development Agencies (RDAs) and the devolved governments of Northern Ireland, Scotland, and Wales invest in the creative sectors'.3 Thus, according to the Northwest Regional Development Agency, it is expected that MediaCityUK 'will not only generate significant economic, social and creative benefits for Greater Manchester' but will also 'deliver £1bn in additional net value added to the British economy over five years'.4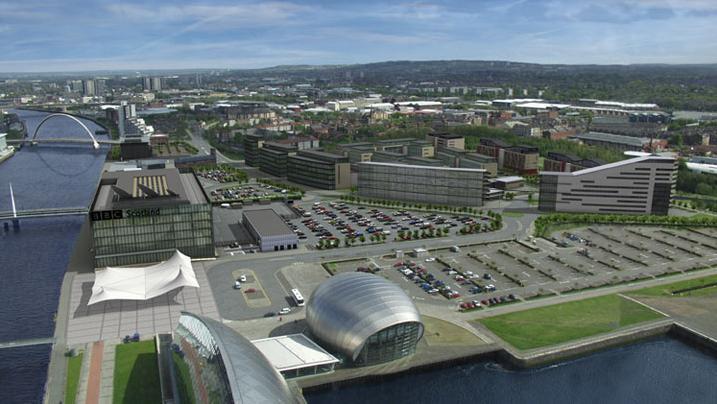 Glasgow's Digital Media Quarter at Pacific Quay
The Salford Quays development is one of many similar projects located around the world which aim to establish mixed-use communities in which information, communication and media technologies are woven into the fabric of the built environment. Described as 'New Century Cities' by Michael L. Joroff, a leading advisor on such projects who is based at MIT's School of Architecture, examples include Seoul's Digital Media City, Arabianranta in Helsinki, Orsted in Copenhagen, One North in Singapore, Milla Digital in Zaragoza, Titanic Quarter in Belfast, and of course MediaCityUK.5 To this collective can now be added Glasgow's Digital Media Quarter (DMQ) situated within the city's new Pacific Quay business district on the River Clyde. Home to BBC Scotland, Scottish Television, Film City Glasgow, Galaxy Radio and the Glasgow Science Centre and Imax Cinema, the development is not only part of the wider regeneration of the Clyde Waterfront but it also aims to create a centre of excellence for the digital media industries. With regards to the television sector, this has seen a number of companies establish an office in Glasgow, including Shed Media and Keo Films, while programmes previously filmed in London, such as the aforementioned National Lottery, are able to make use of the many facilities on offer at the same time as drawing on the local talent base.
Yet, for those freelance television workers who are finding it difficult to secure employment due to the lack of regular returning series based in Scotland and the possible cancellation of Taggart, it remains to be seen how the above initiatives will impact on their ability to earn a living within the industry. At a recent meeting of the newly formed Association of Scottish Film and Television (ASFT), problems surrounding 'flat-pack' production were raised, in which 'crews from outside Scotland are parachuted in and few, if any, locals are employed'.6 This may fulfill a Scottish production quota and make use of new facilities, but whether it secures the longevity of the local industry is debatable. Nevertheless, while the future of television in Scotland is problematic, Glasgow's vision of becoming a 'New Century City' relies on tapping into emerging media markets and, as Claire Scally of Scottish Enterprise points out, fostering a collaborative community between indigenous digital media players.7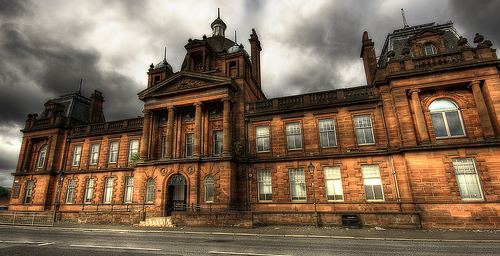 Film City Glasgow – The former B-Listed Govan Town Hall is now Scotland's newest film, TV and post-production facility
Moreover, alongside its new architectural developments, the city also benefits from its 'well-preserved Victorian architecture, grid layout and endless cobbled lanes', allowing filmmakers to use it as a stand-in for London and New York.8 This occurred most recently when the Glasgow-based production company Black Camel Pictures shot exterior scenes in the city for their upcoming Brooklyn-based feature film Legacy while also building a set at Film City Glasgow, one of the DMQ's flagship buildings. Interestingly enough, Legacy stars both Idris Elba and Clarke Peters, who fans of The Wire will recognise as Stringer Bell and Lester Freemon respectively, two characters who are no strangers to the 'mean streets' of Baltimore. While Taggart is no match for David Simon's acclaimed depiction of violence and poverty in a post-industrial city, it is significant that just as Glasgow's own detective series is under threat, there is an attempt to finally lay the 'no mean city' image to rest and forge ahead with a 'new century' vision.
Image Credits:
1. No Mean City – Violence and poverty in pre-war Glasgow
2. Glasgow's Digital Media Quarter at Pacific Quay
3. Film City Glasgow – The former B-Listed Govan Town Hall is now Scotland's newest film, TV and post-production facility
Please feel free to comment.