Television, participatory culture, and politics: the case of Indian Idol
Aswin Punathambekar / The University of Michigan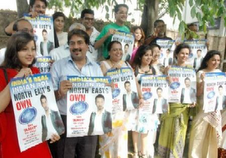 Fans in Meghalaya rally to support Indian Idol 3 finalist Amit Paul
In this column, I focus on events surrounding the third season of Indian Idol in order to reflect on the changing relationships between television, daily life, and public political discourse in contemporary India.1 In the summer of 2007, media coverage of Indian Idol-3 focused attention on how people in the northeast Indian state of Meghalaya cast aside decades-old separatist identities to mobilize support for Amit Paul, a finalist from the region. While some fans set up websites and blogs to generate interest and support from the rest of the country and abroad, others formed a fan club and facilitated efforts by a range of groups and organizations to sponsor and manage PCOs (public call offices) in different parts of Meghalaya, distribute pre-paid mobile phone cards, and set up landline voting booths. Recognizing the ways in which these activities were beginning to transcend long-standing ethnic, religious, linguistic, and spatial boundaries, state legislators and other politicians soon joined the effort to garner votes for Amit Paul, with the chief minister D. D. Lapang declaring Amit Paul to be Meghalaya's "brand Ambassador for peace, communal harmony and excellence."2 It seemed that this three-month long campaign around a reality television program could set the stage for a remarkable refashioning of the socio-cultural and political terrain in Meghalaya. As one journalist remarked:
When Meghalaya's history is written, it could well be divided into two distinct phases — one before the third Indian Idol contest and one after it. A deep tribal-non-tribal divide, punctuated by killings, riots, and attempts at ethnic cleansing, would mark the first phase. A return to harmony and to the cosmopolitan ethos of the past would signify the second. The agent of change: Amit Paul, the finalist of the musical talent hunt on a TV channel.3
During this time, residents of Darjeeling and viewers in other cities and towns of West Bengal, Sikkim, and Nepal were rallying behind Prashant Tamang, the other finalist of Indian Idol-3. Tamang's success soon attracted attention, with political activists beginning to leverage his fan following. As Tamang progressed through the competition, his fan clubs were transformed into political offices and fans were drawn into a campaign for a separate state of Gorkhaland.4 There was little doubt that this reality television phenomenon had drawn the attention of millions across India to the complex socio-cultural and political struggles in a region that continues to be neglected, and often misrepresented, by both state-run and commercial media institutions.5
Under these circumstances, it was striking to note the sheer range of number of organizations and groups involved. In Meghalaya, for instance, the Shillong Arts and Music Lovers Forum, Civil Society Women's Organization, Society for Performing Arts Development, Bihari Youth Welfare Association, Frontier Chamber of Commerce, Marwari Ekta Manch (Marwari Unity Platform), and several smaller clubs in different localities of Shillong drew in people from different ethnic, caste, linguistic, and religious backgrounds, with the Amit Paul fan club serving as an umbrella organization.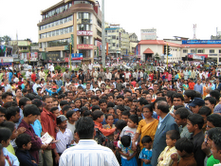 Amit Paul fan club gathering includes people from all over Meghalaya
Working closely with local businessmen and organizations like the Meghalaya Chamber of Commerce and Industry, fans ensured that PCOs (public call offices) in residential areas and several prominent locations in Shillong remained open all night for people to come forward and cast their vote. As the contest drew to a close, fan activity intensified and funds were raised to create publicity materials and even distribute pre-paid mobile phone cards for free.6 Over a period of 3 months, it became clear that the mobilization around Amit Paul had created a "neutral" space for a range of people to work together, and the many public activities had dramatically changed the way different groups inhabited the city of Shillong.
While news organizations from New Delhi and Mumbai looked upon these events with incredulity, commentators in Shillong began debating how Amit Paul — a middle-class, Bengali, non-Khasi — had emerged as a catalyst for changing relations in Meghalaya.7 To begin with, the situation in Meghalaya had begun to change over the past 4-5 years, with tentative moves being made on the part of different groups to reach out and work towards peaceful resolutions of long-standing issues. Secondly, Amit Paul's background — a high-school dropout who had to struggle in a marginalized state and region of the country — resonated deeply with youth across the region, with questions of ethnicity receding into the background. Finally, Amit Paul's participation in a national contest like Indian Idol was seen as a unique opportunity for Meghalaya and other states in the Northeast to assert their presence in the nation and claim belonging in the "national family."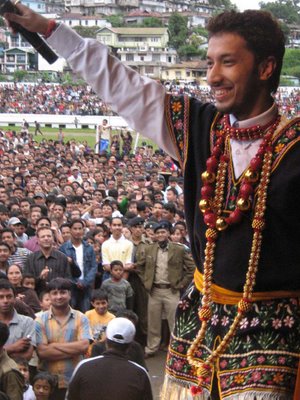 Amit Paul greets his fans
Following along online, many of these explanations made sense to me. But one question remained unanswered: given the complexities of ethnic strife, what would happen when all this fan activity around a reality television program came to an end? What are the cultural and political implications of fan mobilization that lasts a few weeks or months at best? And as media scholars, what conceptual and theoretical frameworks might we draw on to understand this phenomenon?
To begin with, I would argue that it is problematic to regard such moments of participatory culture, enabled by mobile media technologies and practices, as nothing more than "free" fan labor harnessed by Sony Entertainment Television and cell phone companies.8 Among other things, an in-depth account of this participatory culture would need to trace and analyze the ways in which fan participation intersected with the interests and motivations of local businessmen, politicians, and varied civil society groups. I would also argue against situating this phenomenon within the domain of a "cultural" public sphere and theorizing it as an interruption or intervention into the domain of 'the' (political) public sphere. Furthermore, we also need to consider the role played by mobile media technologies – public telephones, cell phones, and cybercafés – in reshaping the terrain of everyday life and engendering new forms of sociality around television entertainment.
Taking all this into account, I would like to posit the term mobile publics as a way to draw attention to the centrality of mobile media technologies to the formation of publics, highlight the fluid and ephemeral nature of these publics, and suggest that the transient nature of mobile publics allows for the articulation of new cultural and political possibilities that might not be possible in more formal institutional settings. Indian Idol-3 was a crucial media phenomenon precisely because the publics that cohered around Amit Paul created the possibility and the space for the renewal of everyday forms of interaction across ethnic, religious, spatial, and linguistic boundaries that had been subdued and rendered difficult, if not impossible, over the decades. And as numerous news reports suggested, this renewal of everyday engagement between different people — at rallies and other public gatherings, fan club meetings, in queues at public call offices and so on — also evoked the cosmopolitan past of cities like Shillong and sparked discussions of how that cosmopolitanism could be a vital resource in struggles to overcome ethnic divisions.
At one level, the term mobile publics relates to the emergence of a hybrid mediascape and the development of technological and cultural capacities to circulate and share ideas, images and information in ways that were not possible earlier. At another level, it is important to recognize that mobile publics are more than just collectives that are informed and/or networked through new communication technologies. Mobile publics need to be understood more broadly as interventions that evince, if only momentarily, new cultural and political possibilities within the realm of everyday life. Indeed, mobile suggests that these publics are open-ended social formations that can be harnessed for different projects in unexpected ways (consider Prashant Tamang and Gorkha nationalism).
Will such a renewal of interaction and engagement sustain itself over time? Can mobile publics strengthen other efforts to resolve long-standing tensions in Meghalaya? How might we trace and assess the impact of mobile publics? How do mobile publics intersect with and re-shape other spaces of conversation? These and other questions that emerge suggest not only the need for further critical examination, but also that the term mobile publics does not have to be limited to the socio-political context of northeast India or reality television. Perhaps we can look further afield and consider audience responses to the racialized dynamics of U.K.'s Celebrity Big Brother involving the Bollywood star Shilpa Shetty or varied uses of mobile media technologies to mobilize political action in Pakistan in 2007-08 as instances in which mobile publics played a key role.
Image Credits:
1. Fans in Meghalaya rally to support Indian Idol 3 finalist Amit Paul
2. Amit Paul Fan Club gathering. Picture courtesy of Arijit Sen.
3. Amit Paul greets his fans