Fan Protests, Cultural Authenticity, and the Adaptation of Avatar: The Last Airbender
Patricia Nelson / FLOW Staff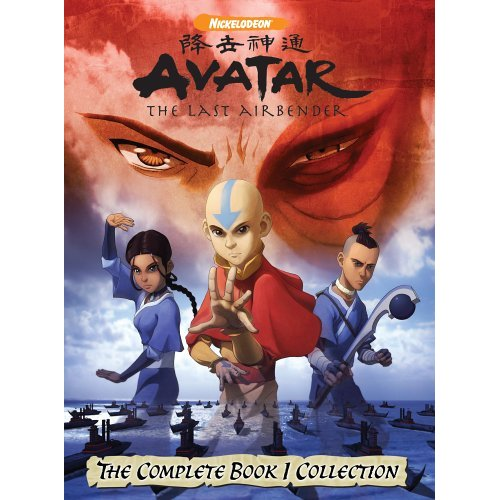 Avatar: The Last Airbender Season 1 DVD Cover
Between February 2005 and July 2008, Nickelodeon aired three seasons of Avatar: The Last Airbender, an animated fantasy series depicting an Asian-inspired world. The magical reality in which the show takes place represents a mish-mash of various Asian cultures; the American creators, Michael Danter DiMartino and Bryan Konietzko, list their inspirations as Asian mythology, kung fu, yoga, Eastern philosophy, and anime. Although populated by child protagonists, Avatar attracted, from the onset, an audience beyond Nickelodeon's target demographic of children ages 2-11, and in January 2007, Paramount, MTV Films, and Nick Movies announced a three-picture deal with director M. Night Shyamalan to adapt all three seasons of the animated show into a live-action film trilogy.1
Among fans of the television show, however, Shyamalan's adaptation, entitled The Last Airbender (2010), has already been met with significant backlash—specifically, the choice to cast white actors, including Jason Rathbone (Twilight) and pop singer Jesse McCartney, as the film's protagonists, instead of Asian actors. Since the casting announcement in December 2008, fans, backed by the Media Network for Asian Americans (MANAA), have organized websites and letter-writing campaigns to protest the casting. While these complaints may have been responsible for the decision in February 2009 to replace McCartney with Indian actor Dev Patel (Slumdog Millionaire) as the film's villain, many fans continue to protest Paramount's refusal to recast the series' three heroes with Asian actors, advocating a boycott of the film. Interestingly, MANAA claims that "most of the outraged fans threatening to boycott are white, black, and Latino."2

A fan-created image juxtaposes the animated protagonists…

…to photos of The Last Airbender actors in costume
The marginalization of Asian and Asian American actors by no means represents a new development in Hollywood. As Kristen Moon points out, yellowface, the practice of white actors portraying Asians, emerged in the mid-nineteenth-century; casting white actors as Asian characters remains far too prevalent.3 Numerous statements from those affiliated with the film The Last Airbender display astonishing ignorance of racial politics, as when actor Jason Rathbone stated that to convincingly play an Asian character, he simply needed a tan. This article certainly does not aim to excuse or justify Paramount's casting choices; rather, I am interested in considering how fans have relied upon notions of cultural authenticity in justifying or condemning the choice to cast white actors as the films' leads.
Before plans emerged for a live-action film, much of Nickelodeon's marketing of the animated Avatar: The Last Airbender tended to emphasize the cultural credibility of the show, what one might call its "authentic Asian-ness." Unlike Japanese anime programs airing on Cartoon Network contemporaneously, Avatar was created for an American audience, and the series' two creators identify as white American males. Yet unmistakably, Avatar's hook was its recognizably Asian flavor, apparent in the series' landscapes, costumes, and in its plot centralization of martial arts and vaguely Hindu spirituality—and, perhaps most obviously, from its title screen, in which the Chinese characters for the elements are printed above the title. In other words, this is an ancient Asian world composed of all the elements an American child who had seen Disney's Mulan might associate with Asia, decontextualized from any explicit historical or cultural roots. Avatar's world is not Chinese or Japanese—it is, for all intents and purposes, accessibly and generically "Asian."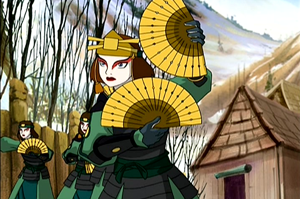 An example of Avatar's "Asian-inspired" imagery
In interviews aimed at an adult audience, the creators emphasized the simultaneous originality and authenticity of Avatar. They highlight their extensive cultural research for the series, discussing their trip to China4 and the "dozens of books" from which they learned about the "rich cultures and proud traditions" of Asia.5 Yet in each interview, they are also careful to articulate their own role as creators and innovators, emphasizing that they were only "inspired" by these sources and that the mythology of the Avatar world is fundamentally their own, stating, for example, that they discovered how important the Hindu-based concept of the Avatar was to "these other cultures" only after they came up with the concept for the series. Thus, even as the creators repeatedly affirm the broad Asian influences of the series, they display an investment in their ability, as (American) outsiders, to innovate their own (still authentic) vision of Asia.
Similarly, a 2005 New York Times article about the series offers telling back-to-back quotations: sentences after one co-creator explains, "We were really into yoga when we started this show, which is probably why we wanted to do something that was Asian influenced," his partner, discussing the series' kung fu advisor and Chinese calligrapher, states, "I think people recognize when something is authentic." One has to wonder if the article's author recognized the irony. The juxtaposition of these statements allows the creators to be, personally, "regular" Americans, dabbling in Asian culture, and artistically, authorities of Asian cultural authenticity.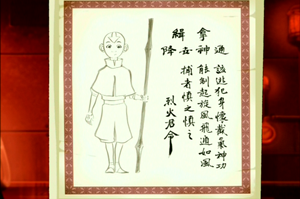 An example of Avatar's "authentic" Chinese calligraphy
Returning to MANAA's assertion that most of the fans threatening to boycott the film are not Asian, I would like to suggest that perhaps these audiences feel so attached to the cultural and racial authenticity of the film The Last Airbender precisely because creators of the animated series have offered a model for them, as non-Asians, to be advocates for the "Asian-ness" of the series. As stated earlier, "white-washing" of Asian roles occurs frequently in Hollywood adaptations, and seems to be almost standard in live action adaptations of anime cartoons. Yet the fan backlash to the casting of The Last Airbender has been considerably more vocal than, for example, negative reaction to the casting of white actors as the leads in Japanese anime adaptation Dragonball Evolution (2009, 20th Century Fox).
For the American adult fanbase of the Avatar animated series, many of whom are familiar with these interviews, part of being a fan means struggling to maintain that authenticity through protesting the inauthentic casting of white actors. To do so, fans educate themselves and other fans about racial discrimination, with the most prominent fan site offering FAQs interrogating the myth of a post-racial world and debunking the notion that all Asian have the same eye shape. However, these FAQs, while certainly well-intentioned, contribute to the pervasive sense that the fan boycotts of The Last Airbender are aimed at convincing white fans of the existence of racism so that they can champion Avatar's authenticity as a depiction of ancient Asian cultures.
[youtube]http://www.youtube.com/watch?v=BBda7b9tRdk&feature=channel[/youtube]
A fan-created video emphasizes Avatar's authentic "Asian-ness"
Indeed, in many of the comments on the fan protest's 4500-member facebook group, the injustice of the casting becomes notable only because it disrupts white fans' enjoyment of watching an accessible (but authentic) spectacle of Asian-ness. One facebook commenter states:
I'm as white as a white girl gets. I'm Irish. I speak only english. And this movie disgusts me. I'm heavily insulted that these hollywood jerks think I can only relate to other white people and white cultures. Theyre destroying this beautiful opportunity to give people a look at this rich portayel of asian culture.
Just as DiMartino and Koniezko repeatedly returned to their position as educated white Americans to assert their right to "invent" and define Asian culture, many protesting fans evoke their position as outsiders to the culture being discriminated against as validation of the importance of their objections and of their right to be heard.
Certainly, other perspectives on the casting of The Last Airbender have emerged as the controversy has gained internet buzz. But especially within fan communities, a tendency to uncritically glorify the adaptation's source material predominates, and the objection to the casting of white actors in Asian roles rests on the indisputable cultural authenticity of the creators' vision for the Avatar world. This tends to mask the structural nature of Hollywood discrimination against Asian actors, writers, and directors, making Avatar, in essence, a "special case" whose authenticity uniquely deserves to be championed. Lacking or absent are necessary considerations of who defines what "authenticity" means, and whether perhaps this label sometimes serves to legitimize cultural appropriation and cultural voyeurism.
Image Credits:
1. Avatar: The Last Airbender Season 1 DVD Cover
2. A fan-created image juxtaposes the animated protagonists…
3. …to photos of The Last Airbender actors in costume
4. An example of Avatar's "Asian-inspired" imagery
5. An example of Avatar's "authentic" Chinese calligraphy
Please feel free to comment.