Special Issue: Social Media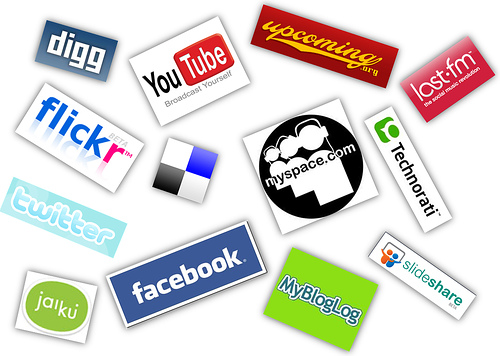 Social Media Logos
In keeping with Flow's dedication to publish timely articles we are excited to welcome you to our most recent Special Issue on Social Media. We use the term social media in the loosest way possible in order to account for all the various technologies which have created new ways for individuals to communicate, network, and share information with one another. Social media can include blogs, Twitter, social networking sites, wikis, Second Life, digg, Last.fm, FlickR, etc. and the technologies are being used by scholars, celebrities, journalists, and more. The editors of FlowTV sent out a call for submissions in which we asked the Flow community to address the ways social media are influencing politics, celebrity culture, journalism, public/private boundaries, distinctions between users and producers, and the ways in which social media are being gendered, racialized, classed, and policed.
We received an impressively high number of quality submissions and are excited to present this Special Issue. Based on the reoccurring themes found within the submissions, Twitter emerged as a hot topic at the moment – both within academia and mainstream media – and this issue offers several different perspectives concerning the uses of Twitter. Additionally, in this issue you will find articles about scholars and blogs, journalism and YouTube, cell phones and the classroom, race and FlickR, and much more.
As always, Flow aims to facilitate dialog among our readers and it is our hope that these articles provide jumping off points for further conversation and debate. Our intent is to present critical examinations which encourage our readers to continue to think critically about our current media landscapes.
Image Credits:
1. Social Media Logos