Mediating Urban Cultural Borders
by Michela Ardizzoni/ University of Colorado Boulder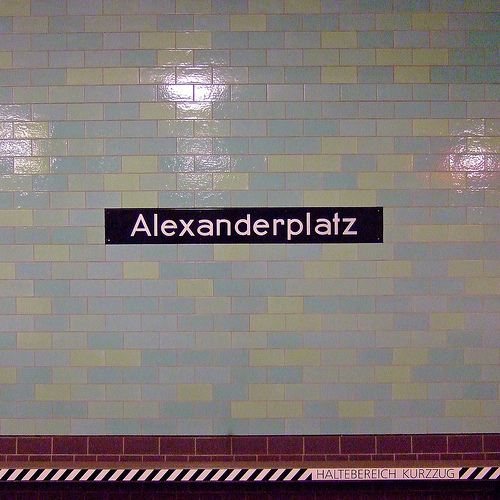 Berlin's Alexanderplatz Underground
In the winter 2001-2002 people pacing through Alexanderplatz underground station in Berlin were welcome by an uninterrupted series of short, enigmatic messages that were projected onto a screen normally used as an advertising billboard. Messages like "By the time you read this message everything will have changed. The true life" were part of an urban diary project created by a Berlin group called rude_architects.1 The mysterious sentences were originally sent to these architects as text messages and were then on display in Alexanderplatz exactly 24 hours after they were received. Intended as personal messages directed to selected receivers, who were known to walk through the station at a specific time and day, these sentences bridged the space between public and private communication in an attempt to re-appropriate the locus of the public sphere in our often-commercialized urban areas. As worded by Blume, "the project was a public game with a private medium – the mobile phone – which at the same time was intended to restore the public character of a place which in legal terms had always been public without ever really being felt to be such by most of those who used it" (2006: 1). This project, aimed at exploring the transformative use of public space, proved innovative in a couple of different ways: first, a new kind of publicly private communication flowed in a non-controlled way, as the messages freely organized themselves onto the screen and formed an unprecedented snapshot of life in Berlin; second, the unusual and puzzling nature of some messages pushed citizens to strike a conversation in what would otherwise be a very isolating pace.
This urban diary project provides an interesting example to rethink the multiple potentialities of public space and urban areas in a time of accelerated new media proliferation. Today's urban spaces are characterized by several levels of hybridity: public and private, mobile and static, and lastly, global and local communications. The hybrid nature of 21st-century urbanity encourages us to reassess and explore the ways in which urban media interventions can provide an alternative outlet to give voice to globalized, yet local experiences of the city that transcend both corporate media venues and elitist trajectories. In this sense, urban projects like the one described above have the potential to reinvent the use of the city's central – but also marginalized – spaces, while at the same time rooting the city's growing cultural diversity. Both goals demand that we refocus on the centrality of the city as a trope of analysis in media studies, at a time when the power of the nation-state has been heavily undermined by globalization, mobile technologies, and transculturalism. As Derrida argued, "[i]f we look at the city, rather than the state, it is because we have given up hope that the state might create a new image for the city" (Derrida quoted in Georgiou, 2008: 2232 ). It is precisely this new image of the city – as a locus of convergence, creativity, and citizenship – that urban media projects attempt to design and project. In one of her recent articles on public interventions in global cities, Saskia Sassen3 urges us to attend to those initiatives that use global networks to refocus on the local:
When local initiatives and projects can become part of a global network without losing the focus on the specifics of the local, a new type of globality takes shape … [T]hese interventions are deeply imbricated with some of the major dynamics constitutive of corporate globalization yet are not part of the formal apparatus or of the objectives of this apparatus … These counter-geographies thrive on the intensifying transnational and translocal networks, the development of communication technologies which easily escape conventional surveillance practices.
As such, what Sassen calls counter-geographies partially follow the routes of urban citizens in their multiple attempts to find a means of representation that overcomes the stifling boundaries of national categorizations and the limitations imposed by societal ladders of power. These attempts become particularly important when they aim at subverting (or, at least challenging) the existing politics of representation: "[these communication practices] also project [citizens'] efforts to take representation and identification in their own hands, by dismissing, resisting and contesting the restrictions and the rules posed by financial and political centres of power that control symbolic and material sources on the national and transnational level" (Georgiou, 2008: 234).

Trace TV Website Logo
The centrality of transculturalism in the experience of contemporary urban citizens is at the heart of one of the first urban media projects with a transcontinental focus. Trace TV is a Franco-American urban media network that was founded in 2003 by Claude Grunitzky,4 Olivier Laouchez, and Richard Wayner with the specific aim to target young urban populations and their lives of in-betweenness across cultures and milieus. With a target audience of 18-35-year-old urban youth, Trace TV was originally intended as the broadcast extension of the homonymous American-British magazine created by Grunitzky in London in 1996. It was thus conceived as "a new expression in culture documenting the impact of the interconnected worlds of music, fashion, film, art, politics on today's multiethnic youth" (Mission statement, http://www.trace212.com/aboutus.html). Trace TV's programs rely heavily on urban music genres, such as hip hop, reggae, R&B, groove, soul, and more localized expressions like Maghrebi raï and Caribbean zouk. Laouchez, the current CEO of the channel, emphasizes though that this project aims at moving beyond music as a form of urban creativity and locus of representation by bringing in reportages from different parts of the world (Brazil, US, Germany, UK, Senegal, South Africa, Caribbean islands) on localized experiences of transculturalism. At the heart of Trace's notion of transculturalism is a contemporary quest for spaces of identity and belonging across cultures and through diverse locales.5
Urban media projects like Trace TV highlight an increasing tension between the cultural transcendence of the city and the containing homogeneity of the nation. The city can be a site of transgressions, discontinuities, and new beginnings which often disrupts the leveling dynamics of the narrative of the nation-state. Caught between the polarizing forces of the global and the local, these initiatives use old and new media technologies to re-appropriate spaces whose original public function has been undermined by the commercialization of the urban experience. In doing so, they provide a platform for more flexible and, perhaps, uncontrolled expressions of the communicative role of the city.
Image Credits
1. Alexanderplatz
2. Trace TV
Please feel free to leave a comment.