Pitchforking Andy Samberg's Hipster Appeal 
 Alyx Vesey / Independent Scholar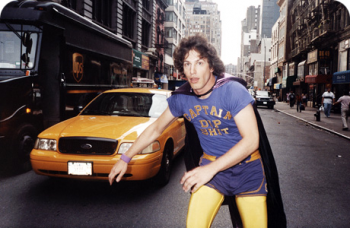 Andy Samberg, hipster star of Saturday Night Live
When Ethan Thompson wrote a Flow column last summer on Saturday Night Live cast member Andy Samberg, he made the argument that the inclusion of the comedian, who made his mark prior to joining the show in 2005 with a series of popular digital shorts on the Web, was an interesting case study in the convergence of TV and online media. Taking this point a bit further, I'd like to discuss Samberg's presence on the show as an indie music tastemaker and how he has used his musical fluency to create a distinct comedic voice that has contributed to SNL's cultural relevance.
Samberg's image as a hipster comedian is enforced by his visibility in music magazines like Spin, Blender, and The Village Voice. His hipster cred is further enforced by his involvement with the Lonely Island, a musical comedy group Samberg formed with SNL writers Akiva Schaffer and Jorma Taccone. They are particularly notable for their relationship with Pitchfork Media, an Internet publication that devotes itself to the coverage of independent music and has gained a substantial following with American twentysomethings looking for an alternative to print magazines like Rolling Stone that focus their attention on mainstream music. This pedigree contextualizes how SNL has used it to their advantage as a means with which to uphold their reputation as network television's cultural space for forward-thinking music programming. However, Samberg's popularity offers little room for women.
Samberg garnered much attention for his digital shorts. As Thompson pointed out, the success of "Dick In a Box" reinvigorated interest in SNL, which was downloaded a record-making 28 million times on YouTube before being pulled. "Dick In a Box," which jokingly replicated the schmaltzy production, questionable fashion, and racial appropriation of Color Me Badd and other predominantly-white early 90s R&B acts, is also noteworthy for the inclusion of Justin Timberlake, a pop superstar beloved by indie-leaning music publications for his futuristic sound. As if the YouTube downloads aren't proof enough of Samberg's ubiquity in contemporary music culture, he performed the song at Timberlake's 2007 concert in Madison Square Garden. Pitchfork staffers took note.
[youtube]http://www.youtube.com/watch?v=WhwbxEfy7fg[/youtube]
 
Pitchfork staffer all but drooled over "Iran (So Far Away)," another digital short about Irani President Mahmoud Ahmadinejad, a mock-slow jam R&B ballad that featured Samberg with another soulful white boy, Maroon 5 frontman Adam Levine. What makes the song relevant to hipsters is its swiping of the piano melody from British electronic musician Aphex Twin's "Avril 14th," which was featured prominently in Sofia Coppola's Marie Antoinette.
Of course, Samberg is hardly the first comedian to align himself with underground music. Sarah Silverman, David Cross, Aziz Ansari, Patton Oswalt, and Zach Galifianakis, have been featured in music videos by indie bands or interviewed for music publications like Rolling Stone and Spin. Some of them have even released comedy albums on well-known indie labels like Sub Pop, which signed Nirvana and the late 1980s and, in the 2000s, became home to almost-mainstream acts like the Shins and the Postal Service. SNL alum Jimmy Fallon made his name reconfiguring Top 40 hits into songs about holidays on "Weekend Update." Even Fred Armisen, Samberg's castmate, reeks of indie cred. Armisen got his start in comedy filming a fake rock documentary during South by Southwest, posing as a journalist to stage elaborate, Spinal Tap-esque encounters musicians. He occasionally writes for Pitchfork and pokes fun at hipster culture as a part of ThunderAnt, alongside former Sleater-Kinney axwoman Carrie Brownstein.
[youtube]http://www.youtube.com/watch?v=IbH9VTMZQ4Y[/youtube]
Simply put, Samberg is more of a ratings draw because he can harness his hipster appeal in a way that targets a broader audience. Samberg is also quick to capitalize on himself as a musical comedian. While comedians have long been putting out stand-up albums, few have put out albums that were supposed to be judged on both their musical and comedic merits. Pitchfork willingly frames their audience to be in-the-know young adults, posting lengthy interviews of the band, glowing reviews of their debut album, Incredibad, and news items about the release of singles like "I'm On a Boat."
[youtube]http://www.youtube.com/watch?v=R7yfISlGLNU[/youtube]  
This video encapsulates Samberg and the gang's mirroring of the ironic sensibilities of the "typical" Pitchfork reader. The video winks at all the lavish trappings of a commercial hip-hop video as the song deftly replicates the sound, even employing rapper T. Pain to deliver the hook. Like the Beastie Boys before them, this song suggests that the trio is capable of creating a contemporary hip-hop sound, but their cultural position as middle-class Jewish pranksters suggests that all of this may be done in quotes, thus distancing them from the sound their trying to replicate. It also suggests a certain amount of white boy fantasizing; while the boys may wish they could roll with T. Pain, they're probably more likely to spend an afternoon at Kinko's like many other Pitchfork followers and staffers.
The point of all this is that, via Samberg and the Lonely Island, SNL is reinforcing the widely-held cultural belief that the geek is male. This is only made more evident by the show's decision to showcase all-male bands like Fleet Foxes, TV on the Radio, and Vampire Weekend, rock acts just to the left of mainstream musical attention, some of whom, like The Lonely Island, have distribution deals with Universal, NBC's parent company. This synergistic relationship between record labels and television networks reflects the mutually beneficial relationship between SNL and Pitchfork, as a substantial number of the musical guests on SNL are critical darlings of indie tastemaker publications like Pitchfork, who put all three bands in their top ten list for records of 2008, with Fleet Foxes bestowed with the e-zine's Album of the Year.
While it is commendable (and advantageous) for SNL to create a national showcase for these acts, it absences the female geek, thus enforcing Will Straw's assertion that "the nerdish homosociality of those who collect popular music artifacts" is fundamental to the masculinization of popular music which, in turn, denies female participation in these kinds of fan practices.1 The employment of insider knowledge is critical to Samberg's appeal. It also marginalizes women. As of now, the only woman that has been featured in Samberg's digital shorts is actress Natalie Portman, starring in a clip where she debunks her wholesome image.
[youtube]http://www.youtube.com/watch?v=PQjw9QkzGPU&feature=related[/youtube]
Though indie bands have a spotlight on SNL, most of the female artists who perform on the show are commercial solo artists like Beyoncé and Carrie Underwood. The show could improve this lack by putting more Pitchfork-friendly female artists like Santogold, M.I.A., Neko Case, Vivian Girls, Erykah Badu, and Telepathe on their show. As for Samberg and his Lonely Islanders, take a note from Fred Armisen and make room for female musicians to collaborate as comedic voices.
Image Credits:  
1. Samberg on Skates
2. Front Page Image
Please feel free to comment.  
Straw, Will. 1997. "Sizing Up Record Collections: Gender and connoisseurship in rock music culture." Sexing the Groove: Popular Music and Gender. New York: Routledge. p. 15. [↩]