Nowhere to Go but Up: Redeeming HBO's Eastbound & Down
Nick Marx / University of Wisconsin – Madison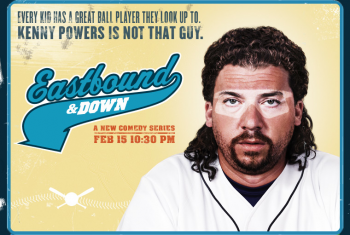 Eastbound & Down
In June 2008 HBO took a minority stake in the comedy website FunnyorDie.com. As part of the pact, HBO ordered an original television series from the site's main creative minds, Will Ferrell and director Adam McKay (Anchorman, Step Brothers). At the same time, the duo's Gary Sanchez productions was preparing to release The Foot Fist Way, a low-budget comedy written, directed, and produced by North Carolina filmmakers Ben Best, Jody Hill, and Danny McBride. Even though Foot Fist performed modestly in limited release, Ferrell and McKay latched on to the trio's comic sensibility and solicited them to produce the HBO comedy series Eastbound & Down (premiering February 15).
While I've only seen the pilot episode, I'd like to consider some already apparent issues; namely, that there's a lot to not like about Eastbound. The series follows the bottoming-out of disgraced baseball pitcher Kenny Powers as he returns to his southern hometown and takes a job as a middle-school gym teacher. Kenny (played by McBride) is abrasive, spiteful, and unrelentingly egotistical. He drinks frequently and heavily. He cusses, especially at women and children. The other characters populating Kenny's world-including his manipulable brother, his now-engaged former flame, and various starry-eyed fans-often serve more to absorb Kenny's abuse than they do to put him in his place. By the end of the series' pilot episode, we learn that Kenny grudgingly intends to stay at the school until he can work his way back to the major leagues. But if the program's producers wish so strongly to portray their protagonist as a despicable person (a point driven home after a seemingly interminable sequence of Kenny snorting cocaine), how do they expect audiences to root for him week after week?
I don't mean to suggest that we can't be drawn to unlikable characters, especially comedians. Indeed, Kenny is part of a rich heritage of loathsome comedy protagonists, from Archie Bunker to Al Bundy. The most common strategy for creating audience rapport with such characters is to build their respective goal-driven actions into a story arc of maturation and/or comeuppance and to allow them to be seen as pitiable along the way. Eastbound, however, indicates that this is not the model it intends to follow. In one early scene, we see a close-up of Kenny lying on his bed after a rough day, crying. Just as we begin to feel for him, we cut to a wider shot showing the contents of his bedside table, including a stack of pornographic magazines. This quick betrayal of the audience's sympathy is exacerbated in the following scene. Before his first day of school, Kenny pensively guzzles beer in his car while listening to his autobiography on tape. We're treated to the following:
Undaunted, I knew the game was mine to win. Just like in life, all of my successes depend on me. I'm the man who has the ball. I'm the man who can throw it faster than fuck. So that is why I am better than everyone in the world. Kiss my ass and suck my dick, everyone.
Not only is Kenny's profane soliloquy a refusal to allow the audience closer to him; it's also an indication of how hard he is willing to push other characters in the Eastbound diegesis away. There is no maturation or comeuppance plot on the horizon for Kenny. If we're going to follow Kenny's crusade back to the big leagues, it will be on his terms.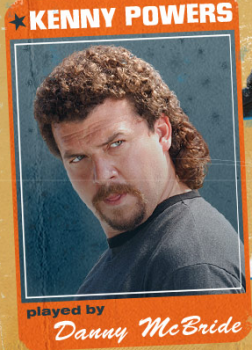 Danny McBride as Kenny Powers
Given its rejection of the traditional redemption narrative, Eastbound might be better viewed as another instance of so-called "cringe comedy" (offensive or embarrassing situations specifically designed to cause audience unease). Here, the pitiableness and maturation of the protagonist are secondary; the success of a cringe comedy series hinges on the degree to which its televisual asshole speaks to the asshole in all of us. Audience sympathy for cringe comedians, however slight it might be, is made possible by the highly personalized nature of their humor. The results can range from series structured around the idiosyncrasies of their protagonists' comedic personas (as in the selfish misanthropy of Larry David) to ones serving as showcases for virtuosic performances (as in the chameleonic multitasking of Sascha Baron Cohen or Summer Heights High's Chris Lilley). In the case of Eastbound, though, star Danny McBride (though he as a reputation as an adept improviser in the films of David Gordon Green) doesn't have an established comedic persona on par with that of Larry David or Ricky Gervais. As a result, grappling with our repugnance for Kenny Powers at the strictly textual level yields a limited understanding of the series. I argue that we view Eastbound in a broader discursive context, as being integrated with its conditions of production and the cultural milieu it both constructs and comments on. Seen in this light, we can account for the stylistic elements of cringe comedy at play, as well as understand how those elements compel us to consider the larger implications of a character that acts purely in his own self-interest.
One character we might use as model for expanding our reading of Kenny Powers is South Park's Eric Cartman. Cartman, like Kenny, drives the narrative of his show with racist diatribes and self-serving actions, often without retribution. In one recent example ("The Snuke"), Cartman's misguided suspicions of a Muslim boy set off a chain of events that saves the town from annihilation. The episode's uncomfortable life lesson is that sometimes, according to Cartman, "bigotry and racism [save] the day." Such sentiments are clearly problematic, yet characters like Cartman and Kenny Powers go unpunished for having them. When considering offensive representations beyond their visceral, "cringe" impact at the textual level, though, we can see their integration into a variety of industrial and socio-cultural discourses. In the case of South Park, Cartman exposes the absurdity of extremism in American news media and political rhetoric; in the case of Eastbound, Kenny Powers embodies a collective American lassitude after nearly a decade of being told we were bigger, stronger, and faster than everyone else.
Kenny Powers is, appropriately enough, an offspring of the deluded narcissists Will Ferrell has long specialized in playing. And while FunnyorDie.com might too be seen as an exercise in Hollywood narcissism1 , its mix of professional and user-generated content has become a financially viable model that dozens of comedy sites are scrambling to emulate. Ferrell has maintained the site's profile in part by using it as a cross-promotional tool for other projects, like last year's touring sketch-show in support of his film Semi-Pro that also provided outtakes for the site.2 . On February 5 he began a live stage-show directed by McKay, "Will Ferrell: You're Welcome America. A Final Night With George W. Bush" that will also be televised on HBO. Ferrell's Bush impersonation falls right in line with the likes of Talladega Nights' Ricky Bobby-both are impetuous cowboys oblivious to those around them-so it's plain to see how Ferrell and McKay were drawn to the same characteristics in McBride's The Foot Fist Way.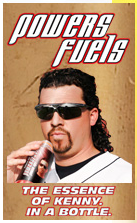 Kenny Powers Promo
It's also tempting to draw parallels between Bush and Kenny Powers-both are disgraced national icons returning home, reluctant to own their blighted legacies-but here again Ferrell proves useful. His Bush impersonation reads as straight parody, an exaggeration borne out of the manufactured (and, by now, passé) red/blue divide. Conversely, McBride's portrayal of Kenny, for all its surface crudeness, is more than a mere Hollywood response to the Blue Collar Comedy Tour. With Eastbound being shot in their native North Carolina (far from LA-based HBO executives) and using mostly local talent, McBride, Best, and Hill utilized their creative freedom to create a portrayal of the south that feels more lived-in than gleaned from collections of stereotypes.3 While I wouldn't argue that the series posits any "authentic" notion of the south, it does create a comedic hero that embodies American cultural tensions of the recent past while warily embracing the changes to come.
Kenny, inspired by former Atlanta Braves pitcher John Rocker (who was also played by Ferrell on SNL), provides numerous reminders-literal (steroid use in baseball), metaphorical (Kenny's shortsighted splurge on a jetski), and pop cultural (his stints in rehab)-of Americans' selfish recklessness in the mid-2000s. But no moment better expresses it than a confrontation between he and his brother Dustin. As Kenny drunkenly pouts late one night, Dustin implores him to get used to living a modest lifestyle and to change his selfish behavior. Kenny seems to take this to heart, and the score swells as we see a moment of reflection flit across his face. Clearly, though, Kenny has heard what he wants to. "You're sayin' I gotta get back on top again," he says, despite Dustin's protests. "I gotta remember that I'm a winner, man. I need to remember that I am better than everyone else." The exchange perfectly captures the selective hearing of pro athletes who thought they'd never be caught, political leaders sure we'd be greeted as liberators, and homeowners who never stopped to ask if it really was too good to be true. Sure, change is coming, and we'll get back on top again. But for the time being, we'll all, like Kenny, continue to wake up with a wicked hangover.
Image Credits:
1. Eastbound & Down
2. Danny McBride as Kenny Powers
3. Kenny Powers Promo
4. Front Page Image
Please feel free to comment.
See Heffernan, Virginia. "Mocking Stars and Beer Ads. Yawn." The New York Times, 31 May 2007. http://www.nytimes.com/2007/05/31/technology/31screen.html?_r=1. [↩]
Curiously, especially for a series with Hollywood talent as recognizable as Ferrell attached, Eastbound has seen little promotion on HBO and broadcast outlets. Instead, the focus has thus far been online. When FunnyorDie.com premiered the second season of Flight of the Conchords weeks ahead of its run HBO, for example, and the episode ended with a promotional short for Eastbound. [↩]
See the interviews with McBride and Best in Stephenson, Hunter. "Exclusive Set Visit! HBO's East Bound and Down." /film, 3 December 2008. http://www.slashfilm.com/2008/12/03/exclusive-set-visit-hbos-east-bound-and-down-with-danny-mcbride-david-gordon-green-and-ben-best-cameo-by-gina-gershon/ [↩]