Soundalikes and Disrupted Pleasures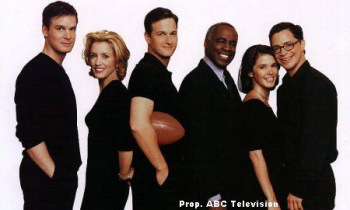 Issues With a Little Sport Night Music
In "Intellectual Property," season one, episode four of Aaron Sorkin's Sports Night, Dan Rydell sings "Happy Birthday" to his on-air partner Casey McCall at the end of one of their sports broadcasts. Rydell is surprised that an executive from the accounting department calls him to task for singing "Happy Birthday" without having it approved through proper channels, given that the accounting department must now juggle the production budget to pay for the licensing and public performance rights of the time-honored birthday serenade.1 Rydell's consternation mirrors the consternation of listeners and fans unaware of the legal and economic backstories of production and distribution of the music they hear in their everyday lives. As the amount and variety of music in television, gaming, and various forms of new media increased during the 1990s, complex negotiations involving licensing, copyright, contracts, and intellectual property law shrouded the backstories of media production in economic and legal language. DVD releases of series such as Freaks and Geeks and La Femme Nikita were delayed for years, and producers often paid through the nose for the use of classic rock songs, oldies, and established artists. Other releases such as the DVDs for The Chappelle Show simply left out most of the musical numbers and performances, since producers either could not negotiate decent rates or felt that paying licensing fees wasn't worth the trouble.
One of the most noticeable ways that these backstories have become visible is in the discussion and derision of soundalikes in the DVD releases of television series and in video game content. Soundalikes – the act of replacing an artist's song with something that sounds vaguely similar – result from licensing and revenue sharing issues that arise when a television series transitions from broadcast to DVD home distribution or from a game publisher's desire to cut production costs. In order to expedite DVD releasing and manage game development or television distribution budgets, producers began using soundalikes in order to avoid expensive licensing fees. Soundalikes are songs that to the casual listener sound similar to the songs being replaced, but these songs are often written and/or performed by new and emerging artists that do not carry the high price tag of A-list singers and songwriters. While the use of soundalikes made economic sense, the practice angered fans and threatened to cause a backlash from angry performers whose work had been replaced.
The WB and production companies working with the netlet angered fans when programs such as early seasons of Felicity and Dawson's Creek were significantly altered in the transition from broadcast to DVD, with original songs replaced with soundalikes. The choice to use soundalikes annoyed viewers who wanted to watch the broadcast versions of shows they had followed over multiple television seasons. The move also affected those who experienced and decoded the narrative based on the specific songs and stars whose music was incorporated into television programs. For instance, teen girl fans of the music of Alanis Morissette or Tori Amos might combine their readings of the music, Morissette/Amos' star text, and the visual and dialogic elements of the television narrative. Replacing Morissette or Amos with a musical unknown would significantly alter the sources of viewer pleasure and identification.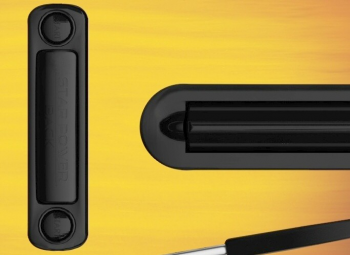 You May Cover a Cover Band in Guitar Hero
Similarly, gamers playing Rock Band or Guitar Hero quickly noticed the difference between the use of actual master recordings and the use of soundalikes for tracks that were "made famous by" the original artists. Classic rock fans and Generation Xers were not amused.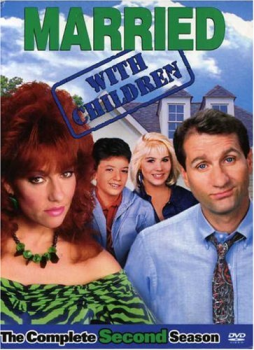 Married with Children: Now with New Theme Song!
And the use of new songs or new renditions of the title credits on The Cosby Show and later seasons of Married with Children have made these shows unwatchable for many audiences and less useful as pedagogical tools in media studies classrooms.
The use of soundalikes also had the potential to provoke litigation from A-list and iconic artists whose work had been replaced with musical unknowns. Lawsuits lodged by Bette Midler against Ford Motor Company and by Tom Waits against Frito-Lay created precedents for the protection of vocal style under the right of publicity theory and extended this right to soundalikes.2 In these two cases, corporations wanted to use Waits' and Midler's work, the artists refused, and the companies used singers to mimic their vocal style. While these two cases posited that the artist's image had been harmed and that the corporations had intended to fool the public into thinking that it was really Waits and Midler singing, they did alert media producers to the potential dangers in using soundalikes to stand in for iconic recording artists.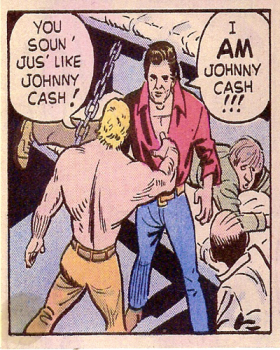 Will the Real Johnny Cash Please Sing?
This made the soundalike strategy a legally defensible position only with the use of musical unknowns whose image, star text, and memory were not kept under constant scrutiny; in these cases, however, producers could probably afford the original in the first place. For example, replacing iconic artists on The Wonder Years soundtrack with soundalikes in order to release the show on DVD (which has not yet occurred and may never occur) might threaten to spark litigation regarding the rights of performers and copyright holders. If producers intentionally used something sounding like Diana Ross and the Supremes or Elvis, lawsuits arguing that producers intentionally chose soundalikes in order to subvert contract law and industrial policies governing licensing rates might be filed against program producers and distributors.
Soundalikes also raise methodological problems regarding how we do textual analysis by making the formal analysis of television and game texts historically contingent. Television's early encounters with the music industry were highly charged. Since I had not archived the original airings of many of the series I consider, I have had to rely on DVD releases and friends' collections of over-the-air broadcasts, and thus my analyses of television texts may run counter to the memories of some audiences who accessed these texts in their broadcast run. Convergent strategies in the culture industries have made textuality historically contingent at the same time that these strategies potentially multiply the channels of discourse, making it important that we specify our objects of analysis and the distribution method in which texts were accessed. Soundalikes re-establish the need for us to archive over-the-air broadcasts and the first runs of programs, as these programs are often significantly different from syndicated and DVD versions of the same titles. Soundalikes may also tell us a great deal about how the texts we see on American screens are modified for British, Australian, and other foreign markets.
For media historians for whom primary research materials may be limited to commercially available products, the choice is to analyze the materials that have been successfully licensed and made commercially available to the public or, in attempts to specify original textual materials, to rely on information compiled by fans, which is often incomplete and of questionable veracity. It follows then that shows with a devoted fan base will have more visible traces on the web and in fanzines and that in these cases fan sources will become more prominently featured as sources of evidence. In short, soundalikes alert us to how malleable televisual sound truly is and render claims regarding the meaning and reception of televisual mobilizations of popular music more difficult to make.
Image Credits:
1. Sports Night
2. Guitar Hero Closeup
3. Married with Children
4. Johnny Cash Comic
Please feel free to comment.
Sports Night, wr. Aaron Sorkin, original airdate, October 13, 1998, ABC. [↩]
Kembrew McLeod, Owning Culture: Authorship, Ownership, and Intellectual Property Law (New York: Peter Lang, 2001, 216). [↩]