iWant My TweenTV: iCarly, Sitcom 2.0
Ethan Thompson / Texas A&M University – Corpus Christi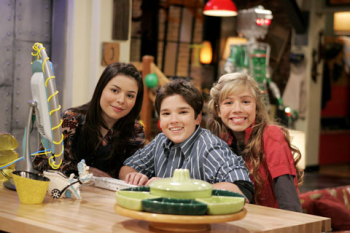 The Cast of iCarly
Woe be to the Flow columnist that sets out to write about how convergence is changing television comedy without acknowledging what might be the biggest success story of convergence comedy, the Nickelodeon sitcom iCarly.
Now, iCarly might not be this media scholar's preferred convergence culture, but it is most certainly his 10-year-old daughter's. It is what she is watching repeatedly on the DVR or on a laptop at her friend's house, and it is the overflow she is reading online by following characters' blogs that may or may not tie in directly to the episodes she knows by name.
iCarly is not only her preferred convergence comedy, but others as well, because it is a major success, judging by old or new media standards. The debut episode in September 2007 garnered 3.5 million viewers at 8 p.m, with another episode and encore airings the same weekend increasing those numbers. The show's web site generated 270,000 unique visitors and 1.1 million streams on for the week of the premiere.1 Two thousand viewer-produced videos were reportedly uploaded to the site this first weekend as well.2 This June, the special hour-long "iCarly Saves TV" was the highest rated non-sports program on cable the week it first ran, with 4.46 million tuning in.3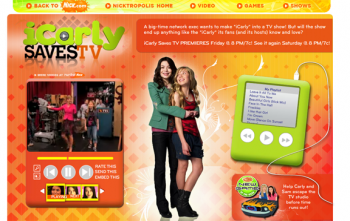 The "iCarly Saves TV" Website
This essay will attempt to sketch out how iCarly has integrated a Web 2.0 sensibility into the traditional sitcom format, through both soliciting viewer-generated content and altering the "look" of the sitcom. Despite the fact that iCarly debuted just a year ago, it appears to be a well-oiled television comedy machine, with a clever premise that successfully generates repetition with difference and plenty of program overflow to capture audiences away from the set as well.4
iCarly is about a tween-age girl, Carly, who produces her own webcast with friends Sam and Freddy. Think Wayne's World meets Hannah Montana meets Frasier, since the gang produces the show in the Seattle condo where Carly lives with her older brother/guardian, Spencer. Most episodes of iCarly revolve around the production of the program: iCarly solicits videos for a dancing contest; the gang tries to set a world record with a 24 hour webcast; Carly tries to impress an influential blogger so he'll write a positive review of her show, and so forth.
One of the convergent "hooks" of the show is that in most episodes Carly gives an assignment to the viewers–for example, to make videos of themselves dancing. This fan-produced content might actually be incorporated into an episode, or get posted on its web site. During an episode of the show-within-a-show, Carly will introduce clips supposedly from viewers that have them doing something silly, such as tickling themselves and saying "iCarly" over and over. Some of these clips look professionally produced; others do appear to be from "real" viewers and not just fictional ones.5 That's a predictable enough gimmick for a TV show about a webcast, but it is also a manifestation of how Nick has connected with a generation of viewers for whom it's perfectly natural to watch clips of a TV show online as well as have nonlinear editing software installed on their home computer.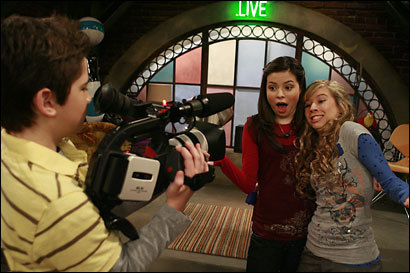 Freddie Records Carly and Sam
At the moment, the broadcast networks seem to have passed the sitcom mantel to cable channels that don't seem to fear that young viewers are averse to the multicamera sitcom. While adult oriented sitcoms have attempted to reinvigorate the genre through formal innovation (The Office, Arrested Development), increased seriality and genre hybridity (Entourage, Weeds) fairly standard multicamera sitcoms like Two and A Half Men continue to garner higher ratings. Perhaps learning from those examples, or perhaps just lacking hang-ups about airing a sitcom, the kid-oriented cable networks have become the home for old school-style sitcoms with their multicamera mode of production and disruption/complication/alleviation narrative structure.
Still, I would suggest that iCarly not only uses the "show within a show" series architecture as a way to generate narratives or involve viewers in the series architecture via Web 2.0. The program also looks different from other sitcoms, and to that extent is similar to televisual sitcoms like Arrested Development or The Office.6 iCarly's premise allows easy integration of comic spectacle a la YouTube's greatest hits.
A typical example is the episode previously mentioned, "iWant a World Record." When the gang begins their 24 hour webcast, we see Freddy capturing the show with a camcorder, then see what he is capturing through its viewfinder, as a handheld camera enters the space of the performers (not typical for a multicamera sitcom). Occasional cutaway shots show an open laptop, on which we can see a window open with the webcast streaming. Carly welcomes an official to the webcast who is there to validate the world record. She presents Sam with a photo of the world's fattest priest, which Sam shows to the camera—an incorporation of the sort of random visual jokes that circulate through email into the program's narrative. Throughout the webcast an alarm goes off which requires the iCarly cast to engage in "Random Dancing." During another segment, "Street Fishing," Carly and Sam reel in a baby (doll) through a window, whose head promptly explodes. Carly introduces the video of a fan tickling himself, and they do another segment titled "Fun with Bacon." All this takes place during the second act (along with quite a few other things). Every episode includes these show-within-a-show segments, and these offer the most literal examples of providing the sort of comic spectacles available online. In addition to this, the visual style of watching things take place in other spaces through computer or TV screens also affects narrative segmentation outside of the show-within-a-show. During this same second act, the camera cuts to another room where Spencer is attempting to romance the official from the world records book. They watch the webcast on a laptop, while we watch them. Other transitions between segments feature a computer screen with a nonlinear editing program running, and clips that are clicked on and moved, opening up into the next segment.
[youtube]http://www.youtube.com/watch?v=i4xTgcP34Ws[/youtube]
My personal favorite iCarly episode is the hour long "iCarly Saves TV" in which the webcast gets picked up to be a "real" TV show, but is ruined by a meddling executive who adds a dinosaur named Zeebo and a spoiled child star to the cast, amongst other alterations both brazen and lame. As a satire, the episode takes broad shots at television, particularly the out-of-touch male executive and nerdy male writers who seem determined to ruin the show. Zeebo is a Barney clone, something incompatible with iCarly's audience, which is eager to distance itself from such childish things; the writers appear to be goateed Gen X-ers, similar to those on 30 Rock. If this episode has a satiric target, it's the generational differences which manifest themselves in their grossly misguided attempts to cater to her audience's tastes. In the end, about the only thing recommending selling out to the network is its catering service, and Carly returns to the greater autonomy afforded the webcast. There is ultimately not that much subversive about Nickelodeon airing such a broad satire, which was also designed to help launch an iCarly soundtrack album.7 Still, it does suggest just how different the tastes and TV watching habits of this young audience might be from the industry figures which in the past could more easily control what audiences had to choose from.
iCarly's integration of the classic pleasures of the sitcom with the comic anarchy of the web is a convergence comedy whose pleasures can feel quite effortless compared with wading through a cluttered website and sitting through mandatory commercials so you can see a "webisode" starring some of the minor characters on The Office. In fact, it can make such an effort seem downright stodgy.
Image Credits:
1. The Cast of iCarly
2. The "iCarly Saves TV" Website
3. Freddie Records Carly and Sam
4. Front Page iCarly image
Please feel free to comment.