Great Job?: Tim and Eric's Comedy of Failure
Evan Elkins / FLOW Staff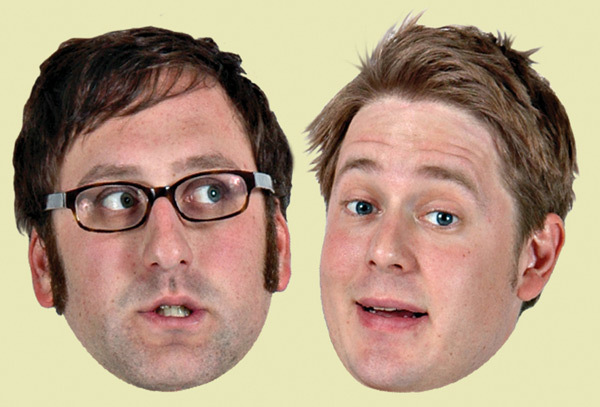 Eric Wareheim and Tim Heidecker
Since its debut last year, my obsession with the Cartoon Network's Adult Swim series Tim and Eric Awesome Show, Great Job! has grown accordingly with my dwindling interest in the rest of Adult Swim's comedy lineup. I can at least partially attribute this to the sheer absurdity of the show, which makes other Adult Swim series–bizarre as they are–look tame by comparison. Indeed, Awesome Show pushes the linchpins of Adult Swim's comedy–surrealism, gross-out humor, a low-budget look–to their respective extremes, all while eschewing the Cartoon Network's nominal format: animation. While the cheap aesthetics of many of Adult Swim's cartoons betray a self-conscious and extreme form of their creators' and audience's oft-perceived status as late-teens and early twenties slacker/stoner males, Tim and Eric's hyper-condensed version of the Adult Swim M.O. elicits a different and more complex response from me than Adult Swim's other fare.
Created by comedians and college friends Tim Heidecker and Eric Wareheim, Tim and Eric Awesome Show, Great Job!, can loosely–precariously, really–be considered a sketch comedy show. Many of the skits on Awesome Show, whose third season premiered just a couple of weeks ago, represent warped broadcasts from Channel 5, a fake local or public access television network. As the New York Times puts it, these pieces feel like "outtakes from a public-access channel that's broadcast only in hell."1 Concomitant with this theme, the series imitates public access' cheap feel, complete with obvious green screens, flubbed lines, video aesthetics, and even talent gleaned from actual public access stations. Of course, recombination of formats and genres is nothing new. However, what I find particularly interesting about Awesome Show are the ways in which it imitates not only the visual style and format of public access television, but also the multiple "failures" associated with cheap television and video production.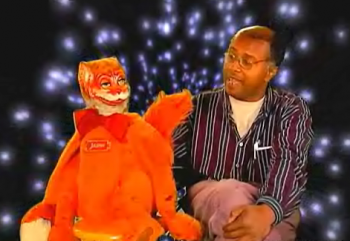 David Liebe Hart
In particular, there are two types of failures that form the bulk of Awesome Show's comedy: (1) amateurish performance and (2) technological blunders and screw-ups. Rather than attempting to create an unspoiled diegetic world, the series draws much of its comedy from the cracks in the system and those moments in which the apparatus exposes itself. In its portrayals and simulations of "bad" performance in front of and behind the camera, the series attempts to elicit the sort of abject horror/charmed fascination that is often associated with spectatorship of some of the more bizarre and inept material found on public access. What keeps the series difficult to pin down, however, is its position on the fence between intentional, simulated ineptitude and portrayal of authentically and accidentally incompetent performance.
The series' recurring cast includes public access personalities such as impressionist James Quall and church puppeteer David Liebe Hart, as well as an elderly man named Richard Dunn, who Heidecker and Wareheim claim to have found in the Adult Swim parking lot when they decided to include him in the show.2 The use of amateur performers who may not be "in on the joke" opens the show up to criticisms of exploitation, but I submit that the use of folks like Quall and Hart is more complicated.
[youtube]http://www.youtube.com/watch?v=LqZSWIbPeHg[/youtube]
I do not want to ignore the possibility that these performers are used for their sheer awfulness; in fact, that is the very point. However, the show regularly features more "prestigious" actors and comedians such as Jeff Goldblum, John C. Reilly, and Mr. Show's Bob Odenkirk (who also produced Heidecker and Wareheim's earlier Adult Swim animated series Tom Goes to the Mayor) as well as musicians such as The Shins and Aimee Mann. This wide range of performers all participating in Tim and Eric's absurdity creates something of a democratizing televisual oddity in which public access performers and Oscar-nominees all perform at the same sublimely bizarre level.
As I have noted, performance is not the only way that Tim and Eric Awesome Show, Great Job! plays with the notion of "bad" TV. The series is filled with manufactured bloopers, choppy editing, and analog equipment failures. At its most extreme, the show uses media malfunction to create an inscrutable choppiness in which performative markers of comedy–dialogue, physical humor, etc.–become obscured by formal breakdown. The second-season skit "Steve Brule's Last Resort Fighting" simulates an apparent instructional video taught by the title character, a local news "expert" played by Reilly who lacks not only expertise, but basic intelligence and social skills as well. Compounding the awkwardness of Reilly's performance, the skit mimics the bad tracking, grainy image, and abrupt skips of a bootlegged videotape. The relentless barrage of skips and flubs achieves its own off-kilter comedic cadence, and the rupture becomes integral to the joke rather than simply aiding it. The piece moves beyond the metatextual and, in a sense, becomes anti-textual through its violence against a coherent and unadorned comedy sketch.
[youtube]http://www.youtube.com/watch?v=kD51DQ-ywnI[/youtube]
The overwhelming irony of the series, of course, is that the titular "Great Job" is nowhere to be found–at least not if one looks for any traditional marker of quality. However, this is also what makes the series one of the most interesting on television, and one of the more unconventional comedy shows in recent memory. Like the films of Ed Wood and the music of The Shaggs, Tim and Eric Awesome Show, Great Job! finds art by plumbing the depths of ineptitude. But while we can legitimately enjoy the former two works while understanding that their putative failures are likely unintentional, with Tim and Eric we cannot be so sure.
Even more than Wood and The Shaggs, however, Awesome Show reminds me of transgressive filmmaker Nick Zedd and actor/writer Reverend Jen Miller's consciously amateurish and chroma-key-reliant public access television series The Adventures of Electra Elf and Fluffer. With this comparison, I don't mean to suggest that Tim and Eric's comedy is quite as shocking or political as some of the more aberrant material found in the transgressive/No Wave cinema(s). However, Heidecker has noted that the duo's bizarre experiments started as a "fuck-you" to their rigid and joyless film school.3 This line of practice betrays a similar–albeit less rhetorically acerbic–impulse as Zedd's proclamation in the "Cinema of Transgression Manifesto" that "all film schools be blown up and all boring films never be made again."4
[youtube]http://www.youtube.com/watch?v=Nx6LAT-FqxU[/youtube]
In a missive on the series, Jeffrey Sconce deftly notes that much of Tim and Eric Awesome Show, Great Job!'s material constitutes a series of fractured quotations of comedy tropes, in which "no joke is simply a joke anymore, but is instead a position-statement on comedy itself."5 Indeed, Heidecker and Wareheim's brand of humor represents a vital deconstruction of current comedic forms that seeks to effect a response of deep unease and reflection on exactly what constitutes comedy, and their most direct satires of mass media feel like cracked-lens simulacra of polished and joyless mainstream comedic and televisual conventions.
This is perhaps most apparent online, where Heidecker and Wareheim have expanded their warped vision into a talk show, Tim and Eric Nite Live, and ironic viral "oddvertisements" for/against Shrek 3 and Absolut Vodka.6 Consistent with Tim and Eric's unsettling comedy, the ads deflate the pleasures that corporations tie to these products (conspicuous consumption and a high-society lifestyle, respectively). Through these online ventures, two planned spin-off series–one staring Reilly as Dr. Steve Brule and the other starring anti-comedian Neil Hamburger7–and, of course, Tim and Eric Awesome Show, Great Job!, Heidecker and Wareheim continue to explore the paradox that comedy can be at its funniest when it is less conventionally enjoyable.
Image Credits:
1. Eric Wareheim and Tim Heidecker
2. David Liebe Hart
3. Front Page "Awesome Show" Logo
Please feel free to comment.