"Plum Crazy"
Jane Feuer / University of Pittsburgh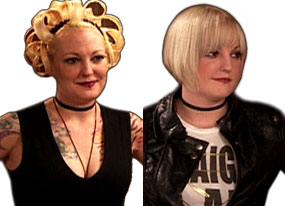 Plum, Fashion Psycho
In the new episodes of How Do I Look? (which is not my favorite fashion makeover show but which I use as reality show "filler" when nothing better is on), I have noted a trend that seems to exacerbate the therapeutic thrust of reality TV noted long ago by Mimi White and others. That is to say that while makeover shows have long promised to transform the victim's psyche, the idea has usually been that the change in wardrobe will precipitate life changes. Now however, we actually seem to be diagnosing women (they are always women) with what I can only call "fashion psychosis." The wardrobes themselves have taken on the pathology and we can no longer distinguish between craziness inside and outside of the closet. I say "closet" quite literally because in these newer makeover shows the idea is for friends, family and show hosts to penetrate the woman's closet which is assumed to be the site of pathology. It's not just that she has bad taste, but rather that her bad taste is now an illness in itself (which needs to be diagnosed and cured on the show). Move over Dr. Phil because there is a new variety of TV therapist—the wardrobe psychoanalyst.
In this regard How Do I Look? seems to be on the cutting edge—not of fashion but of makeover show trendiness. Watch out What Not to Wear! While Stacy and Clinton are still coercing relatively sane women to throw out their old clothes, Finola Hughes is moving into new territory as a fashion therapist. This therapeutic thrust was predicted when the British hosts of What Not To Wear started putting women—literally- on the couch and analyzing their life problems. But then the new wardrobe would provide a magical solution to those problems. Nor is what Finola is doing the same as the kind of counseling given on shows like Extreme Makeover in which the therapy is supportive of the changes wrought by plastic surgery. I can't claim to have watched every makeover show on TV (although I'm kind of stunned by how many I have watched), but in two recent episodes of How Do I Look?, Finola has taken on decidedly uncooperative victims whose fashion syndromes are so extreme you could look them up in the DSM under diagnoses like "jacket attachment maladjustment."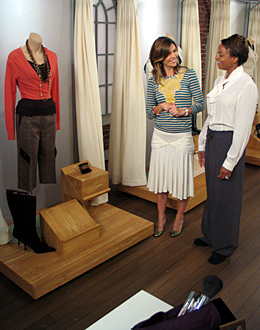 Finola, helping a woman pick out an outfit on How Do I Look
After I wrote the above, I looked up the show on the internet to find the episode titles I was going to write about. Now ordinarily my reality TV life is solitary. I don't read all about it or blog or surf. I just view—and occasionally write. To my surprise, my focus episode, "How Do I Look: De-Plum Your Wardrobe", has become a cause célèbre since it was first broadcast on June 19, 2008. Compared to another recent episode I will mention which had no comments on the blog—about a grown woman who dressed in fairy costumes—there were 173 comments on the show's blog for the "Plum" episode. Moreover, the internet is abuzz with commentary all of which made me wonder why I was writing this column. In just a few weeks, my idea had already become passé. Posted June 29, 2008 on a Yahoo music blog, a column by Lyndsey Parker had already critiqued the program's treatment of Plum, something virtually none of the 173 bloggers had dared to do. In fact the following (from mystyle) is typical of the blog responses:
Unfortunately, Plum is probably Axis II, meaning she has some serious mental illness. To break off a 20 year friendship because your friend confronted you on a dated look is classic Borderline Personality Disorder. She did not have the ego strength to handle criticism, even done with love. Basically, at bottom what I saw was some deep self-loathing. And okay, she didn't like the clothes, but her comments, 'Let's go to the bar.', I mean c'mon. My diagnosis: Boderline [sic] Personality Disorder with possible substance abuse or dependence.
In other words, both the show and the blog responders believed that host Finola Hughes' intentions were totally honorable and that Plum was immature at best and psychotic at worst to have challenged the show's premises. This was in fact made clear at the beginning of the episode where Finola appeared to deliver a disclaimer to the effect that anybody who dared to defy her positive, helping gestures was anti-social. Ms. Parker on the contrary, writing from the point of view of music subcultures, argues "HOWEVER, I do believe any goth, punk, rocker, or general misfit watching the show–that is, anyone who's dealt with ridicule and scorn for making "weird" fashion choices–probably could relate to Plum's struggle."1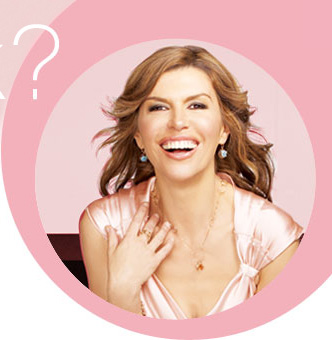 Host Finola Hughes
Neither of these positions vis-à-vis Plum expresses the point I am wanting to make here, however. Although I agree that the makeover clothes chosen by her unbelievably suburban "accomplices" robbed her of her already well-developed style, I am not interested in Plum's fashion sense or adolescent behavior patterns. I am interested in the way in which the show itself is attempting to define bad fashion sense as a social disorder. Now the Plum episode (view episode here) was fascinating for many other reasons not the least of which was the way it tried to regulate a reality show participant's lack of compliance with the show's premises. There is nothing more refreshingly subversive than reality TV gone out of control. But two other recent episodes which remained (barely) in Finola's benign hands, raised similar issues for me. That is, what does it mean to be in fashion? Both the woman who dressed up in carefully self-wrought fairy-tale costumes and the former high school "it" girl with a totally refined aesthetic based on 80s and 90s thrift store clothing were, in a sense, more fashion-conscious than any of the "accomplices" including the professional stylists who were supposed to shop for them. Yet each was defined by the show as a "fashion psycho" and each woman had her resistance worn down so that by the end of the show, she was willing to accept Finola's definition of her and agree that the watered-down mall-shopped versions of her look were indeed more fashionable than the original. And that her unwillingness to admit this previously had constituted a mental illness. And that the process the show put her through had cured her of said mental illness. That is my point.
Image Credits:
1. Plum, Fashion Psychopath
2. Finola helping woman pick out an outfit on How Do I Look
3. Host Finola Hughes
4. Front page Finola
Please feel free to comment.
http://new.music.yahoo.com/blogs/realityrocks/89826/how-do-i-look-plum-crazy [↩]