I Don't Think We're In Hollywood Anymore: Television Series Go On Location
Alisa Perren / Georgia State University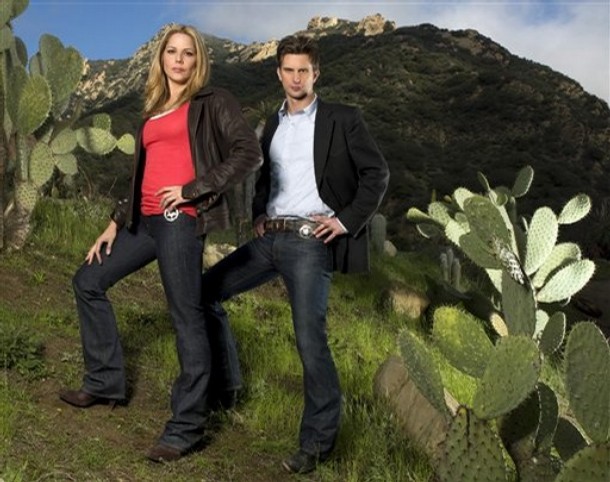 In Plain Sight in New Mexico.
Recently, I tuned in to the pilot of In Plain Sight, a new drama on the USA network. Little about the plot or characters stood out. However, one element did catch my eye: the show's scenic setting in Albuquerque, New Mexico. The area's distinctive architecture and landscape are among the program's most striking components.
An effective use of a location is scarcely enough to draw me back for repeat viewings. However, its effective backdrop did lead me to think about how several recent shows have taken advantage of settings outside the traditional New York-Los Angeles axis. From Burn Notice and Dexter (Miami) to Friday Night Lights (central Texas) to One Tree Hill (Wilmington), many television programs seem to be using their surroundings effectively to help set the tone, advance the story, and define the characters.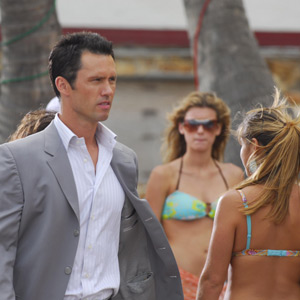 Burn Notice: Palm Trees, Bikinis…must be Miami.1
This leads me to ask a couple of questions: To what extent is the movement to other parts of the U.S. a new development? And if so, why does it seem to be happening now?
Certainly fictional television series long have been located in locales outside of New York and Los Angeles. One can point to a number of programs – from The Dukes of Hazzard (Georgia) to Dynasty (Colorado) to Cheers (Boston) and That '70s Show (Wisconsin) that have been set elsewhere. Yet for the most part, with the exception of recycled establishing shots and a handful of "special" episodes, all of these shows were still filmed predominantly on soundstages and in locations across Los Angeles.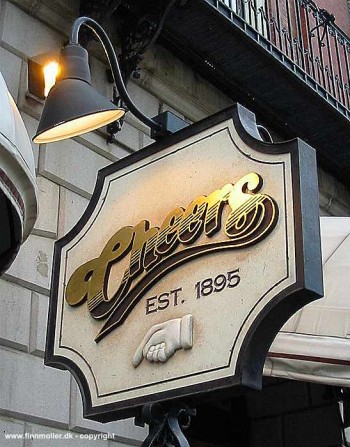 The "real" Cheers bar was located on a soundstage on the Paramount lot in Hollywood.
Lately, however, a growing number of shows – especially cable shows – are taking advantage of "real" locations outside of New York and L.A.2 "Locals" are serving as extras and bit part players; shoots occur in city restaurants and shops. In addition, local resources such as production crews and office facilities are employed on a consistent basis.
This takes us to the real reason many of these shows are moving away from the "coasts": state incentive programs. In the last few years, throughout the U.S., state and local governments have become more and more aggressive in giving tax credits, rebates and grants as incentives offered to recruit production companies for local shoots. In the past few months alone, a wide range of states including Connecticut, Wisconsin, Michigan, Georgia and Massachusetts have passed new legislation designed to bring in more production.3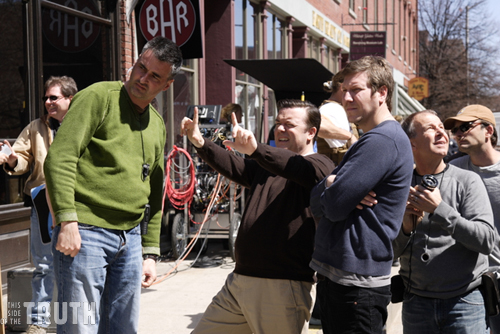 Ricky Gervais taking advantage of Massachusetts production incentives forThis Side of the Truth.
State representatives and local businesses have long viewed the recruitment of Hollywood productions as desirable. Of course there is the obvious economic motivation. Not only do local productions serve as a potential low-cost way of promoting an area and bringing in tourism, but the crews themselves bring money to the area's economy by frequenting local businesses. For example, Georgia believes that media productions contributed $475 million to its economy in 2006; Connecticut estimates that $400 million in production costs have come into the state from July 2006 to March 2008.4
There are also less tangible but equally powerful motivations for developing incentive programs. These include everything from politicians wanting to hobnob with celebrities who are in town during the shoot to business bureaus seeing the publicity attached to a large-scale production as an efficient way of enhancing a city or region's image.
Typically these incentive programs have been – and continue to be – focused on attracting feature-length films. In the past not only have movie productions been more amenable to shooting on location than television series but they also have carried a mystique and cultural cachet for outsiders that television series have not. Yet though there may be more allure attached to attracting a high-profile Will Smith or Julia Roberts shoot, a successful series television show can prove a much bigger boon to a local economy in the long term. A hit series can last years, bringing in consistent revenue to a community for a much longer period of time than even the biggest budgeted feature film.
Nontheless, until recently, series television has been much less likely to hit the road. When these shows did "run away" from Hollywood, they usually did so to take advantage of the incentives in other countries, especially Canada, New Zealand and Australia. The types of shows that were most likely to leave the States were either the science fiction/fantasy variety (Xena: Warrior Princess, Battlestar Galactica) or those that, for economic reasons, sought to maintain the fiction that they were set in a U.S. city and worked hard to conceal their non-U.S. locations onscreen (21 Jump Street, The X-Files).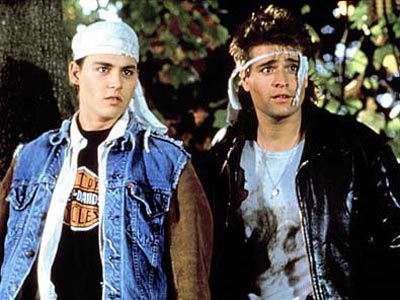 21 Jump Street: Just a couple of American cops…in Vancouver.
Yet now things are changing – and they are changing quickly. Suddenly a wider range of programs are departing from Southern California soundstages and spreading across the country. The reasons for this are many: The dollar is getting weaker by the day, thus taking away much of the motivation to shoot television series outside the States much less attractive. Further, as noted above, each U.S. state seems eager to outbid the next to draw as many productions as possible. Meanwhile, TV production companies are more willing to consider the move due to the changing economics of television, including higher production costs and a greater need in this emerging post-network era for greater product differentiation in stories and settings.
Which brings us back to In Plain Sight. New Mexico has been mentioned often as one of the states that has most heavily recruited Hollywood productions in recent years. Now it seems that these efforts are starting to pay off. While luring one production is unlikely to jump-start a local media scene, it can help build a strong foundation by developing skilled crews and a solid infrastructure.5
Though this is certainly a promising development from an economic perspective, I want to call attention once again to the idea with which I began this column: that the rise in production in places across the U.S. offers more than just the prospect of cultivating a wider range of media centers. Rather, it also promises the possibility of representing the complexities and nuances of this country, its people, and its settings on a weekly basis, in ways which have not been seen before. Right now this is more of a hope than a certainty – but it seems to be something "in plain sight."
Image Credits:
1. In Plain Sight in New Mexico.
2. Burn Notice: Palm Trees, Bikinis..must be Miami.
3. The "real" Cheers bar was located on a soundstage on the Paramount lot in Hollywood.
4. Ricky Gervais taking advantage of Massachusetts production incentives for This Side of the Truth.
5. 21 Jump Street: Just a couple of American cops…in Vancouver.
Please feel free to comment.