How to Monetize Friends and Influence Distribution: Lessons from Four Days at NATPE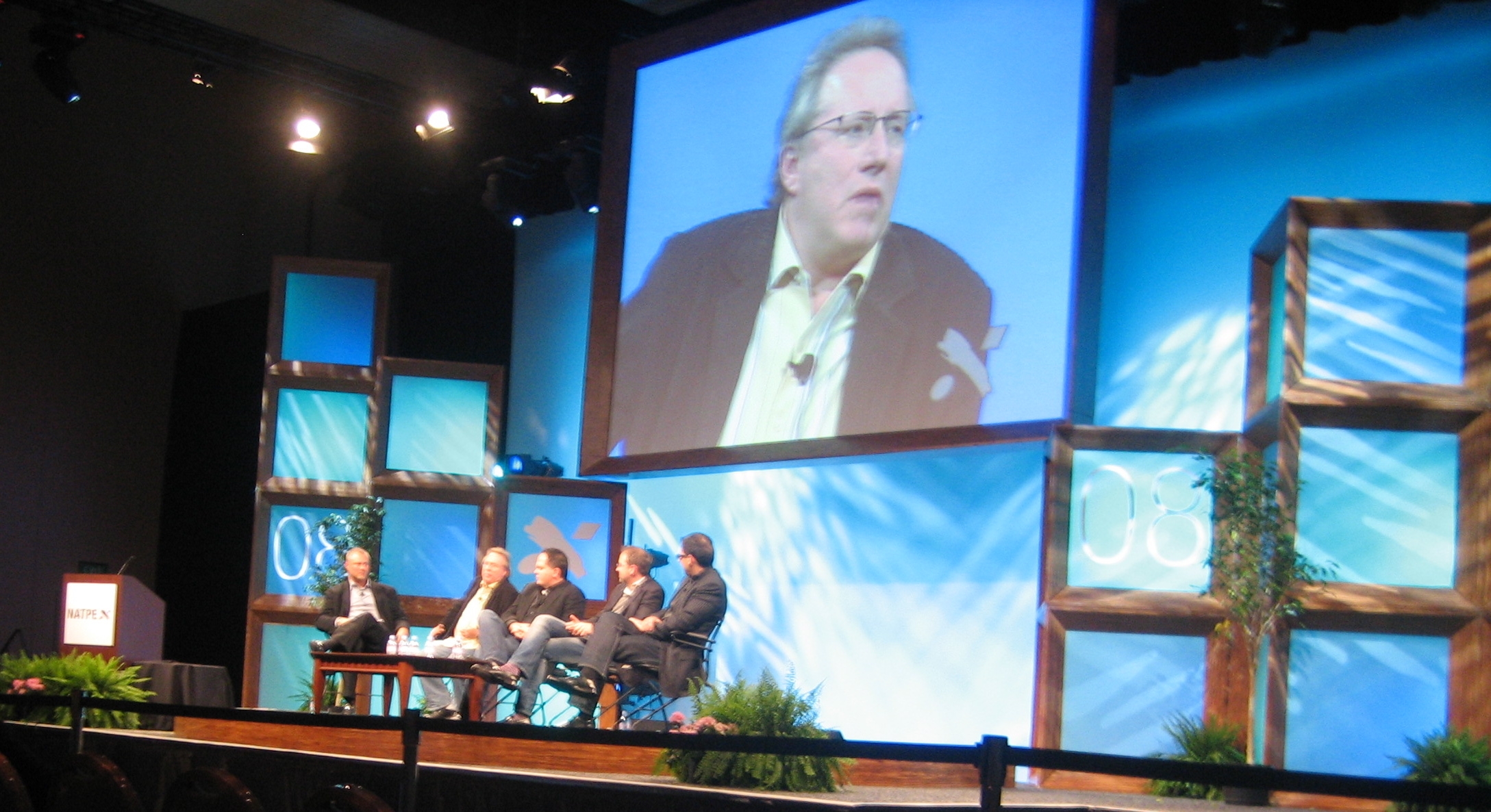 The Alternative Programming panel, at NATPE 2008 in Las Vegas
Attending the NATPE (National Association of Television Program Executives) conference last month as a faculty fellow was a rare privilege and opportunity, not only to hear executives discuss the worst reality show pitches they have ever heard (The Orphanage, Iron Lung and my personal favorite, Adoption Island) but to watch those in and around the TV business analyze, promote, forecast and try to explain the industry's current state of affairs. Despite the utopian rhetoric and boosterism pervading most conversation, the simmering panic in the air was palpable. This brand of anxiety was unique for Sin City…because it was all about television.
The panic was clearly evident in the conference's recurring party line of optimism, which was being betrayed in real time by grim business realities. Over and over, the panels trumpeted the "excitement" that was supposedly taking over the industry at this critical turning point for TV. We were repeatedly told that this is a time of reinvention and renewal, a period of democratization and reimagination. Yet at the same time, there were reluctant acknowledgments that "digital has thrown the entire formula into chaos," and while this appears to be a good time for content producers, the business around them is in turmoil. With panels like "Taming the Online Video Beast," "There's No Such Thing as a Free Lunch," and "Lights, Camera, Lawsuit," the possibilities of TV 2.0 often felt outgunned and outnumbered by the fear of the future and the menacing threats of digital technologies to any and all business models.
NATPE panel: "There's No Such Thing as a Free Lunch"
Multi-media strategies are an absolute imperative for all points of the business, and thus the digital interlopers, as they used to be called, have now become the focal point of the conference. Consequently, at some point during the four days of talk about Hulu, Joost, Amazon Unbox, Google, YouTube and the iPhone, defining television became very tricky business.
A few other issues of definition and strategy also became apparent at "The World's Television Marketplace" in the middle of the desert. For example, I learned that TV's survival depends on its complete transformation. This edict came straight from the keynote address by the President/CEO of NBC Universal. It was entitled "A Time for Change," but I couldn't help thinking it would be more aptly named "The World Is Changing: Some Thoughts on Our Business by Jeff Zucker." The latter title is taken from Jeffrey Katzenberg's infamous 1991 memo, which implored Disney and the film industry at large to stop racing like lemmings into the sea in pursuit of the next blockbuster. Zucker essentially delivered the new millennium TV version of this rant against big budgets and excessive spending. Katzenberg was coming off of Dick Tracy and panicking over the $100 million movie; Zucker is experiencing a writers' strike and in his words, "a wrenching analog-to-digital transition … marked by game-changing technological developments and profound shifts in consumer behavior … all of which demands a re-engineering of our businesses from top to bottom." Katzenberg's memo criticized Hollywood's "tidal wave of runaway costs" and was the subject of much derision after being leaked to Variety; Zucker set himself up for similar scorn with his unyielding thoughts about the current strike (which he compared to a forest fire that "fertilizes the soil with new ash and clears the ground, often setting the stage for robust growth"), his disdain for pilots (inefficient and too expensive) and his promise of impending drastic changes to NBC's upfronts (less glitz, no more big presentations). Tightening the belt might help when you are behind everyone else in prime time, but it can also ensure that you stay there. Still, there might be something to Zucker's uncharacteristically humble observation that when you are on your back, it's easier to see the future.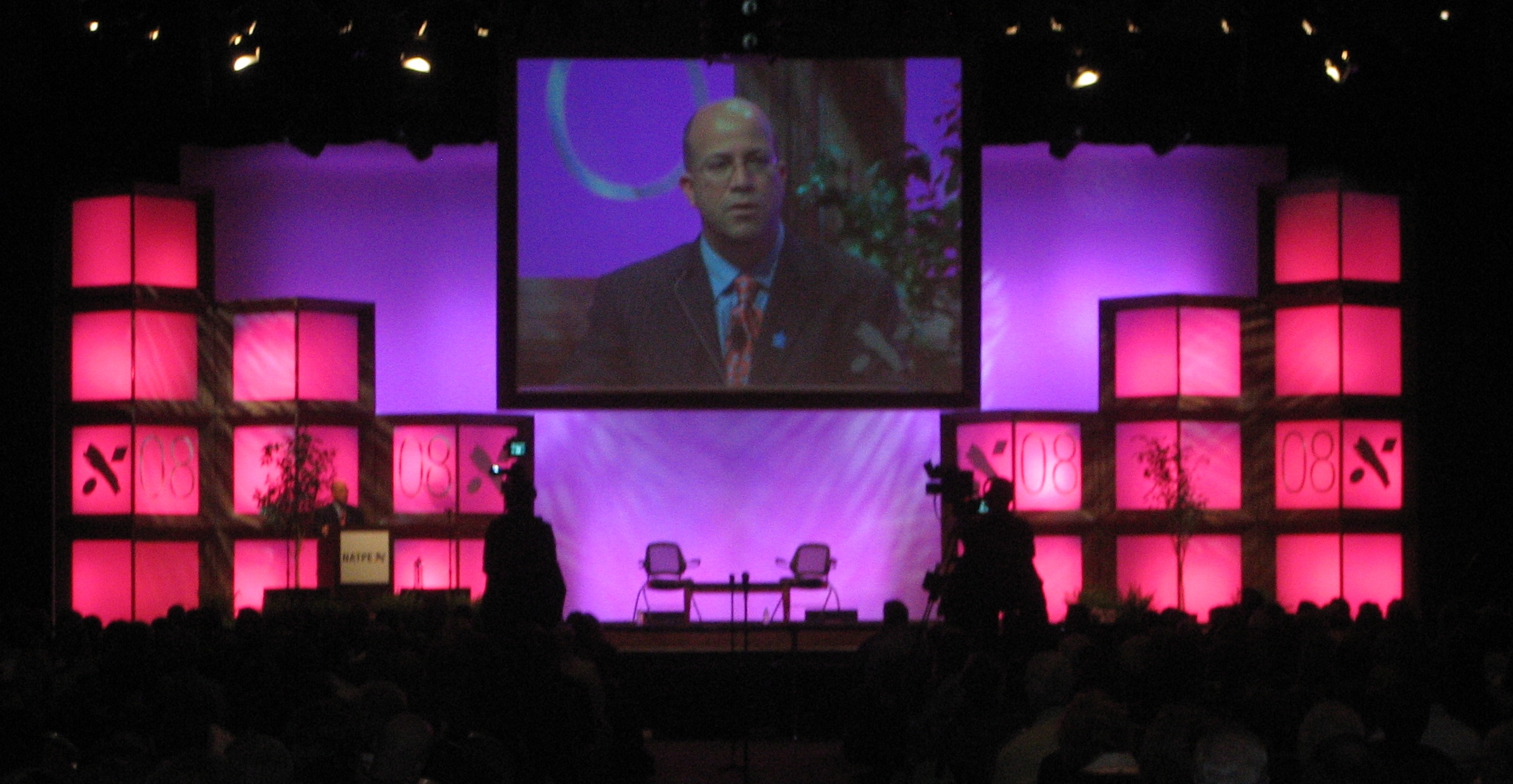 Jeff Zucker Delivering NATPE's Keynote Address
The rest of the future talk at NATPE was about distribution. Despite paying a great deal of lip service to content, most of the focus was on technology. Broadband, mobile, digital — anything that carried content was of far greater interest than the content itself. This despite the fact that NATPE is first and foremost a market; it is about "filling people's pipelines," as it was described by one executive, and there are 330 production companies in the exhibit hall desperately trying to sell syndicated product to anyone with a "Buyer" nametag. Yet, while everything from "adult entertainment," telenovelas, and Swedish educational programming to TMZ, Live with Regis and Kelly and even The Rifleman were for sale, the panels were much more concerned with distribution and marketing strategies than they were with content concerns. When content discussions did come up, they were primarily about the excellence of unscripted TV and embracing trash as the medium's potential salvation. As one speaker put it, "We cannot be above American Gladiators."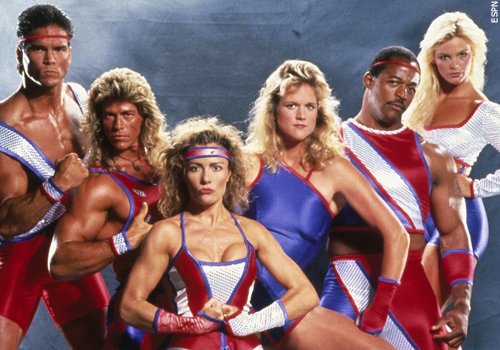 American Gladiators
Advertisers were also a significant presence at the conference, which led to many discussions of the desperate need for "new metrics" to deal with "video snacking" and track media usage across various platforms. As was noted on many occasions, for television to become "Tivo-proof," there must be ways of measuring the audience that transcend typical usages and methods, outsmarting the nasty habits of online video and DVR cultures. There was a sense of urgency around this topic and even Jeff Zucker echoed the clarion call to find the audience once again.
This mighty struggle to find the market, to "monetize communities," find a business model for the digital age (all broadcast networks have different "digital strategies" at the moment), and root out new technological niches seems to have most players confused. Not confused about the need to "monetize" something — that being the most overused word in the industry right now — but confused about how to put that into practice as the audience has become even more elusive in the digital era. The striking affirmation of this problem was in the snowboarding convention down the hall: there they were, 18-34 year-olds in massive numbers, decidedly not watching television. But they did seem to be having quite a party. Perhaps NATPE partied this way too, before everyone started to panic.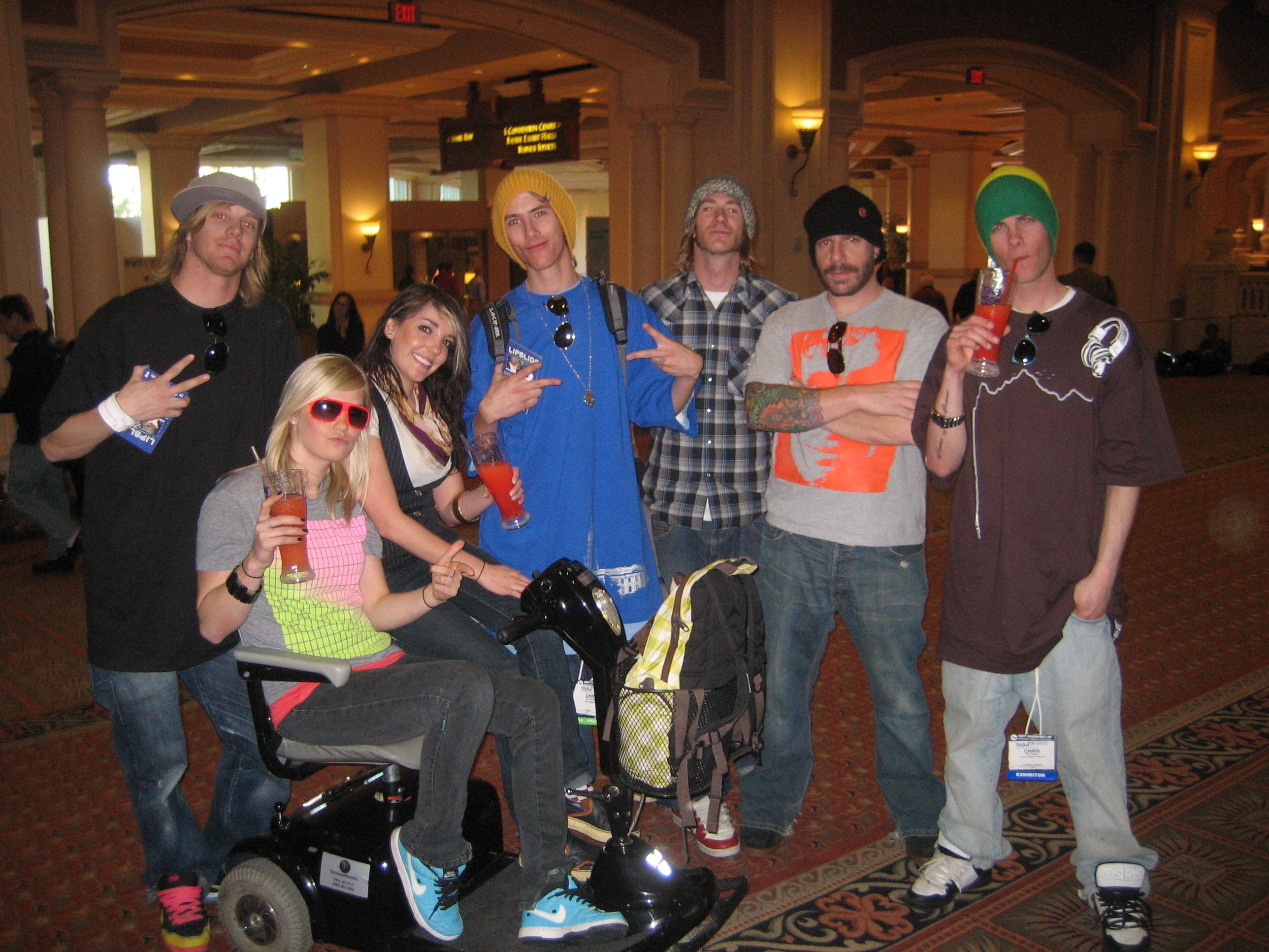 Snowboarding Convention Participants
Lastly, we were informed that there is no more "flow" in television, something the editors here might find surprising and alarming. Let's hope this journal does not need a new name in light of this revelation. "Pulling Content for Personal Use — A Critical Forum on Television and Media Culture" just doesn't have quite the same impact.
Image Credits:
1. The Alternative Programming panel, at NATPE 2008 in Las Vegas, image provided by author.
2. NATPE panel: "There's No Such Thing as a Free Lunch," image provided by author.
3. Jeff Zucker Delivering NATPE's Keynote Address, image provided by author.
4. American Gladiators.
5. Snowboarding Convention Participants, image provided by author.
Please feel free to comment.