From Cynicism to Sentimentality: The Rise of the Quirky Indie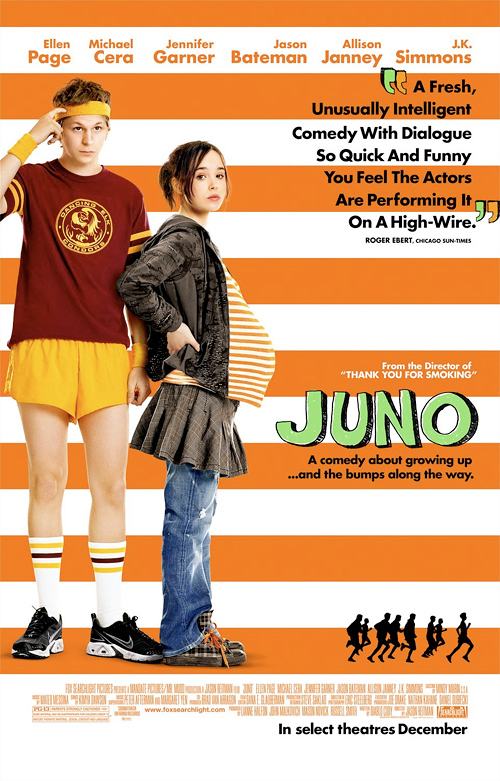 Expecting a limited release?
With the Oscars barely having passed us by, it is worth pausing for a moment to think back on the movies that "made the cut" for the nomination for Best Picture this year. The list – comprised predominantly of releases from the studios' specialty (or "indie") film divisions – consisted of many of the usual types of films deemed Oscar-worthy1. There was the star-driven conspiracy thriller (see The Insider, Erin Brockovich) and the historical romance/literary adaptation (see The English Patient, Shakespeare in Love). In addition, there were two nominees from the omnipresent "auteur-driven indie" category (see the filmography of the Coen brothers and Paul Thomas Anderson).
Then there was the "little movie that could" entry, Juno (think My Big Fat Greek Wedding, Little Miss Sunshine). This dramedy about teen pregnancy was perceived by many in the popular press as the "wild card" in this year's Best Picture race. Also surprising to many has been its runaway box office appeal. With more than $125 million grossed at the U.S. box office to date, Juno has earned more than double the sum of its nearest Oscar competitor, No Country for Old Men2.
Juno's box office performance seems particularly remarkable when its grosses are compared to those of several other recent high-profile releases. For example, the male- targeted Rambo topped out at $40 million, the female-skewing 27 Dresses hit a ceiling at $71 million, the baby boomer "sleeper hit" The Bucket List stalled at $82 million, and the most recent Tyler Perry release (Why Did I Get Married?) left theaters with just $55 million. Even the over-hyped youth-oriented Cloverfield – which has yet to reach $80 million in North America – is fading fast.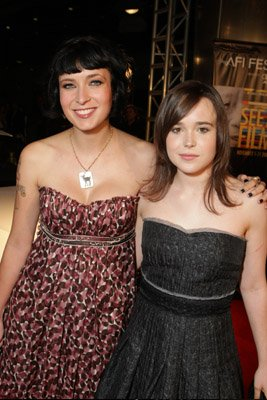 Screenwriter Diablo Cody and Juno star Ellen Page
A discussion of these numbers raises the question: who is seeing Juno and why? While this query cannot be answered without further empirically-based audience research, it does point to a more speculative question, which I would like to probe here: Namely, what interests or desires might this film have tapped into in terms of contemporary American culture – and how unique is it in doing this?
Certainly part of Juno's appeal stems from its clever dialogue and its iconoclastic, strong-willed lead female character. And of course, the high degree of publicity surrounding the film – especially the widely circulated "stripper-turned-screenwriter" narrative told and re-told about scribe Diablo Cody – has been a useful marketing angle. The presence of cult teen star Michael Cera of Arrested Development and Superbad fame doesn't hurt either. But I think that the film's buzz is not limited to just these factors. Rather, I believe one can better gauge Juno's longevity in theaters (which, as of this writing, is going on three months) by considering the relationship between the film's tone and its narrative trajectory.
The film starts with a first trimester Juno, cynical yet idealistic. The early part of the movie is filled with snappy one-liners and witty repartee. However, as the seasons wear on and Juno becomes more pregnant – and more involved in emotional complications with the adoptive parents – much of the fun banter fades, as does Juno's idealism. She re-adjusts her expectations, re-thinks her relationships, and becomes less guarded, less jaded. By having her ideals challenged, she actually becomes more hopeful about life's possibilities and her own future. In other words, we witness both the character of Juno – and the film itself – become more sincere.
This sincerity seems counter to the tone and substance of the majority of the edgy '90s-era indie films. One need look no further than the aforementioned Oscar nominees, There Will Be Blood and No Country for Old Men – both products of filmmakers whose careers flourished during the post-Disney Miramax age (1993 on). Thinking back to the tales told about other notable teenage characters in indie films during the '90s and early 2000s is equally suggestive. Just a few examples include Dawn Wiener in Welcome to the Dollhouse (1995), Dede Truitt in The Opposite of Sex (1998) and Enid and Rebecca in Ghost World (2001). As with the edgy indies of Anderson and the Coens, the world these characters inhabit is much darker, their outlook much bleaker (not Bleeker).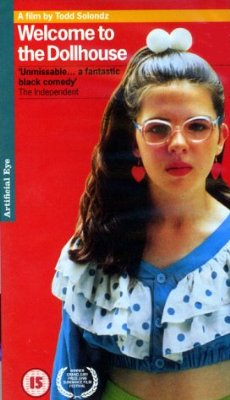 Youth, '90s Indie-style
This comparison offers up two possibilities for why Juno has taken off: First, the '90s-era edgy indies speak to – and for – a very different generation of viewers, raised on different media and a distinct socio-political climate. Perhaps my response to the "optimism-in-spite-of-adversity" outlook of Juno derives from my presently-obsessive viewing of political coverage which trumpets "change," "hope" and "inspiration." Or perhaps it comes from witnessing several of my students routinely wearing Barack Obama stickers, t-shirts and buttons. But I am inclined to think that some of Juno's appeal springs from the coming-of-age of a new generation along with a more widespread desire to just stop with the cynicism. Perhaps Juno the film and Juno the character speak to, about, and for youth in a way that many other recent popular culture artifacts have not.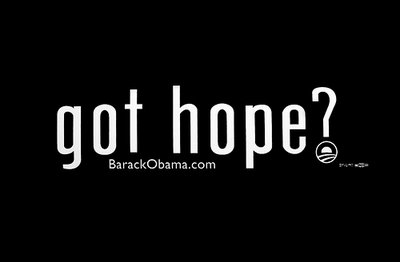 A Return to Idealism?
The second possibility for the film's widespread appeal more directly connects to industrial factors. Juno was distributed in the U.S. by Fox Searchlight, the specialty division of Fox/News Corp. In fact, it has become Searchlight's highest-grossing release in the company's ten-plus year history. For a company that has released such high-profile films domestically as Bend It Like Beckham, Garden State, Napoleon Dynamite, Little Miss Sunshine and The Darjeeling Limited, this is an impressive accomplishment.
I mention these titles – and this company – not simply as background information, but to suggest that there are striking ties between many of these films and Juno. Most notably, the latter three titles are, unlike the films of Quentin Tarantino, Robert Rodriguez and Kevin Smith, less edgy and more quirky. This "cinema of quirkiness," which is becoming increasingly noticeable, is less likely to present sex, violence and coarse language than it is to depict off-kilter but well-intentioned characters engaged in offbeat activities. In these films – of which Juno is clearly one – characters may screw up and get themselves into unbelievable and often unfortunate situations. But in spite of their missteps, they appeal to audience sympathies because in the end they mean well and they are kind. Not unlike Juno's pregnancy, their momentary slips permit them an escape and a return to who they really are: youthful idealists3.
Certainly there were precedents for this in the '90s. (Wes Anderson's entire body of work comes to mind here). However, in the last few years, this type of film has become more prominent, not in the least because Fox Searchlight executives appear to have identified it as a lucrative niche with a viable audience. It seems highly likely that, given the immense financial success of Juno, and the degree to which it seems to tap into this particular cultural and political moment, we can anticipate more such characters to appear in theaters – and possibly the Oval Office – in the near future.
Image Credits:
1. Expecting a limited release?
2. Screenwriter Diablo Cody and Juno star Ellen Page
3. Youth, '90s Indie-style
4. A Return to Idealism?
Please feel free to comment.
In the U.S., Warner Bros. released Michael Clayton; the indie releases come from Focus Features (Atonement), Fox Searchlight (Juno), and via joint venture of Paramount Vantage/Miramax–both There Will Be Blood and No Country for Old Men [↩]
According to Variety.com, box office grosses for the Oscar nominees as of the week of February 18th were: $32 million for There Will be Blood, $47 million for Michael Clayton, $48 million for Atonement, $60 million for No Country for Old Men, and $125 million for Juno. [↩]
Thanks to Steve Perren for his input on this point. [↩]