Hera Has Six Mommies (A Transmedia Love Story)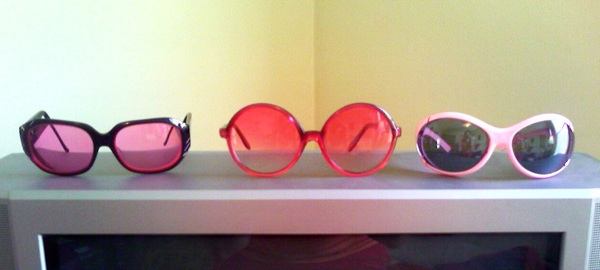 Girlslash goggles
Cult television's signature allure is the romance it mediates between a show and its audience. Being in a room with Mary McDonnell, a convergence that felt as vertiginously improbable as stepping into a sci-fi plot, was a perfect illustration of this libidinal potency. Programs like Battlestar Galactica promise fans that, if our devotion is strong enough, it can penetrate the dimensional barrier of the TV screen, allowing us to reach through the glass and bring our reality into contact with a parallel universe. Indeed, love is cult TV's reproductive technology, because it is only by inspiring our passion across this gap that television succeeds economically, spawning the serials, franchises, and spinoffs that are its forms of self-perpetuation. On Battlestar Galactica, love is also the Cylons' reproductive technology: they believe, for example, that only cross-species romance could have produced Hera, the first Cylon-human hybrid baby and "the shape of things to come." Cult TV is likewise "the shape of things to come," as television at large is increasingly embracing its strategies for generating fan desire, deploying complex and fragmentary worlds that demand creative involvement and discontinuous storytelling that bridges time, space, and media formats in order to intensify viewer engagement. Television is learning that its offspring can be most fruitful when, like Hera, they're orphaned: disseminated outside their biologically, technologically, and patriarchally authorized families and adopted by their audiences.
Unlike in the Colonial Fleet, where computer networks are forbidden because they're vulnerable to Cylon hacks and viruses, Battlestar Galactica's Powers That Be welcome fandom's hive mind into their textual networks. One of the franchise's innovations is to make the process of TV production itself available as content, offering a smorgasbord of excess onscreen and behind-the-scenes material on its official web site. TV form has always been characterized by diffusion, collaboration, and contingency, but rarely has it marketed and propagated these qualities so openly, endlessly recycling and reworking the show's text and putting the show's metatext in intercourse with fans. These open networks, like the Fleet's computers, are vulnerable to media technologies. I'd like to introduce you to one such apparatus from the fan's toolkit: the "girlslash goggles." I have a prop to illustrate this prosthesis, but you don't actually need enormous pink sunglasses to engage this specular technology — I invite you all to put on your own imaginary pair now. First, though, let me explain what girlslash goggles do: they enable you to see lesbian desire where it might otherwise be invisible (there's a corresponding male version, boyslash goggles, that you may wish to test drive on your own). Now that we're properly equipped, I can tell you a love story about how six women on Battlestar Galactica (three human, three Cylon) made adoptive families for Hera into and out of their passion for each other, and about how some fans craved these families enough to breach the TV screen to find them.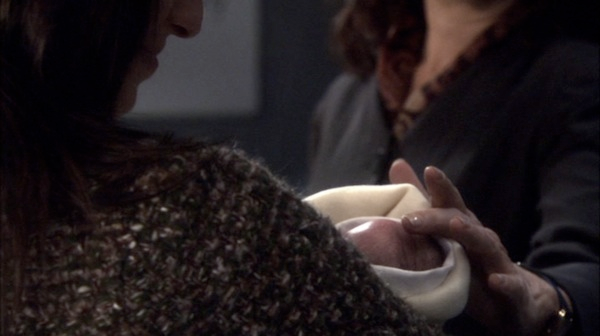 Laura hands Hera off to Maya
Girlslash goggles represent a visual machinery that interfaces with television's contradictions, excesses, gaps, and fragments — what I'm calling its orphans. Battlestar Galactica's messianic child, Hera, isn't literally an orphan; she's the baby, biologically, of a Cylon-human couple. But before she's even born, she's tied by blood to President Laura Roslin, who is miraculously cured of cancer on her deathbed by an injection of Hera's hybrid cells. Laura ordains the genesis of a new family for Hera when she secretly hands her off to a foster mother, Maya, with the collusion of the doctor and Laura's trusted advisor Tory. This family is thus, on the one hand, authorized under presidential control, but, on the other, it's outside the control of closed lineages of genes and parentage; it's already, in this sense, a "queer" family.
The first narrative orphan I'd like to look at (through our girlslash goggles) is similarly un-linear: this is the temporally disconnected 20-minute segment that closed season two with a 1-year jump into the future. With explanation of the political and interpersonal configurations suggested here deferred over the summer hiatus, this stray scenario provided a fertile medium for the cultivation of fans' imaginative desires and their ensuing pre-rewritings of the lost year.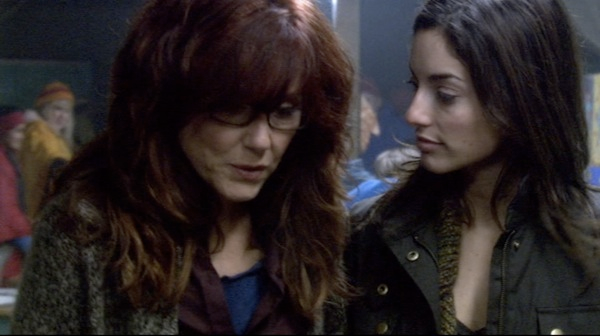 Laura and Maya at school
A 90-second scene of Laura and Maya co-teaching and, as many conjectured, co-parenting at the settlement's school is a case in point. Take a moment to speculate, via these spectacles, on the disproportionate intimacy of this quasi-domestic tableau: instead of the typical shot-reverse-shot structure, this conversation is edited with both characters in the frame, standing close and touching easily. The triangulation of this intimacy through their shared connection to Hera, even or especially in this minute installment, spawned a full-blown and deeply invested fan narrative of maternal lesbian romance. This dyad was amplified in season three by equally fleeting scenes that projected Tory into Roslin's inner circle during the lost year planet-side and thereafter.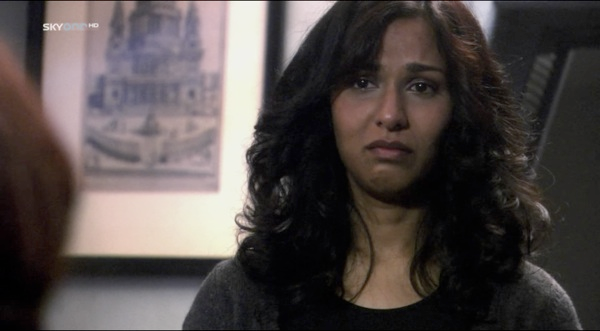 Tory apologizes to Laura
Of course, there were orphans of this storyline in turn. In the podcast for the episode "Collaborators," for example, producer Ron Moore describes shooting a subplot wherein Tory betrays Laura politically, feeding information to her rival that results in underground executions. When these events were cut during the production process, the remaining interactions between Laura and Tory were sutured back together around the death of Maya and the loss of Hera, whose escape Tory was supposed to help orchestrate. The fervor of Tory's emotional apology exceeds the pared down narrative basis of its reorganized timeline. This overflowing intensity, screened by the girlslash goggles' optical algorithm, materializes as love — the love of these women for the child, for her adoptive mother, and for each other. Fostering this prophetic and apocalyptic child, outside the bounds of an authorized origin story, is what brings Laura, Maya, and Tory together within the program. In parallel, this frayed maternal thread provides the seam for similarly unauthorized modes of seeing and desiring among queer fan families.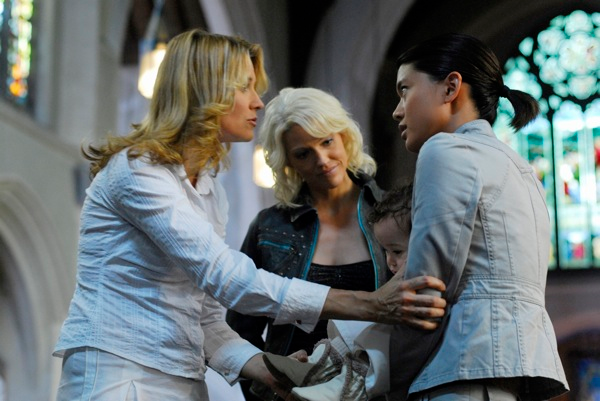 Three, Caprica, Hera and Boomer
Admittedly, such love stories tend to remain invisible to viewers not equipped (metaphorically, that is) with specialized eyewear — at least, I'd suggest, among the human characters. In Battlestar Galactica's symbology, most questions and figures of difference are displaced onto the Cylons, including sexual deviance. When Cylons Three, Caprica, and Boomer inherit the mantle of motherhood from their human counterparts, this Cylon foster family is of a piece with Three's fascination with Caprica, a configuration that shades gracefully into the infamous implied threesome. This is, for the record, the only queer sex on Battlestar Galactica to date that can be seen without custom glasses.1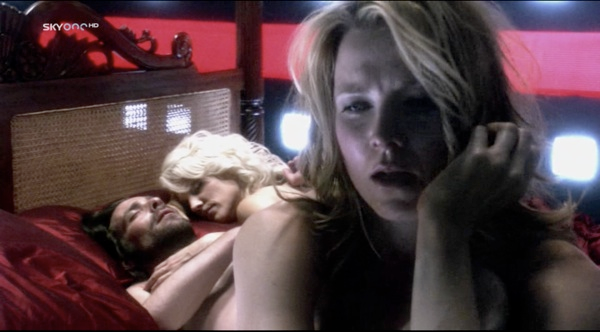 Gaius, Caprica and Three in bed together
On the one hand, Cylon sexuality offers a quasi-utopian vision of a world where boundaries are more fluid. Lucy Lawless (who plays Three) described this permissive philosophy on a 2006 Comic-Con panel: "Cylons… haven't attached some sort of morality to nudity and sexuality and all that stuff, and they're extremely experimental." On the other hand, this move marks bisexuality as categorically alien, as if it is only in a culture of evil robots that such sexual "experimentation" could take place. Moreover, such non-procreative sex troubles reproduction even for the unrepressed Cylon "family." The Cylon system of direct, asexual replication — cloning bodies and memories within each model — is disrupted by the individual desires of Cylons in love: for her perversions, Three is ultimately sentenced to the Cylon version of death. The parallel Cylon project of human-like sexual reproduction is equally flummoxed by the multiplication of mothers, as evidenced when Hera contracts a mysterious illness under Boomer's care, and only a return to her bio-family offers hope for a cure. Thus ends the saga of Hera's lesbian mommies, at least for now. So while the spaces for queer families and lesbian spectacles are there in the interstices of the program, it's difficult to avoid the impression that, when all is said and done, a child belongs with her (heterosexual, if perhaps otherwise "queer") birth parents.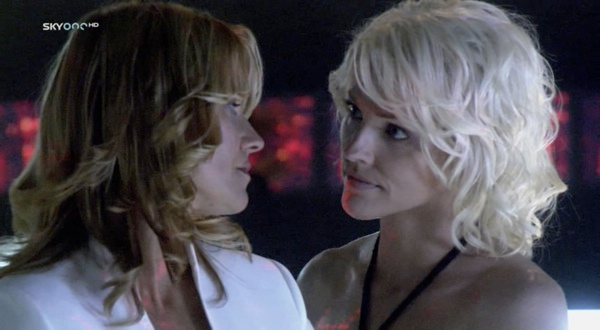 Three and Caprica share an intimate moment
The persistence of heteronormative containment within this storyline speaks to the ways that Battlestar Galactica's promiscuous textuality, its diffusion across multiple sites outside the show itself, its refreshingly open canon, still doesn't escape a hierarchy of form with the TV episodes at the top. The deleted scenes, the commentary, the interviews are still bastard children, and the families of fan desire that bloom around them are still by some measures illegitimate. Battlestar Galactica offers the ground for collective cultivation of epic lesbian love stories, in the furrows between the fragments of the text and the technologies of seeing that it puts into play. At the same time, it offers conditions of visibility that make these families always possible but never perceptible to the naked eye, that writes lesbian (and other queer) desires out of the story as it is authored and authorized (as Ron Moore put it in a blog post, "I think homosexuality definitely exists in the world of Galactica, but I frankly haven't found a way to portray it yet"). Now, this is not to say that this erasure doesn't bring its own pleasures. If cult TV holds out as its lure a love that I've called interdimensional — love that spans the gap between televisual and real worlds — this potential is, by definition, never fully realized. By not giving us what we want, by leaving some stories orphaned and some desires unrequited, TV keeps us coming back for more, thereby reproducing its audience. The play of queer visibility across textual conventions, media formats, and optical equipment leaves apertures for our labor, for our imagination, and for the love that brings viewers together into our own reproductive, mediated families.
Author Bio:
Julie Levin Russo is a doctoral candidate in Modern Culture and Media at Brown University. She has presented on such topics as media convergence, online TV fandom, and cybersexuality at numerous conferences, and her work was recently published in Camera Obscura and the anthology C'Lick Me: A Netporn Studies Reader. Her dissertation project is entitled Indiscrete Media: Television/Internet Convergence and Economies of Online Lesbian Fan Communities, and includes case studies of Battlestar Galactica, Law & Order: SVU, and The L Word. She welcomes you to find her online.
Image Credits:
1. Girlslash goggles, photograph by author.
2. Laura hands Hera off to Maya, screencap by author.
3. Laura and Maya at school, ibid.
4. Tory apologizes to Laura, ibid.
5. Three, Caprica, Hera and Boomer, ibid.
6. Gaius, Caprica and Three in bed together, ibid.
7. Three and Caprica share an intimate moment, ibid.
Please feel free to comment.
The recent TV movie "Razor" offered Battlestar Galactica's first explicit acknowledgement of a gay relationship: a retroactively-established romance between Admiral Cain and the Six clone known as Gina. While sex between the Cylons+Gaius triad was provocatively implied, however, Gina and Cain's private intimacies are left entirely to our imagination (which is more than up to the task). [↩]