Is Internet Politics Better Off Than It Was Four Years Ago?
In several of my previous Flow columns, I have sought to address the role of viral videos in shaping political discourse. I have approached this question with what—I hope—is a degree of cautious optimism, perhaps with a greater emphasis on caution as I seek to resist the dominant narrative identifying the technological innovation of YouTube and other video sharing sites with larger innovations in political campaigns. It is no doubt true that citizen-generated videos have received an unprecedented amount of attention, prompting James Wolcott and others to dub the 2008 presidential race, "The YouTube Election."

"Vote Different" Viral Video
And it's equally clear that a creative video artist can produce a video that will be seen by millions of people. However, at the risk of generalizing considerably, I remain somewhat skeptical about how these videos fit within the larger narratives that have come to frame the 2008 campaign.
I've certainly entertained doubts about the role of citizen-generated videos in the past. In my discussion of Phil De Vellis's masterful "Vote Different" video, I sought to argue that the video succeeded in finding an audience in part because it deftly tied into preexisting narratives that associate Hillary Clinton with Republican talking points identifying her as a kind of Big Brother figure. In fact, "Vote Different" and many other citizen-generated videos, such as the "John Edwards: I Feel Pretty" video, can be seen as participating in what Eric Alterman recently described as "the presidential pageant," with these videos merely providing fodder for political pundits to reinforce the perception that Edwards isn't manly enough ("Breck Girl").
But my more recent reservations grow, in part, out of the recent attacks on MoveOn.org for the "General Betray Us" advertisement they placed in the pages of The New York Times and a recent post on techPresident by Patrick Ruffini, which asks whether campaigns themselves are finding innovative uses of the internet during the 2008 election. The MoveOn controversy illustrates perfectly the degree to which television pundits continue to shape the dominant political narratives, even when well-organized groups such as MoveOn.org attempt to challenge them. Despite the MoveOn advertisement's trenchant critique of General Petraeus's testimony, "debate" about the advertisement on cable news shows allowed the group to be painted as part of a political "fringe," even though the group consists of well over three million members and a majority of Americans believe America should begin pulling out of Iraq. The reframing allowed conservatives to divert attention away from the larger problem of the war and Iraq and depict MoveOn.org as villains for daring to question Petraeus.
Moreover, in his blog post, Ruffini argues that despite the persistent claims that 2008 marks a revolutionary era for politics, it is reasonable to ask whether campaigns have evolved in any significant way. Ruffini argues that many of the most significant changes in web-based politics—the Howard Dean campaign's use of blogs and Meetup.com as a way of organizing locally—were already established by 2004 and even suggests that many campaigns have failed to recapture the energy associated with Dean's campaign. And, while I am less interested in "innovation" for its own sake than Ruffini is, I continue to find myself wondering about the degree to which the "living room candidate" has become the "laptop candidate" and to what ends. To be sure, my response to Ruffini's post is colored by my own nostalgia for the early days of the Dean campaign and the transformative possibilities it represented, but as the 2008 campaign unfolds, I find myself confronted with an increasing skepticism regarding the role of online video and other "Web 2.0" features in the political process.
To some extent, online videos, especially those produced by citizens unaffiliated with specific campaigns, have allowed people to find a wider audience, and they are certainly the most noteworthy new campaign tool in comparison to 2004. And the production of a video is itself a significant form of participation. But as I navigate resources such as YouTube's You Choose channel, compulsively clicking through video and after video, I find myself wondering if these videos significantly alter early practices or whether they reproduce the same structural relationship between campaign and citizen that existed in the era of the 30-second TV ad, despite promises that the 2008 election will be a "conversation." At the same time, while the much-discussed YouTube-sponsored Democratic debate gave a number of YouTube users a public platform, the debate itself still conformed to the basic structure of televised debates, with Anderson Cooper and CNN reframing the questions for primetime television. So I continue to find myself asking whether YouTube has, in any significant way, offered a new way of thinking about U.S. politics. Or does it reinforce a focus on just a few centralized voices?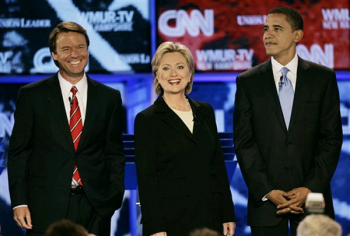 John Edwards, Hillary Clinton, and Barack Obama
Finally, citizen-generated videos, especially those that go viral, have also been characterized in terms of speed, with Wolcott associating the practice of watching viral videos with a "nervous twitch," while Jeff Jarvis highlights the ways in which YouTube allows any "misstatement gains toxicity and speed," creating what might be called, after Matt Hills' concept of just-in-time fandom (2002, 178-179), a kind of just-in-time participation, in which citizens can produce and disseminate videos incredibly rapidly. These viral videos quite often inspire a quick flurry of activity, including blog posts, video responses and knock-offs, and, in some cases, commentary in other media. And while this rapid response may be able to mobilize voters very quickly, I also wonder what gets lost in this form of just-in-time participation, especially as people move on to the latest video after a few days of breathless commentary on the video of the week. To what extent does the rapid proliferation of videos work against meaningful discussion of the presidential candidates or against developing a deeper focus on the many important issues at stake in the 2008 election? What are the implications of replacing the living room candidate with the laptop candidate, and are the laptop candidates truly inspiring greater political participation?
Works Cited
Hills, M. 2002. Fan Cultures. London: Routledge.
Images:
1. "Vote Different" Viral Video
2. Edwards, Clinton, Obama

Please feel free to comment.