Sanjaya and the Mulatto Millenium
by: Mary Beltrán / University of Wisconsin-Madison

As Camilla Fojas and I note in our forthcoming anthology, Mixed Race Hollywood, we have embarked on a new era. (Fojas is credited as co-author of this opening paragraph, adapted from the book's introduction). As novelist Danzy Senna succinctly describes it, we've entered the "mulatto millennium." This certainly seems to be the case if you follow trends in popular culture. If you turn on your television you might happen upon mixed-race actors Vanessa Williams in Ugly Betty (2006+), Wentworth Miller in Prison Break (2005+), Kristen Kreuk in Smallville (2001+), or models of various mixed racial backgrounds competing to be declared America's Next Top Model (2003+). Similarly, you might see Vin Diesel, Keanu Reeves, or Rosario Dawson's latest film at your local multiplex, hear Mariah Carey talking frankly about her mixed heritage on a talk show, or read about Raquel Welch "coming out" as half Bolivian. In truth we've always liked mixed-race performers (think Nancy Kwan, Anthony Quinn, and Freddie Prinze, Sr.), but these days it's a boon to star hopefuls not only to have an ethnically ambiguous look but to be open about their mixed heritage in their publicity.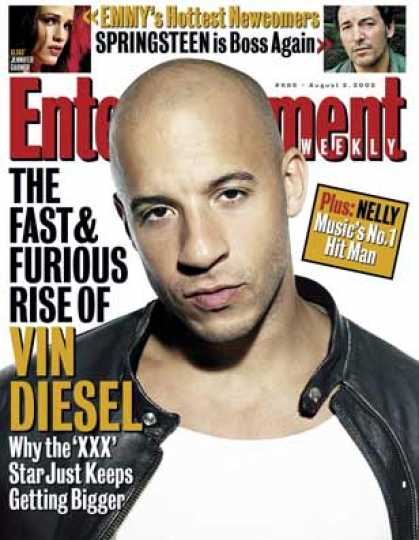 Entertainment Weekly cover
A recent illustration can be seen in the massive popularity of ex-American Idol contestant Sanjaya Malakar. Even while he was in equal parts adored and maligned by viewers and the Idol judges, he achieved a level of fame and attention in the entertainment news media unsurpassed by any other non-winner to date. On a recent perusal of a newstand I noted that Malakar was featured in several major U.S. entertainment and news magazines—even People, which featured Malakar on its cover in a small photo insert captioned "Sanjaya Tells All!" This is not to argue that the 17-year-old performer has become popular merely because of his dual Bengali Indian and Italian American heritage. Clearly Malakar's personality, charisma, and potential as a performer are largely to credit for the stardom that he garnered during his stint on Idol. But I would argue that the singer's mixed background and ethnic, but not too ethnic look, also played a role in his capturing the hearts of many viewers.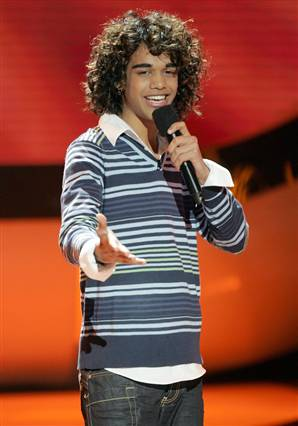 Sanjaya Malakar singing
People's "tell all," among other things, answers the puzzle of Malakar and his sister Shyamali's mixed heritage, given that viewers already had seen his sister and his mother, Jillian Blyth, cheering him on each week. We learn from People that Malakar has an Indian father, Vesuveda Malakar, a musician, and that his parents divorced when Malakar was 3 years old. Notably, pictures of Sanjaya and his Italian American mother and of Sanjaya and Shayamali as young children are included among the illustrations that document Sanjaya's life as a mixed-race youth for curious readers. His story is one that I would argue is increasingly coded as American in star promotion efforts. While it isn't why he became popular, it has helped that Malakar not only has the right look at the right time, but also a life story that is timely and compelling to the U.S. viewing audience.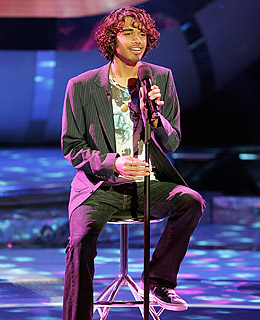 Sanjaya Malakar
Sanjaya's charm notwithstanding, why are we so enamored of ethnically ambiguous, mixed heritage individuals? In part because of the ongoing evolution of ethnic demographics and identity our country. Americans, and particularly the youth generation, have never been so racially and ethnically diverse as in recent years. In addition, the numbers of mixed-race families and youth have boomed since the 1970s and are projected to continue to grow. A broad perspective on ethnic differences therefore could be expected to come naturally for many of the Millennial Generation, the first generation large enough to displace the Baby Boomers in dictating the direction of popular culture. Advertising and other studies have shown that youth and younger adults today are more culturally curious than their older counterparts, demonstrated in an interest in television shows, films, and other pop culture forms featuring individuals perceived as non-white. As the rise in mixed-race actors and performers attests, however, we can't necessarily shake the standards of beauty that have been drilled into us by a century of white-centric media culture. Actors, models, and others in the public eye who can embody the "ethnicity lite" that enables us to have it both ways—for example, Jessica Alba, Keanu Reeves, Vanessa Williams, and Sanjaya Malakar—are seen as especially attractive today, and are increasingly successful. While only time will tell if Sanjaya's fame will extend beyond the shelf life of this most recent season of American Idol, this trend in popular culture arguably is only beginning to be felt.
Image Credits:
1. Entertainment Weekly cover
2. Sanjaya Malakar singing
3. Sanjaya Malakar
Please feel free to comment.