Mommy, Is That a Boy Text or a Girl Text?
by: Jonathan Gray / Fordham University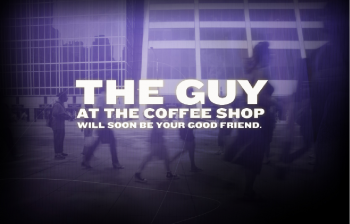 A Gendered Ad
How does a text become a boy or a girl? The supplying or withholding of Y chromosomes is not a key task of a show-runner, nor is it the power granted to a network by winning in the Nielsens; therefore, how is it that television shows so quickly become known as "guy's shows" or "chick flicks?" In this column, I want to argue for the significant role of promotional materials and surrounding paratexts in giving us virtual ultrasound scans, telling us gender before a text is even born, so that, to carry the metaphor further, by the time the text arrives, many have already ordered the blue or pink wallpaper, and readied their vocabulary for talking about the text.
To say this is not to deny that texts aren't at times gendered beyond the promotional, paratextual material–-given the long history of certain genres attracting much of their audience from one gender, television shows will often be quite prominently gendered. Thus, for instance, Gilmore Girls is about a mother and daughter relationship, focusing on their respective romances and talk, hence gendering it female in terms of generic history. 24, by contrast, is about a guy who needs to kill, torture, run a lot, cause explosions, and scream very loudly, all on a tight timeline, hence gendering it male in terms of generic history. And let me be clear from the outset that individual viewers can of course read a text against gender, but as I will explain later, even that act often requires the assistance of paratexts to "re-gender" (or to queer) the text.
Case in point regarding promotional materials, though: Six Degrees. If you've seen it, forget that you have for a moment. And join me as we go back in time to New York City in August 2006, before it was released. ABC plastered numerous subways with provocative ads that hovered above one's head, saying things like "The man by the door will someday be your boss" or "The girl across the aisle is flirting with you" (see image below). While an ad lower down in the subway car explained the connection to a new show from ABC, a car-full of people (as is normal for New York) would obscure the ad for most. Instead, the higher-up ads offered a web address: U-R-connected.com. At the website, more oblique references to fated connection appeared (see opening photo) before it asked six questions so that it could help one "find a connection." Questions answered, eventually the site suggested a personality likeness to one of the primary six cast members, then advertised the show with a clip.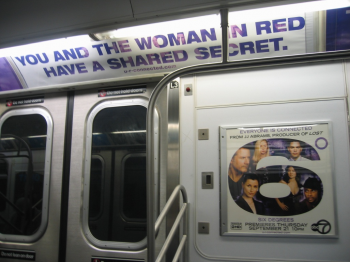 An ad for Six Degrees
This campaign, I would suggest, gendered Six Degrees female. The ads' references to fated connection in New York City alluded to a mainstay of the romantic comedy genre – namely, serendipity in Manhattan (think Sleepless in Seattle, Kate and Leopold, When Harry Met Sally, and Serendipity), while they simultaneously drew from the rhetoric used to sell online dating sites (of which "U-R-connected.com" certainly sounded like one) to busy urban women. The questions on the website were written in classic Cosmopolitan questionnaire-speak, such as, "Who Are You? I am my work; I am the sum of my experience; I am my future; or I am my contribution." And the promise to link one to a character referenced the Sex in the City "I'm …." craze (see image below), thereby promising to grab that show's baton and run away with it as the show for sexy, urban, chic young women, and suggesting that Six Degrees would similarly place its thumb directly on the lived experience of such women. Thus, the advertising heavily referenced "female" genres and texts – the romcom, Cosmo, Sex in the City.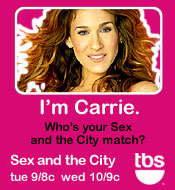 An ad for Sex and the City
Equally important, very little about the ads called to straight men. The attractive female cast, for instance, was muted in the ads, ghosted behind the ads' lettering, but looking more like happy customers from a dating company than lures for male viewers or even male customers (compare to the below ad from Lavalife, also prominent in the New York subway). And though the lower-down (ie: often hidden by people) ad mentioned producer J. J. Abrams, the mastermind behind the very guy-friendly Lost and Alias, nothing more was made of his role. Television ads that mentioned Abrams alluded more directly to his past Felicity, thereby once more hailing female would-be viewers.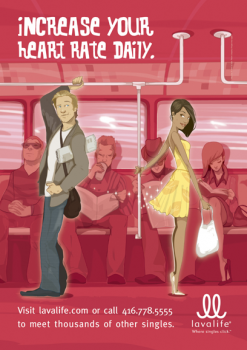 An ad for Lavalife
When it finally hit the air, Six Degrees struck me as a little confused as to what it was or what it wanted to be in general, and not just at the level of gender. But it certainly did not seem unequivocally "female," making me wonder why the ads tried so hard to gender it as such. For my purposes here, though, what it is, was, or could've been is beside the point. Rather, I propose that with its promotional materials ABC made the show "female" before it was released.
Yet it is by no means alone. Recent subways ads for Showtime's The Tudors similarly hailed a female or gay male viewer. Jonathan Rhys Meyers looks seductively at the camera, while the wording and posing of the ads allude almost exclusively to romantic intrigue, with little more than the presence of King Henry VIII's sword to suggest any action (though, of course, in Freudian terms, a man with a big sword represents much more than action), and little to suggest political maneuvering. Perhaps, though, Showtime felt the need to insist upon The Tudors' female-friendliness, given their earlier success in framing the show as Rome-with-more-wives, and given Rome's prevalent male gender coding.
So go the ads pre-release, but we might also consider the role of promotional, paratextual material in determining gender after release too. Here, the seminal example is Star Wars' army of toys, all for boys (see below). The old FAO Schwarz in Manhattan required one to walk through a corridor of G. I. Joes before arriving at the Star Wars action figure section, fully decked out with blue and black, and showing battle-scenes all around. On the face of it, Star Trek would seem no more or less male or female, even though its female fan following is well known – if anything, the slightly effeminate Luke Skywalker and the bold Princess Leia may have been expected to rope in more women than Captain Kirk and Mr. Spock. But Star Trek never had a male-focused marketing blitz as did Star Wars.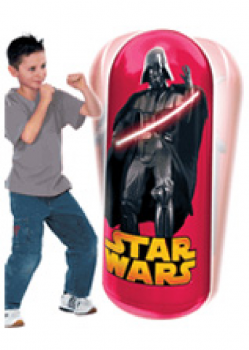 A Star Wars Toy Ad
Of course, what Star Trek did have–as all cultural studies scholars know–is slash fiction writers, who made Kirk and Spock lovers (see below), therein showing how paratextual gendering, queering, and–dare I say–Butlerian performances of gender, can become embedded in paratexts. At the textual frontier of the paratext, audience members can and occasionally do resist a text's apparent "sex."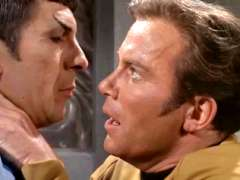 A scene from Star Trek
To return to the metaphor with which I began this column, as this column hits FLOW, we're now at the end of the first trimester of the upcoming Fall season's pregnancy; and thus the ultrasound scan will soon start to become more decisive: summer ads will be starting soon, telling us whether new texts are boys or girls. Yet just as I find it somewhat depressing when soon-to-be parents run out to buy the Tonka trucks and Thor's Hammer or Barbies and Little Princess' Tea Set, it will also be somewhat depressing to see paratexts and promotional material similarly gender the new shows before they're born.
Please, I welcome comments.
Image Credits
1. Screenshot from U-R-Connected.com
2. Personal photo taken by author.
3. Image from DanielleMarie.org
4. Image from JustToys.com
6. Image from AgonyBooth.com