La telenovela mexicana en el ciberespacio
por: Claudia Benassini Félix / Tecnológico de Monterrey, State of Mexico
(for English, click here)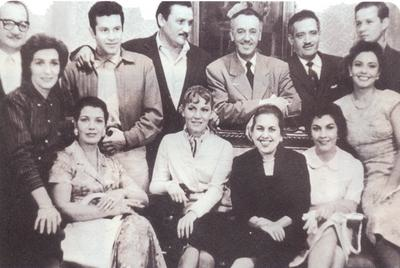 Los actores de "Senda Prohibida"
La telenovela mexicana es uno de los productos más exitosos de la televisión nacional. Desde 1958, año en que se inician las transmisiones de Senda Prohibida, el género fue posicionándose entre las audiencias nacionales. De aquí su inclusión gradual en la programación que desde sus comienzos ofrece la Spanish Internacional Network a partir de 1962, y que catorce años más adelante se convertiría en la Cadena Univisión. Y de ahí su inclusión en la oferta programática que Televisa — entonces Telesistema Mexicano — exportó a otros países vía Protele, empresa fundada por Emilio Azcárraga Vidaurreta para vender las producciones mexicanas a las televisoras extranjeras. En consecuencia, de manera gradual el género fue conquistando a las audiencias más allá de las fronteras nacionales.
Por tanto, tampoco fue casual que en 1988, cuando Televisa incursionó nuevamente en el mercado europeo a través de España y el sistema Galavisión[i], la telenovela fue incluida como parte de la programación. Y fue a través de Quinceañera, la telenovela mexicana entonces más popular en nuestro país, que las audiencias europeas, comenzando por las españolas, comenzaron a relacionarse con el género. De manera casi paralela, los logros continuaron en otros países, sobre todo los ubicados en la zona oriental del continente[ii]. De hecho, estos logros ocuparon espacios importantes en los espacios destinados al espectáculo en la prensa, radio y televisión nacionales e internacionales.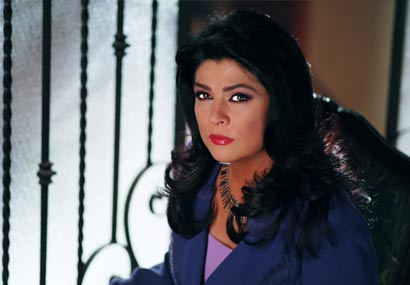 Victoria Ruffo de "La Madrastra"
En este proceso, las producciones mexicanas han enfrentado a la competencia de otros países. Primero, Venezuela y Brasil; más adelante Colombia y Argentina; más recientemente, otros países que han incorporado el género a su oferta programática, en buena medida por la aceptación que ha tenido entre las audiencias, como España. Adicionalmente, si bien en sus inicios la telenovela mexicana fue producida por Televisa, en este momento se enfrenta a la competencia de Televisión Azteca, empresa que desde 1996 ingresó al género con producciones como Mirada de mujer, con las que ha buscado incursionar en el mercado internacional[iii]. Asimismo, en el contexto de la producción nacional y de la competencia entre países, es importante considerar que la telenovela mexicana ha pasado por altibajos, identificables por los estudiosos del género, la crítica especializada y las propias audiencias[iv].
Este panorama descrito apretadamente da cuenta de los espacios conquistados por la telenovela mexicana y del crecimiento de sus audiencias, cuantitativa y cualitativamente hablando. Es difícil hacer un estimado real del número de televidentes que cotidianamente se exponen al género; sin embargo, los estudios realizados por investigadores del tema dan cuenta de los procesos a través de los cuales las audiencias televisivas — y por tanto de la telenovela — se apropian de los contenidos del medio y los incorporan a sus prácticas cotidianas. Como muestra, basta ver el crecimiento de los espacios en Internet dedicados el tema, la mayoría diseñados y actualizados por sus aficionados[v]. El movimiento se inició en 1976, cuando la venezolana Jolette Nicholson, apoyada por el ruso Alexander Zhukov, lanzó al ciberespacio su página "Telenovelas-Internet", en el que reconocía su afición por la telenovela mexicana[vi] y su interés por intercambiar materiales y opiniones con otros ciberaficionados.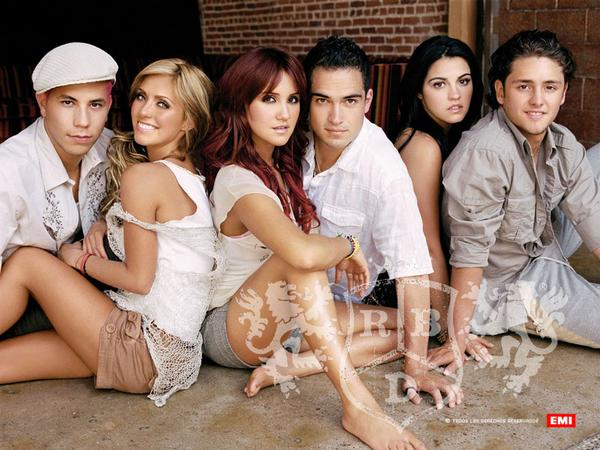 Los actores de "Rebelde"
Rápidamente el ejemplo de Jolette tuvo sus seguidores, como el mexicano Juan Carlos Alvarado y la chilena María Elena Venant, el español "Moisés", el portorriqueño Rafael Ochoteco y muchos más ciberaficionados a la telenovela mexicana, ubicados en diversas partes del mundo[vii]. Más recientemente, las opciones abiertas por la blogósfera han incrementado los espacios[viii]. Asimismo, las consideradas "escenas importantes" del género –finales, entradas, temas musicales etc.- han comenzado a subirse a YouTube y pueden observarse y comentarse por los interesados.
Cabe señalar que cada vez resulta más complicado encontrar espacios dedicados específicamente a la telenovela mexicana, puesto que la internacionalización del género ha propiciado que los ciberaficionados se vuelquen en sus preferencias, más allá de sus orígenes. Aproximarse a la indagación, la exploración y la investigación de este espacio constituye una opción que da cuenta de una nueva modalidad de apropiación del género que da cuenta del interés de sus aficionados, mismo que se traduce en procesos tan diversos que van desde la construcción de espacios propios hasta el debate y la polémica sobre el tema. Adicionalmente, adentrarse en este ámbito supone utilizar metodologías tan variadas como la etnografía, el análisis conversacional y la etnometodología entre otras. Un campo, en suma, sobre el que todavía queda mucho por investigar.
Notas
Una primera incursión fue en 1975, básicamente a través de programas informativos. Sin embargo, en ese momento la aceptación de la programación mexicana en España fue mínima. En consecuencia, las oficinas de Televisa España se mantuvieron más bien como una suerte de corresponsalía informativa. La segunda incursión, en 1988 — a la que hacemos referencia–, se produjo en el contextoy del de la era de los satélites y de la televisión de paga.
Este proceso se inició a finales de 1989, en el contexto de la apertura regional iniciada por la entonces Unión Soviética durante el régimen de Mijail Gorbachov.
Sin embargo, revisiones periódicas a la programación de diversas televisoras latinoamericanas y europeas da cuenta de que las telenovelas de Televisa tienen más aceptación que las de TV Azteca.
En este momento, la crítica central es la poca presencia de argumentos originales. Si bien la telenovela mexicana continúa posicionada como uno de los géneros favoritos entre las audiencias nacionales e internacionales, se reconoce que sus argumentos son remakes de producciones locales exitosas, como Vivir un poco (1985), que veinte años después se convirtió en La Madrastra, o Rubí (1964), cuya nueva versión llegó a la pantalla casera cuatro décadas más tarde. Asimismo, Mirada de mujer fue primera una exitosa telenovela en Colombia, igual que Rebelde lo fue en Argentina.
Nos referimos específicamente a los espacios de aficionados que circulan a través de la red y no a las páginas institucionales diseñadas y mantenidas por las televisoras. También nos referimos en particular a los espacios destinados a discutir la telenovela mexicana.
Desde hace casi siete años, Jolette trabaja para Univisión y su sitio pionero Telenovelas-Internet.com fue absorbido por la televisora.
Por ejemplo, los sitios Telenovelas del Momento, Telenovelas online, en los que se da cuenta de otros muchos espacios dedicados al género.
Por ejemplo, La Coctelera/Rebelde, Las Telenovelas Mexicanas en EUA, entre muchas opciones.
"Comunidades virtuales: ¿espacios de convivencia pacífica?", en Dia-logos de la Comunicación núm. 59-60, FELAFACS, Lima.
"Formación de comunidades virtuales a través de la televisión" en ISLAS, Octavio y Fernando GUTIERREZ (coord.) Internet: el medio inteligente, 2000, Edit. CECSA.
"El papel de la telenovela latinoamericana en la formación de comunidades virtuales: propuestas para su abordaje", en Signo y Pensamiento núm. 36, 2000, Facultad de Comunicación y Lenguaje, Pontificia Universidad Javeriana, Santa Fe de Bogotá.
Imágenes
1. Los actores de "Senda Prohibida"
2. Victoria Ruffo de "La Madrastra"
3. Los actores de "Rebelde"
Claudia Benassini Félix es investigadora asociada, Cátedra de Investigación en Comunicación Estratégica y Cibercultura, ITESM Campus Estado de México.
---
---
---
by: Claudia Benassini Félix / Tecnológico de Monterrey, State of Mexico
Telenovelas represent one of the most successful products to emerge from Mexico's television industry. The genre positioned itself as an important alternative for audiences since 1958, when Senda Prohibida [Forbidden Path] was broadcasted. Thus, it was gradually incorporated into the programming offered by Spanish International Network from 1962 onwards; fourteen years later this entity would become Cadena Univisión. Therefore, it was included among the various programs exported by Televisa, then known as Telesistema Mexicano. The corporation exported the genre through Protele, a company created by Emilio Azcárraga to sell Mexican productions to foreign networks and television stations. Consequently, this genre slowly conquered foreign audiences.
Thus, it is not surprising that in 1988, when Televisa once again ventured into the European market through Spain and the Galavision system,[i] telenovelas were part of the overall programming. European audiences (particularly those from Spain) first began relating to this genre through Quinceañera [Fifteen-year old girl]. At the same time, Televisa achieved success in other countries, particularly those located in the Eastern part of the continent.[ii]
Throughout this process, Mexican productions have faced competition from other countries. First, Venezuela and Brazil; later on, Colombia and Argentina. More recently, other countries have incorporated the genre in their programming, mostly because of the positive response from audiences; Spanish television production exemplifies this model. Additionally, even though Mexican telenovelas were initially produced by Televisa, this corporation now faces competition from Televisión Azteca. The latter entered the playing field through productions such as Mirada de Mujer [A Woman's Gaze]; it later entered the international market with the same product.[iii] Moreover, one must note that Mexican telenovelas have gone through various setbacks, identified by various scholars devoted to the genre, specialized critics, and audiences themselves.[iv]
This cursory overview describes the spaces conquered by Mexican telenovelas, even as it details the growth of audiences in a quantitative and qualitative fashion. It is difficult to determine the real number of television viewers that are regularly exposed to this genre. Nevertheless, researchers have noted how television audiences — and hence, telenovela viewers — appropriate the contents of the medium and incorporate them in their everyday practices. One can note the various internet sites devoted to the genre, most of them designed and updated by fans.[v] This process began in 1976, when Jolette Nicholson launched her cyberspace site, "Telenovelas-Internet" with the help of Alexander Zhukov from Russia. Through this site, she noted her devotion to Mexican telenovelas, and her wish to exchange materials and opinions with other cyberfans.[vi]
Jolette's example was quickly followed by people such as Juan Carlos Alvarado (Mexico) and María Elenba Venant (Chile), "Moisés" (Spain), and Rafael Ochoteco (Puerto Rico); various other Mexican telenovela cyberfans also participated in this process.[vii] More recently, the options made available by the blogosphere have multiplied these sites.[viii] Moreover, the "most important scenes" from the genre — opening credits, endings, musical themes, and more — are being uploaded into YouTube, so that all those who are interested can watch them.
One must note that it is becoming increasingly difficult to find sites specifically devoted to Mexican telenovelas, as the internationalization of the genre has altered the tastes and preferences of cyberfans, regardless of their country of origin. As one investigates, explores, and researches this space, one must note a new genre appropriation modality, one that speaks of the interest from fans, which in turn produces a diverse gamut of processes from these individuals. These processes veer from the construction of their own sites to a number of spirited debates and controversies around the telenovela genre. Additionally, in order to enter this body of knowledge, one must engage in various methodologies, such as ethnography, conversation analysis, and ethnomethodology, among others. In other words, much remains to be done within this field.
Notes
One early example took place in 1975 with news programming. At that moment, however, there was a limited acceptance of Mexican programming in Spain. Consequently, the Televisa España offices were mostly kept as news correspondents. The second attempt, taking place in 1988, was produced within the context and era of satellite and pay-per-view television.
This process began towards the end of 1989, as part of the historical and social processes developing throughout the Soviet Union under Mikhail Gorbachev.
Nevertheless, a periodic overview of programming in Latin American and European networks reveals that telenovelas by Televisa are still more popular than those produced by TV Azteca.
At this moment, a common complaint is the lack of original plots. Even though most people recognize that Mexican telenovelas are popular with national and international audiences, one must recognize that the plots are mostly remakes of successful local productions. For example, Vivir un poco [To Live a Little], from 1985, was later remade as La Madrasta [The Step-Mother]. Other productions include a 1964 telenovela, Rubí, which four decades later was "remade." Similarly, Mirada de Mujer was first a successful Colombian telenovela, as well as Rebelde [Rebel].
I am specifically referring to the sites built and maintained by fans, not to the various websites designed and maintained by television networks. I am also referring specifically to those sites devoted to discuss Mexican telenovelas.
For over seven years, Jolette has been working for Univisión. Her pioneering website, Telenovelas-Internet.com was absorbed by the television network.
For instance, sites such as Telenovelas del Momento, Telenovelas online, which list various other websites devoted to the genre.
For instance, La Coctelera/Rebelde, Las Telenovelas Mexicanas en EUA, among various other options.
Click here to see the author's publications in this area
Image Credits: (located in primary Spanish text)
1. The Cast of Senda Prohibida
2. Victoria Ruffo from La Madrastra
3. The Cast of Rebelde
Author: Claudia Benassini Félix is Associate Researcher, Tec de Monterrey, Campus State of Mexico.
Translator: Alberto McKelligan Hernandez is a Ph.D. Student in Art History at the City University of New York (CUNY).