The Crying Game: Why Television Brings Us to Tears
by: David Lavery / Brunel University
August 21, 2005: the airing of the last episode of HBO's Six Feet Under's five season run. At its end Claire, the youngest of the Fisher children, prepares to leave for New York, where a job in photography awaits. After tearful goodbyes on the porch of the Fisher and Diaz Funeral Home (even her dead brother Nate is there to bid her adieu), she drives away in her Toyota Prius and, with Sia's "Breathe Me" playing on the mix CD boyfriend (and future husband) Ted has given her for the trip, heads east. As she drives, sobbing at times uncontrollably, we witness scenes from the future lives of each of SFU's principle characters and then, in turn, their deaths: Ruth passes away in bed with her surviving family at her side, Keith is killed in a robbery, David (at a picnic) and Federico (on a cruise ship) succumb to apparent heart attacks, Brenda dies as her brother Billy drones on. Though it is by no means clear whether all these culminations are to be taken as the driver's own mindscreen imaginings or part of the official narrative itself, Claire herself is not spared: she dies in her bed, at the age of 102, in a room filled with her award-winning photographs. We linger for a moment on her cataract-scarred eyes and then, in a stunning match cut, return to her still fresh, beautiful, young eyes as they gaze out on the road ahead.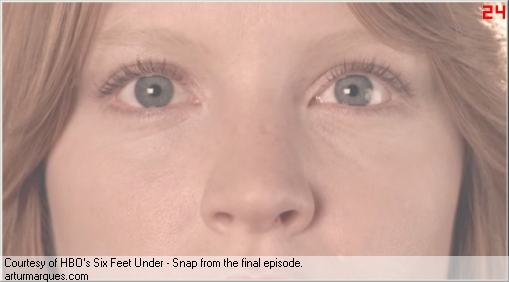 Screencap of Claire
And I, sitting in my living room in Murfreesboro, Tennessee, have erupted into irrepressible crying. Though possibly my most intense mediated weeping, it was certainly not my first. The ending of To Kill a Mockingbird ("He would be there all night, and he would be there when Jem waked up in the morning") has made me blubber since I was a teenage boy. At the age of forty, the ending of a matinee of Field of Dreams ("Hey Dad, do you want to have a catch?") left me sitting alone in the theatre trying to gather myself before I took my salty eyes out into the afternoon sun.
Now that television is my scholar-fan obsession, the living room is my vale of tears. Northern Exposure, The Sopranos, NYPD Blue, Deadwood, Gilmore Girls, Veronica Mars–these and other shows have often unmanned me. But no single television show has opened the tear ducts quite like Buffy the Vampire Slayer. Buffy being given the "Class Protector" award in "The Prom"; Anya's poignant speech in "The Body"1; Buffy's death (her second) in "The Gift"; the final conversation in "Chosen," the series finale ("Yeah Buffy, what are we gonna to do now?")–these and a score of other moments jerked my tears. The tears I shed were part of my bonding with the show–at least as important as the countless laughs it inspired.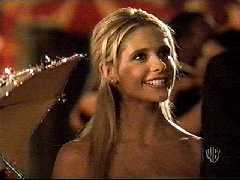 Buffy and Class Protector Award
Certain I was not alone in the regularity of my crying before the box, I sought the opinions of a number of colleagues, all television scholars, as I prepared to write this column, and though I make no claim to a systematic sampling, I found the responses of great interest. Here are some discoveries of note:
• A wide variety of television shows, from Champion the Wonder Horse to Neighbours, Roseanne, The West Wing, Desperate Housewives,2 and Grey's Anatomy, have opened the flood gates.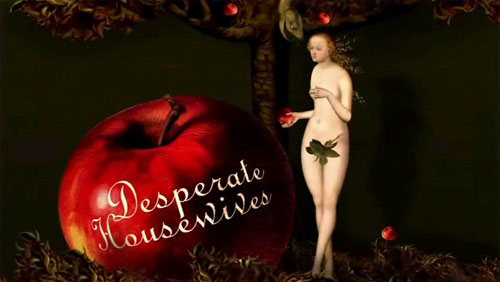 Desperate Housewives
• Several noted that endings–of episodes, seasons, series–often prove to be more tear-jerky.3
• One correspondent (Burkhead) observed that "The common cause of my tears is that in each case I was responding to a presentation of my ideals made manifest – love vanquishing evil, the good politician coming out on top, America putting aside its prejudices for the greater good. I suspect my tears were equally a result of joy and the sadness of knowing that I have to rely upon television to create goodness."
• Others found a distinct difference between film and TV (and literary) tears. One (Byers) gave television pre-eminence:
I have cried over films, but the experience isn't the same (even films I've watched over and over again, even ones I own and watch at home). I have cried over the beauty of films and over the narratives, but I think I cry with the characters on TV. The narratives may be sad or painful but I cry often from the connection I have to the ongoing story (I don't think I've ever cried – except on occasion for tears of joy – at the end of a film), to the characters and so on … books have made me cry too, certainly. Sometimes when they were so good and came to an end before I was ready to be done with them. And there have been characters in books that I have loved deeply and cried with… so maybe, for me, TV is more like literature in that way. But with TV it's more dramatic. It brings together so many things, the story, the visuals and the music and so on…
While another (Robson) ranked literature first in the crying game:
By far, for me, the most tear inducing is literature–I can say that across the board, romance or not, that literature has usually prompted the tear-swells. My favorite novel–Love in the Time of Cholera, makes me cry every time I read it–sometimes, I start crying before the parts that make me cry in the novel, in anticipation of that moment. And I've found that when re-watching Grey's [Anatomy], the same thing happens–I'll start crying before the moment, and when the moment comes, I'm downright sobbing–so Grey's has been the most like literature for me. I guess that it's because it takes you somewhere that you don't quite expect. That these characters–usually the ones you hardly know–feel real and true to you, and it's like you're living through them (not unlike how I feel when reading a great piece of fiction).
• One commentator (Wilcox) remembers a strong childhood aversion to tear-jerking on the sofa: "My mom and sister enjoyed a good cry, but I hated feeling manipulated (I still do)." As an adult, nonetheless, television has brought her to tears (Buffy evoked again), especially depictions of sacrifice.
• Another (Turnbull) notes that her preference is to "cry alone."
Crying is, of course, an age-old mystery. In a profound and poignant book from the middle of the last century, German phenomenological anthropologist Helmuth Plessner, writing a year after we had been to the moon, wondered how it could be that despite such an achievement we still have no valid, philosophically sophisticated theory of why we laugh and cry. How can it be, Plessner ponders, that we have barely begun to plumb the mystery of these dual, inextricably human manifestations? For the Greeks, the mystery was linked somehow to enantiodromia, the tendency of all things to turn into their opposite. Good and evil, light and dark, hot and cold, laughing and crying–all are united behind the scenes, each needing the other, in a "marriage of heaven and hell," in order to achieve full existence. In our happiest/darkest moments we have all glimpsed enantiodromia in action, as crying becomes laughter and laughs tears–one form of hysteria morphing into another. What was dramatic theory, Aristotle to the 18th Century, thinking by insisting that each keep to its quarters? Shakespeare, and Buffy, knew better.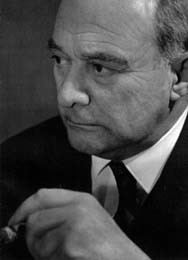 Helmuth Plessner
It would be arrogant, of course, for me to even suggest that this column might offer some unified field theory of crying. My ambition today is much more modest: to open and inspire discussion about the tears we shed before the tube. There are so many questions we need to ask.4 Do the Aristotelian rules of catharsis stll apply? How does gender affect crying at television? (Yes, all my correspondents are female.) Nationality? Are long-running series more likely to produce tears? We need to wipe away our tears and begin the work.

My thanks to Kim Akass (London-based independent scholar and editor), Michele Byers (Saint Mary's University, Canada), Cynthia Burkhead (University of North Alabama, USA), Rhonda Wilcox (Gordon College, USA), Janet McCabe (Manchester Metropolitan University, UK), Hillary Robson (Middle Tennessee State University, USA), and Sue Turnbull (LaTrobe University, Australia) for sharing their thoughts on television and tears.
Notes
1 "I don't understand how this all happens. How we go through this. I mean, I knew her, and then she's, there's just a body, and I don't understand why she just can't get back in it and not be dead anymore. It's stupid. It's mortal and stupid. And, and Xander's crying and not talking, and, and I was having fruit punch, and I thought, well, Joyce will never have any more fruit punch ever, and she'll never have eggs, or yawn or brush her hair, not ever, and no one will explain to me why."
2 Interestingly, two of my respondents, Akass and McCabe respectively, close friends and writing partners, did and didn't cry at the same Desperate Housewives episode. For McCabe, the explanation lay in household "flow": her viewing of the pivotal Desperate scene, which she found moving and sad, came after dealing with a teething baby and cleaning up the dinner dishes. She "wasn't in the TV zone" and had not achieved the "intense engagement" necessary to be moved by television.
3 For more on endings, see Lavery, "Apocalyptic Apocalypses."
4 As in so many other ways, television is film's poor stepchild when it comes to understanding the respective media's generation of tears. Neale, Harper and Porter, and Turnbull, for example, have all offered excellent studies of movie crying.
Works Cited
Harper, Sue and Vincent Porter. "Moved to Tears: Weeping in the Cinema in Post-War Britain." Screen 37.2 (Summer 1996): 152-73.
Lavery, David. "Apocalyptic Apocalypses: The Narrative Eschatology of Buffy the Vampire Slayer." Slayage: The Online International Journal of Buffy Studies, Number 9 (2003).
Neale, Steve. "Melodrama and Tears." Screen 27 (November-December 1986): 6-22.
Plessner, Helmuth. Laughing and Crying: A Study of the Limits of Human Behavior. Trans. James Spencer Churchill and Marjorie Grene. Evanston: Northwestern UP, 1970.
Turnbull, Sue. "Beyond Words: The Return of the King and the Pleasures of the Text" (forthcoming in The Cultural Reception of The Lord of the Rings. Ed. Martin Barker [New York: Peter Lang, 2007]).
Image Credits:
1. Screencap of Claire
2. Buffy and Class Protector Award
3. Desperate Housewives
4. Helmuth Plessner
Please feel free to comment.