Sex, Love, Television – Part 1
by: Judith Halberstam / University of Southern California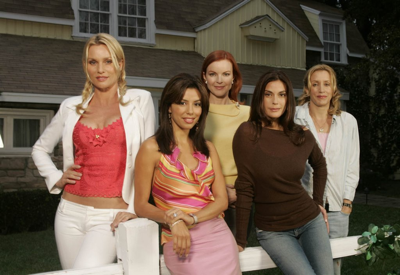 Desperate Housewives
This is Part 1 of a two-part column.
On Sunday evenings in George W. Bush's America, a place where more than half of the population does not believe in evolution, where many of those same people go to church regularly, where abortion may soon be outlawed, and where gay marriage is unthinkable, millions of god-fearing viewers pull up a chair on Sunday nights to tune into the latest episode of Desperate Housewives. What, we might ask, draws the average American viewer–someone likely to have a strong sense of the sanctity of marriage, an abiding belief in the importance of pre-marital abstinence and a rigid moral outlook–to a show about infidelity, teenage promiscuity, scandal, secrecy, murder and deceit? Indeed, as a new season is underway on Desperate Housewives and as the suburban ladies brace themselves for the new scandals that will rock their unusually violent and perverse suburban world, it is perhaps good to take a moment to ask: what is the appeal of this most American of soap operas both in the US and internationally? And why, would Laura Bush announce that she is not only a fan of the show but a desperate housewife herself!?
Following in the footsteps of other wildly popular primetime soaps like Melrose Place and Knots Landing, Dallas and Dynasty and building upon the more recent legacy of Sex in the City, Desperate Housewives offers viewers a combination of sex, family secrets, murder mystery and romance. Like Knots Landing, it builds its drama around a tight-knit community in a mythic suburban setting, and like Melrose Place and Dallas, the otherwise ordinary characters manage to embroil themselves in an unusually high number of extremely unlikely events ranging from murder to suicide to kidnappings, double-crossings, prostitution, money-laundering, conspiracies, intrigues and mad, passionate, illicit affairs. Like Sex in the City, Desperate Housewives offers viewers not one or two protagonists but four female leads and their male counterparts, and like Sex in the City, the show casts each of the women in some archetypal–the career woman, the vixen, the cynic, the romantic–role. The conceit of Sex in the City was that these women–smart, professional, urbane–did not need men in order to feel complete and instead chose to take their chances in the world of dating. This conceit wears thin quickly since the entire show is about the women's relationships with men and it becomes obvious by about Season Three that everyone of them will end up married and pregnant.
And when they do — they may turn into desperate housewives. Like the ladies looking for love and sex in the city, the women of Wisteria Lane are all smart, all self-motivated and all wise to the not-so-mysterious ways of men. Like the Sex in the City women, they also represent a range of rather predictable heterosexual femininities: the desperate housewives range from Susan Mayer (Teri Hatcher), the creative type and single mom to Bree Van Der Kamp (Marcia Cross), the uptight, Republican stay at home mom, and on to Lynette Scavo (Felicity Huffman), the imperfect, often harried and always out of control mom, and finally, to Gabrielle Solis (Eva Longoria), the gorgeous trophy wife with no kids and no desire for kids. The cast is rounded out by Mary Alice Young (Brenda Strong), the original "perfect but desperate" housewife who kills herself in the show's opening minutes and Edie Britt (Nicolette Sheridan) the voluptuous and predatory real estate maven.
All the action happens on an almost claustrophobic studio set, and the four women, their variously messed up children and their long-suffering husbands, play dramatic set pieces about the exasperation of motherhood, the undependable nature of men, the neuroses of single women and the dangers of female promiscuity. Audiences, presumably, watch the show in part because the choreography of these crises is familiar to them: they recognize the thrust and parry of lovers' threats and promises, the give and take of husbands and wives balancing the quota of household labor, the daily drama of parents and children battling for domestic control. And if the more mundane aspects of life in the suburbs come tied to the high drama of unsolved mysteries, slowly simmering romances and perverse sexual practices, well perhaps this just satisfies a basic human urge to believe that underneath every serene and possibly dull surface lies a dark, disturbing and deeply intriguing well of secrets.
Presumably 24 million viewers in the US, and millions of others elsewhere are not drawn to Desperate Housewives for its political messages, and yet, a wholly unexpected but extremely welcome aspect of Desperate Housewives has to do with the quite overt commitment it makes to some version of TV feminism. In Sex in The City, of course, Carrie and her urban friends also delivered smart speeches about female autonomy but the feminism of Desperate Housewives is a little different since it has to cover topics like housework, divisions of labor, custody battles and pre-nuptial agreements. The most feminist narrative line in Desperate Housewives probably involves Felicity Huffman's character Lynette, a reluctant stay at home mother who has given up a high powered corporate career to satisfy her husband's desire for a large family. The show's creator Marc Cherry claims that he based this character on his mother, who told him later in life how difficult it had been for her to raise three children. In the show, Lynette gets addicted to her children's attention-deficit-disorder medication, loses control of her kids and struggles to stay afloat. She, more than any other character, with the possible exception of Susan, the single mom, regularly accuses the men in her life of being sexist and she gives viewers regular doses of liberal feminist ideas about equality and sexual objectification. Of course, the show makes sure that these feminist outbursts are rendered as individual responses to domesticity rather than as part of any collective enterprise to transform heterosexual life!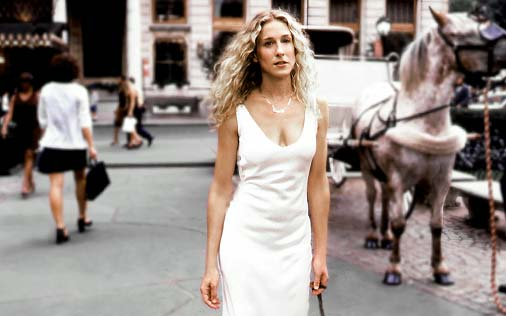 Carrie, Sex in the City
Furthermore, many of the feminist moments on the show are also saturated with moral outrage, reminding us that this is the version of feminism that finds fellowship with the Christian right rather than the version that advocates the complete dismantling of the nuclear family. And so, for example, one of the more feminist scenes in the first season involved the openly Republican, devoutly Christian Bree Van Der Kamp and it manages to link feminism to the denunciation of pornography. Bree follows her wayward son one night to a strip club and then berates him for objectifying women saying, "Andrew, I'm curious. When you fantasize about this woman, do you ever stop to think how she came to be on this runway? That's someone's little girl. And that someone probably had a lot of dreams for her. Dreams that did not include a thong…and a pole…"
The somewhat camp rendition of Bree's anti-porn speech reminds us that the show's feminism, like the feminism on Sex in the City, is far from the radical feminism of bra-burning, international sisterhood and it is both consistent with certain religious anti-porn positions and actually filtered through not a female consciousness but a gay male lens: the creator of Sex in the City, Darren Starr, and the creator of Desperate Housewives, Marc Cherry, are both openly gay men. And it is this gay male influence more than anything that must be credited for both the inclusion of a low-level but fairly hard hitting feminist discourse and the limiting of that feminist point of view by camp and ironic punch lines which take the edge off the seriousness of the critique. In other words, audiences don't mind a bit of feminism as long as it comes with a lot of irony, camp humor and no real commitment to female bonding. Camp feminism, in the end, advocates for freedom alright but, as we see in the show, it is the freedom to shop, the freedom to hire a maid, the freedom to sleep around that is paramount…here, freedom's just another word for one more pair of shoes…
Many critics of Desperate Housewives have blamed the show's licentiousness and unsavory nature upon the "gay agenda" of Marc Cherry, and this despite the fact that according to some reports, Cherry is a conservative Republican. In fact, Cherry's framing of many of the perverse themes of the shows within a rigidly moral framework may well be one reason for the show's popularity across the political spectrum. American audiences in particular seem comfortable with themes of sex and violence as long as they come packaged as a morality play within which bad people get punished and good people get rich. But most Republican and Christian critics of the show do not find common ground with gay male Hollywood types and so while they may secretly enjoy following the dramatic developments on Wisteria Lane, in public they will cast the show as part of some gay conspiracy to corrupt, seduce and convert its audiences. If only!! While we are still waiting for the fabulous popular TV show that is capable of converting mass audiences to radical politics and unconventional genders and sexualities (Desperate Queer Revolutionaries anyone?), we can still acknowledge that the right wing identification of gay male influence in Desperate Housewives may be accurate.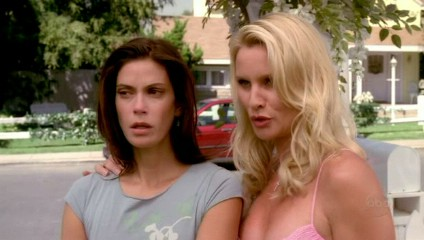 Susan and Edie, Desperate Housewives
Part 2 will appear in the next issue of Flow.
Image Credits:
1. Desperate Housewives
2. Carrie, Sex in the City
3. Susan and Edie, Desperate Housewives
Please feel free to comment.