Race, Gender and Class in Reality TV: The Case of Celebrity Big Brother 2007 in the U.K.
by: Shanti Kumar / University of Texas at Austin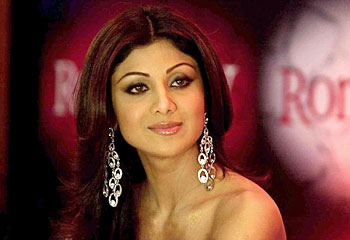 Big Brother Winner Shilpa Shetty
Celebrity Big Brother (CBB) 2007 was the fifth series broadcast on Channel 4 in the U.K. A spinoff of the popular reality TV show Big Brother, CBB invited several celebrities – past and present – to live together in a house as "housemates" without any access to the outside world. Television cameras were placed all over the house to capture the interactions among the celebrities. Over the course of 26 days, one or more of the celebrities was periodically evicted from the house and the last remaining contestant was declared the winner. On January 28, 2007, Bollywood actress Shilpa Shetty was crowned the winner of the show with 63% of the final vote.
In addition to Shilpa Shetty, other notable housemates in CBB 2007 were Michael Jackson's brother Jermaine Jackson; former Miss Great Britain Danielle Lloyd; English film director Ken Russell; Jo O'Meara, a former member of the pop group S Club 7; singer Leo Sayer; American actor from the A-Team, Dirk Benedict; former Big Brother contestant Jade Goody; Goody's boyfriend, Jack Tweed; and Goody's mother Jackiey Budden.
In the first two weeks, the show struggled to garner ratings, and had received an all-time low audience of two million viewers. However, on Day 14, the show received national and international attention due to confrontation between Shilpa Shetty and Jane Goody over the use of chicken stock cubes in the house. Jo O'Meara and Danielle Lloyd sat next to Goody and were seen giggling as Shetty looked visibly upset during the heated argument. After Shilpa left the room, Danielle told Jo and Jane that Shilpa should "just fuck off home," and that she couldn't even speak English. Jo O'Mera also said that she didn't like Shilpa touching her food because "you don't know where her hands have been".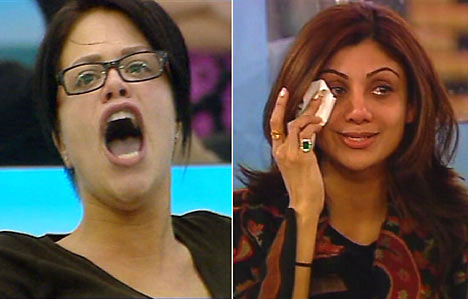 Jade Goody (left) and Shilpa Shetty (right)
The next day, Danielle Lloyed tried to apologize to Shetty saying, "I feel really bad, I feel disgusted with myself the way I've treated you and the way I've acted, because I'm not like that, Shilpa, really," … "And you can even cook me curry and you can pick the onions out with your fingers."
However, a few days before the argument between Shilpa and Jade, Danielle and Jo had made fun of Shilpa's accent and her cooking. While Danielle Lloyed referred to Shetty as a "dog," Jo O'Mera complained that Shetty had undercooked chicken curry, and implied that Indians are thin because they always undercook meat and fall ill.
In earlier episodes, Jade Goody's mother Jackiey Budden refused to call Shilpa Shetty by her name, and referred to her only as "the Indian," or "Princess." When asked why she would not call Shilpa Shetty by her name, Budden claimed that it was only because she could not pronounce her name properly.
Jade, Jo and Danielle constantly told the other housemates that they felt Shilpa was a "fake" and a "phoney" and that she should go back to the slums in India where people adore her as a Bollywood star.
Jade Goody referred to Shilpa as "Shilpa Popadom," "Shilpa Durpa" and "Shilpa Fuckwala." Speaking in the Diary Room later, Jade said that she had done this only because she could not remember Shilpa's last name. Claiming that she had no intentions of being racist, Jade apologized if her actions had offended Shilpa or anyone else.
Jade's boyfriend, Jack Tweed said that he was disappointed with Jade for apologizing to Shilpa and insulted Shetty by calling her a a "dick" and and a "wanker." Jack also referred to Shilpa as a "fucking [expletive]." Since the expletive was beeped out from the show, many audiences though that the beeped word Jack had used was "Paki" (a racist slur used to refer to people of South Asian descent in the U.K.) However, after reviwing the tapes, Channel 4 and Endemol, the producers of Big Brother, confirmed – evidently with great relief – that the slur Jack used against Shilpa was not "Paki" but "cunt."
Even though Jack did not use a racist slur, what is surprising, and indeed shocking, is that the producers of the show did not seem to find it equally problematic that Jack was being sexist and misogynist in the Big Brother house; and that too not just once, but repeatedly in his attacks against Shilpa.
Initially, some media reports were also rather dismissive of the sexist attitudes on the show when they completely ignored Jack's attacks on Shilpa. Instead they appeared to perpetuate sexist attitudes of their own by referring to the incidents between Shilpa, Jade, Jo and Danielle as "girlish rivalry."
However, over the course of the show as the arguments and confrontations began to mount, Shilpa told a fellow housemate, Cleo Rocos, that she was being targeted by Jade, Jo, Danielle, Jack and Jackiey because of her race. Although, Shilpa later withdrew her allegations of racism and tried to make up with her fellow housemates, many viewers and some media reports began characterizing the incidents as "bullying," "racist" and "racist bullying."
Ofcom,the media regulator in the U.K. received over 19,000 complaints and an additional 3000 complaints were sent to Channel 4 directly. Hertfordshire police formally launched an investigation to determine if the incidents in the Celebrity Big Brother house were motivated by "racial hatred." A spokesperson for Hertfordshire police released a statement saying, "Hertfordshire constabulary is investigating allegations of racist behaviour in the Big Brother house, and will be conducting an inquiry, including a review of tapes."[1]
The Big Brother controversy – characterized my some in the media as "Shilpagate" – became a political issue when a Labor Party M.P. of Indian descent, Keith Vaz, asked Prime Minister Tony Blair to condemn the show in the House of Commons. Vaz's motion in the House of Commons read: "This house views with concern the comments made about 'Big Brother' contestant Shilpa Shetty by other housemates; believes that 'Big Brother' has a role to play in preventing racist behaviour in the 'Big Brother' house; regrets that these comments have been made; and calls on the programme to take urgent action to remind housemates that racist behaviour is unacceptable." Although the Prime Minster refused to directly criticize the show because he had not seen it, he made a general comment about not tolerating racism in any shape or form. The Big Brother incident also became a subject of intense debate in India, and several demonstrations were organized to protest the show's racist treatment of Shilpa Shetty. The British Chancellor of the Exchequer, Gordon Brown, who was visiting India during this time, was repeatedly asked to respond to the Big Brother controversy.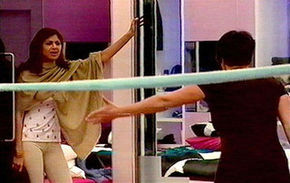 Jade Goody arguing with Shetty
Due to the growing controversy in the U.K and in India, Big Brother's sponsor Carphone Warehouse withdrew its sponsorship of the show. Explaining the decision, CEO Charles Dunstone said, "We had already made it clear to Channel 4 that [if these racist remarks] were to continue, we would have to consider our position. Nothing we saw last night gave us any comfort. Accordingly we have instructed Channel 4 to remove our sponsorship name and branding with immediate effect."[2]
However, executives at Channel 4 and Endemol insisted that there was no racism directed against Shilpa on the show. They released a statement saying, "The social interactions and dynamics of the group are one of the key parts of the BB story, and viewers have a right to see these portrayed accurately. However, this is balanced with our duty not to broadcast material that may cause unjustifiable offence. We take this matter very seriously and BB does not tolerate bullying or racist abuse in any form. Big Brother is closely monitoring all the housemates and will take appropriate measures to reprimand such behaviour where necessary."[3]
By arguing that the "viewers have a right" to see the social interactions among housemates "portrayed accurately," Channel 4 and Endemol were essentially advocating the view that television merely represents reality by mirroring the actual events that are being shown on the viewers screens. In embracing the "mirror" theory of representation, the producers of Big Brother were cleverly choosing to ignore their own role – and responsibility — in the selective process of framing and editing everything that goes on in the Big Brother house into a compelling narrative for viewers at home.
However, as it became clear that not many in the media or among the audiences were buying into the "mirror" theory of reality TV being put forth to defend the actions (or more precisely inaction) of the show's producers, Channel 4 chief executive Andy Duncan released a statement on January 18, 2007. The statement read, "The debate has been heated, the viewing has at times been uncomfortable but, in my view, it is unquestionably a good thing that the programme has raised these issues and provoked such a debate. These attitudes, however distasteful, do persist – we need to confront that truth. We have reached the view that we cannot with certainty say that the comments directed at Shilpa have been racially motivated or whether they stem from broader cultural and social differences."[4]
By arguing that it is a "good thing" to show the heated debate in the Big Brother house even though it was at times "uncomfortable" to watch, Duncan was slightly revising the earlier theory advocated by Channel 4 that reality TV is simply a mirror of social reality. Instead, Duncan advocated an alternative view that television can and must stand in for the true character of British society by representing the harsh reality of those attitudes which may be uncomfortable and distasteful to watch but do exist in society.
Columnists in newspapers, magazines and online forums argued that it was disingenuous and cynical of Duncan and Channel 4 to claim that Celebrity Big Brother was standing in for social reality by representing the true character of "cultural and social differences" in British society. In an article titled, "Pedigree versus Pitbull: Big Brother's Cynical Face," Carol Midgley of the Times (London) wrote, "Far from 'not tolerating' bullying, the brains at Endemol have deliberately caused it." She argued that Celebrity Big Brother went for "the lowest common denominator" by parading the "uneducated, loud Goody" and her family like a "circus act" before us and "encouraging us to snigger at her stupidity." Therefore, Midgley argued, "It is not just Shetty who is the victim" but also "Jade (herself mixed-race) who suffered the most underprivileged upbringing and was rolling her mother's spliffs by the age of 5." Moreover, Midgley concluded, "For what it's worth I doubt she and her gang are even particularly racist. I think they are jealous — of Shetty's beauty, poise, talent and, yes, her class."[5]
By arguing that the controversial comments and attitudes of some guests on the show were caused by the producers of Big Brother by casting a lower class "pitbull" like Jade against the upper class "pedigree" of Shilpa Shetty, Midgley sought to refute Duncan's claim that Channel 4 was trying to be a "truthful" representative of the reality in British society where "distasteful" attitudes about cultural differences – however uncomfortable – do exist.
However, by recasting the terms of the debate from concerns about "race" to questions about the lack of class in Goody and her family (versus Shilpa's class), Midgley's arguments only seemed to give credence to Duncan's claim that the controversial remarks on CBB may have been "distasteful" but were not "racially motivated."
What Midgley described as "pedigree" in Shilpa Shetty's demeanor seemed to be for Germaine Greer the very reason for the racist attacks by Goody and company in the Big Brother house. In an article in the Guardian titled, "Why does everyone hate me? Greer wrote, "There are no good reasons for watching Celebrity Big Brother and very good reasons for not. Not watching will spare you the nerve-fraying annoyingness that is Shilpa Shetty. Everything about her is infuriating: her haughty way of stalking about, her indomitable self-confidence, her chandelier earrings, her leaping eyebrows, her mirthless smile, her putty nose and her eternal bray, "Why does everyone hate me?" Not to mention the crying jags. What no one seems to have quite understood is that Shilpa is a very good actress. Everyone hates her because she wants them to. She also knows that if she infuriates people enough, their innate racism will spew forth."[6]
It is shocking that Greer, a noted feminist of yesteryear, seems to suggest that racist abuse is something that one deserves if one does not behave with proper modesty when dealing with people of lower class in society. Shilpa's upper class demeanor, Greer argues, was so infuriating for the lower class Goody and her family that their "innate racism" came to the fore. However, by claiming that "Jackiey's inability to pronounce Shilpa's name had less to do with failure to conceal her own racism than the fact that she has no idea how to spell anything" Greer falls prey to an age-old belief among proponents of British "high culture" that racism is a problem of ignorance in the working class.
This view is explicitly stated in an article titled, "Beauty and the beastliness: a tale of declining British values," by Stuart Jeffries, also in the Guardian. "The Big Brother house," Jeffries writes, "remains one of hate, divided between ugly, thick white Britain and one imperturbably dignified Indian woman. There are also some stereotypically weak men in the house, but they are functionally irrelevant. Shilpa Shetty has taken the supposed British virtues of civility, articulacy, reserve and having a stiff upper lip and shown that, at least in what passes for our celebrity culture, we lack them."
Whether "the bullying and backstabbing of Shetty by Goody and her Regan-like foils, Jo O'Meara and Danielle Lloyd," was racist or not, Jeffries argues that it had the resonance of racism. He continues, "I thought Britons had moved beyond this kind of rubbish; it's shaming to see that we have not. And we shouldn't let Jack, Jade's piggy-eyed ankle bracelet, off the hook: let's not be sexist in damning people who give the lie to Britain's tolerance of difference and reputation for intelligence."
Although Jeffries, unlike Greer, recognizes that it is sexist to criticize only Goody and her female housemates when Jack and other male housemates acted just as badly, it is surprising that Jeffries – not unlike Midgley — is unable to recognize his own complicity in the "intolerance of difference" as he reveals his class bias in "damning people who give the lie to Britain's tolerance of difference and reputation for intelligence."[7]
By reducing the debate on racism to a simple effect of the lower class standing of "ugly, thick white" Britons in Big Brother, media analysts like Jeffries, Midgley and Greer fail to recognize the more insidious form and character of racism as a systemic problem in contemporary British society. To suggest that the discourse of racism survives only because some lower class Britons are ill-equipped to be anti-racist not only smacks of upper class elitism, but also seems historically false and empirically invalid given the marginal status of minority representations in mainstream British society.
As the Big Brother controversy reveals, both overt and covert forms of racism derive their cultural meanings and social legitimacy through a complex articulation of racist stereotypes to other stereotypical representations of gender and class standing. To take an anti-racist stance against the discourse racism thus requires us to go beyond simplistic notions of racism and recognize the complex ways in which representations of race, class and gender are linked together in contemporary society.
Endnotes
[3] www.bigbrotheronline.co.uk/
Image Credits:
1. Big Brother Winner Shilpa Shetty
2. Jade Goody (left) and Shilpa Shetty (right)
3. Jade Goody arguing with Shetty
Please feel free to comment.