Mourning Anna Nicole: Death in the Age of Celebrity Culture
by: Moya Luckett / New York University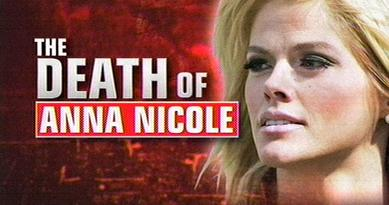 The Death of Anna Nicole
Just a week after the death of Anna Nicole Smith, The Daily Show's John Stewart presented a montage of the cable news networks' coverage of the celebrity's sudden death. As he observed, one of the most significant features was that CNN did not cut to a commercial break for 90 minutes. While space does not permit detailed analysis of the many bizarre features of this news coverage and the baroque state of current celebrity culture, I wish to explore the TV news coverage of the death of Anna Nicole Smith and think about what it reveals about the medium in the digital era.
Mourning traditionally involves some time of measurement of time, either codified through religion and state customs or marked in less defined periods like Elizabeth Kubler-Ross' five stages of grief. Both mourning and television, then, associate value with time, as seen in the amount of coverage given to important news stories–or the 90 minutes without commercials CNN gave to Anna Nicole. A commercial medium renouncing advertising is always remarkable, a gesture that points to the seriousness of the moment (9/11 being the most significant example) and presents financial sacrifice in terms of respect for what has been lost while displaying the medium's public service mandate. This is not to say that Anna Nicole's death did not have its commercial imperatives–just that these did not directly benefit CNN. Most initial televised responses to her death came not from friends but people with whom she had had a business relationship–Playboy, Guess? jeans and most prominently Alex Goen, owner of Trim-Spa.1 In a sense, then, her death was already commodified, another marketing opportunity, in keeping with the spirit of her life.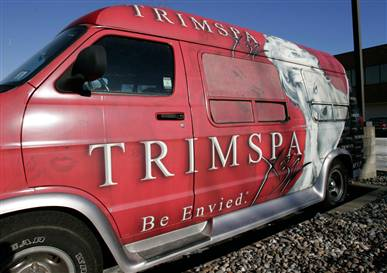 Trimspa
The death of Anna Nicole may have been shocking–and thus had a certain immediacy–but it was not entirely surprising, nor particularly significant. Although surprisingly sad, as many columnists and posters acknowledged, it was not the kind of event that warranted coverage usually associated with matters of major national significance, such as commercial-free blanket news coverage. It was, however, an event that would attract high ratings–high enough to postpone ad breaks to keep viewers away from rival channels, or their computers. Given the internet's increasing emphasis on gossip, the death of Anna Nicole offered television a chance to demonstrate its advantages over online rivals, drawing on its liveness, its rapid flow of images and sound (no slow downloads or interrupted streaming video) as well as the networks' large archives of Anna Nicole footage. With these resources, large cable news stations were immediately able to compile elaborate shows, locate "celebrity" guests and solicit viewers' own memories–and photos and video. Clips aired on CNN didn't just reveal her ubiquity but proved the news network could compete with YouTube in terms of user-produced content.
Besides issues of the increasing trivialization of news, the coverage of Anna Nicole reveals the loss of distinctions in contemporary culture. Viewers did not need The Daily Show to ridicule the ways in which all the cable networks' coverage immediately refigured Anna as "Our Marilyn Monroe" and even "Our Princess Diana." This saturation coverage implicitly evoked other national tragedies, with Anderson Cooper's reports bizarrely recalling his work from such disaster sites as Katrina-ravaged New Orleans. As the coverage moved into its second day (complete with a live press conference after Anna's autopsy), other distinctions collapsed, namely those that constituted Anna's identity. As reporters pondered the destruction of her body, they questioned other aspects of her selfhood, discussing the name changes (Vicki Lynn Hogan/Smith/Marshall/Anna Nicole Smith/Vicki Lynn Stern?), see-sawing weight and plastic surgeries that dispersed her identity. Debates over her daughter's paternity raised further such questions as reporters discussed Larry Birkhead's fight to get a DNA sample from Anna's body during the autopsy. News anchors explained that this was not because maternity was questioned but to prevent baby-swapping, but it left yet another shadow over Anna Nicole's identity. Who was she? Had she married Howard K. Stern? What did she actually do–was she a reality star, a model, an actress?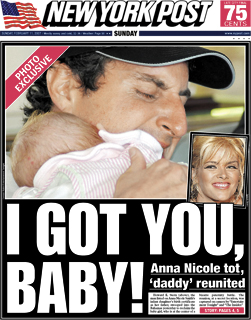 New York Post
All this undermines one function of mourning–the preservation of the identity of the dead person–even as it enhanced her already legendary visibility. And it also makes good TV: interrogating Anna's identity and keeping her story going after death fits with the medium's refusal of closure. Anna Nicole is perhaps more a television star now than before, as seen in continued coverage of court battles over her daughter, her possible future marriage, her nurse reporting her baby was underfed to keep her "sexy," her suspect Bahamanian residency, her possible future inheritance from J. Howard Marshall's estate–as well as the likely cause of her death.2 Given her own admission that she craved attention, and the premium associated with visibility in contemporary celebrity-obsessed culture, her continued presence on TV somewhat undermines any cautionary messages about her life and death. In a culture where visibility is all, then the news media's treatment of Anna Nicole has paradoxically turned her into more of a role model than some of her critics would like to think–as well as making her part of history.
Notes
1 The night of her death, Thursday February 8, 2007, Goen's wife appeared on CNN's Larry King to discuss Anna Nicole's life and sudden death, bickering on-screen with D-lister, Chynna Doll, about who was a better friend to the dead celebrity.
2 Two weeks after her death, Anna Nicole is still the lead story on major entertainment shows like Entertainment Tonight and Extra, is prominently featured on E! and cable news networks, and is still the top-ranked celebrity on gossip sites like TMZ.com, her death still outranking Britney Spears's public meltdown.
Image Credits:
1. The Death of Anna Nicole
2. Trimspa
3. New York Post
Please feel free to comment.