Film is the New Low, Television the New High: Some Ideas About Time and Narrative Conservatisms
by: Hector Amaya / Southwestern University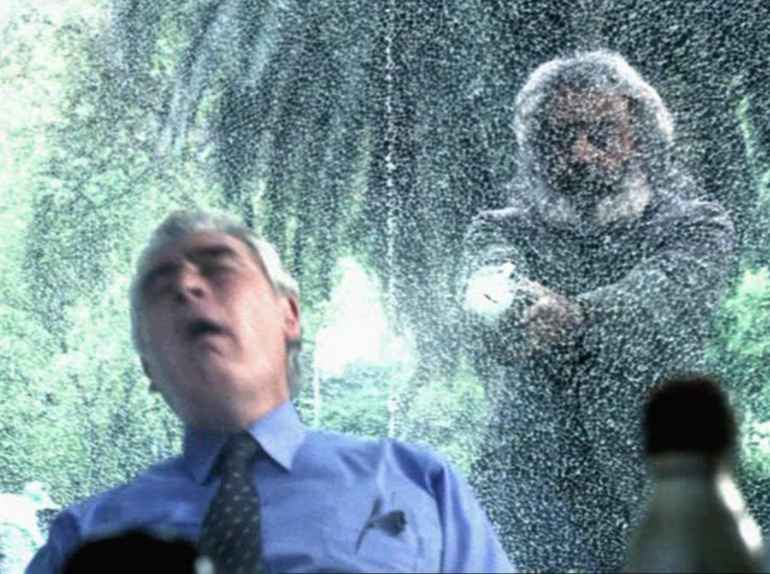 Amores Perros
Critics of the films Amores Perros, 21 Grams, and, currently, Babel are always cautious about giving unqualified praise to the work of Alejandro González Iñarritu and Guillermo Arriaga. Quite often their reservations are related to the unusual way in which these films' narratives use time. Simply, these are not chronological narratives, but time bricolages that have the goal of unsettling the viewer's understanding of causation, which highlight how people are always already interconnected in space and time. Surprisingly, critics and viewers do not voice the same concerns about television narratives like Lost, Reunion, Day Break, and Heroes that use time in non-traditional fashion and to similar unsettling effects. I call this surprising because of the stereotypical notion that the aesthetic possibilities of film and television correspond to the aesthetic limitations of high- and low-brow viewers. Is it possible that we have been wrong to the point of needing to assert the opposite? That is, are the majority of contemporary U.S. viewers more ready to accept aesthetic sophistication from television than from film?
In previous numbers of Flow, Craig Jacobsen wrote a couple of pieces on this matter, and I want to thank him because he got me thinking about these different narratives and media. I am currently writing on the films of Iñarritu and Arriaga and have been amazed at the aesthetic conservatisms of critics and audiences, who often query the reasons why the films used time in unusual ways. Roger Ebert, perhaps the most popular of today's critics, went as far as to suggest that 21 Grams would have benefited from having a straightforward chronology. The philistine! This aesthetic conservatism is similarly present when I think back on other films that use time in unusual ways, such as Mike Figgis's Timecode and Christopher Nolan's Memento. These films were introduced to us as doing something quite unusual regarding narrative and, as a collective community, we assumed that they would have limited success at the box office, and they did.
In contrast, viewers commenting on Lost, for instance, do not even mention the complex way in which the timeline is being weaved. They are aware that the show is sophisticated, "high-quality" television, but take this to mean much more than chronology. They mention character depth, writing, and the wonderful way in which the show continues entertaining with unusual plot twists. Although it is possible to argue that viewers are not savvy enough to notice the way that time is used, I believe that television viewers are more ready to accept different ideas about causation than film viewers. Several reasons for this include: the normalization of the sci-fi and fantasy genres; the structure of television, which delivers narratives over a long period of time and with commercial interruptions; and the success and popularization of poststructuralist ideas about causation.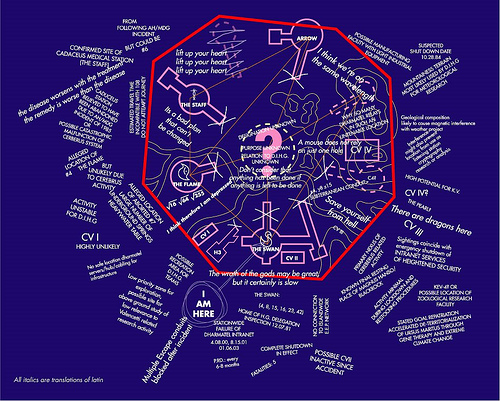 Lost
Narratives are rooted on popular ideas of causation or, as Paul Ricoeur expresses it, through narrative we show a "world of consequences." In the realist narrative, this means that actions and events are weaved together through popular notions of why things happen. Some help us give meaning to events by addressing the social connotations of actions or their symbolic weight. Others help us understand behavior by reference to popular ideas about psychology, which answer the question of why people do what they do (Revenge? Rage? Desire? Envy?). Even others provide broad ethical frameworks that often give meaning to the existence of the narrative itself in the form of a moral lesson. Television history is, however, full of examples of narratives that have introduced quite atypical ideas about "consequences." In the sci-fi genre, shows like Star Trek have popularized the Einsteinian theory that time is bendable and the past, like the present, is full of different possibilities, all of which would create "time paradoxes" that would undoubtedly change the present. Similarly, popular fantasy shows like Xena and Buffy have introduced atypical rules of consequences including the possibilities of being ruled by celestial destiny, or the rules of re-incarnation and life repetition. These shows haven't only theorized these possibilities, but created episodes that, when aired, forced us to re-interpret the shows and their central characters.
These atypical rules of consequences were not, however, delivered in each episode, but over a period of time, long seasons, years, and even decades (in the case of Star Trek). Viewers of these shows, much like readers of comic books, who also are quite accustomed to narratives that belie traditional understandings of chronology, had time to create strong connections to them, often through the use of conventional narrative techniques. Moreover, as a community of viewers, the fact that these shows aired weekly helped us understand, together comment on, and enjoy these unusual episodes. The structure of television, in this case, allowed for the introduction of radical narrative departures. By now, a whole generation of viewers is aware of different time rules that can be activated at any time in a narrative, however conventional the narrative is otherwise. In Heroes, this may mean that the actions and decisions by Hiro Nakamura actually change all of the season we already saw (that would be fun!): his actions could actually nullify it. In Day Break, the time rules are broken in every episode. In Lost, we are yet to understand the present, for the past is too strong and the mysteries to deep to make sense of anything beyond the surface events. Meanwhile, we, as a community, theorize, imagine, and engage in dialogue, week by week, season by season.
Although our subjectivities are still dominated by conventional rules of consequences, we are growing accustomed to entertain radical possibilities and to imagine the event as encrusted in a rhyzomatic nod. Much like Einstein has gone popular, poststructuralism deeply influences contemporary notions of the real, of the event, and of truth. Justice, the legal drama that began in Fox in 2006, rests on the premise that viewers will be treated to the lawyers' recreations of the event and then to what actually happened (often, different representations of reality). It also rests on the notion that, like Foucault suggested, the real is discursively constructed and that we should talk mostly about "truth-effects," and that discussing truth without apostrophes is naïve. When I say "we," I am not referring to the community of university academics trained in the human sciences, but to us viewers who, I suspect, are much more willing to accept radical narrative departures from television than from film.
Please feel free to comment.
Image Credits:
1. Amores Perros
2. Lost
Please feel free to comment.