Rooting for Betty
by: Mary Beltrán / University of Wisconsin-Madison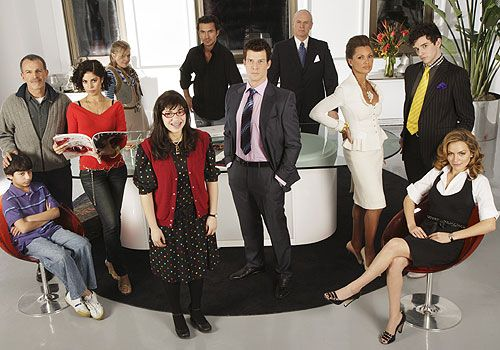 ABC's Ugly Betty
So here's the question: What to make of a television series that finally has a Latina lead character who is smart, sensitive, and interesting enough to compel me to watch each week to see how she is faring – but on the other hand who is, well, ugly? Or rather, clueless (particularly given that America Fererra, who portrays Betty, is far from ugly), with respect to being unable to dress appropriately for her high-powered job at Mode, a Vogue-like fashion magazine. I've waited a long time to be able to turn on network television and find a lead character like Betty Suarez. And yet I can't help but wonder if the premise of the series, based on the phenomenally popular Spanish-language telenovela Yo Soy Betty La Fea (literally, I Am Betty the Ugly), along with Betty's bushy eyebrows and lack of sophisticated fashion sense (does she not even flip through Mode?), perhaps have distorted meanings when set within the context of U.S. race relations. While it is true that we have witnessed a growth in Latina representation in the last decade, I'm not sure these images have grown in number and variety to the extent that the story of a Mexican American woman who will never fit into the world of fashion and beauty can yet be understood as an allegory for how "Betty is beautiful on the inside." There are moments on the show, particularly when Betty's coworkers have a laugh at her expense, when it seems primarily focused on how a working-class Mexican American girl is rightly marginalized.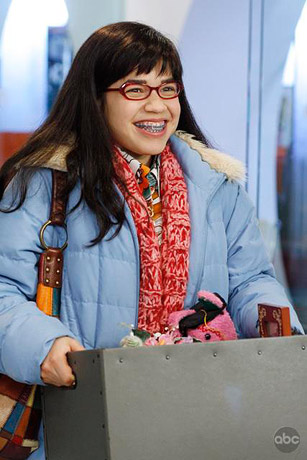 America Fererra, Betty
There is much more to the series than that, however, which is why I continue to tune in and likely why it continues to be popular with other viewers as well. Betty is a fairly complex character who is beginning to demand that she be able to be herself and be accepted in settings in which being thin, white, rich, and disengenuous typically have been prerequisites. And her family, while at first glance composed of Latin types that we all have seen before, is developing more shades of gray in recent storylines, despite the series' reliance on melodramatic story turns such as the revelation of Betty's father's manslaughtering past. As I noted in my position paper for the Flow conference, I see Ugly Betty as a positive step in network efforts to reach out to their growing Latino audience. There in fact appear to be many Latino viewers watching the show and rooting for its survival. I recently happened across an on-line discussion by fans over Betty's ugliness. Several fans pointed out the Latin American roots of the storyline and made it clear that, given this knowledge and their fond memories of the original, they didn't find Betty's appearance an issue in this new, U.S. version. What one viewer smartly pointed out, however, is that in the original series, which in novela style lasted only a few months, Betty undergoes a makeover at the culmination of the story, which brings her outer self into alignment with her inner beauty. Because U.S. series typically last much longer, however, we can count on seeing far more of Betty's "ugliness." Not to imply that Betty needs a makeover in order to be a positive role model for other Latinas, but it seems that an ugly-duckling series premise that makes the duckling a Latina threatens to equate beauty and worthiness with whiteness.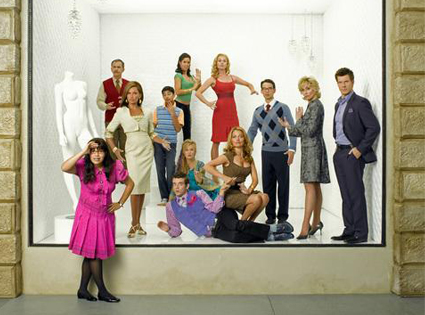 The cast of Ugly Betty
I should stress, too: I'm still rooting for Betty. The series might provide a more empowering representation over time, particularly given America Fererra's ability to imbue Betty Suarez with an unmistakable intelligence and wit even in the face of the onslaught of overpriced designer clothes and cruelty that she faces. Already she maintains a level of grace and integrity that shines through, behind the glasses, brows and braces. But do other viewers, particularly non-Latino viewers, see it? It may depend on their perceptions before they tune in, what the implications of this Betty ultimately will be.
Image Credits:
1. ABC's Ugly Betty
2. America Fererra, Betty
3. The cast of Ugly Betty
Please feel free to comment.