Mixing Mythology, Science and Fiction: The Sci-fi Genre in Indian Film and Television
by: Shanti Kumar / University of Texas-Austin
In recent years, the sci-fi genre has become a rage in India. Indian television channels like Doordarshan, Sony and Star Plus have ventured into the sci-fi genre in the hopes of gaining a bigger share of the lucrative but competitive television market in India. Science fiction is a relatively new genre in Indian television, but the recent success of the Bollywood blockbuster Koi Mil Gaya (2003) and its sequel Krrish (2006) has propelled the sci-fi genre to stratospheric heights.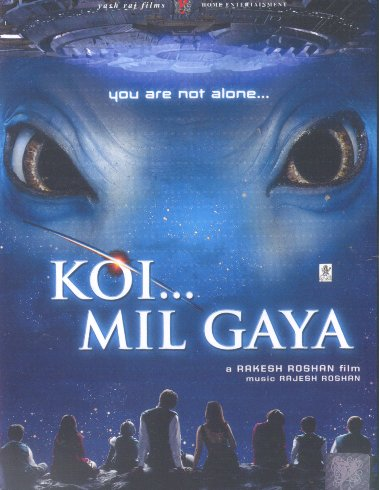 Koi Mil Gaya
Koi Mil Gaya (I Found Someone) revolves around the friendship between a mentally challenged young man Rohit (played by Hrithik Roshan) and a lovable alien, Jadu, who gifts superhuman powers to Rohit. Krrish, the sequel to Koi Mil Gaya, is the story of Rohit's son Krishna (also played by Hrithik), who inherits his father's superpowers. When Krishna travels to Singapore to be with a girl he is in love with (played by Priyanka Chopra), he encounters a megalomaniac scientist who is out to destroy the world. Krishna must transform into Krrish and use his superpowers to save the world from the mad scientist. So popular was Krrish among the young and the old alike that it netted a record $15 million in its opening week, and ended up as the highest-earning film of the year.
Following the enormous success of the Bollywood blockbusters, sci-fi shows have cropped up on the primetime schedules of several Indian television channels as well. Television producers, networks and advertisers see great potential in the genre to attract audiences who have been drawn to sci-fi by the popularity of Koi Mil Gaya and Krrish. Case in point is Karma: Koi Aa Raha Hai Waqt Badalne (Karma: Someone is Coming to Transform Time) a one-hour weekly show about a superman-like character which aired on Star Plus. Produced by Balaji Telefilms – a powerhouse of soap opera production in India – Karma was initially called Kaalki (named after the Hindu god Vishnu's 10th and final avatar on earth). Kaalki was scheduled for November 2002 on Star Plus, but the network did not seem too keen on the sci-fi show for that year. However, in August 2003, Star Plus launched Karma in the hopes of capitalizing on the success of the Bollywood blockbuster Koi Mil Gaya.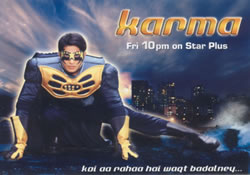 Karma: Koi Aa Raha Hai Waqt Badalne
Another TV show which tried to ride the sci-fi wave created by the success of Koi Mil Gaya is Bongo which aired in the primetime slot of 8:00 p.m. on the state-sponsored national network Doordarshan's DD1 channel in April 2004. Bongo is an animated serial about an alien who comes to earth to save his planet Zapata. The producers of the show, Rudraksha Arts, signed an advertising deal with Parle-G Biscuits, and the show was named Parle-Bongo. The serial did fairly well initially by getting high ratings to become one of the top five shows in children's programming for the week of July 11-16, 2004. Although Parle-Bongo could not consistently sustain its high ratings in subsequent weeks, it garnered media attention as the first television serial in India to use 2-D and 3-D animation to combine cartoon characters with human actors.
In May 2004, Sony Entertainment Television launched a sci-fi thriller King Aasman Ka Raja (King of the Skies) also produced by Balaji Telefilms. But Aasman Ka Raja, which was launched without any media promotion or publicity campaign, failed in the ratings game and was quietly withdrawn by Sony. The most recent venture into the realm science fiction on Indian television is Antariksh: Ek Amar Katha (Space: An Eternal Story) which began airing on the primetime slot of 8:00 p.m. on Star Plus on October 2, 2006. The story of Antariksh, which is set 10,000 years in the future, focuses on the adventures of Prince Amar who battles the bad guys led by Rankaal the evil ruler of the Kavran Galaxy. Amar, eldest son of King Shylan, is in line to be the next king of Prithiv. But Amar's jealous brothers plot to strip him of his crown and banish him to the outer regions of space. Exiled in space, Amar fights a hi-tech war against Rankaal who must be destroyed to protect the future of humanity.
Antariksh has been billed by the creators of the show, Wild Fire Productions, as India's first mega-sci-fi- serial which they hope will have a cult following among young audiences. However, Antariksh is also being promoted as an epic good versus evil story that is loosely based on the Hindu religious mythology of Ramayana. Rama, the protagonist of Ramayana, is the eldest son of Dasaratha, the king of Ayodhya. Although, Rama is the heir-apparent, he is forced to go into exile by one of Dasaratha's wives who wants her own son to ascend the throne. While in exile, Rama's wife Sita is kidnapped by Ravana, the demon king of Lanka. To rescue his wife, Rama goes to Lanka and kills Ravana in an epic battle.
The epic story of Hindu god Ram's triumph over the forces of evil led by Ravana in Ramayana has been an inspiration for many films and television serials in numerous Indian languages. Ramanand Sagar's serial Ramayan, which was telecast on Doordarshan in 1987-88, is by far the most popular and commercially successful versions of the religious epic.
In a recent film, Rudraksh (2004), the Ramayana story is recast in the genre of science fiction by director Mani Shankar. Bhura (Suniel Shetty), a laborer working on an archeological expedition finds an ancient rudraksh seed belonging to Lord Ravana from Ramayana. The rudraksh seed gives demonic powers to Bhura who, with the help of his girlfriend Lali (Ishaa Kopikar), seeks to destroy the world. Enter the hero, Varun (Sanjay Dutt) who has supernatural powers of healing other people's pain just by touching. Gayatri (Bipasha Basu) is a scientist from the U.S. who comes to India to study the supernatural, and is fascinated by Varun's powers and falls in love with him. Rest of the film is about how Varun fights Bhura to ensure that good triumphs over evil in the end.
One of the reasons for the recent spate of sci-fi films and television shows mixing mythology, science and fiction is that animation and content development is a booming business in India. According to a study by Anderson Consulting in 2004, the Indian animation industry is growing at the rate of 30 per cent annually, and is estimated to be a $15 billion industry by 2008. The National Association of Software and Services Companies (NASSCOM), attributes the growth in Indian animation and content development to the lower cost of production. A typical half-an-hour 3-D animation TV episode in India costs between 70,000 and 100,000 dollars compared with 170,000 to 250,000 dollars in the US (Agence France Presse, "World 'tooning in to Indian animation," August 26, 2005).
To discuss the transformations in Indian animation and content development only in terms of the lower costs of production, as the NASSCOM report suggests, is reminiscent of similar debates about India's relative advantages in outsourcing due to its large low-cost pool of skilled labor in the software industry. However, one major difference between the software industry and the animation industry is that the creative talent required for animation and content development in India is currently very limited. NASSCOM acknowledges that India will need 300,000 professionals in content development and animation by 2008. By way of comparison, in 2001, there were only 27,000 professionals working on animation and content development. (Press Trust of India, "Indian animation industry: $500 mn and raring to go," August 2, 2004).
With a limited but growing pool of experienced talent that is increasingly becoming adept in the use of animation and special-effects technologies, the Indian animation industry is looking both inward and outward for business and creative opportunities. One the one hand, the Indian animation industry is looking to expand globally by providing low-cost services to American, Western European, East Asian and other higher-cost media industries. On the other hand, animation experts and content developers in India are keen to experiment with newer genres in the domestic film and television industries which have for long relied on time-tested formulae like melodrama, slapstick comedy, song-and-dance, and mythological epics.
For animation experts in India, providing low-cost services to the global animation industry may well be their daily bread and butter, but producing content for Indian films and television shows is their creative inspiration. If the recent emergence of sci-fi is any indication, Indian animation and content development is in midst of an epic adventure of its own as filmmakers and television producers seem more willing to experiment with formulaic conventions and narrative traditions by mixing religious mythology, science and fiction into hybrid genres and formats. Whether or not this epic adventure of science fiction will result in a triumphant ending, only time will tell; but in this case, time travel is not an option.
Image Credits:
1. Koi Mil Gaya
2. Karma: Koi Aa Raha Hai Waqt Badalne
Please feel free to comment.