What's Happening on the Soaps? And Why Should We Care?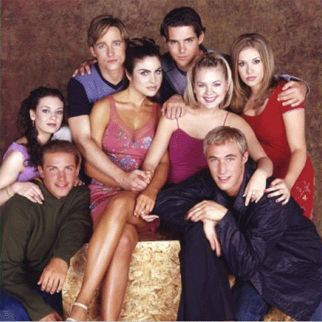 Cast of Days of Our Lives
O'Neil's dismissive pronouncement expresses a sentiment that I think is quite widespread in contemporary U.S. culture, and perhaps in television studies, as well. Perspectives like this not only reek of a kind of gendered cultural elitism that I believe is fundamentally antithetical to the study of television, but they are inaccurate, besides. Eager, perhaps even desperate, to retain viewers and to attract new–and younger–ones, the U.S. broadcast networks have been quite active in their efforts to give daytime soaps a central place in convergent media culture. In fact, the soaps' industry-sponsored on-line presence has preceded that of prime-time programming in multiple ways. In early 2003, Sony's SoapCity.com began to offer downloadable episodes of Sony-owned Days and Y&R, as well as Procter & Gamble-owned ATWT. The downloads, available at $1.99 per episode, presaged the iTunes Music Store's inclusion of TV shows by two and a half years. ABC started its first daytime drama "character blog," Robin's Daily Dose, by General Hospital character Dr. Robin Scorpio, in October 2005, preceding even ABC's prime-time show blogs (such as those written by two of Grey's Anatomy's peripheral characters). And despite the recent flurry of podcasts with actor interviews and behind-the-scenes scoop on offer from many prime-time programs, Guiding Light and As the World Turns are the only U.S. series of which I'm aware that make audio versions of their episodes available as free downloads (commercial-free and tightly edited, you can consume one hour-long episode in half that time). Those media scholars interested in convergence as an industrial and cultural practice would do well to consider the soaps' on-line presence.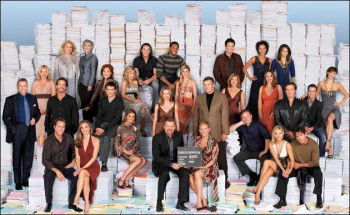 Cast of Guiding Light
Of course, these new media innovations alone are only part of what's interesting about the soaps these days. More intriguing is the intersection of these industry-hosted on-line efforts and soap fans' already vibrant on-line culture. Fans' interpretations of the changes in the soaps both on-screen and on-line point out the mismatch between the television industry's conceptions of its audience and that audience's own interests and concerns. ABC thinks it is giving viewers "added value" content by offering them access to Robin's thoughts on her blog. Yet the fans see the blog as a poorly-written substitute for the screen time and meaty story they want Robin to have.
There is much to consider in the soaps' stories, as well. For example, General Hospital's tale of mobster Sonny Corinthos has been airing since 1993. Sonny's dark childhood, mental instability, violent outbursts, and marital woes not only bring to mind another tortured television mobster (albeit one somewhat lacking Sonny's chiseled features and disarming dimples), but also point to a rather startling change in soap storytelling in recent years. On General Hospital, Sonny is the main character; viewers are invited to see the world through his eyes, to sympathize with him as he protects his "business," alternately seduces and rejects the show's supposed "heroines" (whose stories revolve wholly around him), and monopolizes screen time (hence the fans' anger at not seeing more of Robin Scorpio). Sonny Corinthos is certainly in keeping with a tradition of anti-heroes on soaps (begun on GH in the late 1970s with Luke Spencer). But today's GH, featuring a brooding mob boss and his "magic penis" (so dubbed by viewers for its ability to attract–and often impregnate–any woman character who comes near it), is telling a very different kind of story, with different appeals to viewers and different ideological stakes than the soap of the villainess and ideal mother theorized by Tania Modleski in the 1980s. This soap ain't your mother's soap, for better or worse. For me, that makes it all the more significant to ask what's happening on and around a television genre that still fills forty-two and a half hours of national broadcast network airtime per week, 52 weeks a year. Perhaps we should not ask why we should care but instead wonder why more of us do not.
1John Consoli, "Sun Setting on Net's Key Daytime Demos," Mediaweek, 14 November 2005, Mediaweek.com.
2Quoted in Mark Davidziak, "As the Bubble Bursts: With one busy life to live, is today's restless viewer willing to tune in tomorrow?" The Plain Dealer, 20 August 2002, E1.
Image Credits:
1. Passions
Please feel free to comment.