Redefining Indecency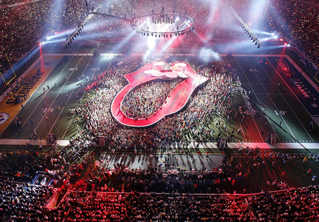 Rolling Stones half-time show
Once again the organizers of the Super Bowl half-time show called upon British knighthood to rescue America's premier global media event from the breast-baring moral depravities of half-time past. However, the transition from last year's cautious Sir Paul McCartney pop to this year's hip-swaggering Rolling Stones rock required a series of preemptive measures to ensure a "decent" performance. The Rolling Stones agreed to the NFL's request that the half-time producers dampen the sound when Sir Mick uttered the lyrics "You make a dead man come" and "Am I just one of your cocks?," though the censoring of these sexual connotations were a bit nullified when Jagger stripped down to his signature skin-tight t-shirt and mod pants as a gigantic stage tongue retracted during the performance. ABC, the network that broadcast the game, denied any involvement in censoring the lyrics, perhaps to distance themselves from validating the Federal Communication Commission's recent crackdown on indecency and tenfold increase in fines for violations since breast-gate two years earlier. Nonetheless, ABC, perhaps jittery from the FCC's retroactive fines against a fellow network's stations for yet another rock star's indiscrimination at a live event, instituted a five second broadcast delay as a failsafe to prevent naughtiness from traveling the airwaves, a standard industry practice for live shows since the infamous exposure and a way to show the FCC that self-regulation rather than government intervention could address the issue. As if to remind us of the legacies of rock-n-roll TV censorship of yore, Rolling Stones guitarist Keith Richards impressed reporters with an Ed Sullivan impersonation in a pre-game press conference. And when the FCC and Congress turned its attention away from a broader critique of media conglomeration during the controversial biennial review of media ownership rules in 2002 to focus on dirty words and bare skin, we are yet reminded of the regulatory legacies that find lawmakers making loud public moral postures against distasteful graphic indecencies in lieu of finding structural solutions to the more broadly defined indecencies of race, gender, sexuality and class discriminations that commercial media propagate.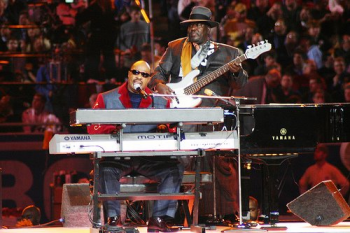 "
Stevie Wonder leads pre-game show
While the NFL and ABC's layered precautions preempted any verbal or wardrobe malfunctions, other more heinous indecencies were certainly on display. Most egregious of these was the NFL's decision to include Detroit's legendary Motown artists in the event only after Bowl organizers received a barrage of complaints from Motown fans and artists for dissing the host city's musical heritage. After dismissing a proposal made a year earlier to include the music from Detroit's past and present (from Aretha Franklin and Bob Seger to Kid Rock and Eminem), the NFL hastily added a 12-minute pre-game show that included Stevie Wonder leading a medley of Motown classics and invited Aretha Franklin, New Orleans singer Aaron Neville, keyboardist Dr. John and a 150-member Detroit-based gospel choir to perform the national anthem. For those who missed the pre-game performance (that is, the 65 million viewers who saw Mick's midriff at half-time but missed the pre-game Motown tribute), Wonder called for a coming together before "we annihilate each other," stating that the global threat was not about our "religion" but rather about our "relationship." NFL spokesperson Brian McCarthy defended this marginalization of Detroit's musical legacies in stating that the "Super Bowl transcends the host city and even the country," as if Motown music, and the global hip-hop it inspired, had little relevance outside the city limits. Even within this city's borders which has experienced a history of marginalizing African American life and culture (most tragically evident in the race riots of July 1967), the historic Motown Center building which gave birth to this famous record label was torn down to create more parking for the big game. The building had been abandoned for 30 years, leaving precious documents that archived the careers of Smoky Robinson, Marvin Gay and Stevie Wonder for waste. Local amateur historians scrambled to collect documents before and after the demolition while the Detroit Metro Host Committee spent $10 million to insure that the Super Bowl fans, media and corporate sponsors enjoyed their stay. These abandoned cityscapes also remind us of the global dynamics that have put downward pressures on the wage and pension benefits of local autoworkers.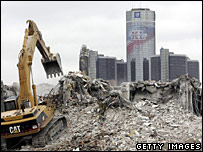 Motown Center demolished
This marginalization of America's African-American music heritage resonated as US citizens mourned the passing of civil rights activist Coretta Scott King just days before. Just as the NFL and ABC prevented Stevie Wonder's anti-war plea from airing on the half-time center stage, the television coverage of King's funeral three days after the Super Bowl dampened the anti-war messages that resonated in the eulogies. The Rev. Joseph Lowry received negative media attention when he stated that, "We know now there were no weapons of mass destruction over there" [followed by a 23 second standing ovation], "but Coretta knew, and we knew, there were weapons of misdirection right here." Much of the news coverage focused on whether this was "tasteful" or "appropriate" for a funeral, especially because George W. was in attendance – CNN even edited out 18 seconds of Lowry's standing ovation in its coverage. Even fewer news reports repeated Lowry's comments that linked the costs of the war to class discriminations at home: "Millions without health insurance, poverty abound. For war billions more, but no more for the poor."
While the news media dwelled on the indecencies of breaking funeral decorum with political protests rather than honoring the work of civil rights leaders who fought to eradicate poverty and racial discrimination, the Marketing to Moms Coalition, a market research firm, conducted a recent survey revealing that 80% of America's mothers feel snubbed by Super Bowl advertisers even though women make up nearly half of the audience. Confirming the history of this marketing bias was the special attention given to the commercial for Dove's "campaign for real beauty" as the first Super Bowl commercial pitched specifically to women. But the ongoing assumption among advertisers that men are harder to reach than women continues to ensure that advertising pitches, especially in sports programming, will consider their male viewers first, as was evident in the nine Anheuser-Busch ads that played during the game. Typical of the masculinity on display was their "magic fridge" ad which won a USA Today poll for best ad featuring a man hiding his Bud Light from friends in a fridge that disappeared behind a revolving wall, only to reappear in the adjacent apartment to the gleeful worship of a room full of 20 something guys. Yet, while Anheuser-Busch and other advertisers reinforced this all-about-sports-and-beer construct of masculinity to pitch their wares, Shonda Rimes exploited this masculine discourse to promote her hit hospital TV drama Grey's Anatomy which immediately followed the game. Though the series offers a reprieve from the shock-and-awe spectacles of Michael Crichton's ER by focusing on the relationship dynamics of its racially diverse cast, Rimes tapped into the testosterone-charged environment with promotions promising an ER-esque emergency "code black" and opening the episode with a male fantasy scene depicting three women cast members sudsing-up in the shower.
Fortunately for ABC no breasts or nasty words were exposed in the scene, but there may be signs that the FCC has cooled its policing of indecency because after awarding a record $7,928,080 in fines in 2004, no fines were proposed in 2005. Perhaps they are satisfied that the networks have curbed live TV spontaneity with broadcast delays, that viewers will be shielded from the indecencies of Saving Private Ryan, or perhaps they are just eager to distance themselves from the image of the sexually repressed (crazed?) old white male regulators that the internet domain registry Go Daddy parodies in their ad campaigns. For many of us who think that this narrow focus on censoring indecencies of the flesh and tongue does not address the broader injustices of racial, class, gender and sex discriminations that the structures of commercial media propagate, perhaps we can spark debate and activism by redefining the indecencies of this year's Super Bowl, including:
1. As the live events that bring the nation together for collective viewing become less common in a fragmented digital media environment, we should care more about what the legacies of civil rights activism can tell us about ongoing racial discrimination (as evidenced by the war's accentuation of racial and class injustices at home, the global outsourcing dynamics that impact access to living wages, the racial and class politics of the Katrina disaster, and the dismissing of America's musical heritage steeped in these struggles) than protecting the young against foul mouths and bare skin. Let's inoculate our youth through engaged discussion about what they might find on TV and the internet, as well as what they will not find, rather than censoring our collective viewing spaces on their behalf.
2. Address the gender discriminations in advertising-sponsored television sports that not only privilege male viewers during coverage of male-only sporting events but also limit financial support for women's sporting events. Also, in witnessing Shonda Rime's counter narratives to those of Michael Crichton, Paul Tagliabue and August Busch III, we should reinforce our commitment to equal opportunity rules for those who labor before and behind the cameras.
3. As more broadcast programming migrates away from over-the-air broadcasting to cable/satellite subscription services (such as Monday Night Football's migration to ESPN), broadcast radio's migration to pay-radio, and audio-visual migrations to the internet (which has seen threats to network neutrality principles as service providers offer faster broadband access for premium subscribers), issues of equitable access to a broad array of content should matter more than censoring what remains of our most accessible broadcast programming.
---
Willard D. Rowland, Jr. "The Television Violence Debates (The V-Chip). The Television History Book. Ed. Michele Hilmes. London: BFI Publishing, 2003. 132-6.
Anna McCarthy. "Media Effects (CBS and Stanley Milgram)" Television Studies. Ed. Toby Miller. London: BFI Publishing, 2002. 74-78.
Image Credits:
1. Rolling Stones half-time show
2. Stevie Wonder leads pre-game show
3. Motown Center demolished

Please feel free to comment.