Rating the Runway: Project Runway and New York Fashion Week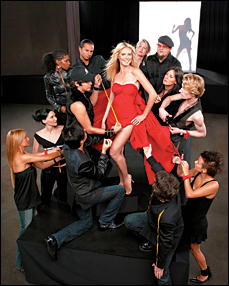 Project Runway cast
On February 10, the three finalists from Bravo's Project Runway presented their Fall 2006 collections at New York Fashion Week. The shows were recorded for the season finale, scheduled for March 8. Given the secrecy usually associated with reality show finales, there seems something amiss, if not completely inept, about this timing. Yet it is clearly deliberate: this is the second season structured in this way, replete with a decoy finalist whose runway presence at once nods to this asynchrony and indicates careful advance planning. This elaborate strategy instead suggests an important shift in contemporary television textuality. That fourth decoy collection and the delayed transmission of the Bryant Park fashion shows reveal viewer responses to be as much a part of PR's text as its broadcast events1
Jane Feuer has argued that both of contemporary broadcasting's most paradigmatic forms–reality and quality television–largely depend on their discursive and interpretative communities to create meanings2. In the case of reality shows in particular, this results in a distinctive textuality that evokes a close and dynamic relationship with an offscreen "real,' while at the same time asserting the show's textual specificity. Shows like Project Runway maintain a distinct textual presence while they advocate viewer participation, play with the idea of permeable and non-permeable textual boundaries and highlight the different ways in which we can access 'the real world.'
Project Runway is currently the highest rated cable show on Wednesday nights among 18-49s–and given the prevalence of PR reruns and mini-marathons, it's arguably easier to see it than miss it. It's also one of the most discussed shows on television. Viewers can also extend their participation by purchasing assorted t-shirts, bags and pins from the official site and a tie-in magazine is available from Banana Republic with a purchase. If that's not enough, they can buy clothing from the designers' own collections, bid on the actual garments from the show, get the tie-in Banana Republic outfit or the PR Barbie.

Santino Rice
PR is not about making couture accessible; instead, it explores this gap in cultural power through the vehicle of fashion. Although premised on finding "the next great American designer," PR presents the more mundane world of mass-market retail (L'Oreal, Banana Republic, Mattell, Toys R Us). Unlike most high profile reality shows, it has no desert islands, boardrooms or elaborate stages but instead embraces the everyday while ostensibly focusing on the elite world of high fashion. Unlike American Idol, the judges alone decide who advances on PR, and the inconsistency and elitism of their criteria is the primary discussion topic on official and fan sites. Polls on the Bravo site allow viewers to correct these seemingly awry and capricious verdicts immediately after the show. In both seasons a fan favorite was eliminated just before the Bryant Park shows while a free pass was seemingly given to its "villains" (first the style-challenged Wendy Pepper, then the arrogant and outspoken Santino Rice). Viewers respond by ensuring that their favorites–season 1's Austin Scarlett and Season 2's Nick Verreos–win almost every challenge (at least online), regardless of the quality of their designs, blasting the judges/producers for elevating character over accomplishments.
Bravo's site also offers commentaries from Tim Gunn, Chair of Fashion Design at Parsons, that encourage viewers to mount a counter critique of the show. These elaborate upon events we didn't see, suggesting that the show–as broadcast–is incomplete. Viewers are implicitly invited to seal up these gaps–or rent them further apart–in order to finish the show. Websites and internet posters point to clumsy devices–voice-overs that do not match the image and obvious temporal ellipses–and offer their own interpretations of what really happened. This allows them to correct perceived errors in judgment–a bad overdub meant that the producers really sent Nick home on episode 10, favoring outsized character over good design.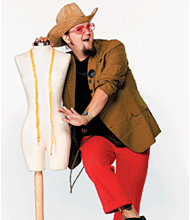 Jay McCarroll
Many PR posters admit to knowing little about fashion, however, allowing the show to mobilize another gap that exists in the real world: the gulf between the populist feelings/tastes of the masses and the elitism of those in the fashion industry. Jay McCarroll, last season's popular winner has now been reinvented as a villain: as an outsider (contestant) he was funny and offbeat, but as an industry insider, he is just bitchy and mean spirited. On the other hand, viewers like Tim Gunn, not just because he is the paradigmatic witty and debonair gay man, but also because he is a teacher and thus occupies a liminal position between the industry and those of us permanently on the other side of the velvet ropes. During Fashion Week, he eschewed a front row seat, instead remaining backstage to support the designers. Tim thus foregrounds the distance between the viewers and the elite worlds of fashion and television while acting as a conduit for further commentary.
PR's most obvious gap–the four weeks between its finale and the Bryant Park shows–thus not only stimulates discussion and displays the multifaceted registers of this text, but makes a statement on social status and expertise. Although initially intended as a trade event, Fashion Week is now effectively part of celebrity culture, and, as such, more about access and social status than talent or knowledge. The hierarchies of access–admission to the tent, viewing the collections on the internet (still photos that cannot display the way garments move) and watching them on television (with a four week wait)–enact the discrepancies in power that are part of high fashion and the social sphere it embodies. By stimulating viewer discussion and arguably stoking critique of its judges (celebrities and fashion world insiders alike), Bravo reiterates television's status as ostensibly popular medium. By forsaking the conventional secrecy, shock and suspense of most reality television, PR instead offers a network-sanctioned utopian vision of a more interactive and democratic text–albeit a form of populism designed more to placate advertisers and sponsors than truly disturb hierarchies of power.
1Airing the season finale a month after the show sacrifices novelty and suspense, but as the Banana Republic magazine exposed designs and challenges before the show even aired, PR would seem to be one reality show where suspense–and with it, a concentration on the text as text–was not the point.
2Jane Feuer, "The Shifting Meaning of Quality TV: 1950s-Present," presented at American Quality TV, An International Conference, Trinity College, Dublin, April 2004.
Image Credits:
2. Santino Rice
Links:
Official Bravo site Project Runway
Also see Blogging Project Runway
Please feel free to comment.