Micro-Ethnographies of the Screen: Sundance 2006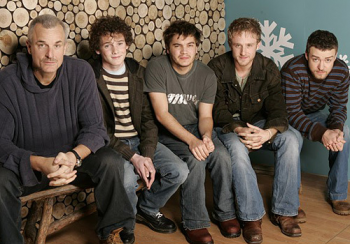 Justin Timberlake at the 2006 Sundance Festival
Overheard on a shuttle as I traveled from the Sundance Film Festival headquarters to the Eccles Center for the Performing Arts: "the best film so far has been that midnight movie The Descent, you know the one with the chicks with ice picks versus CHUD." CHUD, for those readers unfamiliar with the world of trashy eighties horror films, stands for "Cannibalistic Human Underground Dwellers." Actually, The Descent was a pretty enjoyable film with its mildly feminist revision of the buddy film set against a plot that includes subterranean Appalachian piranha people who devour their victims while alive — a tonic against a schedule of Sundance festival films loaded with light romantic comedies and heavy-handed social issue documentaries (the second of which I like to watch, but this genre goes down a bit hard if it constitutes the bulk of one's cinematic diet on a trip that averaged four films a day over four days). Out of the fifteen screenings that I attended, I saw several good serious films — 5 Days (a documentary detailing the removal of Israeli settlers from Gaza), A Little Trip to Heaven (an Icelandic film noir with Forrest Whittaker as an insurance investigator), and Wordplay (a shaggy dog of a documentary about crossword puzzle makers and fans) were all stand outs.
But for this column I want to focus on another aspect of the Sundance Film Festival that most attendees know about but that doesn't really rate entry into the fabled festival buzz: the coverage of Sundance by the local cable station, Park City Television (PCTV). Each day upon return to my hotel room, I unwound by watching PCTV's fragmented, repetitious series of vignettes covering the big events of that day's festival schedule. Modeled after the style and format of "Entertainment Tonight" or the E! cable channel — but aimed at the indie film crowd sensibility — PCTV featured segments entitled "In the Can," "The Scene," and "Big Mountain Adventure" (a segment that followed selected filmmakers as they ventured out to the Park City ski slopes). These PCTV segments were then packaged into a 30-minute program and aired on the Sundance Film Channel as a wrap up of the day's events for those unfortunate enough not to have traveled to Park City, Utah in person.
Alternating with these canned-entertainment pieces were extended segments that featured video documentation of Sundance sponsored panel discussions and special events. The panel coverage that I found myself watching late Friday evening was entitled "Stay-at-Home Movies: The Home Theatre Experience and the Future of Exhibition." While the panel was supposed to focus on changes in film exhibition and its consequences for independent film producers, the emphasis in the discussion was actually on new forms of distribution that generate new forms of exhibition. The panel, chaired by Bill Alpert senior editor at Barron's Magazine, included key executives from Google.com, the Sundance Channel, Sony Connect.com, and the Wall Street Journal.
While digital cinematography and postproduction has by now gained acceptance from film producers and audiences, large screen cinematic exhibition continues to be considered the gold standard of the movie-going experience, in contrast to the diminished experience (at least for those in the film community) of the small screens of television, the Internet, or mobile phones. However, perhaps because multiplex screens have for the most part shrunken to a size not much larger than plasma TVs, or perhaps simply in response to the increasing financial pressures of big screen distribution, indie filmmakers are becoming more accepting of small screen alternatives to the standard studio distribution model, based as it is on the high costs of multiple prints and multiple theaters. The panelists on "Stay-at-Home Movies" spent most of their allotted time addressing the needs of these filmmakers — a core creative class presumed to be different from those who make Hollywood studio product — and looking at the forms of distribution enabled by the Internet and small, portable screens such as the video iPod.
The question initially raised by Mr. Alpert was, "How do content providers get paid for their product?" As the studios routinely fudge accounting and fashion deals that favor corporate ledgers at the expense of creativity, conventional wisdom states that if independent filmmakers can control distribution, they will reap a larger portion of the rewards accrued by their productions. But if small screens are the vehicles, how will filmmakers collect the cash? Of course, the model used by Google Video — in effect a video search engine (or is it a video distribution engine?) — suggests that through advertising-supported web content (the foundation of Google's economic success), filmmakers could make, in the words of Jennifer Feikin, director of Google's video project, "seventy cents on the dollar as opposed to the pennies on the dollar that they receive from studio deals," implying that, as Wall Street Journal writer Kara Swisher succinctly put it: "the studios are screwing the makers."
In response, Chris Dorr of Sony Connect.com flatly stated, "the nature of community is promotion." Well, so be it. If we are discussing economies of scale and of promotion, then the economic model that is brought to the filmmaker by the Internet distribution model is one that simply reproduces the older studio model of production financing. While the artist hawking his productions on Google Video does reap much more of the proportional rewards than do his or her colleagues at Paramount, in the end the total amount of money earned through studio distribution still dictates that some, chosen by the financially secure agents of movie capitalism, reap disproportionate amounts of money for their efforts.
Bill Alpert noted this inequity in the studio system of production and distribution by bringing to the attention of his fellow panelists that filmmakers with studio support are allowed to spend considerable up-front money to make their creations, where truly indie producers potentially working within the Google Video model — which essentially pays after the fact of production — are much more constrained in their vision by the lack of up-front capital. So while the costs of production have declined significantly through the introduction and refinement of digital technology, the costs of distribution still depend on a large expensive media apparatus controlled by corporations that privilege certain ideas — those that generate the most revenue — over others — those that quaintly explore more complex and abrasive ideas. While the myth of Sundance continues to hoodwink filmmakers into believing that the odds of securing a distribution deal are in their favor, the reality is that only a small percentage of Sundance Festival filmmakers find these million-dollar deals coming their way.
As prophesied by the panelists, distribution through Internet Protocol (IP) systems — blogs using video, myspace.com-style websites, sling boxes, and portable media players — does seem to be the future of the media industry, but this future, at least at this juncture, holds no more limitless horizons for independent media producers than the current structure, as the means of distribution, if not production, are still controlled by corporations and IP distribution is still a part of this corporate system. Discussing the business end of the indie scene, it is hard not to slip into a neo-Marxist analysis of the matters at hand. As Feikin from Google Video flatly stated, "70 percent of one dollar is better than nothing." Is that really the best that indie media producers can expect? Or should we just expect to live in the "small monitor town" where we all carry screens (Dorr's location free television) which are supplemented by large screen experiences as they transpire at home or at the digital multiplex while still relying on large scale capital to supply the majority of high visibility media content?
These are questions I had hoped the panelists would answer, but suddenly the PCTV's coverage of the "Stay-at-Home" panel discussion was interrupted, cutting off Bill Alpert in mid-sentence, to switch to an in-progress commercial for a hip clothing store on Park City's main street. What conclusions panelists drew regarding the future of exhibition remains a mystery. But given the rather bleak future forecast to that point by representatives of the Sundance Channel, Sony, and Google — a future where corporations rule IP distribution networks just as they have done in the world of film and television, where voices are limited to those whose ideas fit within the intellectual space of the media industry, and those who fail, or who are incapable of "fitting in," are relegated to producing on a handful of pennies — it seems that the next stage of media distribution is on track to reproduce the inequities inherent in those that came before. It seems that indie producers are still just "chicks with ice picks" pitted against the CHUDs of corporate media culture.
Links
2006 Sundance Festival
Sundance.org
Connect.com
Google Video
Image Credits:
1. Justin Timberlake at the 2006 Sundance Festival
Please feel free to comment.